Crunch.  Cream.  And, Chew!  Testing this new recipe, one of our interns ravenously chowed down on his Caramel Corn Cone (try saying that five times fast). Let's just say that some major brain freeze ensued, but according to Daniel (our lovable intern), it was 100% worth it.  I actually felt a little bad, so I quickly Googled "brain freeze" to make sure I wasn't going to kill an intern during our photo shoot. It looks like he'll live:
"Brain freeze is practically a rite of summer. It happens when you eat ice cream or gulp something ice cold too quickly. The scientific term is sphenopalatine ganglioneuralgia, but that's a mouthful. Brain freeze is your body's way of putting on the brakes, telling you to slow down and take it easy."  Science Daily, 2013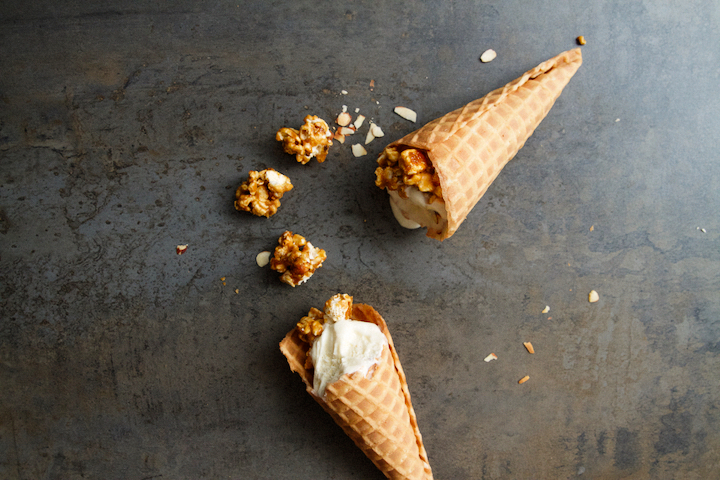 This simple combination dessert was inspired by the pastry chef at Otium, a new restaurant on the grounds of the also brand-spanking-new Broad Museum.  Last week on date night, the husband and I did a run, then showered, gussied up, and made our way over to Otium.
The contemporary restaurant draws from the rich culinary heritage of Chef Timothy Hollingsworth.  The vibe is relatively relaxed, but the food is perfectly buttoned up and top-notch.  Each dish has a presentation that is delicately curated, and always just damn delicious.  We ordered a simple dessert of corn ice cream, caramel corn, and almonds. It was a great reminder that simple things in life are best – this dessert was so spot-on!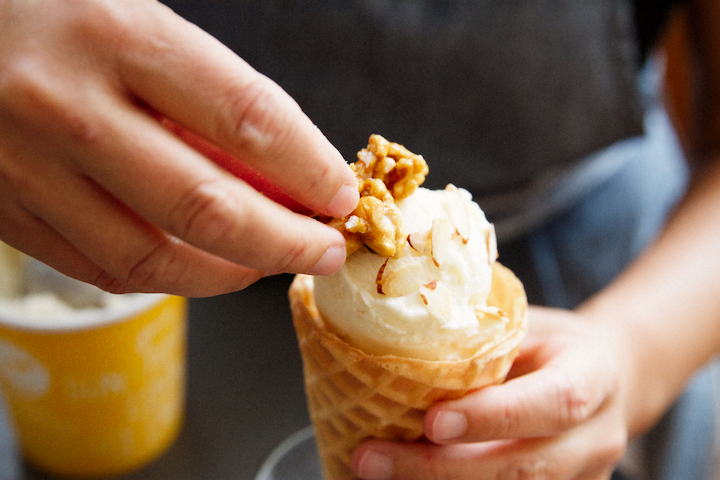 Obviously, the second I was back in the kitchen, I tried to recreate this winner of a recipe with my own flair. Jeni's Ice Cream in Los Feliz carries this perfect Sun-Popped Corn Ice Cream; their vanilla flavor can rock the house, too. It's really the combination of caramel corn, almonds, and ice-cream that ultimately "makes" this dessert!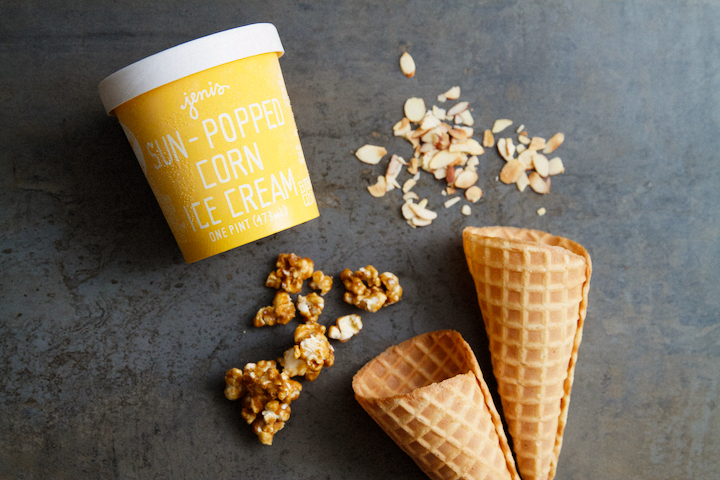 Waffle cones can fancy this recipe up a bit, but it's just as delicious if you just toss it all in a bowl.  The caramel corn is a major throwback for me; one of my families vintage recipes.  I cheated, and used microwave popcorn.  For the caramel corn, you can create the sauce on top of the stove, spread it all over the popcorn, and bake it on cookie sheets for about one hour at a low temperature.
Next, share with your family and friends (and interns). You'll see Daniel mid-brain freeze in the above shots…poor guy. But, don't worry, brain freeze here will eventually give way to smiles and cheers!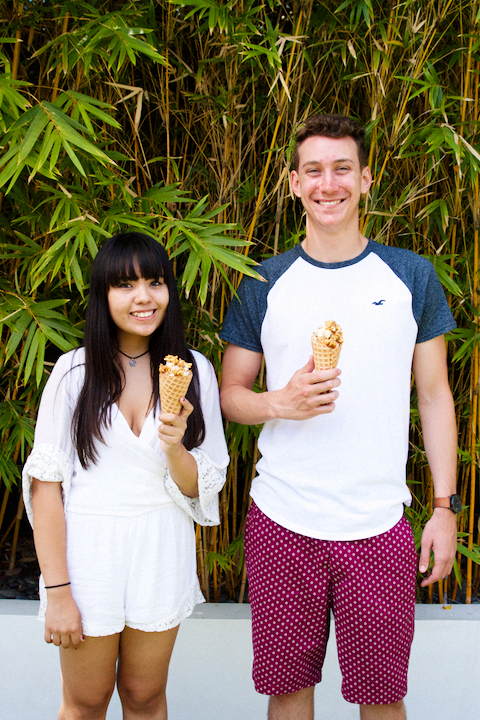 Photos by: Maria Hedrick Photography