Go nuts for chocolate dipped marshmallows.  I tell ya, until you've tasted a freshly made vanilla-bean marshmallow, you just don't know. They are truly special. Then add the chocolate and nuts and look out.  Gobble away.
Of course, the first few times I attempted to make them, my marshmallows were a hot mess. Let's just say that if I served those batches up to the love of my life, he might get confused about my affection for him!  It took a little patience, and a great recipe, to get these fluffy wonders right!  Allow me to walk you through it, step by step.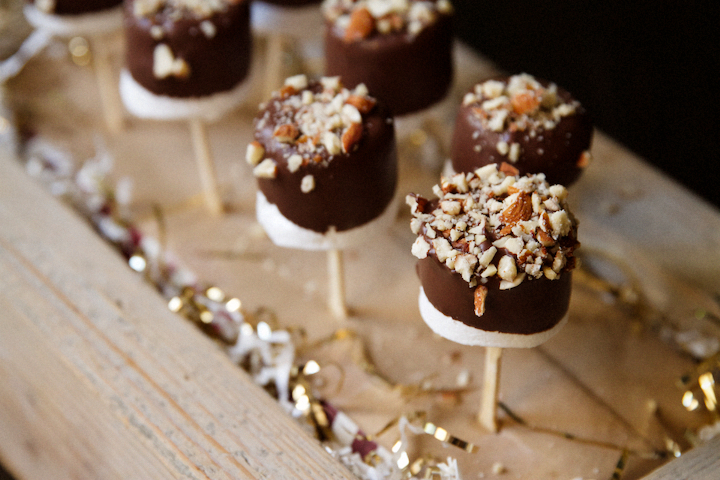 Spray your 12×9 pan (parchment lined) with a non-stick generously.  If you are using a different mold shape, pre-spray that mold well!
Start the gelatin base in the mixer bowl itself.  Whisk it and let it sit.
Next step is to boil the hot liquid mixture.
Last step is to pour it into the mixer.  Poor it along the edge of the kitchen aid, while it is mixing at a low speed.  Then, once all of the hot liquid mixture is absorbed, then turn up the speed and get those marshmallows fluffy!  The trickiest part of a marshmallow is to get a pourable consistency.  I like to use a ready test where you turn off the kitchen aid and lift the whisk to see if it falls easily and forms ribbons while dripping from the whisk.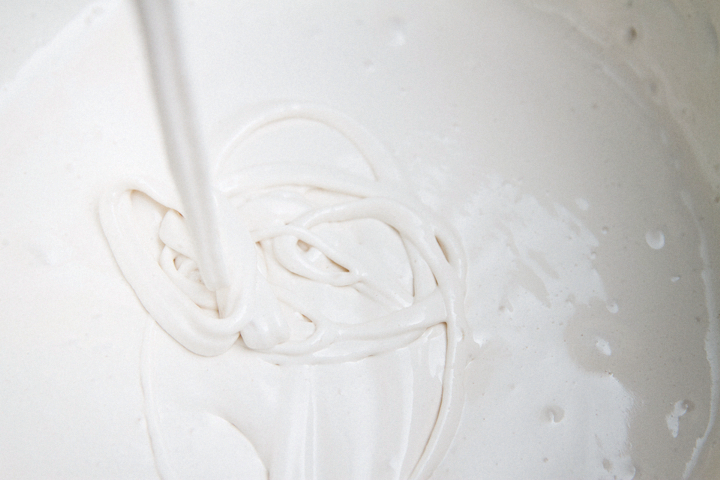 Last is to add the flavor. Beat in fresh vanilla seed for 5 seconds.
Pour the marshmallow into your 12×9 prepped pan or mold.  Use a knife or an offset spatula to smooth out the top.
Next, is to make sure you immediately cover your marshmallow with sifted powdered sugar.  Trust me, it will make all the difference with handling later.  You can dust it off once they are set (a few hours).
Next, invert the pan and then cover the other side of the marshmallow with powdered sugar.  This part is a bit messy, so maybe do this part on large sheet of parchment paper.  I like to use a natural bristles makeup brush to remove the excess confectioners sugar.
How To Shape Marshmallows – Blocks, Pops, and  Molds
Marshmallow Blocks: This is the most common way that marshmallows are prepared.  They are made in a sheet pan and then cut into squares. You can also use cookie cutters to get a particular shape.
Marshmallow Molds: To get that classic marshmallow shape, use a round mold. I find the cleanest method is to pipe it into the mold itself using a ziplock bag.
Marshmallow Pops:  If you want to make pops, I highly recommend using a shaped mold.  You can add the lollipop sticks right after you sprinkle it with powdered sugar and it will stay upright.
I used one of my favorite chocolate melts called Chocoley.  They have so many varieties I go a bit nuts!  They sell them on Amazon, but you have to buy them in bulk and I like the smaller bags, so I usually go straight to the source.  Another great go-to for chocolate melts are the Ghirardelli chocolate melts. Those you can find in most supermarkets.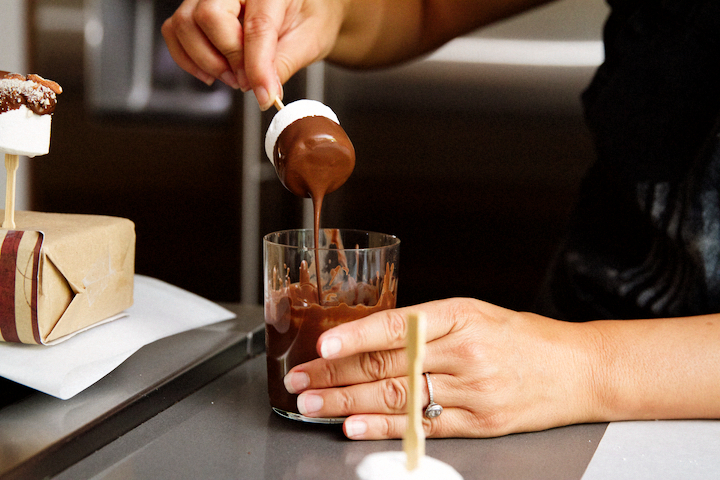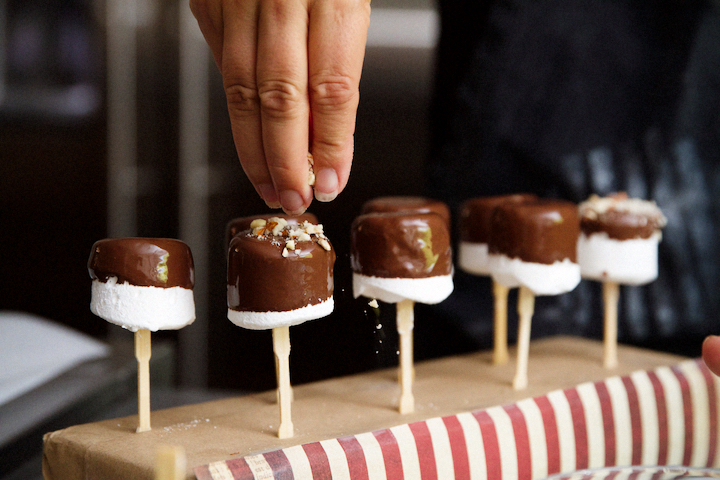 Once your chocolate is good and melted, dust off any excess powdered sugar and get dipping!  Immediately sprinkle your chocolate dipped marshmallows with a pinch of roughly chopped almonds and you are set to go.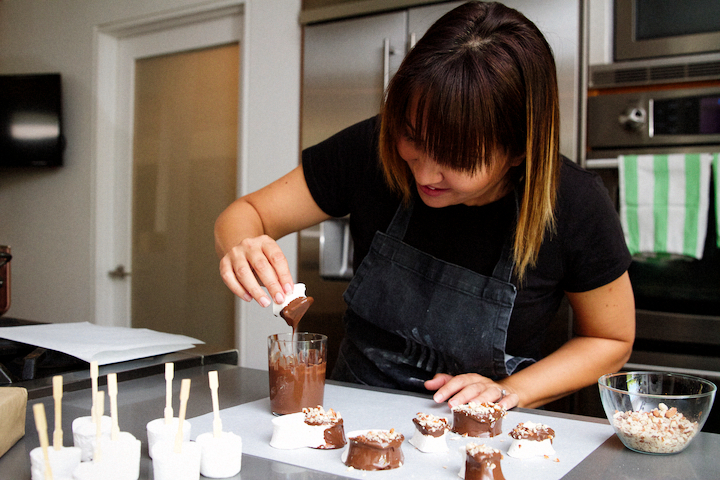 The good news is that you can use any shape or size. I love to mix and match, whats your favorite?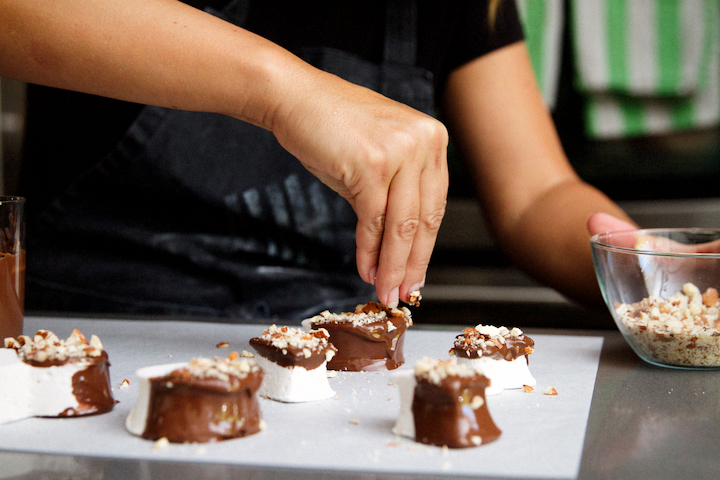 Photos by: Maria Hedrick Photography