Don't turn away now, just because you see the words "vegan" paired with "chocolate cake" in a recipe title. You won't think twice about the lack of dairy in this delectable treat after tasting it – trust us on this one. It's perfect for vegan friends, vegan-friendly friends, and friends that probably shouldn't be told this cake is vegan before offering them a piece. I get it though – some of us have dietary restrictions, and all of us have preferences – but this cake put a smile on just about anyone's face.  For your non-vegan friends, you can top it with some honeycomb to add some crunch!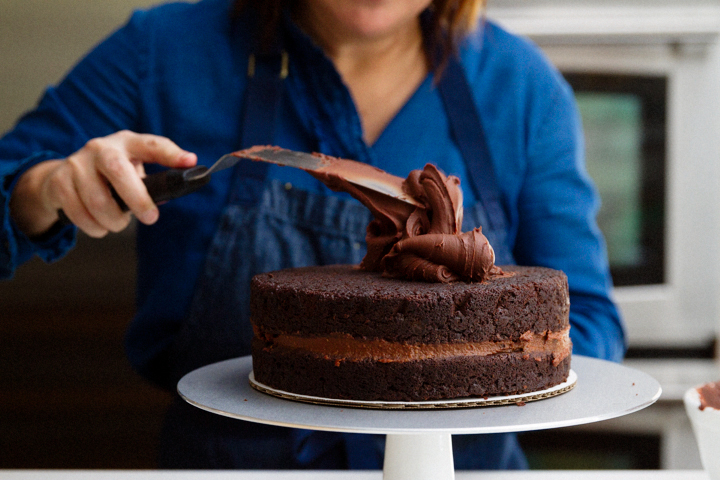 I researched high and low for the best recipe and found this showstopper on Half Baked Harvest. Thanks to the Blue Diamond almond milk, it's moist and rich without being overwhelming (it stacks well too!) so you get that lovely, layered presentation. The chocolate ganache frosting is perfect, and I love the way the golden honeycomb candy really brings everything together with a subtle, yet spectacular crunch.
While I use almond milk for the cake, we're going to need something with a higher fat content for the ganache. A can of full-fat coconut milk is just the thing – this is a healthy fat too, so don't turn away now. Heat it to a gentle boil and then pour it over the chocolate. The maple syrup gives it a silky shine (as well as an extra kick of sweetness).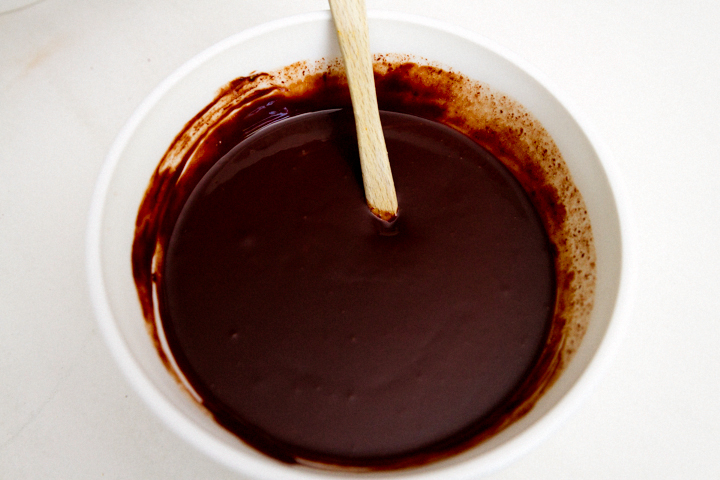 If it seems a little too liquid when you're done, just throw it in the fridge for a few minutes. The coconut oil is sensitive to temperature changes, but the flavor won't be affected in the slightest!
How classic is this cake? And chocolate, chocolate, chocolate. Mmmmm……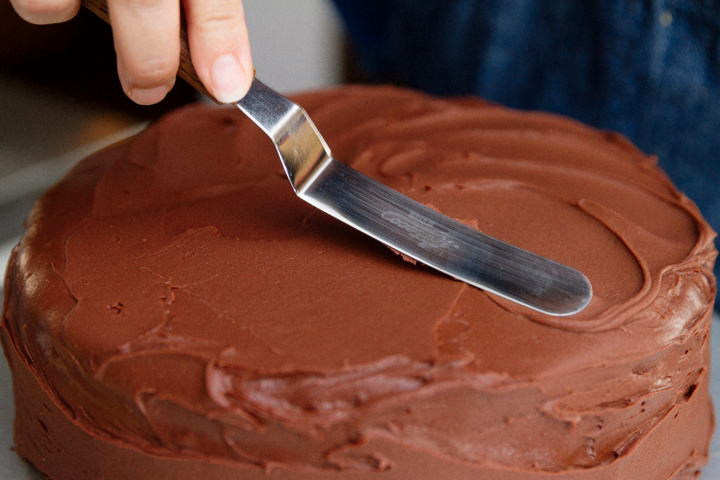 The color and shine from the coconut oil really makes this cake shine like no other, and the golden topping sort of makes this whole presentation a real show-stopper. It's perfect for parties. If you'd like, feel free to tell your non-vegan friends that it's "just a chocolate cake," and see their surprise once you tell them it's vegan.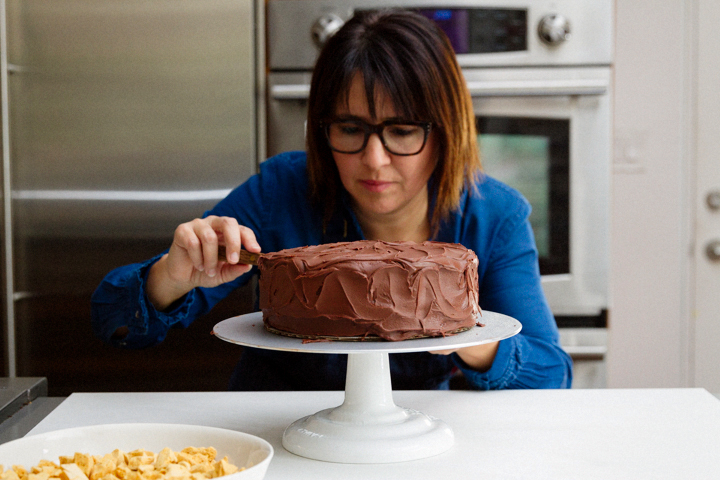 Now bring on the crunch. This honeycomb candy is seriously amazing. It adds color and crunch to take this cake to another level. You can either add it ahead of time like I did here, or invite your guests to add it by the handful to their own slices (and if you are hosting someone who doesn't eat animal products of any kind, give them the heads up that the candy does have a little bit of honey in it – they can always skip the candy, the cake is fabulous enough all on its own).
I've included the recipe for the honeycomb candy here. If you're new to candy making, you can check out my post from two days ago for a slightly more in-depth break down of how to get it just right.
Isn't it beautiful?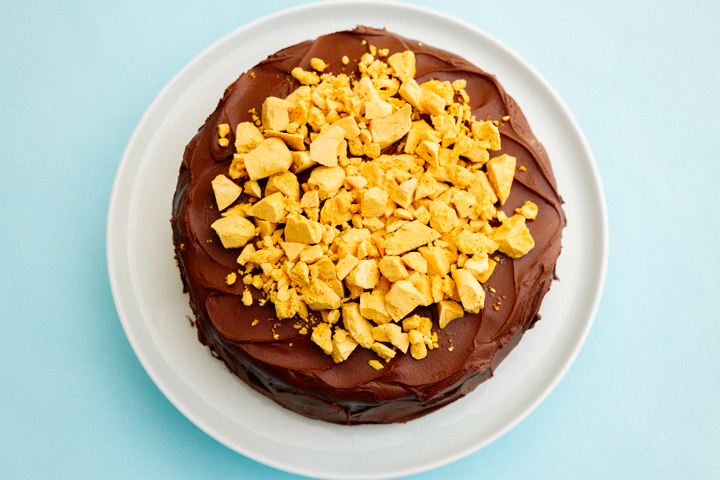 I mean, really. It's like love on a platter.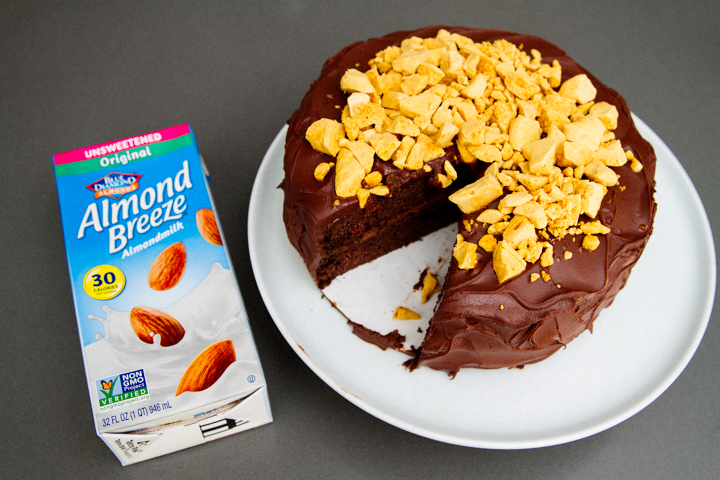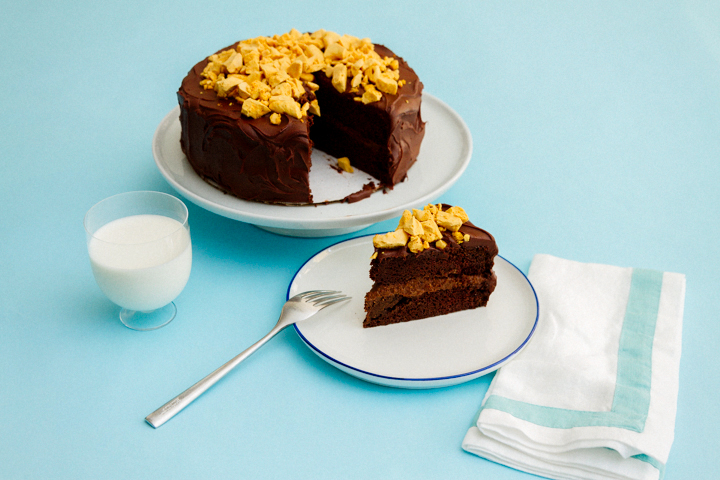 Photos by: Maria Hedrick Photography