Double, double toil and trouble…! Halloween is one of my most favorite occasions for decorating – anything and everything. That means creating incredibly cute and spooky treats for kids and adults, when my boys start brainstorming on what their ultimate halloween costume will be this year (that's also me calculating in my head how much time and money this year's outfits will cost!), and it means we're in the thick of the fall season. Whew and yay! There are literally hundreds of Halloween cookie recipes that I want to share but here's one of my top choices – Spider + Cobweb Sugar Cookies. It's perfect when your little ones have a Halloween party at school. They are a bit of time, but oh so worth it when I see my kids FREAK-out when they see them all decorated.  Honestly, even if you just plopped down eyeballs, they go cwazzy-town.
HERE IS THE DEALIO FOR SUGAR COOKIE NEWBIES
Cookie Dough:  Make – Roll – Cut – Bake
Royal Icing: Make – Color – Bag (piping bags that is with tip and coupler)
Piping Technique: Outline – Flooding – Wet-on-Wet technique
Garnish: Eyeballs – Sanding Sugars – Edible Glitter
SELECT YOUR CREEPY CRAWLY COOKIE CUTTERS
I think one of the most difficult decisions in a baker's life is picking out which cookie cutters to use. It's almost as difficult as picking out the right color when I get my nails done. For these particular cookies, I opted for simplicity and chose a spider and a cobweb cookie cutter which I got from fellow blogger
Sweet Sugarbelle
.  Her royal icing recipe is tried and true and she is most definitely a solid expert in the field of adorable royal icing decorating.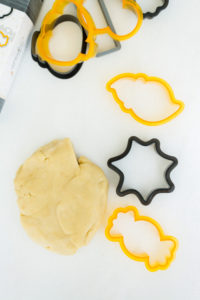 THE PERFECT SUGAR COOKIE
My all time favorite 
sugar cookie recipe
is a cinch. Sift your dries together and set aside. Grab your stand mixer, throw in the butter and sugar to cream, then add in eggs, vanilla, and a flavor of your choice. I recommend a citrus zest or a spice like cardamom to give it a little somethin'-somethin'. Gradually add in the dries and chill in the fridge for an hour so the dough firms.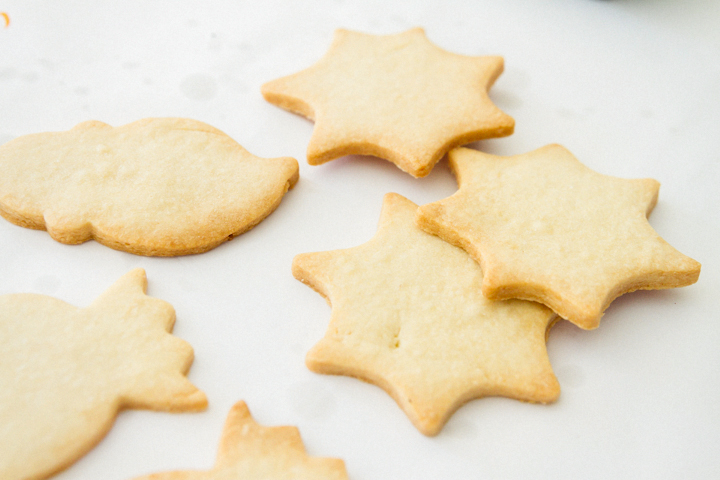 Once you're ready to bake, take the dough out of the fridge, roll it out and cut out your spooky spidery shapes. I pop mine back in the fridge for another 20 minutes until firm then bake at 350F for 8 to 10 minutes and let cool.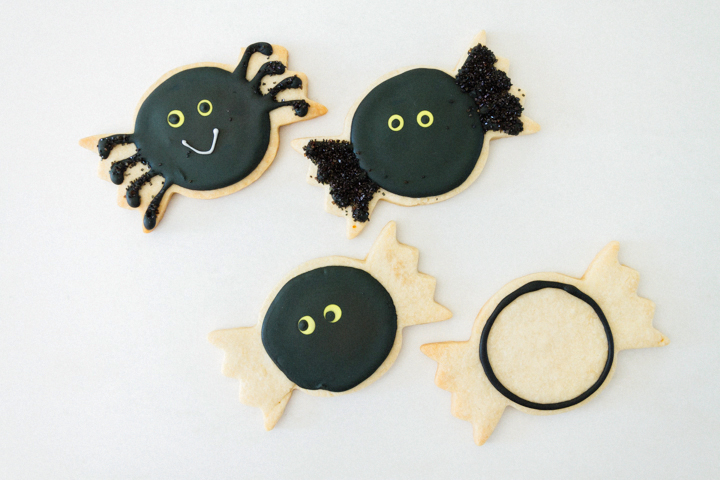 SPOOK OUT THOSE SPIDER + COBWEB SUGAR COOKIES
It's royal icing time! Grab a bunch of confectioners' sugar because you're going to need it. I'm talking two pounds worth, but it'll make just the right amount of royal icing for loads of cookies (more than  you will need on this round, but it will keep in the refrigerator for 2-3 weeks).  Once you've mixed up a big batch of white icing, take out a handful of fun Americolor gels to mix into smaller batches so you can start decorating. Portion out a hefty size of black icing for the spiders, pouring it into a piping bag and using Ateco or Wilton tips number 1 and or 2.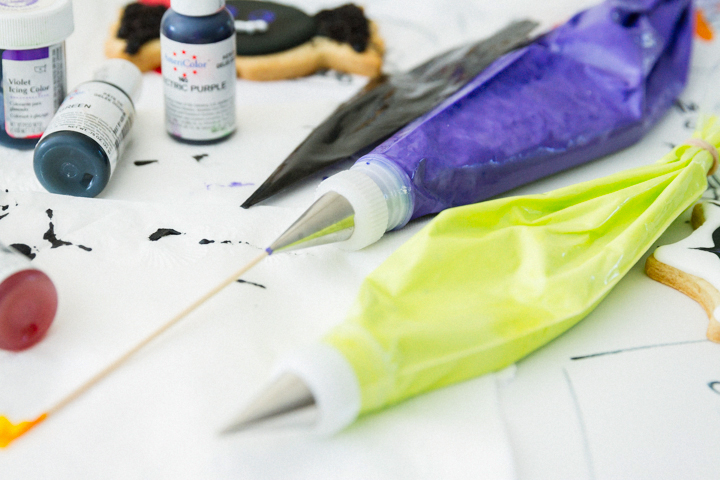 SPIDER
Start by outlining the spider body with a circle, then fill in. Grab another piping bag with yellow or blue icing and create two dots for the eyes. Go back and place a tiny dot in the middle of each eye to create a pupil.  Wait for it to dry.  Next, draw four legs on each side of the spider body with the black icing, then sprinkle the legs with black glitter. Let it dry slightly, then gently shake off and let cookies completely dry. Have fun with the spider's mouth – as you can see mine are having all kinds of emotions.
WEB
For the spider webs, outline each cookie with white icing, then fill in completely. Grab another piping bag with blue icing and draw two circles – one large and one in the middle. With your other piping bag of yellow icing, draw two circles in between the large and middle sized circles. Immediately, after you flood, use a toothpick to draw lines outward from the center and away towards the last circle, creating a web effect. Allow to dry completely. Feel free to play around with other colors as well.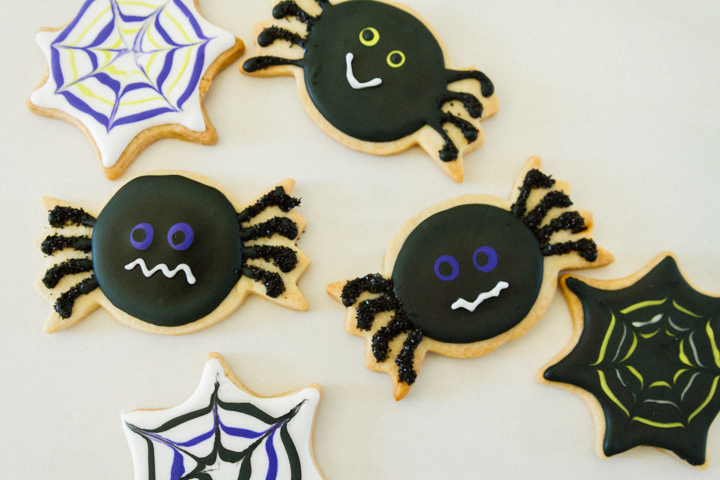 So, keep this fun Spider + Cobweb Sugar Cookies recipe in mind for an upcoming kids halloween party. They're sure to be a big spooky hit!
OUR FAVES 
Photos by: Maria Hedrick Photography