HAPPY HALLOWEEN!
This vibe is on the mark for mixing the perfect combination of urban and well, mom.  Everyday, I find myself running my daily errands of dropping off kids.  To and fro.  To and fro.  Well, this inspiration came from a street corner advertisement for a pop-up Halloween store.  The ad was bold and covered in scary pumpkins, but then slathered next to it on a wall was some fresh silver graffiti writing that read something I can't repeat. It was so bright and blaring and just begging to be the next feature for my "BOO" Pumpkin Decor Galore spread.  Voila!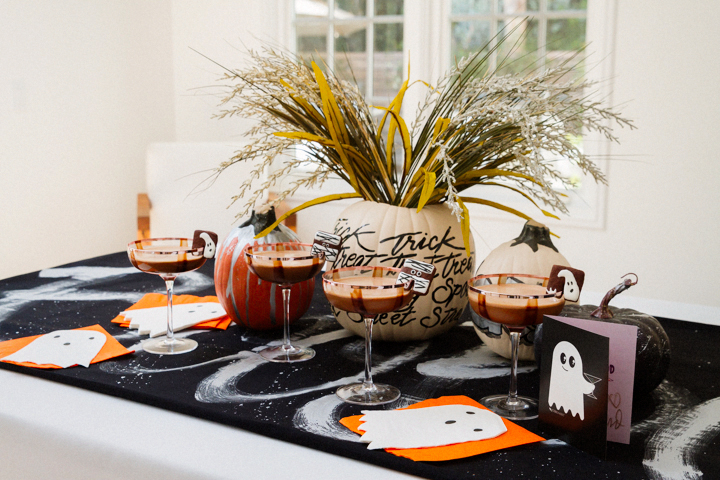 CREATE THE MOOD – TRICK, TREAT, SPOOKY, OR SWEET
For this Halloween spread I was inspired to make sweet mummy and ghost cookies to offset the edgy angle of the more urban runner and pumpkin decor. While testing out my cocktail, which, oh by the way is delicious, I channeled my inner Martha and used graffiti font, drips, and splatter paint to bring the pumpkin decor to life with a touch of street vibes.  I invited my street artist pal, Juan Barajas of Crownhill Designs to come and help me.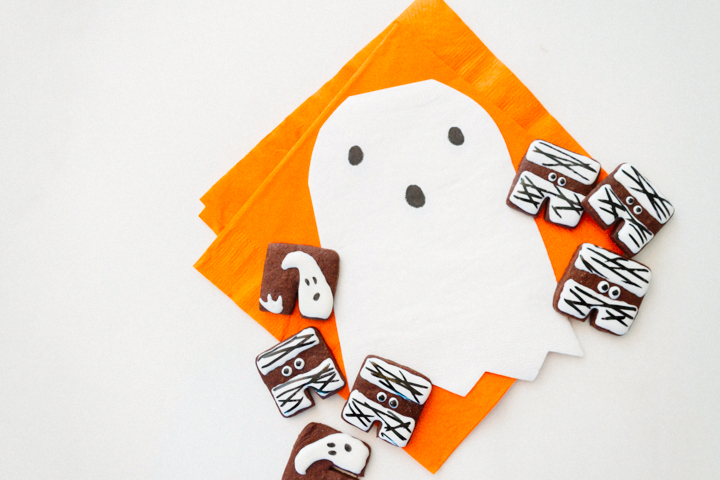 BOO RUNNER – STREET ART ON MY TABLE
I picked up a simple sheet of black fabric from Joann's for my runner. (I am not a seamstress, so I just folded in the edges).  As for my design, I asked Juan to script 'Boo' in a high contrast metallic color.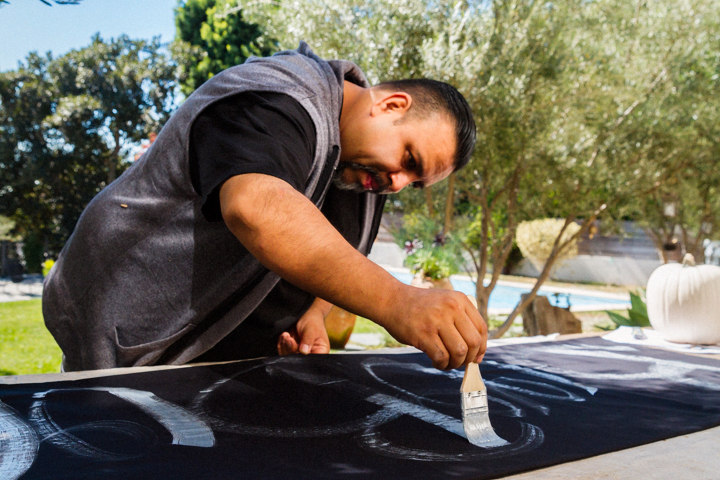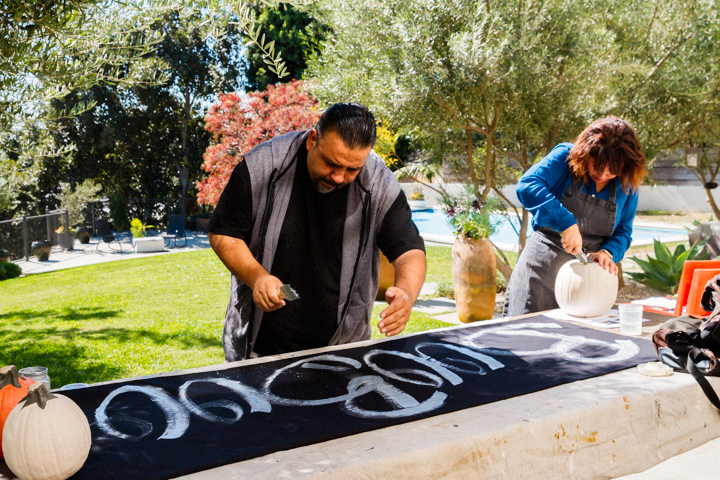 Isn't it sweet?  I  patterns and the repetition of this Boo just has me smilin' ear to ear.

Here is the final dealio! We scripted Boo, and splattered silver to add some texture to the runner.  Keep it easy, eh? Even if script is not your forte, this runner is very forgiving if you chalk out the boo beforehand and then just splatter away any little mistakes.
PUMPKIN DECOR FOR THE CITY BUMPKINS, YAZ!
I am a font freak!  I love that aspect of street art, even if half the time I can't understand what it says. I literally have named font styles in my head. They fall into one of two categories: Grafffiti or Grace.  Graffiti is of course the "hardcore" stuff, and much of what you see on the street. Grace is just beautiful….synonymous with beautify, emblazon, ornament and glitz.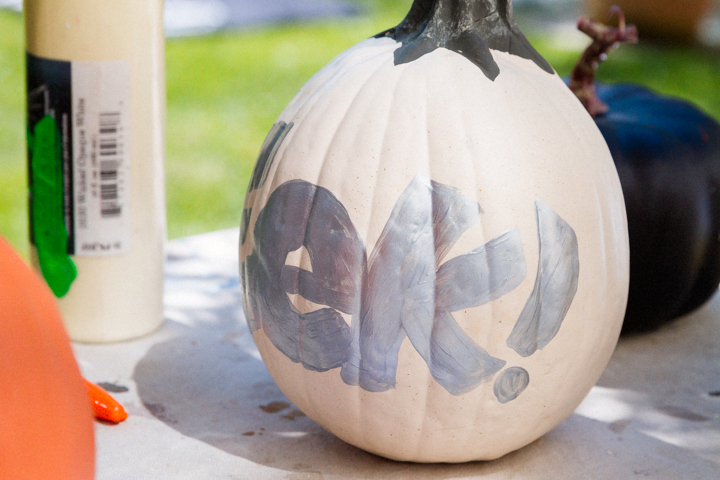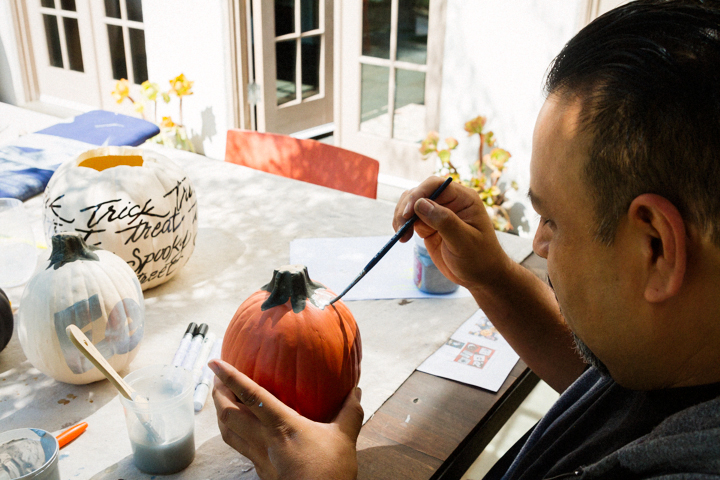 Juan used acrylic paint for the drips and splatter pumpkins, and DecoColor Paint Markers for the scripted font.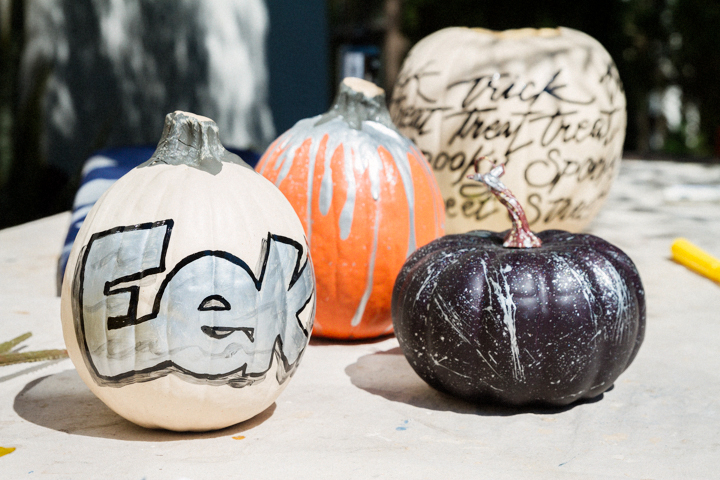 So Graffiti style decoration in this case are the pumpkins with EEK and drips and splatters. But the Grace is this lovely font style scrolling, "Trick, Treat, Spooky, or Street."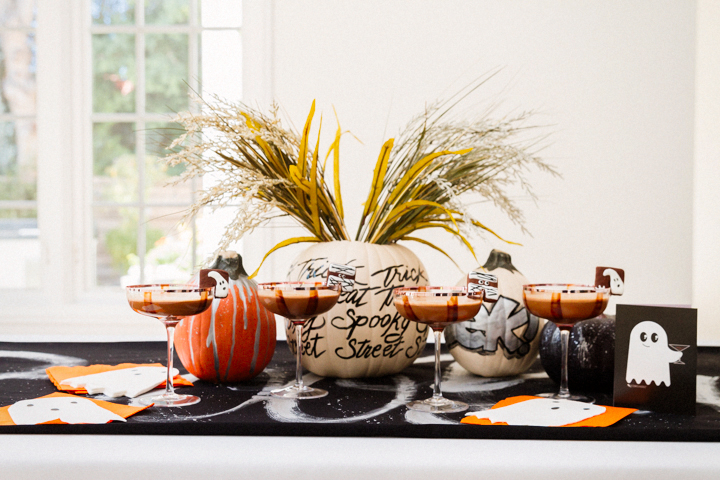 I just love the pumpkin decor on top of the Boo runner. I found cute die-cut ghost napkins at my fave store Bonjour Fete. I stuck loose grasses in the largest pumpkin but colorful flowers work well, too. Enjoy this festive spread ~ Boo!
OUR FAVES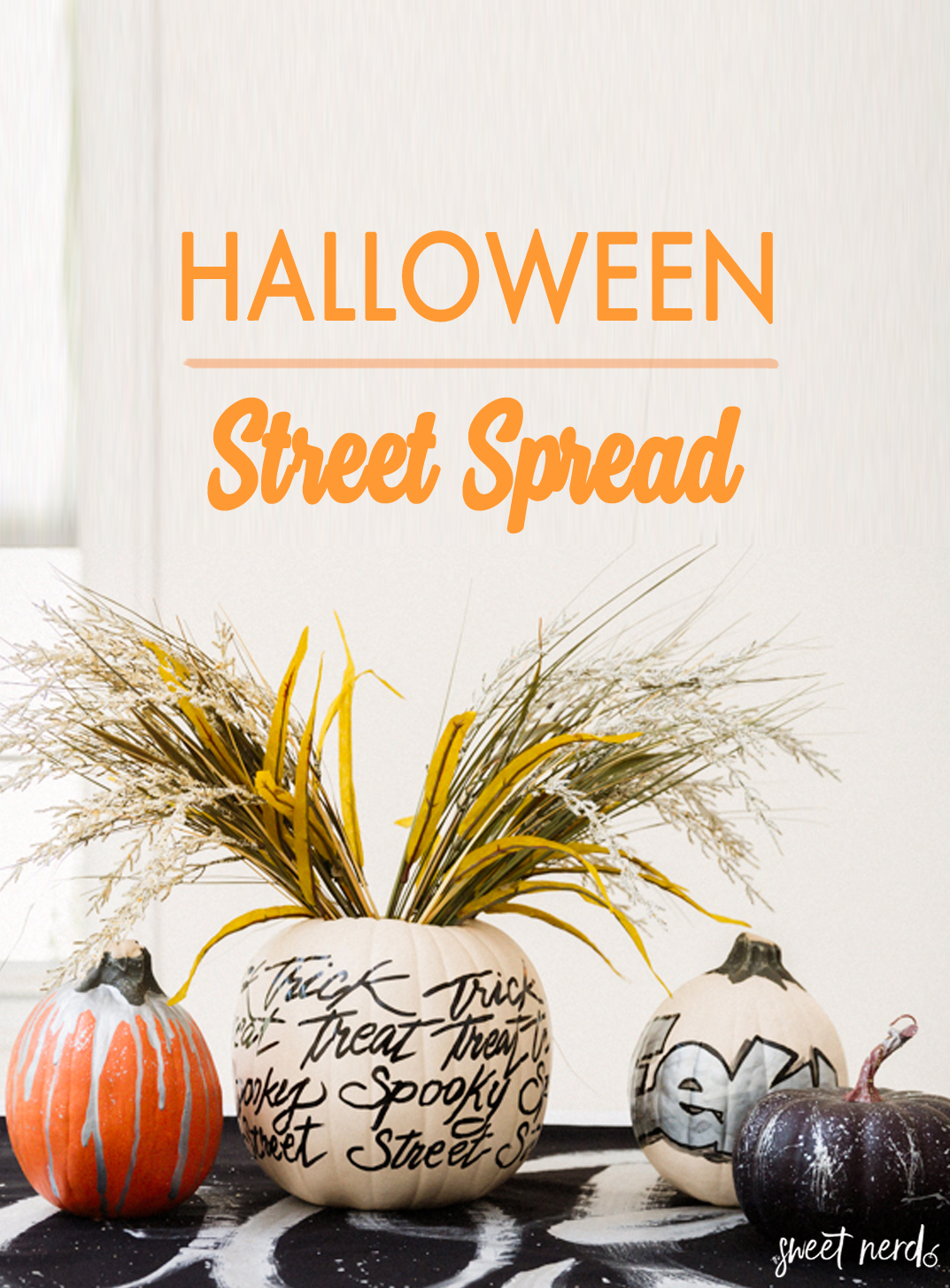 Photos by: Maria Hedrick Photography