Boom. Sizzle. Pop.  Let the party in your mouth begin! Try these Pop Rock Red Velvet Cupcakes for your next kiddie shindig. These fun mini cakes are decorated with super cute lightning bolt cupcake toppers and sprinkled with Pop Rocks. This recipe is a cinch for us busy moms and results in moist beautiful red velvet cupcakes. My kids to participate in the final touches and plop the Pop Rocks onto the cupcakes.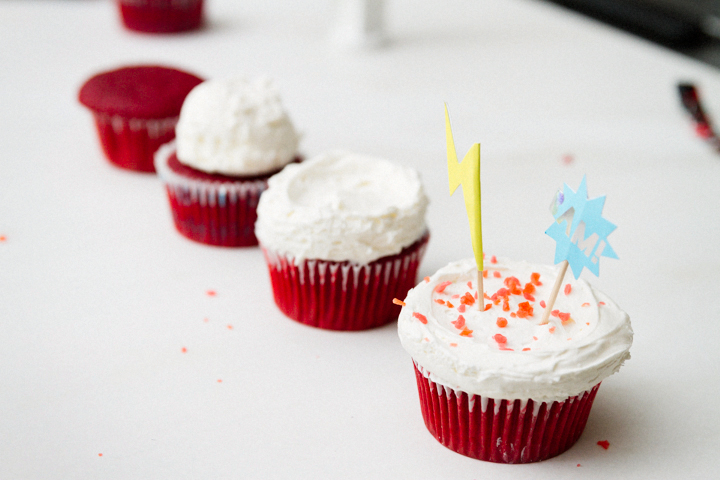 I tried to be a bit gestapo-ish by telling the kids not to eat the Pop Rocks and to save them for sprinkling. Ha. I could see Liam's eyes twinkling and hear the big-band playing inside his mouth.  That kid was so caught!  Oh well, be wise moms and just let them have a few before you begin, otherwise you will have sizzle suspects lurking.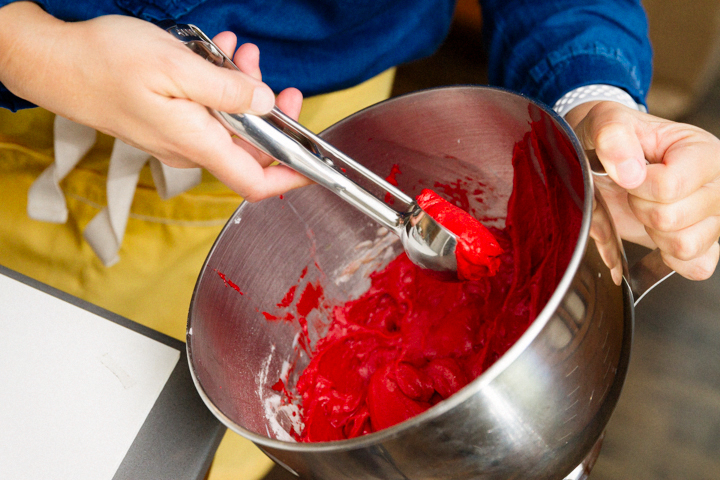 The recipe for red velvet cupcakes itself is an easy one.  What makes this cupcake so divine is the beautiful red batter. It's essentially a cocoa batter, but once you add that pop of color, wow!  If you feel like exploring the chocolate side a bit further, try this lovely chocolate cream cheese cupcake.  And, if you want to run from the hills because chocolate is not your thing, try these simple vanilla cupcakes.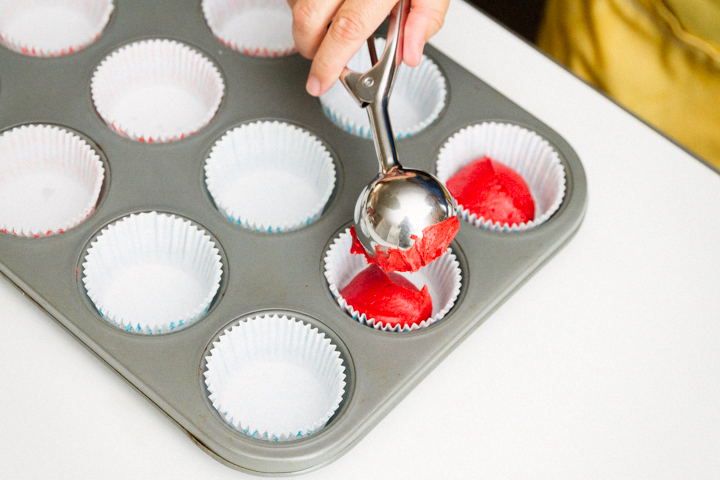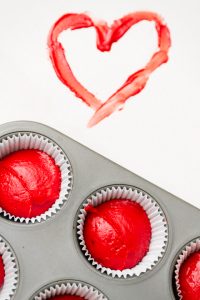 Fill your cupcake liners about 2/3rds the way up the liner and voila!  Red velvet cupcake baked beautifully.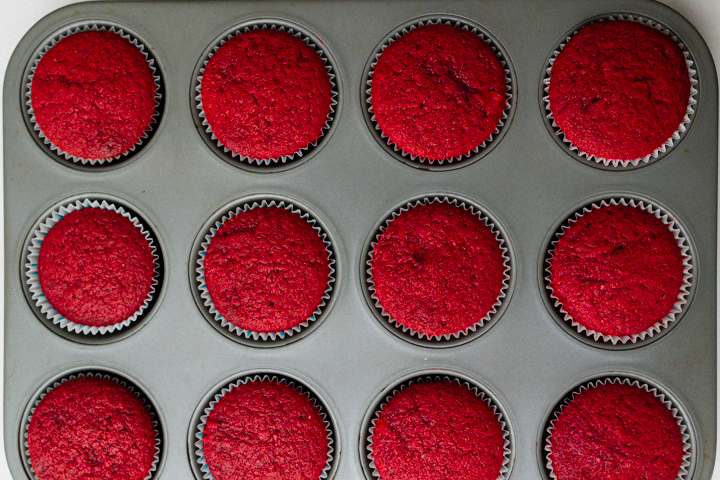 The taste on this cream cheese frosting is divine. You can apply the frosting any way you like, I opted for a rustic look as I knew the Pop Rocks would give it the final touch.  I just plopped a piece in the middle with an ice cream scooper, and then with a swirling motion, created a dome-top that sits on this king of all cupcakes.
Sprinkle with Pop Rocks and you are nearly there.  Yeah, this is the point where my smile turned to a frown as my kids popped more rocks in their mouths than on the cupcake, but, hey, if you can't beat 'em, join 'em.  I did the same and it cracked me up at how long it took to finish these cupcakes.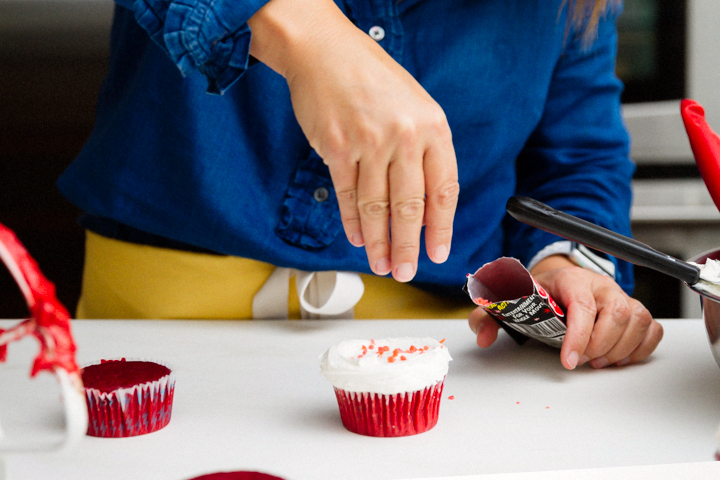 Not sure why this excites me as much as it does, but now for the final part.  Time to load in those adorable cake toppers.  I guess I'm super excited because it's one step closer to the grand finale and culminating this rather rad party.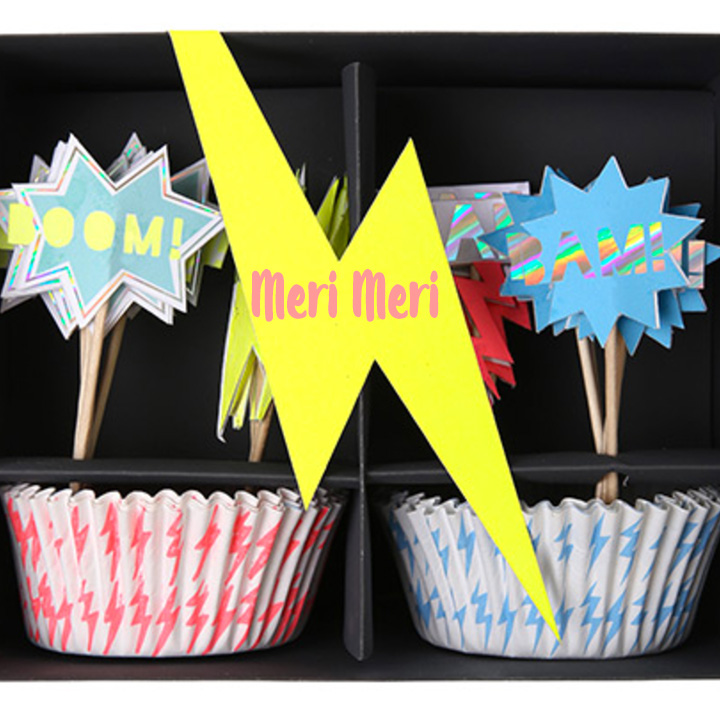 So, allow me to swoon a bit more over this product line for a moment which is Meri Meri.  I love their fresh innovative product lines that appear modern and hip.  I just this stuff up! And, I love this lovely online shop that makes party buying a cinch, Shop Sweet Lulu.  They do the thinking for you and leave the fun baking stuff to us moms.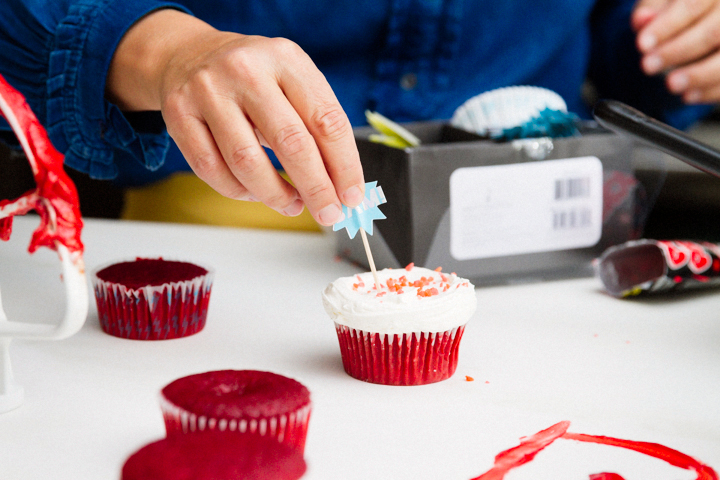 And now we are approaching the final step, tada – plant those cake-toppers atop that billowy cream cheese frosting and you are good to go, my friends!  (Tip: the cream cheese frosting will need to be refrigerated.)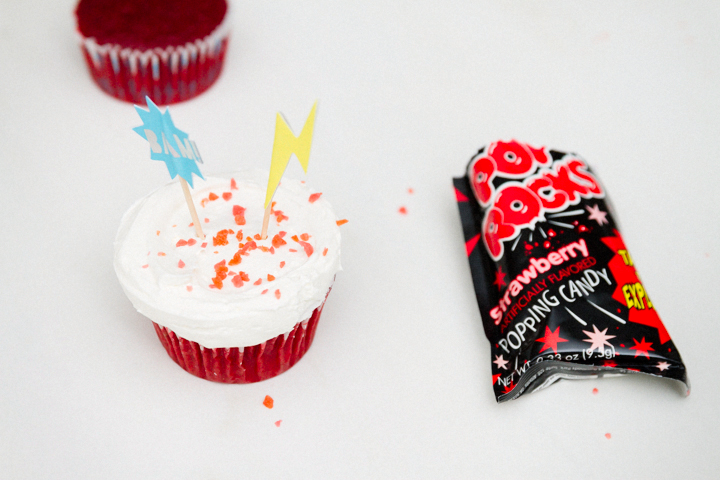 Have a blast, or a boom, or a bam eating these delicious red velvet cupcakes.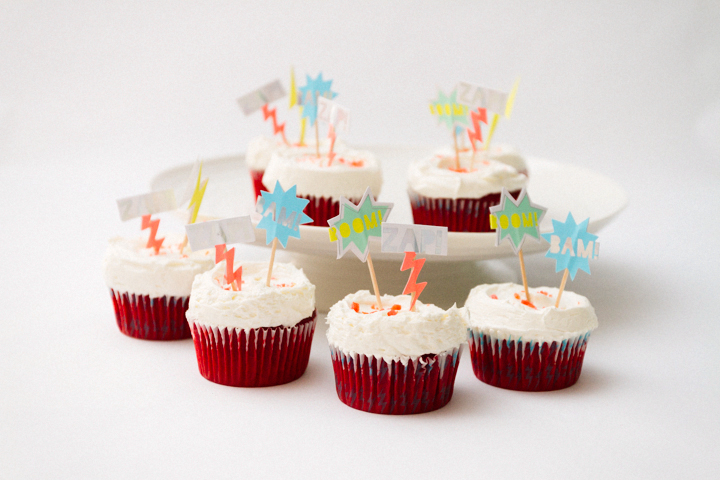 Photos by: Maria Hedrick Photography