Blueberry Frosting + Blueberry Cake = one zippy kid's birthday cake (or adult). This blueberry cake is delicious, beautiful, and oh-so-fun to crack open and marvel at those bright blueberry creamy layers. Mamas, get your decorating groove on as we take you step-by-step through layering, frosting, and finishing fondant application. You can do it!!
Making a blueberry cake from scratch is work, no doubt about it…you'll need some true 'mommy baking time' to get this layered cake complete.  What is that, right? Who has mommy baking time? Ok, let's break this down into a few days of work and as soon as those kiddos go down, let's get baking!
Inspiration
Mine came in the form of this little hero!  As you're slaving away the next few days, remember that golden boy or girl with whom you are making this cake for.  It doesn't really get any better than the moment they see a cake you made just for them.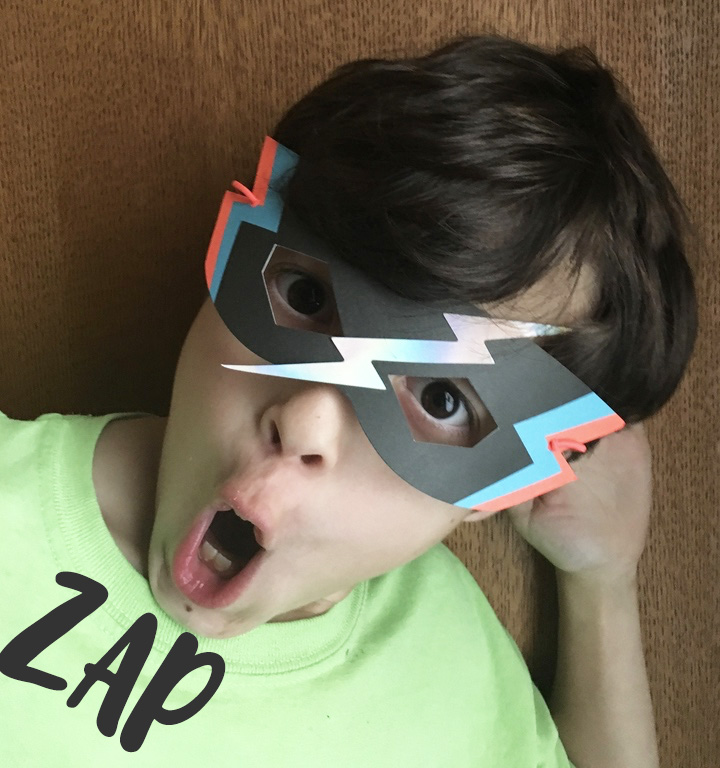 Plan
Day 1 -Make blueberry cake layers (refrigerate overnight).
Day 2 – Make blueberry filling, assemble and place in refrigerator.  Meanwhile, make blue frosting, remove cake from refrigerator and give it a quick crumbcoat.  (refrigerate overnight)
Day 3 – Frost outer layer of cake with blue frosting (refrigerate), make, and apply fondant mask.  Serve!
Make Blueberry Cake Layers & Filling
Yummy!  Fresh blueberries in the cake itself and pulverized dried blueberries in the filling.  Such a perfect combination.
Assembly
Ok, keep calm!  Everyone always asks, how do you get those perfect layers.  I measure with a good old ruler! Yep, a wooden ruler and then shave off the top.  There are so many tricks for cutting cakes and here's my fave demo if you're a newbie to the cake-cutting world.
Crumbcoat (1st layer of frosting)

I love to crumbcoat because it is the 'hakuna matata' part of frosting a cake. Ain't no worries for the rest of your day.  Just apply the blue frosting for coverage and it's fine if you see parts of the cake peek through.
Frost For Perfection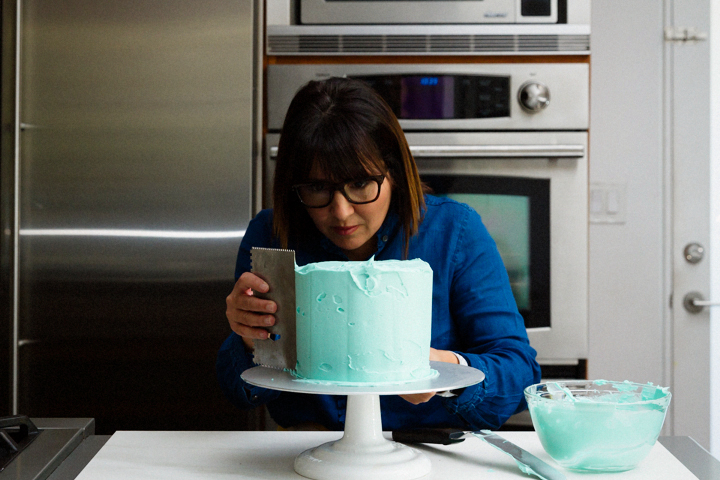 So, how do I create the most perfect frosting layer? Buy a cake smoother!  I promise you won't regret it. They are easy to use, and boy, do they make this process simple.  If you don't have one, use an offset icing spatula.  I switch between the two!  If you don't have an offset, use your flattest longest butter knife with a smooth edge. See the video for a demo.
Mask
The mask starts to get a bit more elaborate because we need to paint it, but if you take it step-by-step, you can do it.
Fondant Roll & Cut:  Satin Ice Fondant has worked easily for me.  I sprinkle a bit of cornstarch while rolling it (to prevent sticking) and then use a knife to cut out the shape of the mask. Roll over it with a fondant smoother.  If you don't have this, skip this step, and just use your roller.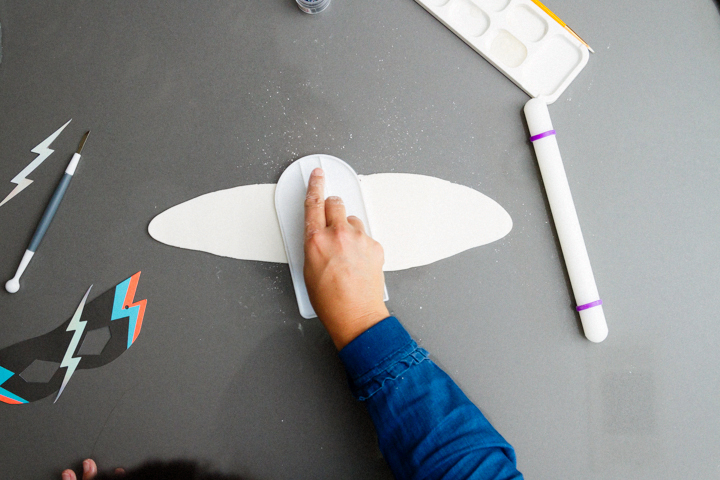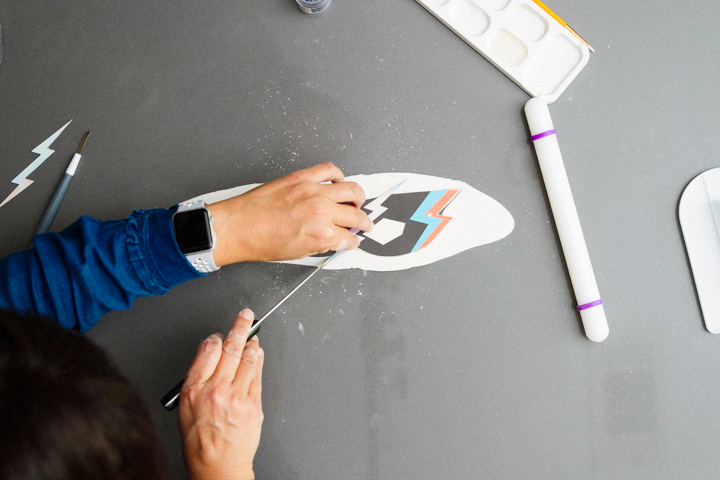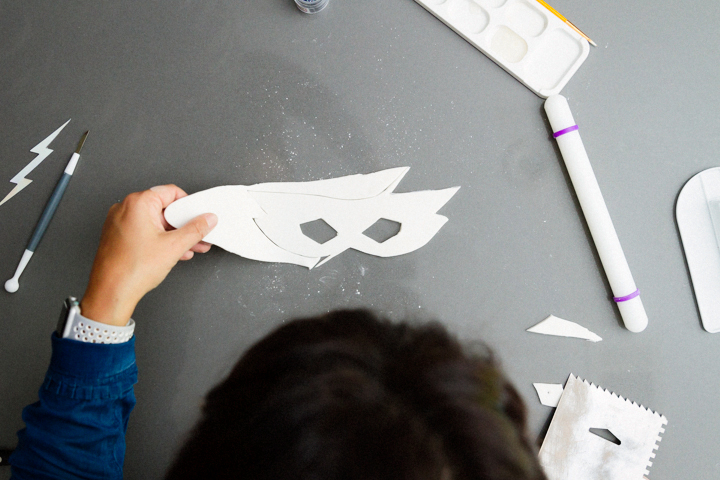 2. Glue: To adhere the glitter or disco dust to your cookie, I opted for Wilton's piping gel, but there are so many ways to do this.  If you don't have this on hand, try brushing a little bit of corn syrup as your glue. Here is a great blog post from one of my favorite bloggers on how-to make edible glue at Sweetopia.net.  Then sprinkle the edible glitter and wipe off the excess with a blush brush (use only for this purpose).  I like the shop, Layer Cake Shop to buy disco dust.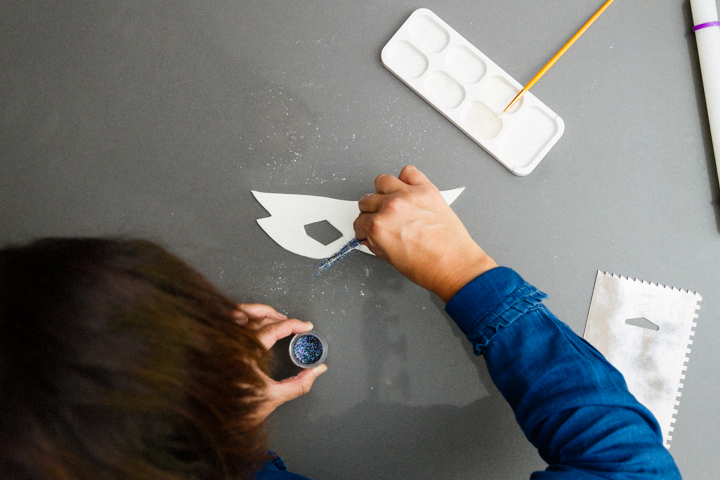 Final Touches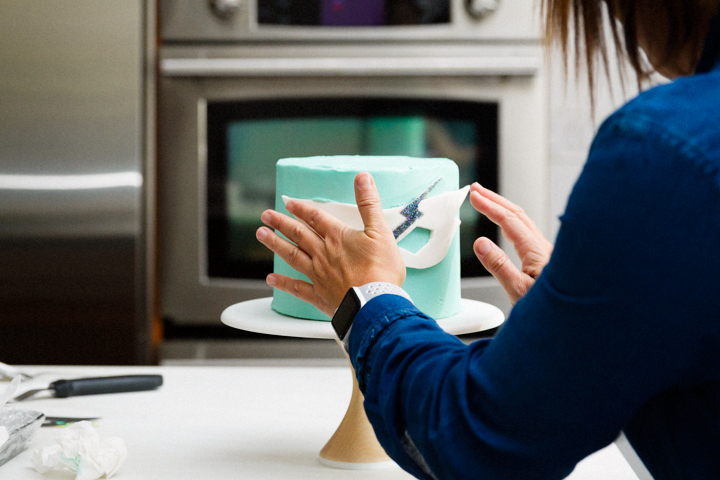 Apply the fondant mask on a cool, but room temperature cake so it will stick to the buttercream. Finally – whew, you made it. Step into nirvana now as you have worked hard!  Place these lovely and adorable cake toppers to finish off this masterpiece.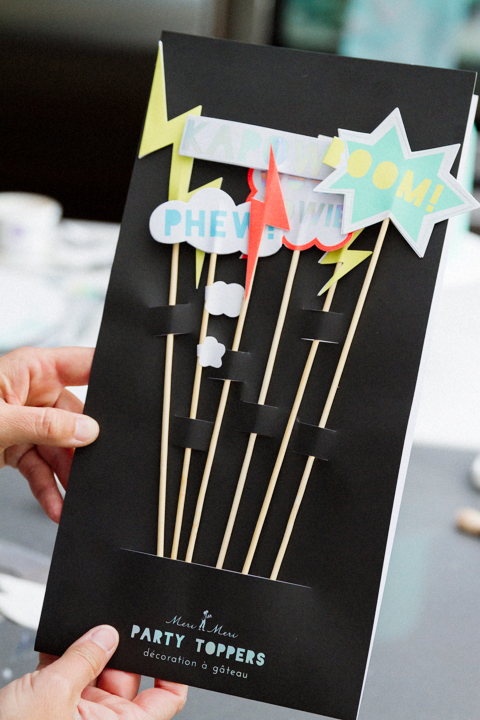 Now, I am being lame about this crush, but the products just keep getting better and better.  Meri Meri…you had me at "party". You must check out their fresh innovative product lines – they are just too darn hip. My go-to shop to buy Meri Meri is this lovely on-line shop that makes party-buying a cinch, Shop Sweet Lulu.  Show them some love, eh?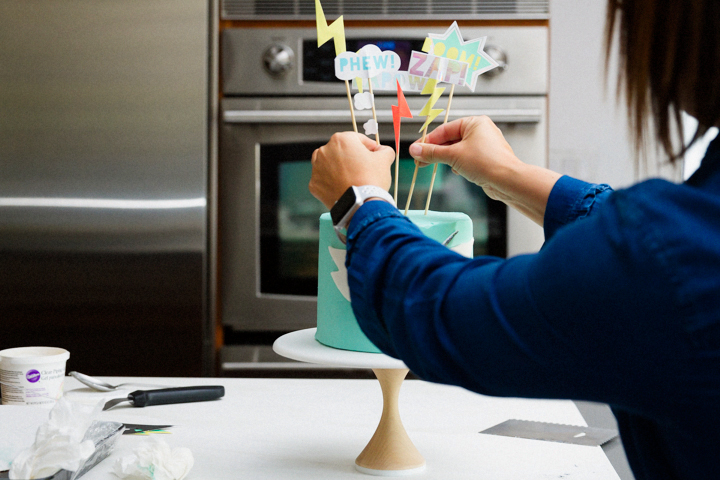 Now that the cookies, cupcakes, and cake are all done, what next?  Check out the sweet table spread that we put together for this zippy Kapow-themed birthday party.
Photos by: Maria Hedrick Photography