Ever need a pinch hitter?  My sister Rose was the best substitute and hit it out of the park by helping me make this berry delicious strawberry cake.  Strawberries + Cream Cheese = Homerun.  Usually the 4th of July is all Q-ing and summer loving, but this year we are moving.  Hence, the reason I needed a pinch hitter was because I overpacked and hurt my back.  Ouch.  But rather than spoil the fun, we turned lemons into lemonade (ahem, strawberries into cake) and she nailed this killer strawberry cake with me sitting on my laurels and gently giving sweet instruction.  It was pretty funny and Rose is such a sweet sis, she was all game!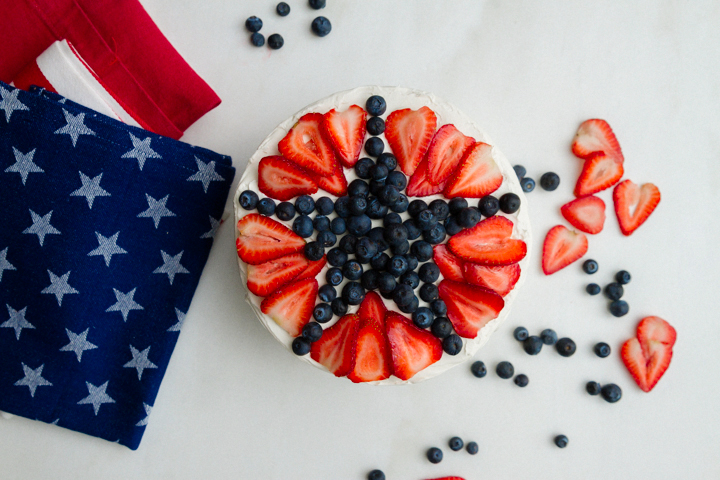 YOU WILL NEED
3 Cake Rounds, 8″ (can be premade days ahead and frozen)
Fresh Strawberries & Blueberries
Simple Whipped Cream Filling & Easy Cream Cheese Frosting
Decorate With Star Paper Pattern
Strawberries were practically dancing across, in, and atop the cake.  The bright pink came from pureed strawberries .  Genius right?  It was sooooo moist, fresh, and delish!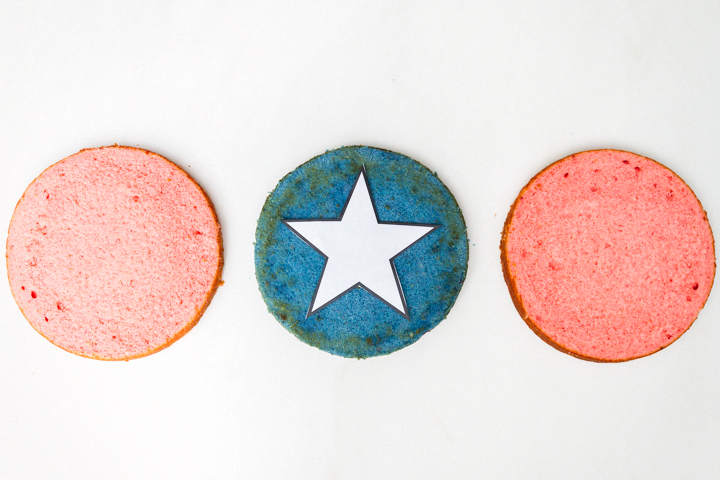 LAYERING
Cake + Cream & Fruit
Cake Layer 2 + Cream & Fruit
Final Cake Layer
If you start out with even cake layers, that makes the cake layering process so easy and professional looking. Annalise over at Completely Delicious is an expert at cake-cutting. Check out this easy instruction on How to Cut A Cake. I say if you can cut a tomato, you can cut a cake, so please don't ever be intimidated as those sweet crumbs don't want to scare ya, ever!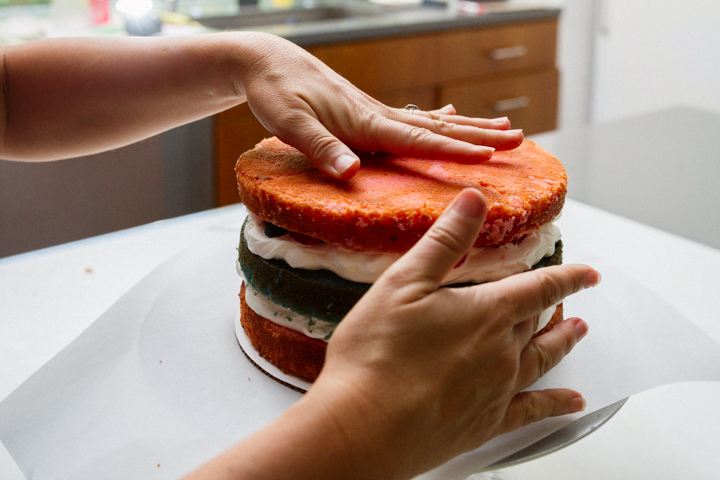 DECORATING
Crumbcoat Layer, Seals in the Crumbs
Rustic Frosting Layer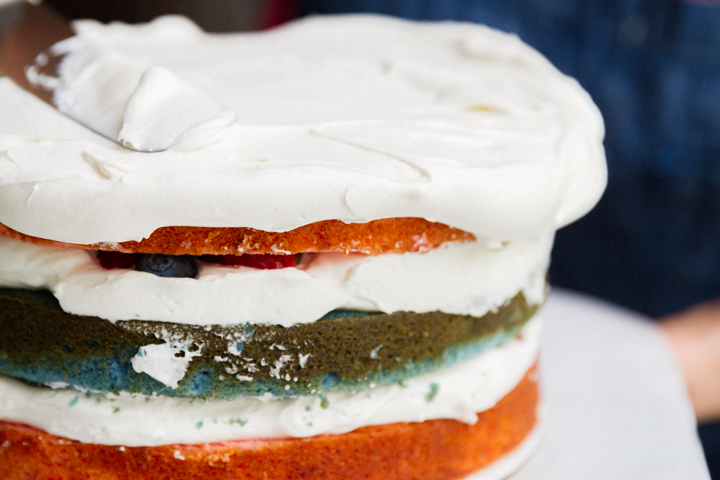 So this is where my pinch-hitter really got put to work.  After layering comes the crumbcoat. Yep, she asked the same thing… what is crumbcoat? Sounds like something Mr. Tumnus might say. Would I dare say the daughter of Eve loves a crumbcoat?  No really, this is a sloppy, first layer of frosting around the entire cake that seals in the crumbs.  I this layer 'cuz there ain't no way to mess it up!  My kind of gig.  And as it turns out, my sister's too.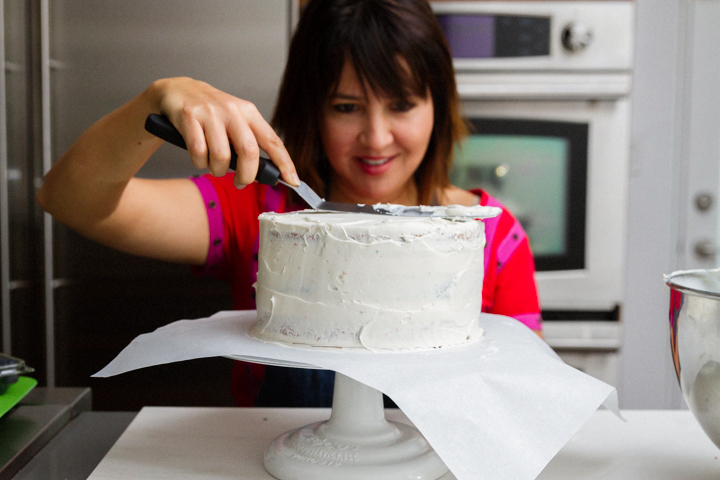 My pinch hitter was starting to lose confidence as she learned that she would be decorating the cake too.  Not to worry I told her, "We are doing a rustic look."  You sort of just load on the frosting like this…
Blob of Frosting on Top (check)
Apply to Sides (check)
Rustic Pattern, Swishing Offset Spatula in a Forward Motion (check)
I started her off with the blob and, well, we sort of tag teamed the rest. I loved coaching her along through this process.  Let's just say she had a little trouble with the curve (sorry, just so excited with my baseball metaphor, although truly I don't really know the game too well).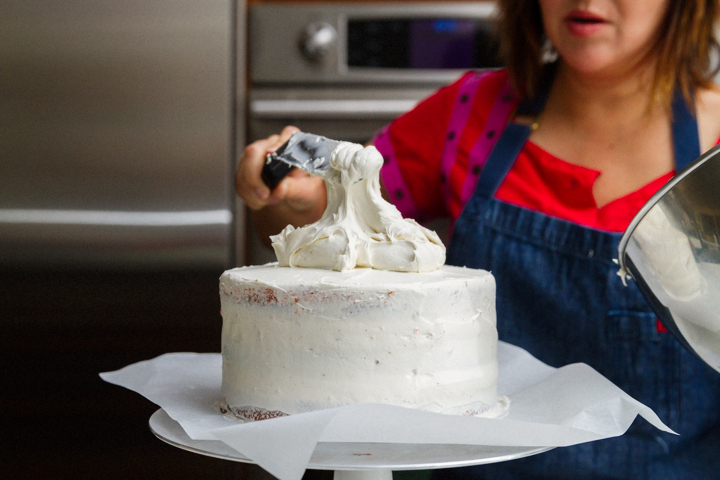 But girlfriend was back in the game after the 7th inning curveball and she loved 'prettifying' this 4th of July beauty.
DECORATING WITH STARBERRY FINISHES
Cut out a simple star pattern.
Applied it to the top of the cake and traced a faint outline with a knife
Placed blueberries on top
Finished with sliced strawberries
Star-spangled blueberries!  My sis, Rose, was about to celebrate the win, but I reminded her we still had to finish with strawberries.  Feeling very Captain Americaish in this moment.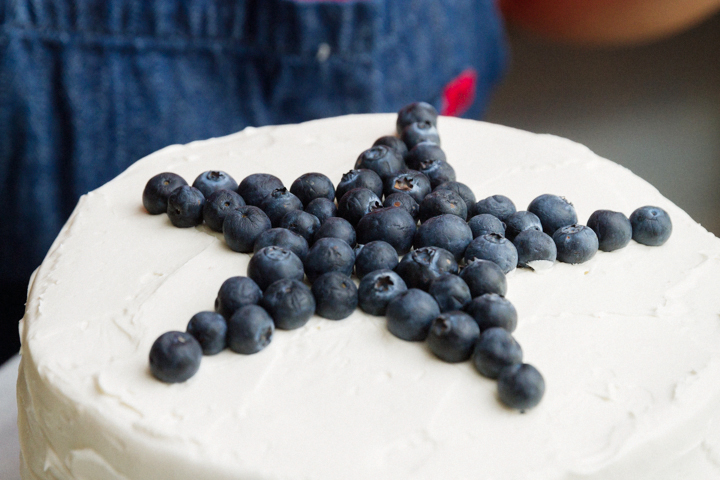 Be sure to prep some sliced 1/4″ strawberries that are roughly the same size. Just a quick note about using fresh fruit atop of a cake.  It is best served fresh and the day of.  It will keep one night in the refrigerator fully decorated, but note the strawberries will begin to bleed once they are open.  Yeah, bleed, but the good kind of sweet, runny, red berry stuff. Usually this is not a problem as no once can resist this strawberry cake, but just wanted to make sure you know that about fresh-cut strawberries.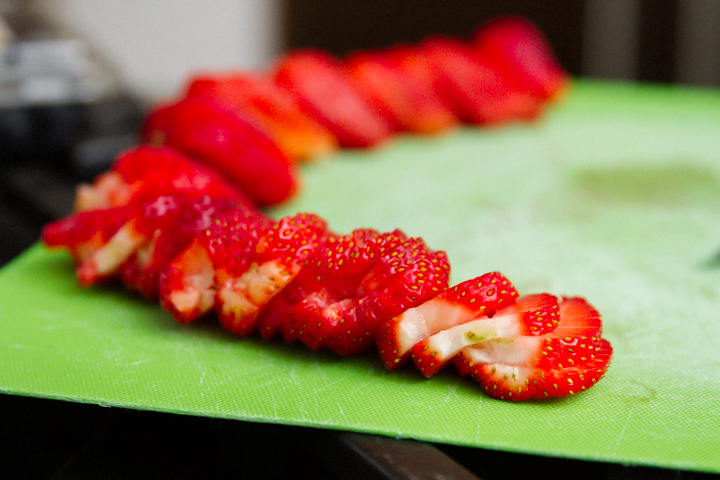 I layered the first strawberry base at the inside point of the 5-pointed star.  Then, layered the two on the outside, and lastly finished with the middle star.  Repeat this process until you have covered the entire cake.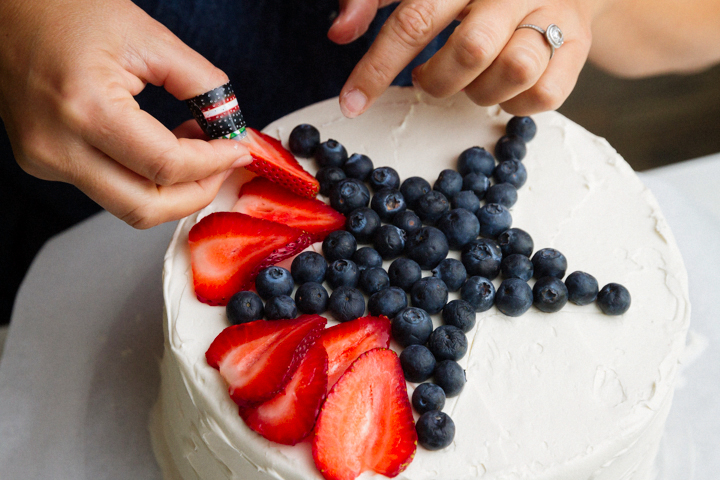 Rose and I celebrated this strawberry cake by digging into it as soon as we could.  She is my BIGGER sister.  Just kidding.  She is older, I meant to say.  Hmmm, should I stop now?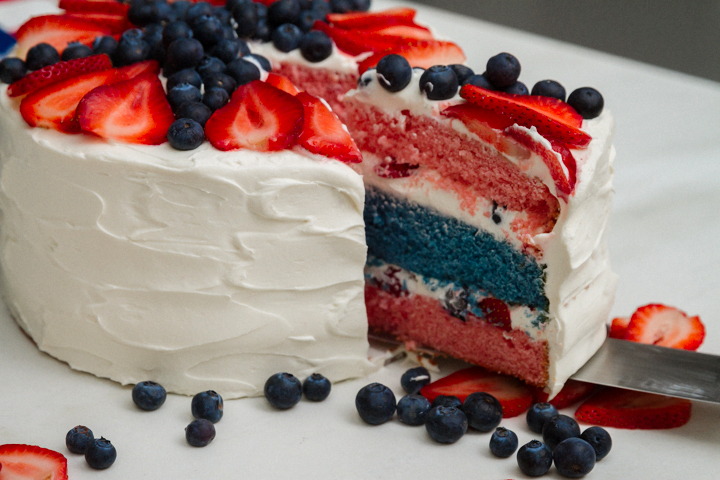 I love this pinch hitter like a bestie and could not have delivered this sweet strawberry cream cheese child of God without her.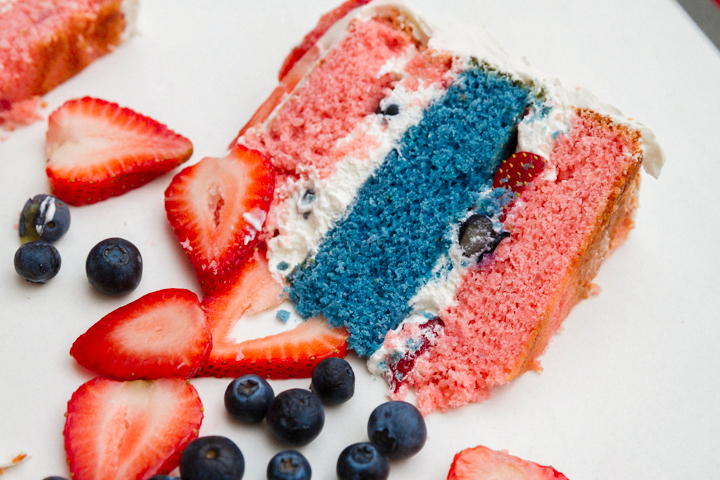 Liam dropped a sweet note for all of you, too!  So from my family, my pinch-hitter Rose, and the entire team at The Sweet Nerd, Happy 4th of July!  Now go win yourself some strawberry cake.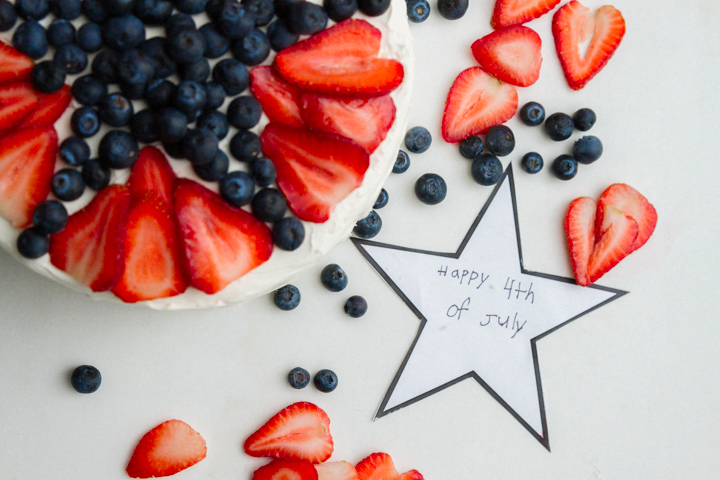 Recipe Credit: All Recipes, 2017
Photos by: Maria Hedrick Photography