Wiping my brow, I had made it through the first day of pastry school.  It wasn't pretty, as I was feeling 40-something, overwhelmed, a bit out of place, and well, super-sweaty from frustration and the heat of the ovens.  The next day, I was determined to up my game. That's when I met  Alexandra Dorros. She was THE girl to watch!  She was fast, competent and super creative. Since then, Alex's Drunken Fig & Pecan Sticky Buns have become one of my favorite recipes. Allow me to introduce you…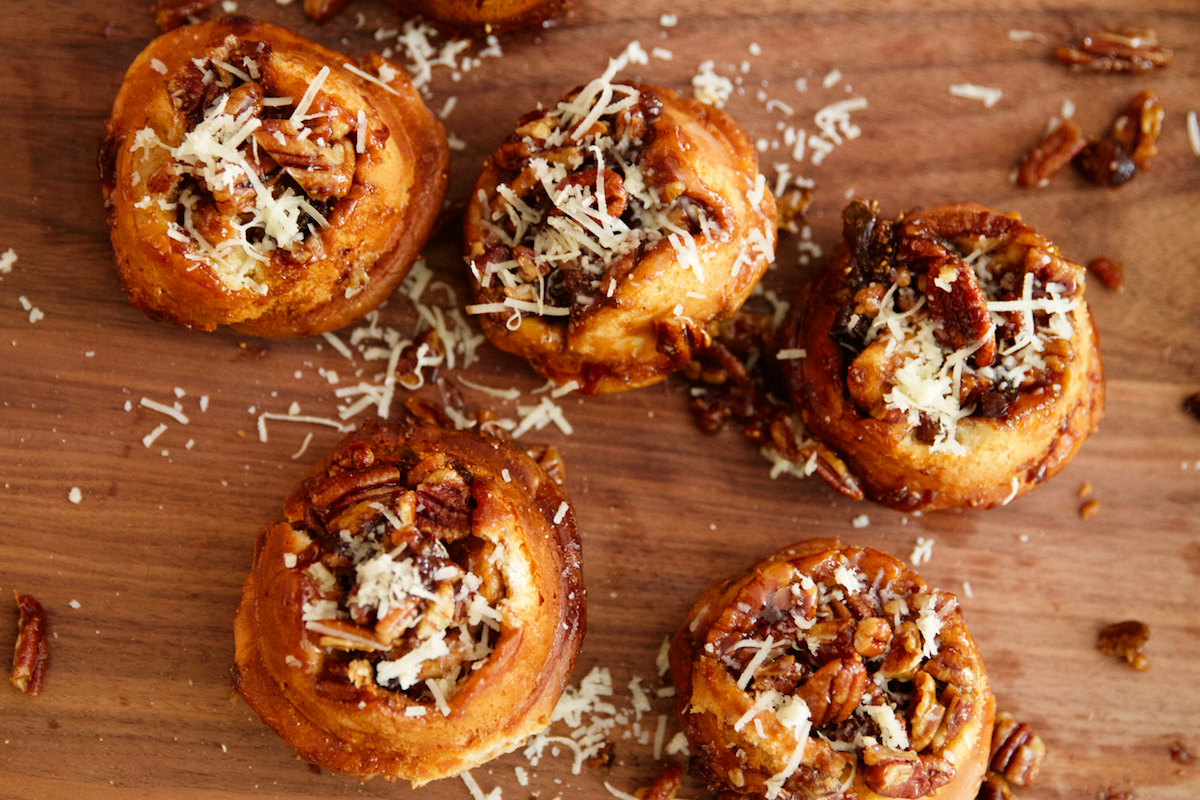 Alex has a knack for pulling together interesting flavors and spices. With a mix of Chilean and Jewish heritage in her background, she has gypsied around the world. She's not afraid to push the envelope with fun culinary combinations and absolutely nails it with this power duo of drunken figs and asiago cheese. Brilliant!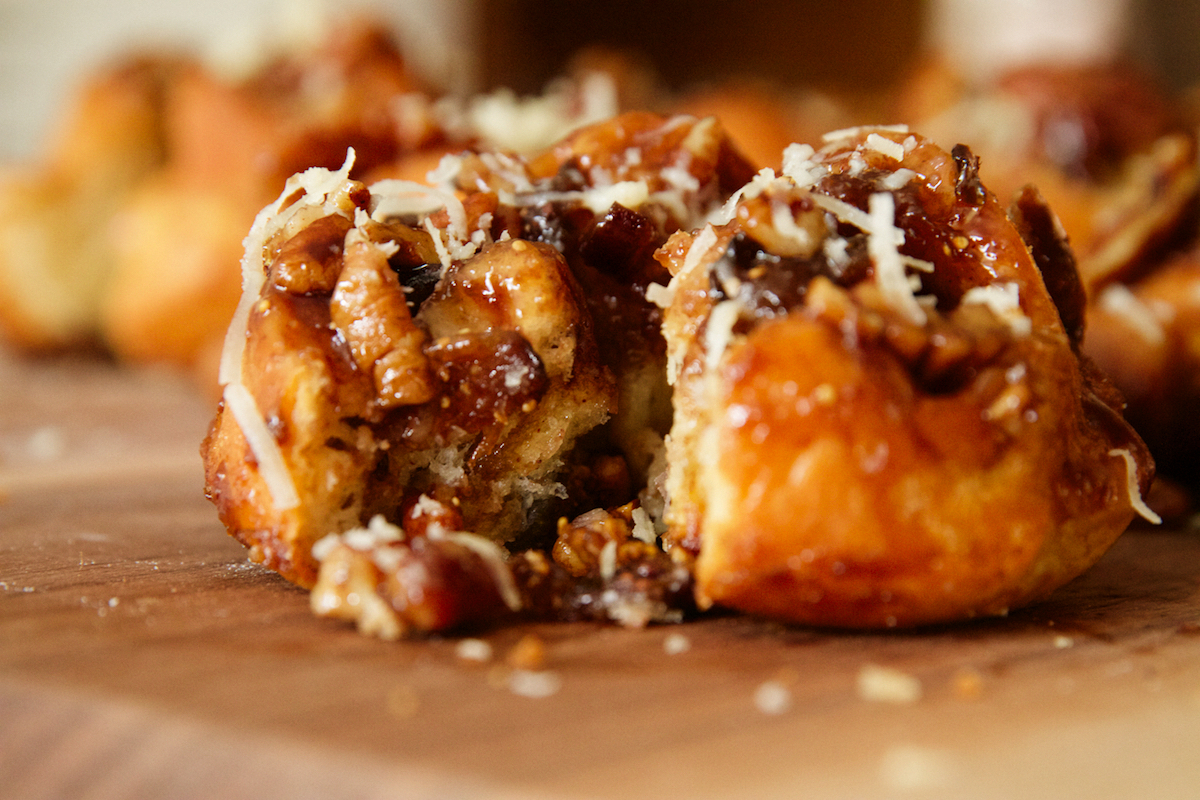 So, let's bring on the salty-sweet combination (all day, everyday, in my Sweet Nerd opinion). Liquor-loaded figs, crunchy pecans, and salty cheese….do I really need to say more? You had me at drunken figs, truth be told.  Give these buns some time in the kitchen as they'll have to go through the process of 'proofing.'  Make this your own special sweet secret at your next morning brunch and I promise your family and friends will be LOVING you.
The gist of the bread part is really 3 easy-steps:
Sponge Starter: Water – Yeast – Sugar (rest for 10 minutes)
Liquid: Butter – Milk – Sugar – Egg (gets added to sponge)
Dries: Salt – Flour (mixer action for 5-10 minutes)
Once you mix together all the ingredients for the dough, give your wrist a break and put the dough in the mixer.  Sip some coffee and watch the mixer do the work of kneading (with a dough hook) for roughly 10 minutes.  Let it proof in a stainless steel oiled bowl.  (Proofing means the dough just sits there doing nada in a bowl except rising slowly). And now you just wait…and wait…until it doubles. Tip: I always try to speed this part up by putting it in the warmest place in my house with a clean dishtowel placed over the bowl.
After your first proof, punch down, and get ready to rumble…oh, I mean roll!
Put all the fixings together and add them in layers. This is the fun part!  And no, I don't advise eating the drunken figs.  No nibbling!
Once you set down your layers, you're ready to roll once more. But this time, do it with your hands. Roll it like a sweet mini enchilada, except without the red sauce!
Next, it's time to assemble all of the ingredients into the pan. Let the gooey sweet pecan sauce you just made cool to room temperature.  Once cool, drop a scoop of the sauce into each muffin bottom. Cut the enchilada-shaped dough into sizes that will fit into your muffin pan. We used an extra large muffin pan and so our slices were about 2" thick (you sort of have to eyeball it and use your good ol' trial-and-error approach). Once you get the sticky buns in there nice and snug, let it proof for another 20 minutes.  It will grow in size and plump up a bit more. I promise, this is the last proof session!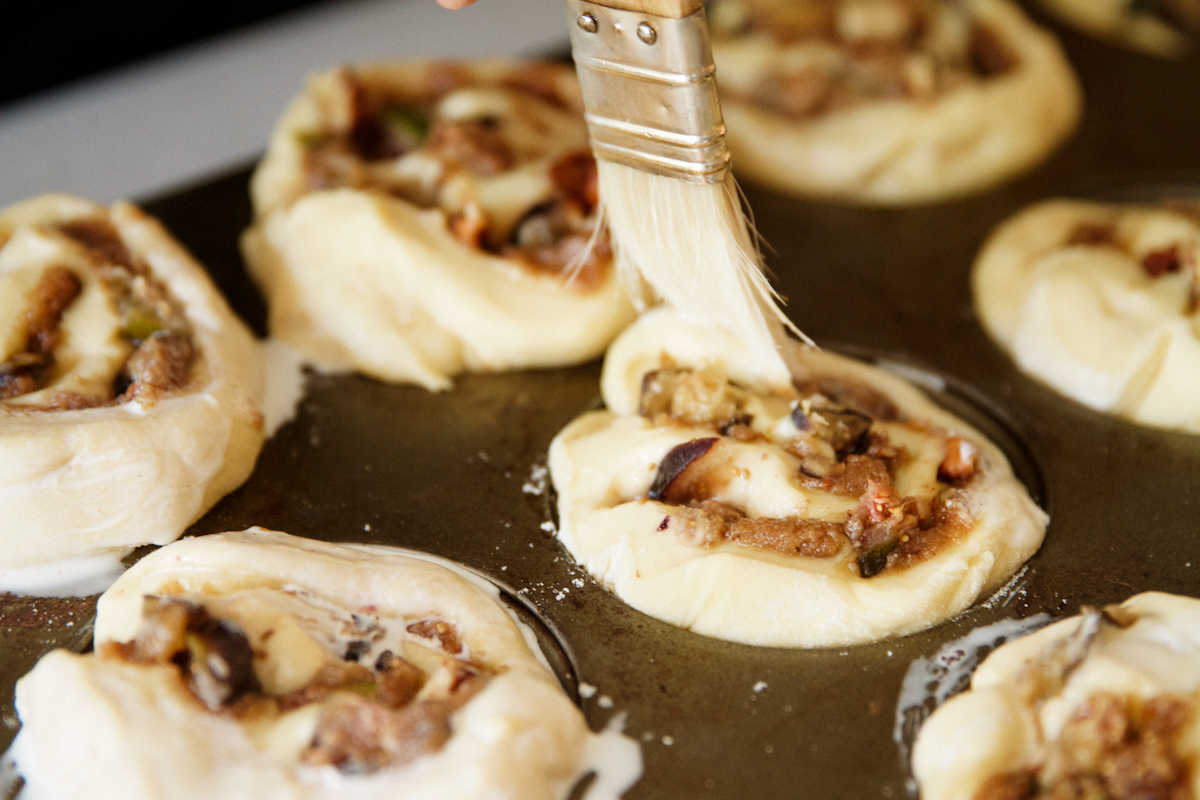 So there you have it. We should be done by now, right? Sorry people, just one last detail…
Don't forget about the egg wash! That's it. Once you've applied that on top of each bun, pop it into a hot oven and anxiously await utter sweet goodness.
Once baked, immediately unmold and top with cheese. It's a messy job, but the chef in the house gets the benefit of crumb picking, so enjoy your free nibbles. I love, love, love this recipe!  Thanks so much, Alex, for sharing your personal best – Drunken Fig Sticky Buns.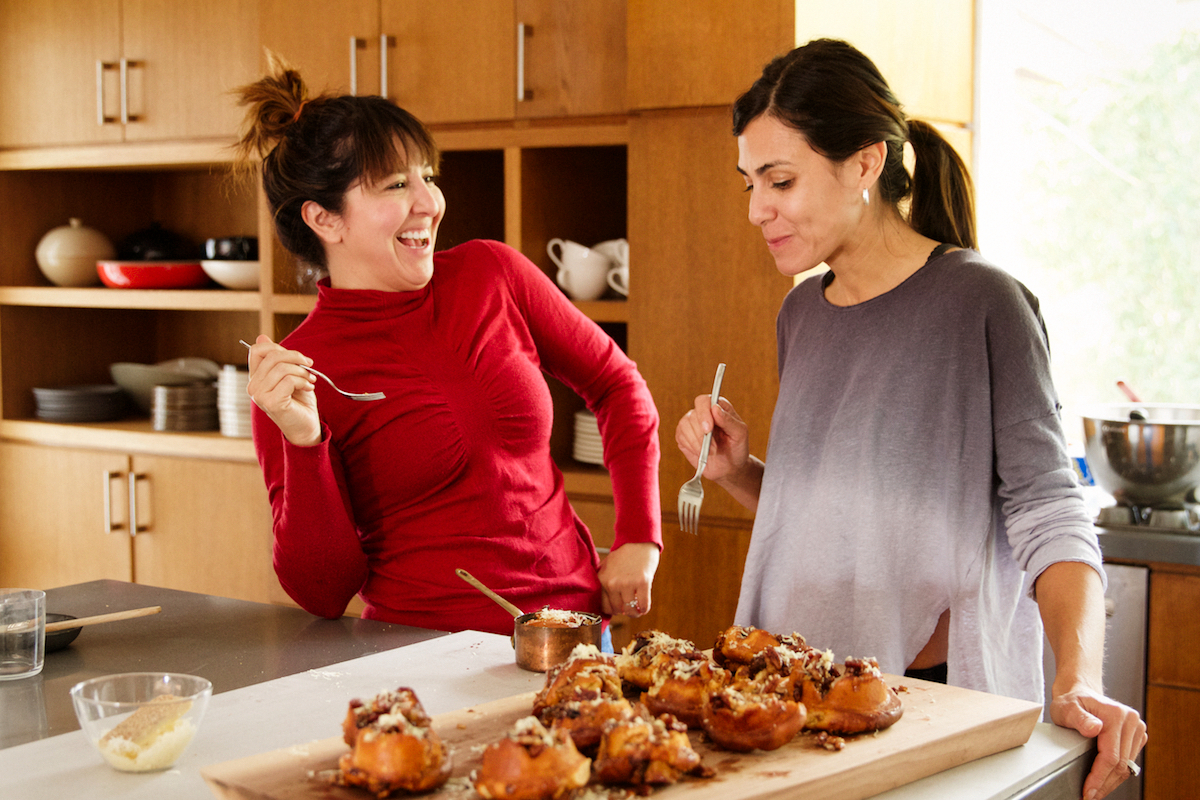 Credits: Alexandra Dorros, Dulce Nest
Photos by: Maria Hedrick Photography