Urban Chic + Beautiful Brunch 
Brunch'n Babes! This is how to take your brunch game to next-level status and wow your girlfriends the next time they're over for a lazy weekend morning. Make them this fancy pomegranate molasses toast inspired by Muhamarra (a hot red pepper dip originating from Syria).
Amy Murphy, the lovely and most talented gal from Parties, Petals, and Paper, shared her chic stylizing of green florals mixed in with Karlos Bumps "XOs." As you know, I love combining street art with sweets, which you'll find in our series – Graffiti & Grace.  Pairing simple and economic greens with a killer textile piece is decorating genius. The bright colors of this brunch game pops with ingredients such as red peppers and pomegranate. Get your boomerang app fired up and ready to go!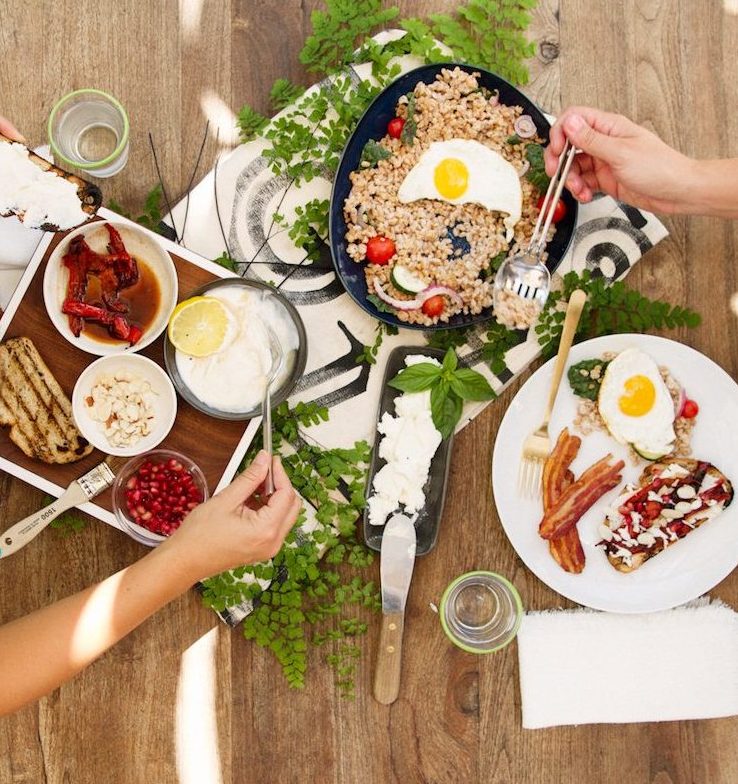 I know, Muhamarra what? Muhamarra in Arabic means reddenned. It is the showstopper in this recipe that combines red peppers with pomegranate molasses. Last weekend with my besties, Lorna and Lisa, we prepared a Sunday supper meal. We made lamb kofta and yogurt with Muhamarra. We were all in love with this middle eastern dish and gushing about the flavor combinations in between chews.   My mind immediately went to breakfast, naturally, as my next meal to plan.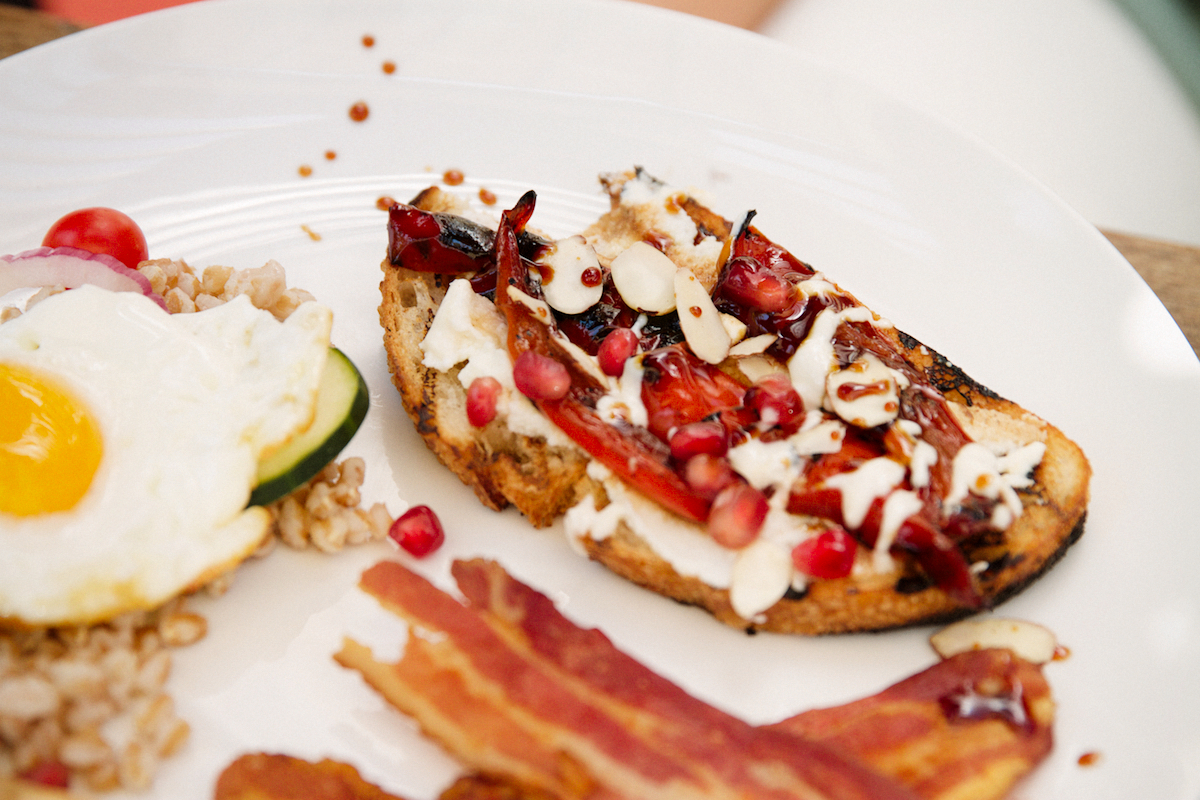 I checked in with my dear friend Amy and gushed about a brunch spread with the richest most delicious toast that would steal the show. So there you have it, Fancy Pomegranate Molasses Toast.  Of course, she was finishing my sentences by the end of our call and straight away we got busy creating our vision.
And with the pomegranate molasses…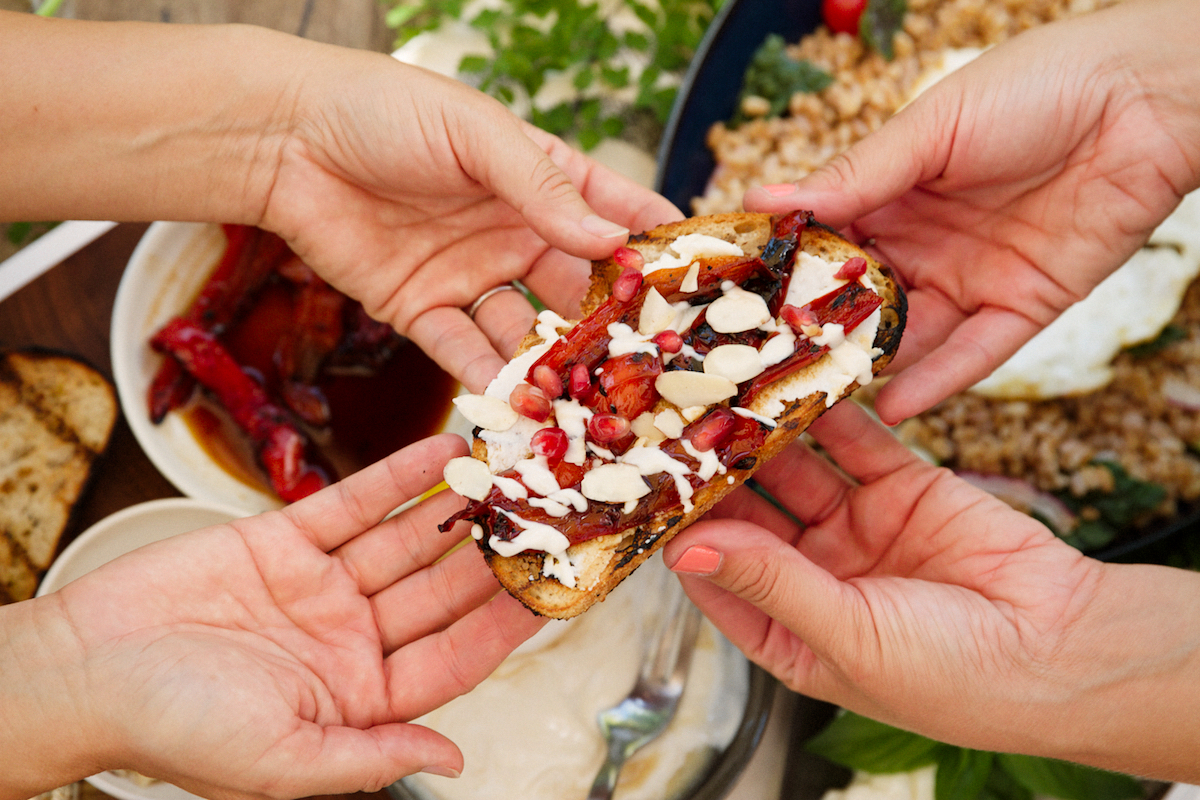 Each scrumptious layer of this toast is filled with texture, color, and flavor.  Literally with each bite, you power through crunchy bread, creamy ricotta, tangy yogurt, sweet peppers, and juicy pomegranate.  So satiating and satisfying!
I like to involve my friends in anything food-related.  I mean, if they're going to stuff themselves silly with my cooking, they might as well put in a little elbow grease for it, right? So, I say, put them to work and have them do the layering! Have fun with it. Maybe you do it with them or just set out a sample (discreetly) so they have an example to follow.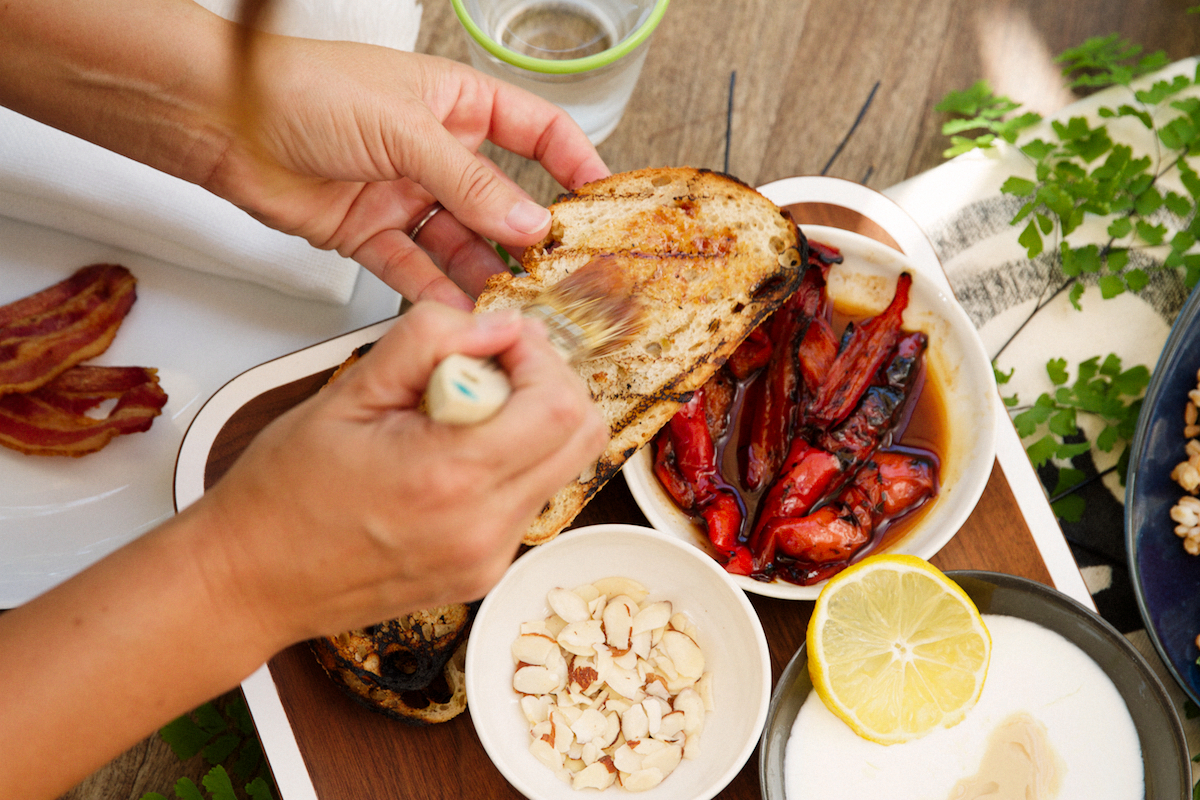 So how the heck to you make this lovely middle-eastern toast?  You do it in layers!
Toast 101:
Grilled Toast Brushed With Muhammara Juice (baguette, sourdough, or country bread will all work great)
Spread Ricotta (I used Whole Foods Whole Milk Ricotta)
Yogurt Sauce + Tahini Drizzle (Kevala Tahini is smooth)
Grilled Red Peppers (Muhammara inspired)
Pomegranate + Almonds Sprinkled
Dash of Pomegranate Molasses (You can find it at World Market or Indian specialty markets)
Some layers don't require any prep, while others do.
Turn on the grill and start with searing the bread, then sear some red peppers.  All you need is a super high flame and both the toast and the peppers will get some lovely blackened coloring.  Next, move on to making your Muhammara (stovetop) which should take you about 5-1o minutes.  I didn't even mix my tahini into the yogurt, I just poured it in to get that awesome two-toned creamy mixture.  Tahini, unlike other nutty butters, is more sour and pungent to the taste.  It plays so nicely with the sweetness of the molasses.  YUM!
Get your layers ready, start assembling and put those babes to work.  Ten-HUT!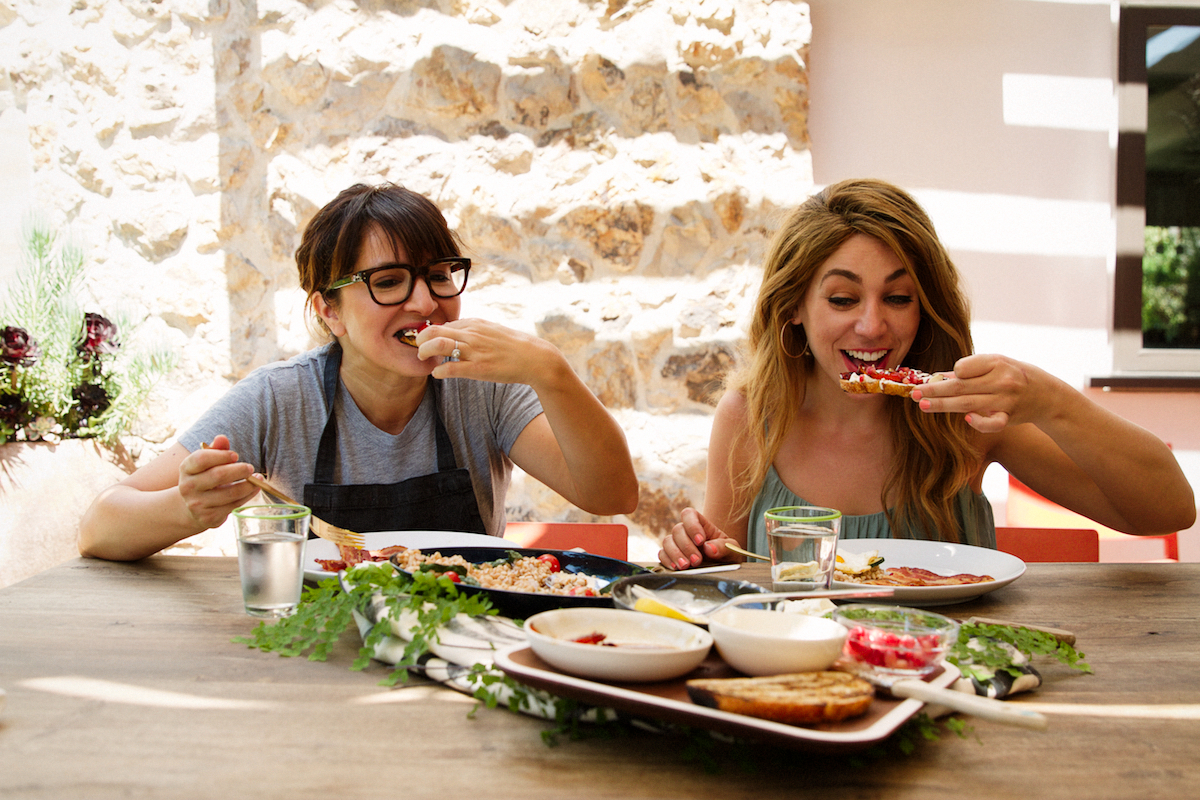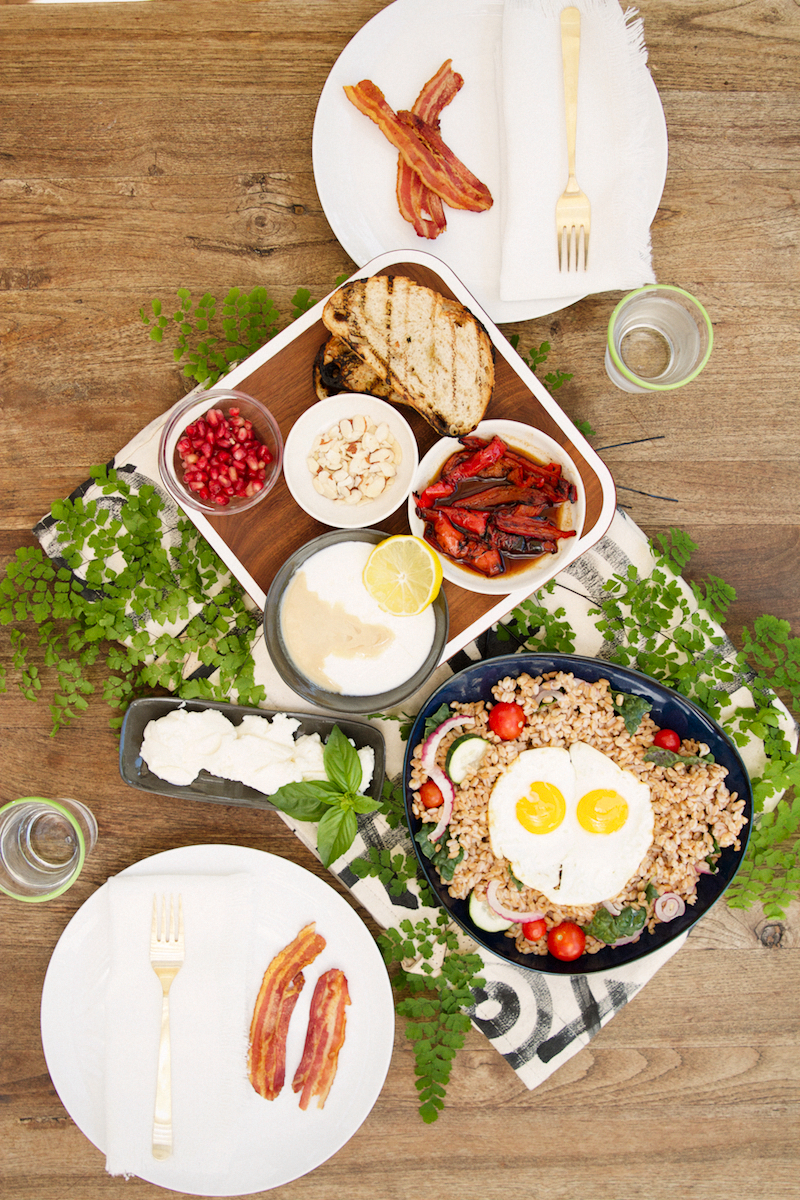 Photos by: Maria Hedrick Photography