For a sweet n' easy spin on this chocolate chunk cookie bar, pull out your cutters. I'm currently having a prickly little love affair with the saguaro cactus. I'm nuts over anything cactus-ish for baking or home decor. I used a springtime green hue for the royal icing and simply outlined the Chocolate Chunk Cookie Cactus. For an extra surprise, I added a layer of chocolate brownie – yep, I said that – to the bottom of the bar. Want more chocolate chip or brownie options? I got ya covered.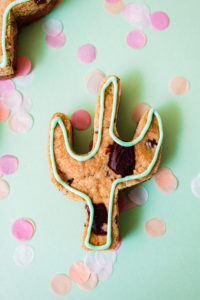 Thanks to fellow baking and dessert blogger Tutti Dolci for the recipe inspiration. Let's start with the brownie layer, and then make the chocolate chunk cookie layer. Royal icing decoration comes last.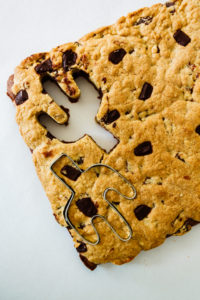 BROWNIE LAYER
First, microwave the chocolate chips and butter and let cool. Then mix the eggs, sugar, salt, and vanilla in a medium mixing bowl. Whisk eggs mixture, and then whisk in melted chocolate. Add flour, and pour batter into prepared pan.
CHOCOLATE CHUNK COOKIE CACTUS LAYER
Combine ingredients per the recipe, and lastly fold in chocolate chunks. Of course, you can use chocolate chips but I think chocolate chunks just takes it up a notch.
Drop spoonfuls of cookie dough evenly over brownie batter. At this point, don't worry about the cookie dough being a neat and even layer over the brownie. Smooth cookie dough and sprinkle with chocolate chips – basically no one will be taking a bite without a mouthful of chocolate.
After baking, cool completely on a wire rack. Lift parchment to remove bars from pan and place on a cutting board. After letting the bars cool, grab the
cutter of choice
and go to work. Cue the cute cacti.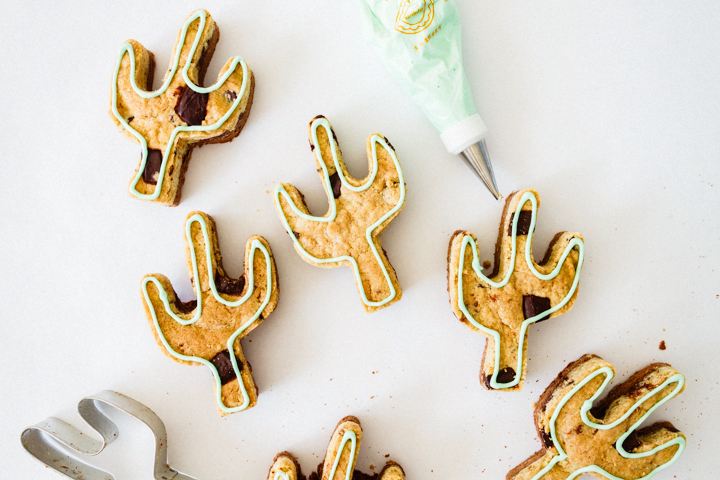 ROYAL ICING
I've used my tried and true royal icing recipe a gazillion times, and I want to emphasize just how easy it is to whip up, versus a store-bought version. It's three ingredients + warm water (confectioners sugar, meringue powder, vanilla). Add food coloring to the royal icing – I used Leaf Green or Electric Green for my outlines.
Did anyone say Cinco de Mayo is almost exactly 4 weeks away? #feelin'it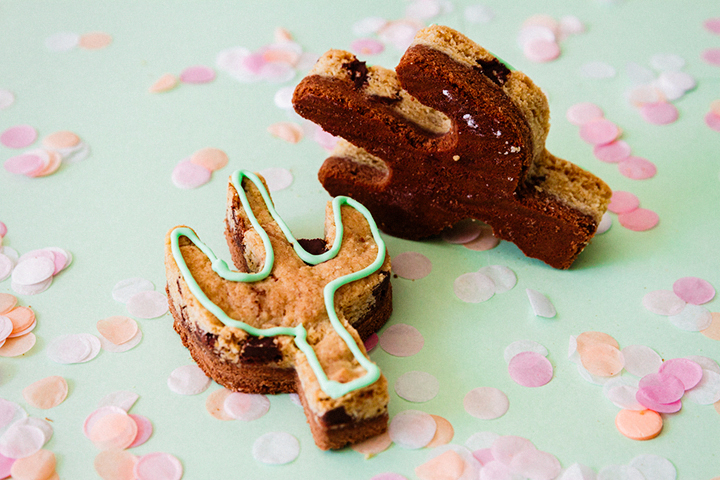 OUR FAVES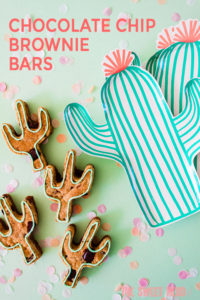 Photos by: Maria Hedrick Photography