I Banana Pie. What do I love even better? Banana Pie…in a jar! That's right, you heard me. A dessert in a jar and each one contains chocolate cookie crumbs, sliced bananas, pudding, and topped off with even more cookie crumbs.  I was inspired by my fave dessert place in NYC, Milk Bar for the banana pudding.  Ridiculously yummy.
Check out this video as it gives you step-by-step instructions – and never mind the monkey-ish behavior by me in the beginning (how did that make the final cut anyway?!?)
WHY SHOULD YOU MAKE BANANA CREAM FROM SCRATCH?
Easie-peasie. Blend. Bloom&Boil. Blend Again.  Don't worry, I will teach ya about blooming.
No substitute.  It is impossible to buy a good banana mix from the store.  I love to take shortcuts or buy premade, but for banana cream, no such luck!
Your family will think you are a rockstar.  Truly, a b-a-n-a-n-a rockstar (like my grandma Tory).
I get nostalgic when I think about this dessert. It brings me back to movie nights when I was a kid. Typically on a Friday night, my Grandma would make these mini banana pies in individual jars and serve them up to her lucky grandkids. We would even be allowed to eat on the sofa (!) since it's not as messy as a slice of cake or even a bowl of ice cream slathered with fruit coulis.
START WITH BLENDING
Be prepared for a lot of blending action with this recipe. Blend, blend, and blend! For the first round, puree the bananas, cream, and milk until totally smooth. Second round, add the sugar, cornstarch, salt, and yolks and continue to blend.
WHAT IS "BLOOMING?"
Two steps are required to complete the process of bringing sheets or granules of gelatin to bloomin' life!  I find it easy to remember that first it must be softened (bloomed with cold water until it is jelly like), then liquified by a heat source before incorporated into your recipe.  There is a great youtube video by Marx Foods if you want more details.
BLOOMING PART 1:
Let 1 tablespoon water cover 1 teaspoon of gelatin powder (like Knox).  Let this bloom for 5 minutes until it is jelly like.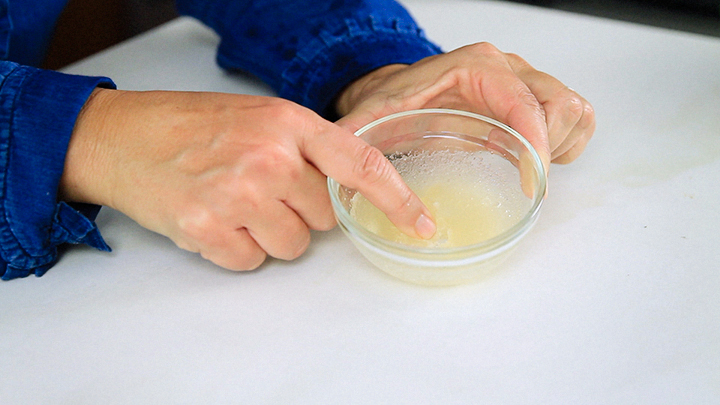 MEANWHILE…COOK THE PUDDING
Add the blended mixture from the blender to a medium saucepan. Whisk the contents of the pan and heat over medium-low heat. As the banana mixture heats up, it will thicken. Bring to a boil and then continue to whisk vigorously for 2 minutes to fully cook out the starch. Think Elmer's Glue when checking the consistency, with a yellowish-greyish color.  You will see big bubbles form on the surface of the pudding when it is ready.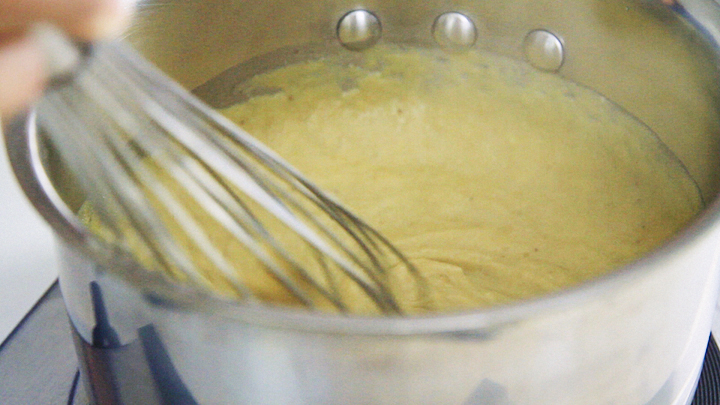 BLOOMING PART 2:
Pop the jelly-like 'bloomed' gelatin into the microwave for 10 seconds to completely liquify it.  It should look like this right before you add it to the blender.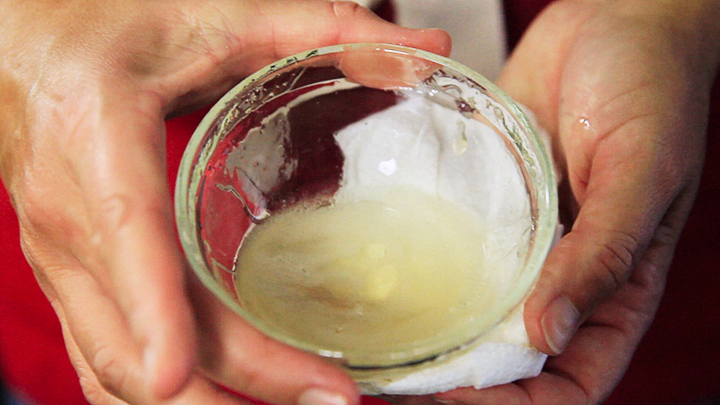 FINAL BLEND:
Blend the hot pudding, butter, & the bloomed liquified gelatin until smooth. Put a few drops of yellow food coloring into the mixture to really amp up the yellow – gotta have it cartoon-banana yellow (otherwise it will taste great, but look like sludge).  Once completely blended, cover with saran wrap (yes it will be hot, that is fine) so that the saran touches the hot pudding when it covers the top. This helps avoid a 'skin' from forming. Let it cool completely in the fridge for about 60 minutes.
WHIP SOME CREAM TO ADD TO THE PUDDING MIXTURE:
An hour later back at the ranch… whip the cream to medium-soft peaks.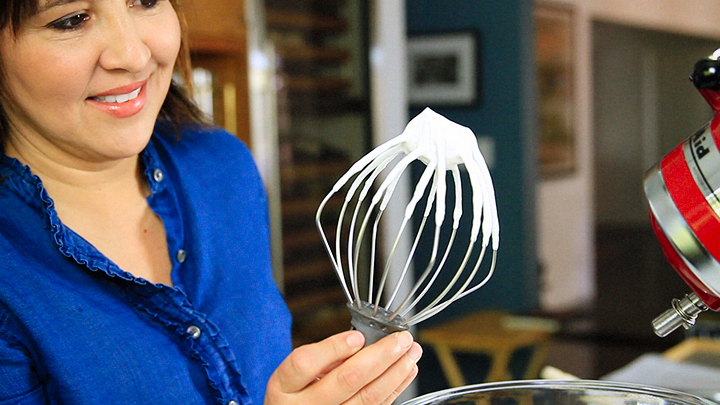 Combine the cold cartoon-banana mixture to the whipped cream and slowly whisk until evenly colored and homogenous. And there you go – you've completed the pudding part of the banana pie.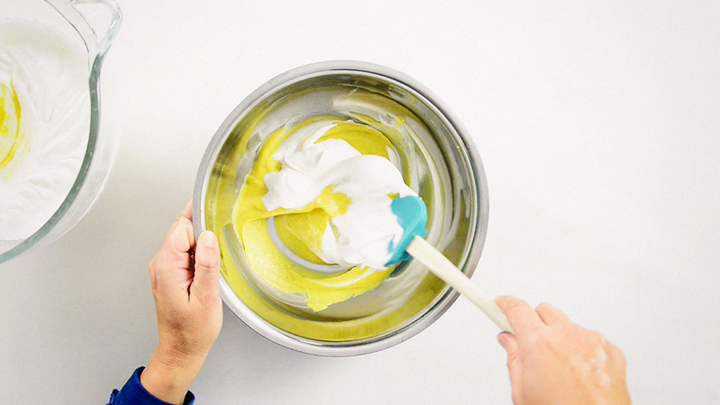 Now, here's where the fun begins so grab your Little Nerds to help you out. Put some chocolate cookies (I used Tates Chocolate Biscuits) into a ziploc and crush until you get cookie crumbs. Assemble each pie in a jar by layering the cookie crumbs, sliced bananas, pudding and topping it off with the last of the cookie crumbs.
And now you're ready to make a full night of it! Thanks, Grandma, for making our movie nights so special.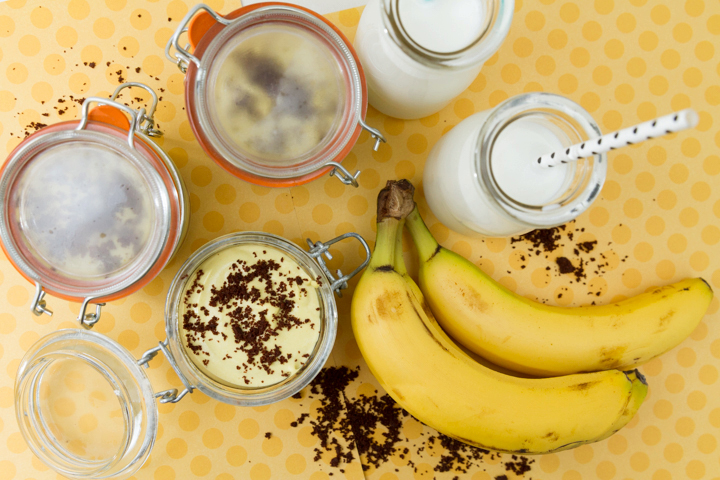 Photos by: Maria Hedrick Photography