In the summer, we  to grill fruit!  This dessert or fruit salad is super sweet, delicious and hey –  it's guilt-free. Woo-hoo! So, grab yourself some firm stone or tropical fruit at the farmer's market (or your favorite fruit outlet) and let's get grilling!
The amazing thing about grilling fruit is that when they're getting all cooked up, the fruit caramelizes their own natural sugars which then helps create that perfectly seared mark from the BBQ. I literally "Sweet Nerd" out and fall madly in love all when I see those perfect grill marks. Forget the hubby getting kudos, I am ALL about getting those high marks for achieving those perfect sear lines that pop off mangoes, apricots, and apples. Hey, I got this!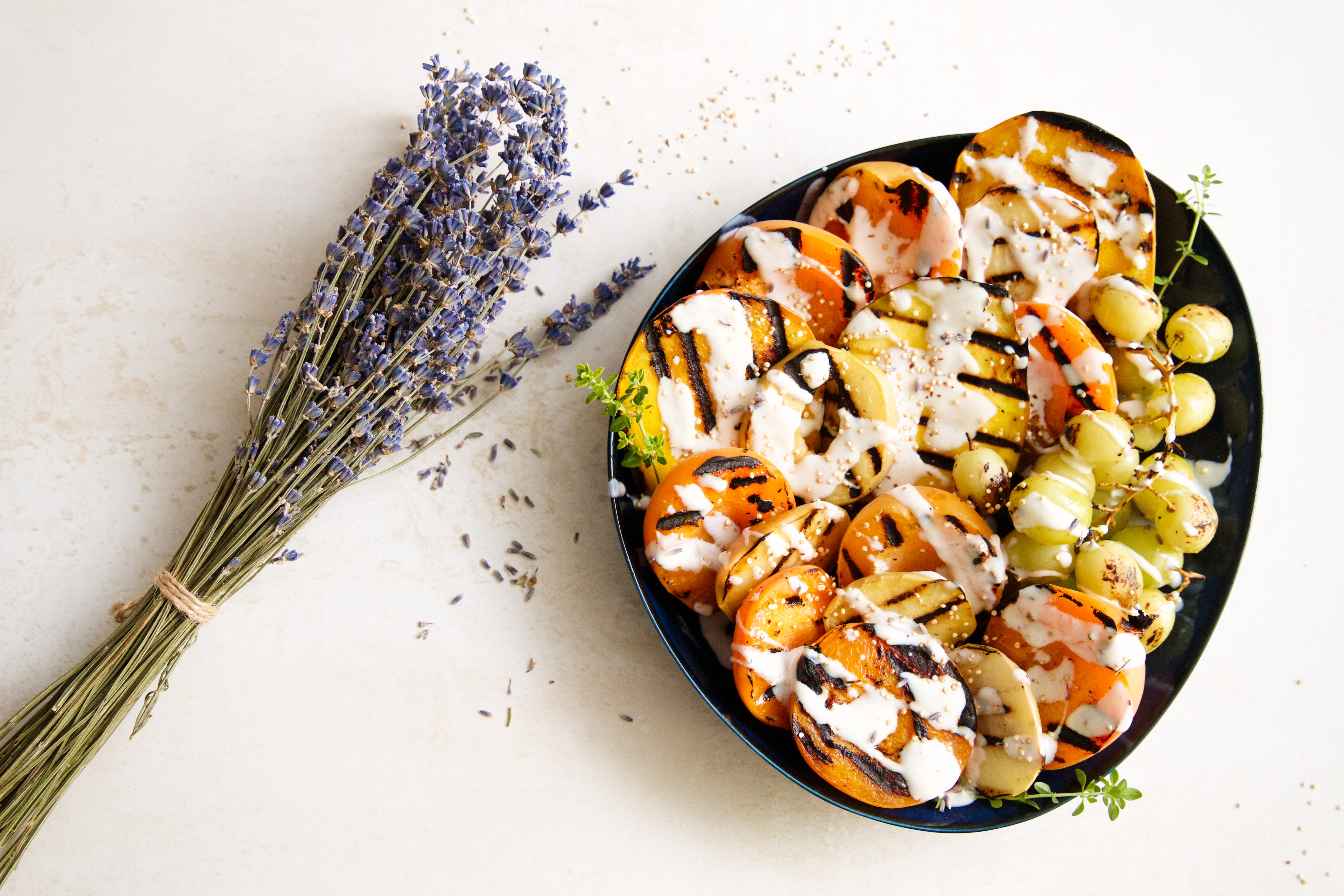 What kind of fruits are best for grilling?  
Stone fruits (fruits with seeds) are fantastic, but they need to be firm so the flesh doesn't get mushy on the grill.  As Chef Gordon Ramsay always yells to his Kitchen Nightmare staff, "always taste the food before you serve it". So, take the time to take a bite out of your fruit medley. That way you can adjust the sweetness of the accompanying honey yogurt sauce that you're going to serve this delectable summer treat with.  I have grilled fruit several times now and each time I have had to adjust the sugar portion in the recipe based on the seasonality of the fruit.  Don't worry, sweet on sweet is good so you really can't go wrong. The adjustment needs to happen if the fruits are too tart which you then need to counterbalance with a little extra sweetness. Oh and some other additional fruits to try are: sweet grapes, apples, melons, and mangoes.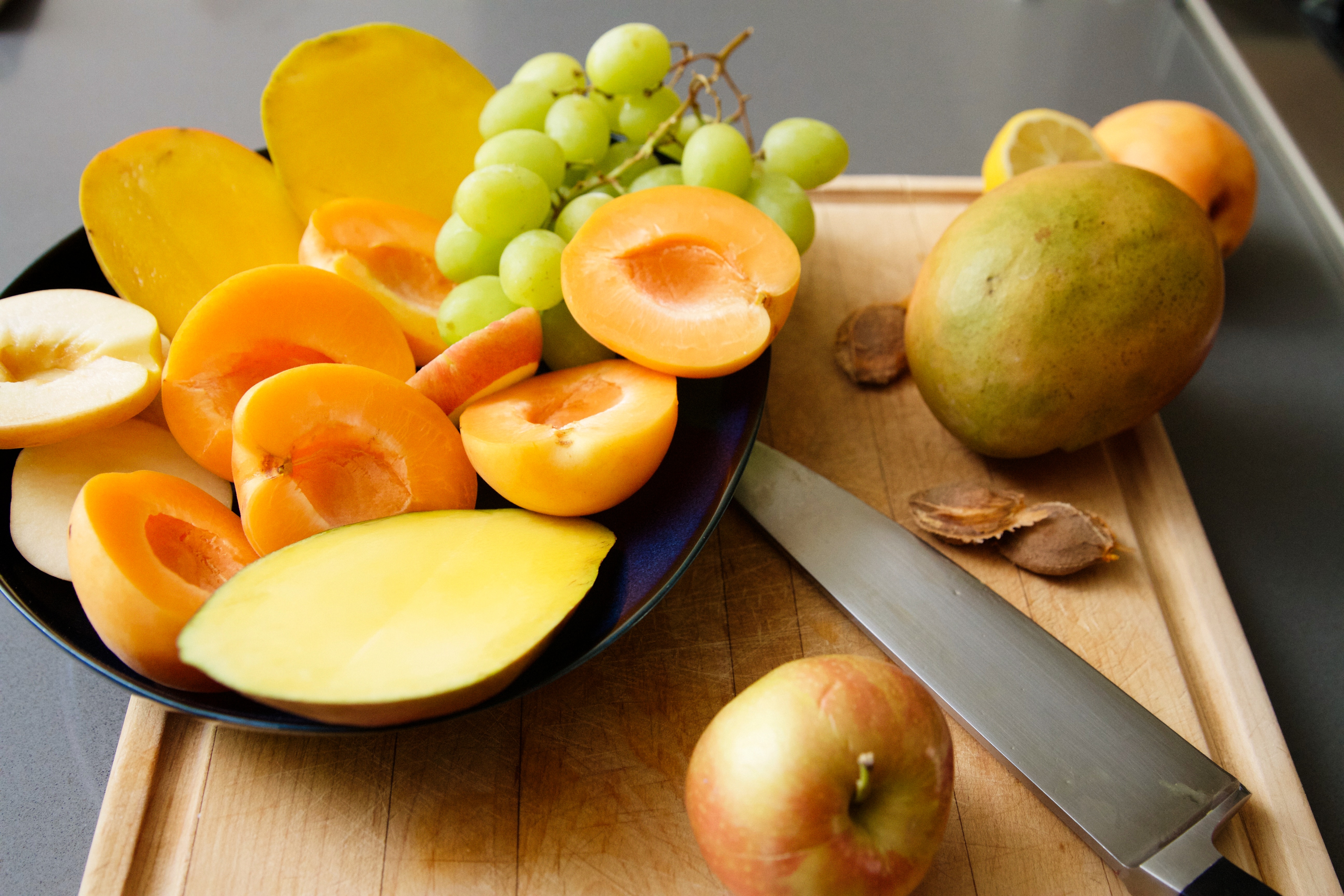 What's next?  
Lightly brush the sliced fruit with a bit of canola, coconut, or grapeseed oil.  And then boogie on over to the grill with a 'burn-baby-burn disco inferno' cause you want those babies charred creating those beautiful grill marks.  Oh yeah, get ready to wipe off some serious sweat beads because it gets hot over that BBQ! Real hot!
Next, it's time to make your glorious honey drizzle.  This recipe is made with full fat yogurt, but you can go lean if that suits you better.  There are a few special ingredients I pulled out for this recipe (see list below) with honey being the showstopper, so be sure to pull from your best stash!  Basically, this yogurt sauce is a combination of  spice + honey + flavored-infused water with a dash of crunch.
The Crunch, oh Sweet Crunch!
I made a quick concoction of spices to include cardamom, anise, and toasted quinoa for crunch.  You can use anything you'd like based on your own taste buds.  Here's a tip: sometimes I use cinnamon and granola or hazelnut and allspice to kick it up a notch.  I do always try to focus on a spice and a crunch, then mix them together to give one added texture to the smooth creamy yogurt dressing.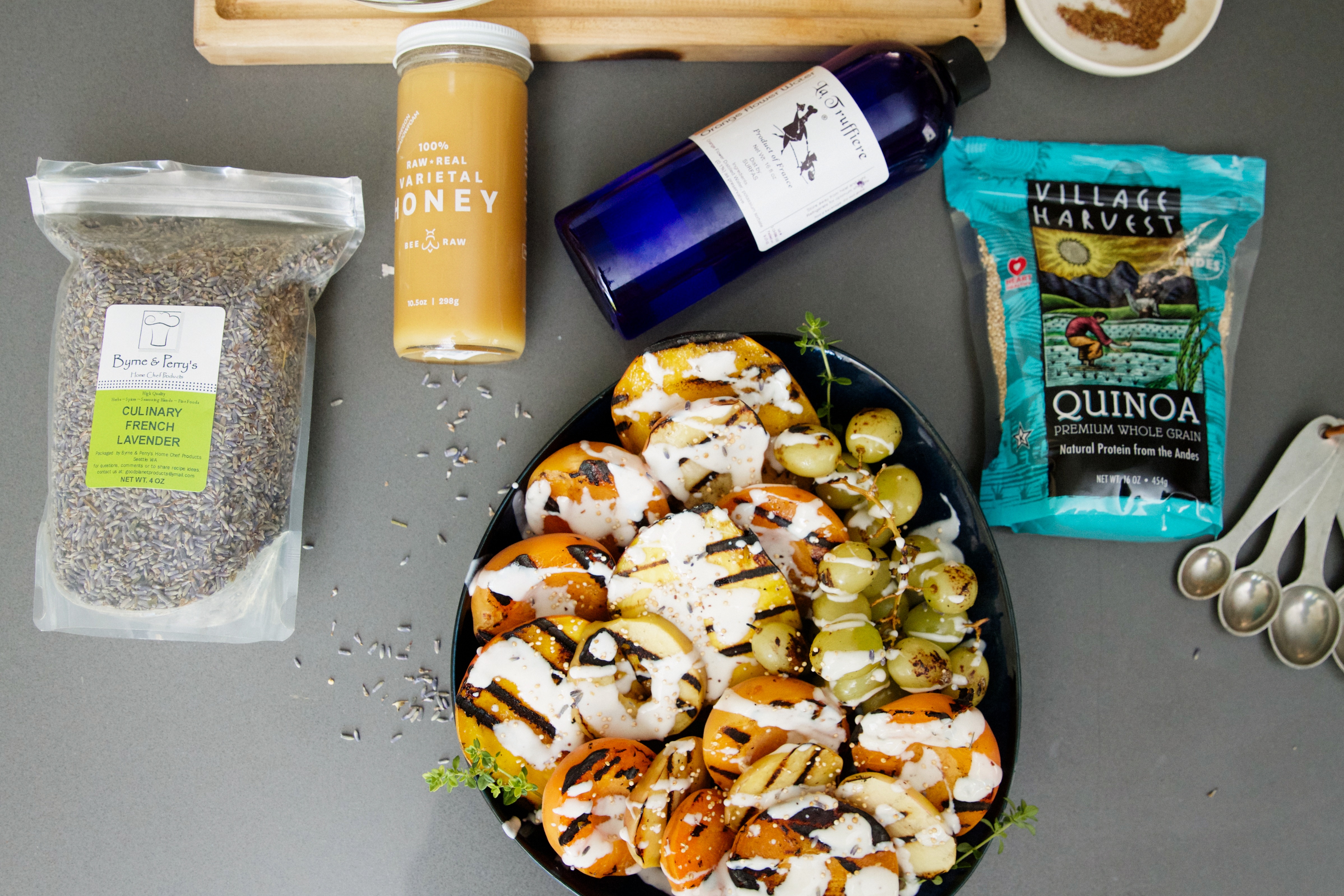 My Fancy Pants Ingredients Are…
Orange Blossom Water – I used La Truffiere French Orange Flower Water (also called Orange Blossom Water) which is a clear perfumed distillation of fresh bitter-orange blossoms.  Yep, its FANCY PANTS, for sure. If you don't have it or can't find it, don't worry as it won't compromise the taste of this dish.  It is an add-on that smells incredible, but the taste factor is subtle and light.  This ingredient is often used in mediterranean and french dishes.
Lavender – This hypnotic herb is the popular kid on the block these days.  I love the essence of this herb, but use it sparingly or it can easily overwhelm.  One time I made lavender cookies and it looked so pretty integrated into the dough so I added more (and yea, I went a little crazy with it!).  Well, it smelled wonderful, like the most heavenly scented lavender field ever, but it tasted like Borax. As enchanting as it is, do not go overboard with this gorgeous edible flower!
Raw Honey – I used Bee Raw Meadowfoam Honey from Oregon. The flavor is soft and sweet with notes of caramelized custard and a hint of burnt sugar.  This honey is incredibly rich and delicious.
Quinoa – I used a premium whole grain quinoa and toasted it briefly on a skillet.  I liked the size of this quinoa as it is doesn't overwhelm the dish, but still offers enough crunch.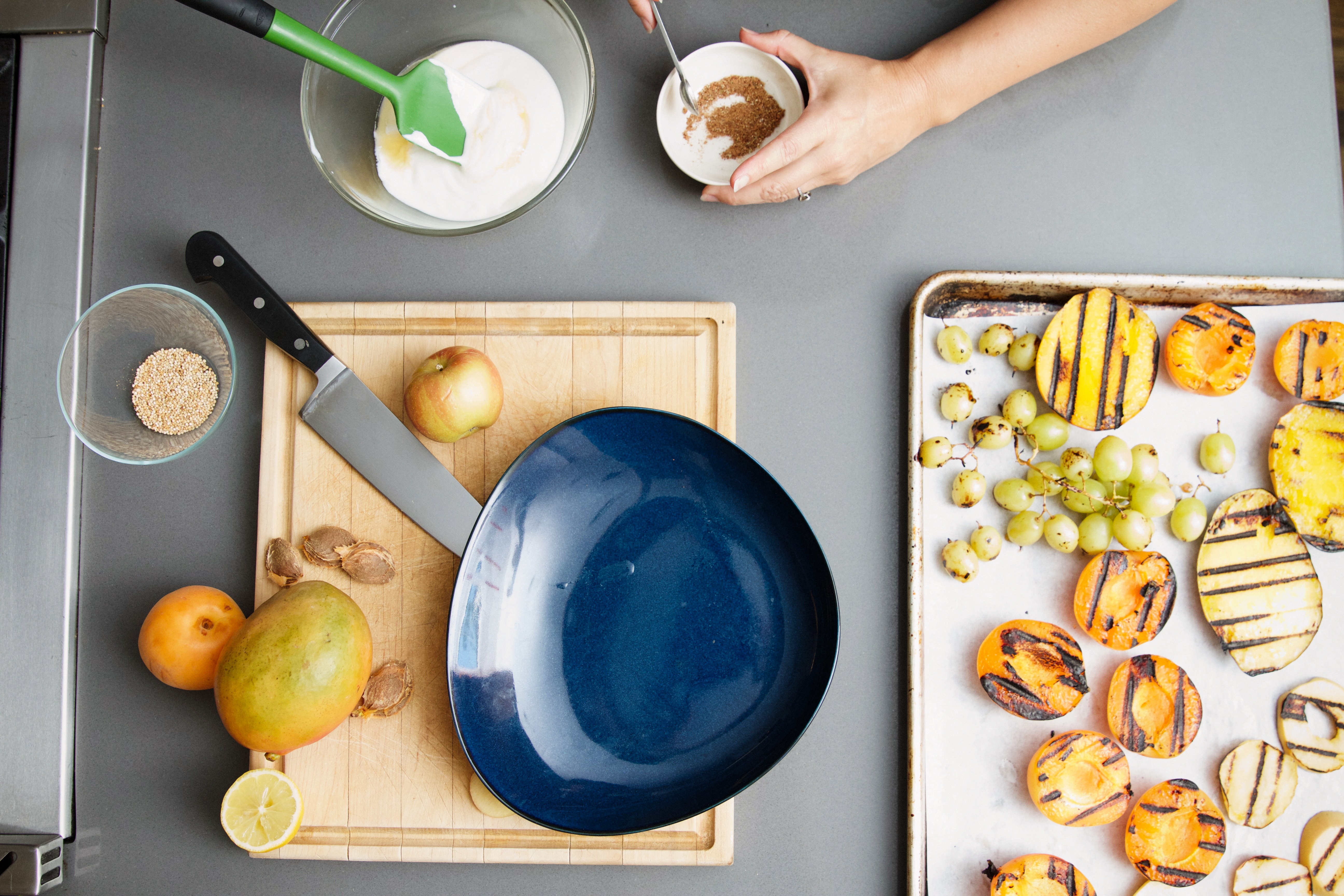 Before you drizzle, be sure to test the yogurt atop one of your grilled fruit pieces to be sure you like the sweet balance.  Yes, Chef, I know! If it is tart, add a dash of honey or sugar to the yogurt.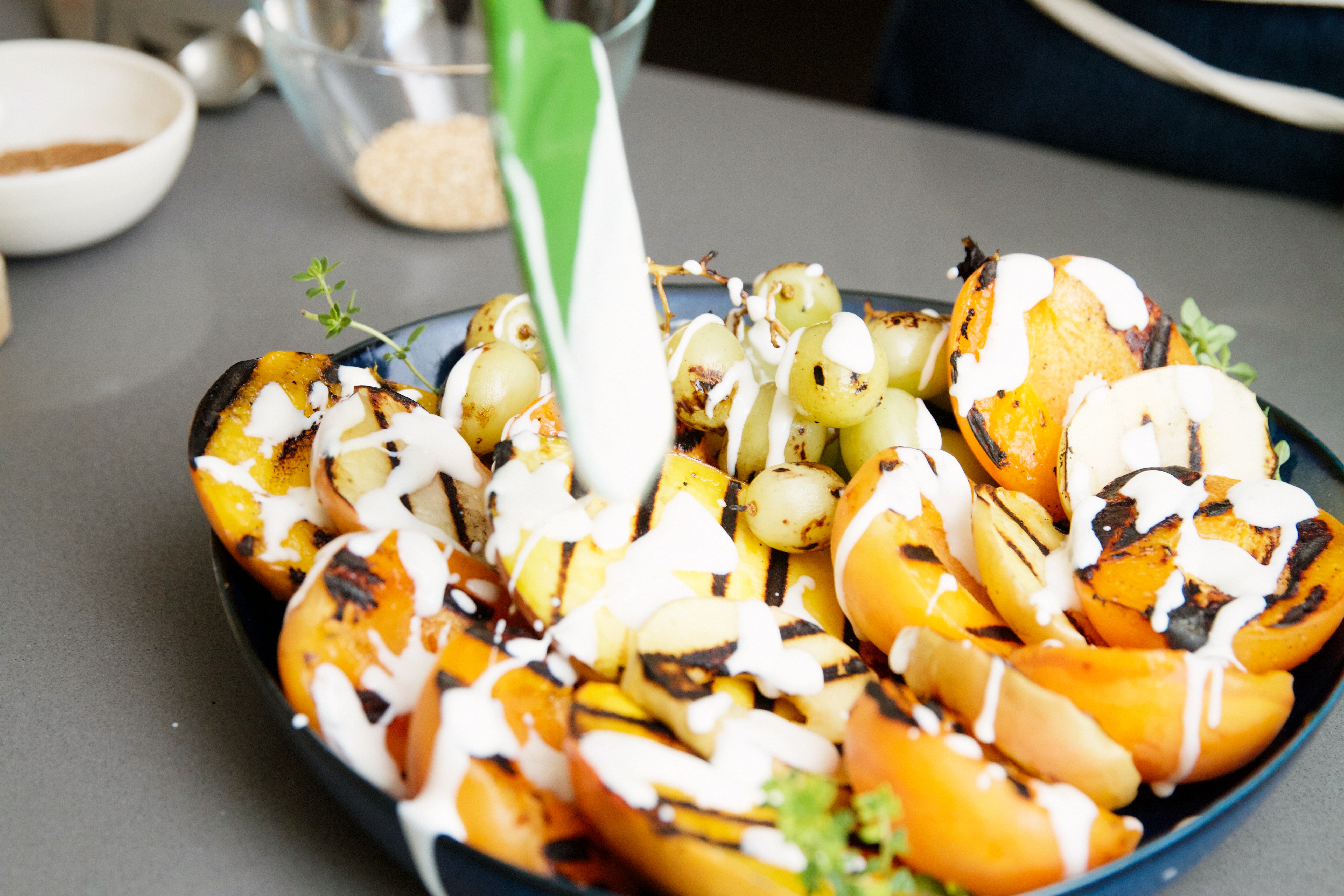 Get BBQ'ing this summer and…Long! Live! Grilled Fruit!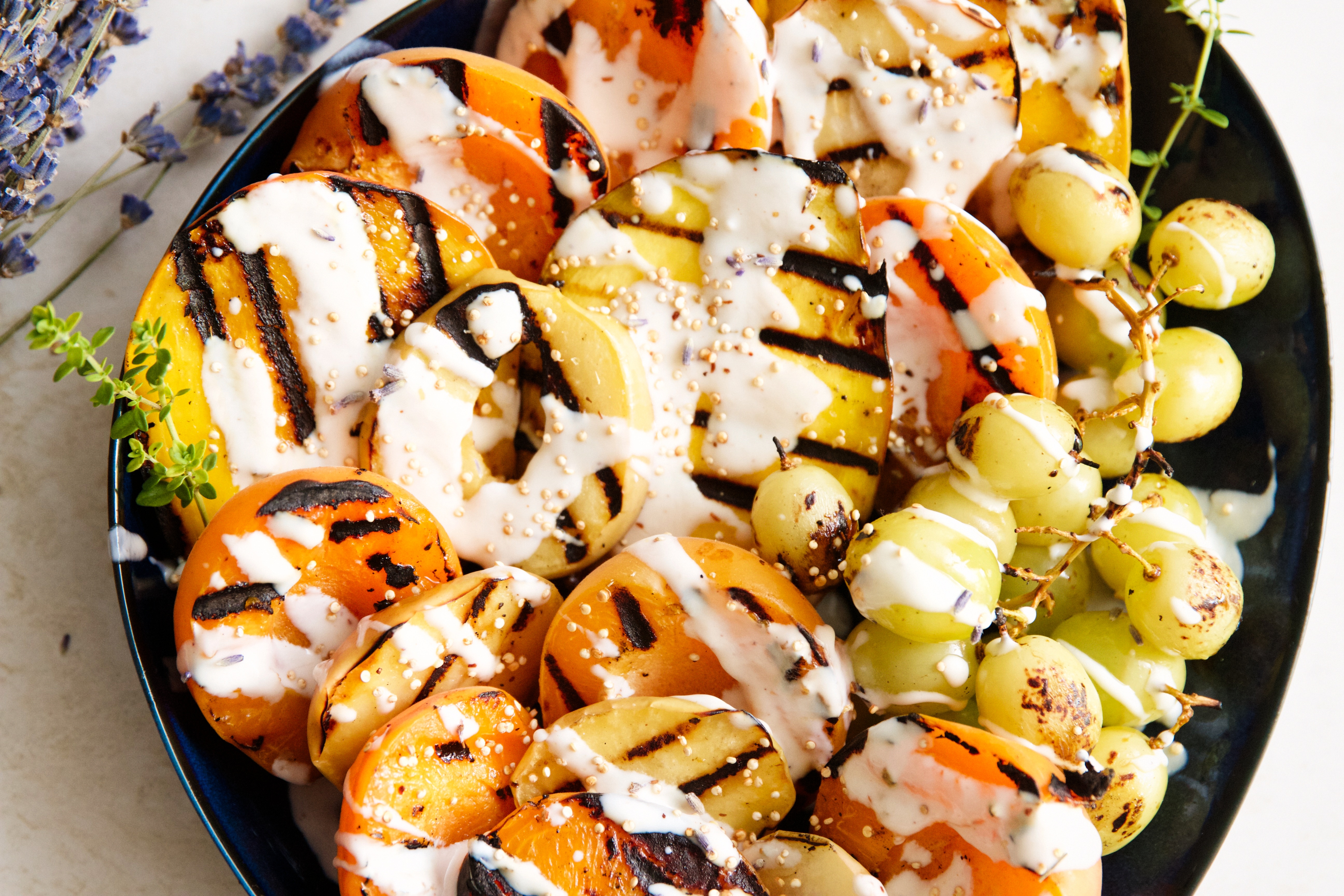 Credits: Recipes modified from Plenty More
Photos by: Maria Hedrick Photography