Are cheesecakes still #trending?  Duh, of course!  And now you can turn them into bars making them the perfect party food. This cherry-filled, creamy cheese situation with a crusty, cakey bottom will undoubtedly make YOU the most popular gal or guy at the party. Ok, maybe that is a bit much, but you get the drift, right? I'm telling you – it's a show-stopper.
No need to waste time perfectly cutting these bars in advance. My advice – take it straight to the table and let your guests have their way with it, except the little ones who'll take the whole pan with them. They don't call them Community Crumbs Cherry Cheesecake Bars for nothing. I like to consider this dessert as my version of the infamous Cote de Boeuf which, when properly served, gets sliced table side.  This is an all-hands on deck kind of dessert. That's right, get others involved in the communal cutting and partaking of this deliciousness. Community Crumbs are for the taking!
Add in a bit of clove and cinnamon to the cherries (especially sour ones) to make them even more delectable to the palette.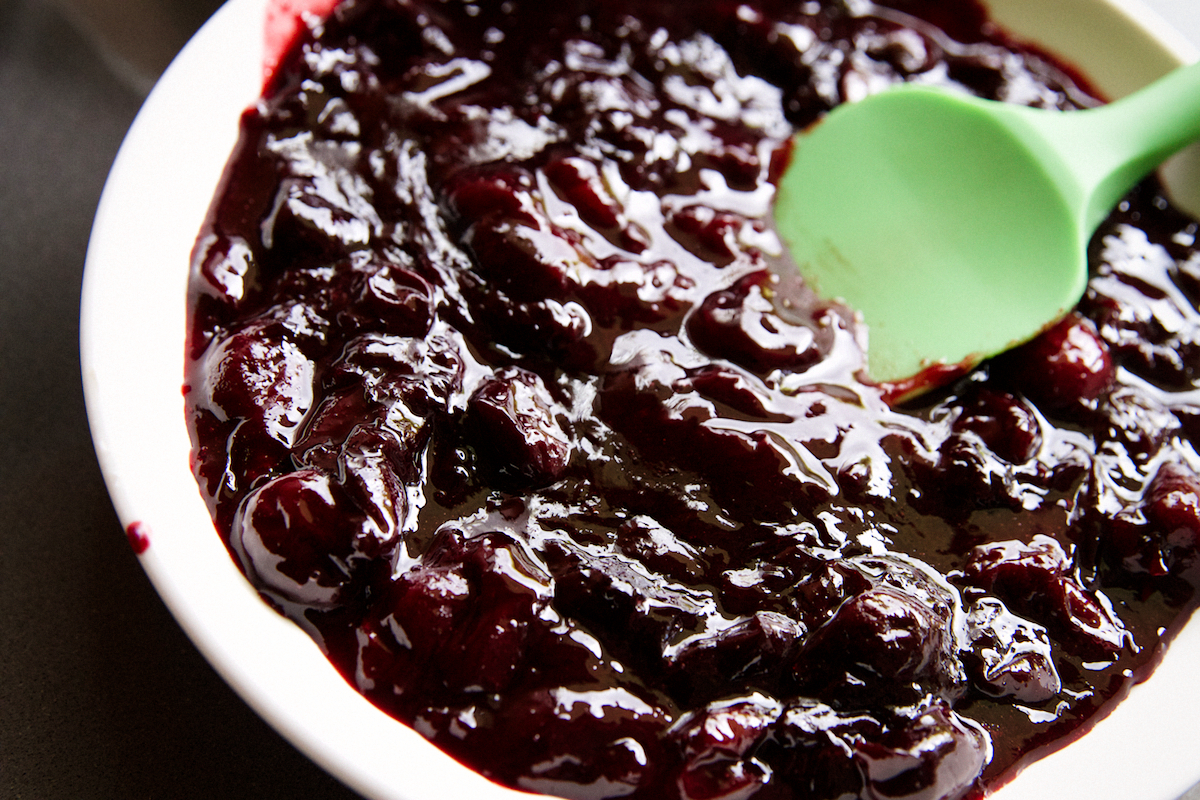 I dare say I have used frozen cherries and it works equally as well.  Just give them a little bit of time to thaw, and then strain getting rid of any excess juice.
Here's a tip: if you love that buttery, flaky crust just as much as I do, then do not over mix the base. Make sure it mixed just enough to resemble a course meal-like or sandy texture.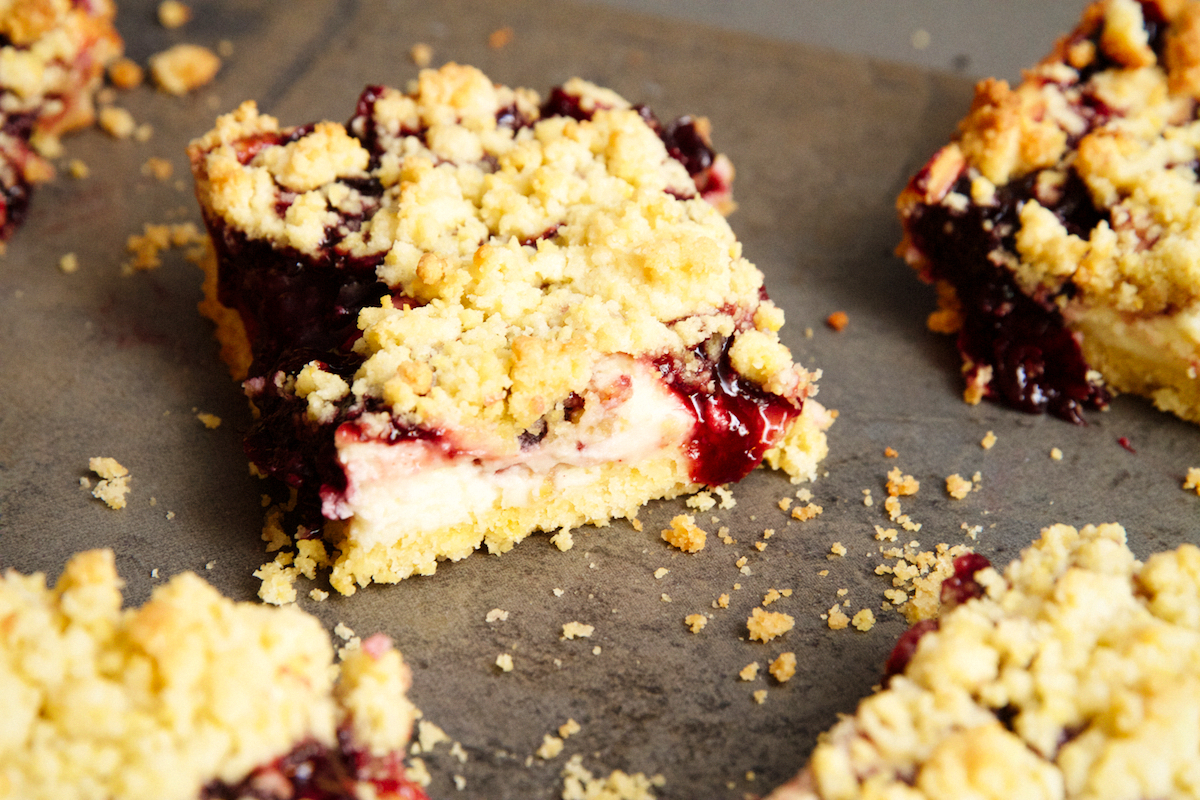 I recently took these cheesecake bars to a party all the way up in a town called Tehachapi. Where, you ask? It's a small town about 16o miles north of LA (an easy day trip) in the Tehachapi Mountains.  The Tehachapi Valley is perfectly positioned atop a pristine mountain plateau and is located between the San Joaquin Valley and Mojave Dessert.  I was blown away at how easy it was to get to this little town and how I found it to be the perfect getaway from the hubbub of life in the city. It's definitely going to be my new secret "escape LA" spot. And nothing beats having this awesome travel-friendly dessert to nosh on while my boys jumped up and down off of large rocks, laughing and having a great time. It was one of those moments where I truly felt on top of the world!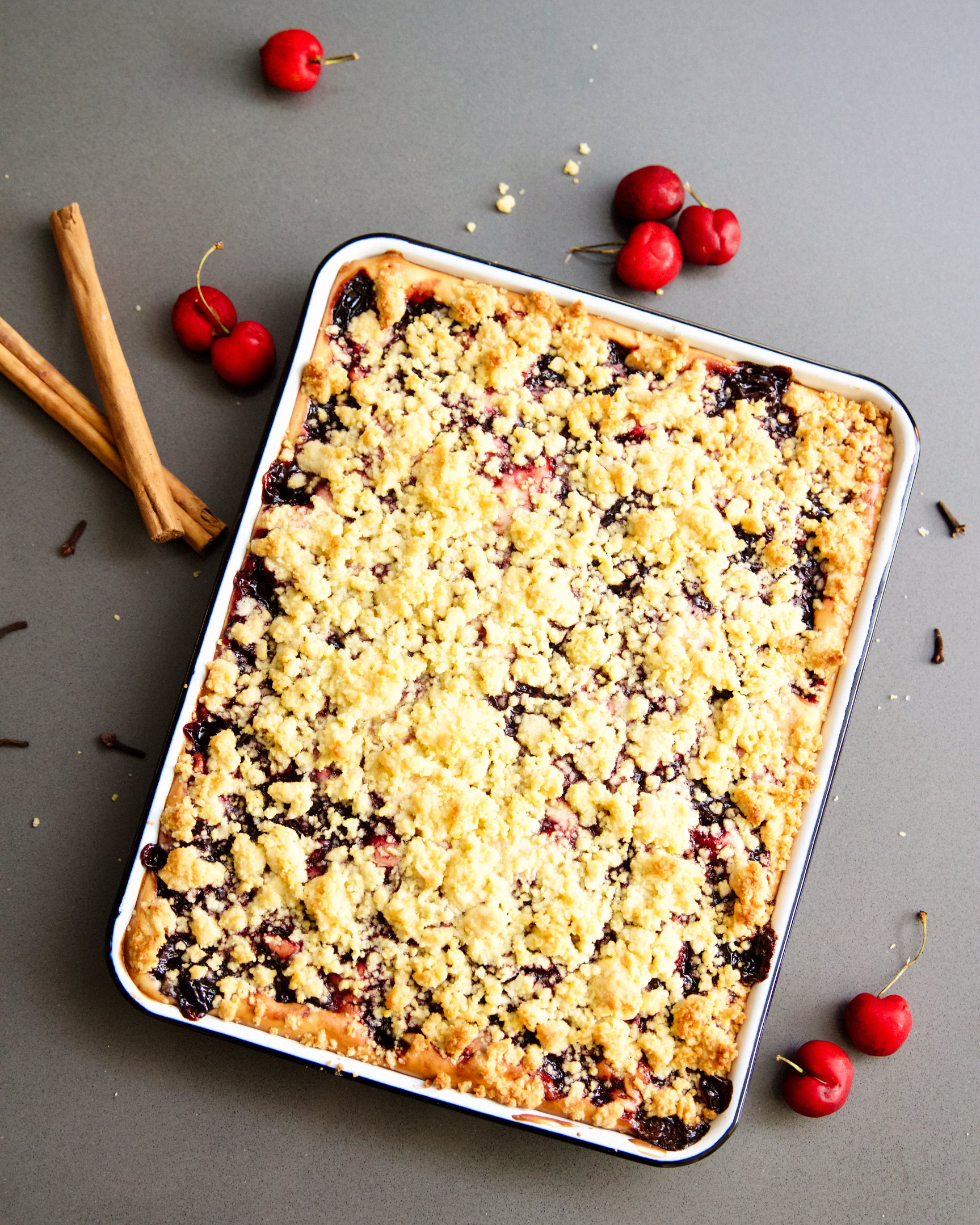 Recipe Credit: The New Sugar & Spice, by Samantha Seneviratne
Photos by: Maria Hedrick Photography