I really couldn't make up my mind folks, sorry. I had a hankering for berry pie, but I also love my cupcakes. So I did both with the assistance of my sweet friend Jocelyn. Yes, teens bake too. She pretty much ran the show! In four easy steps I present the Blueberry Pie Cupcake. This cupcake has the juicy sweetness of the blueberry, combined with a crispy pie crust and topped with a moist vanilla cupcake. With a swirl of whipped frosting and a drizzle of blueberry filling, this combo satisfied all my hankerings.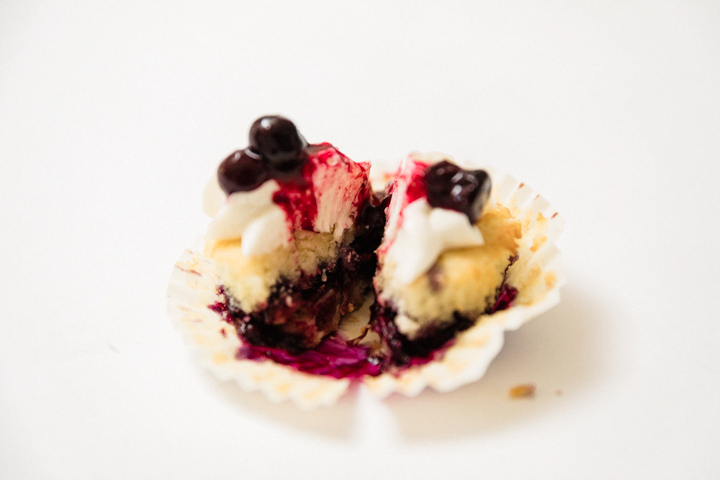 4 STEPS TO BLUEBERRY PIE CUPCAKES
Pie crust – Cheat with storebought and cut into rounds!  If you want to be a pie champ, follow the easy dough recipe below.
Blueberry filling – Go upscale, and buy the freshest out there like Driscoll berry so this flavor pops!
Vanilla cupcakes – I love a classic vanilla bean cupcake.  If you need to cheat, try Duncan Hines white boxed cake.
Whipped Frosting – Keep it simple and let the fruit steal the show!
PIE CRUST
After mixing the ingredients it's very important to follow steps to chill the dough. When you're ready to cut the dough into mini crusts, roll out the disc on a lightly floured surface until it is about 1/4 inch thick. Use a
2-inch round cookie cutter
to cut out 24 pieces of dough.  Or feel free to buy a store-bought pie crust.  I promise you won't compromise too much!
Prick each round with a fork twice, and bake for about 9 minutes on the prepared sheet pan. You're looking for mini crusts that are firm but still pale – they go in the oven once more so don't over bake the first time!
BLUEBERRY FILLING
Now for the showstopper…those sweet little blueberry wonders.  The process of making the filling is mostly about adjusting the heat and appropriate cooking time. The lemon juice and the corn starch will create a slurry, which you'll add to the simmering blueberries, sugar, lemon zest, and butter. Cool for 20 minutes, and add a small scoop on top of each mini pie disc at the bottom of the cupcake liners.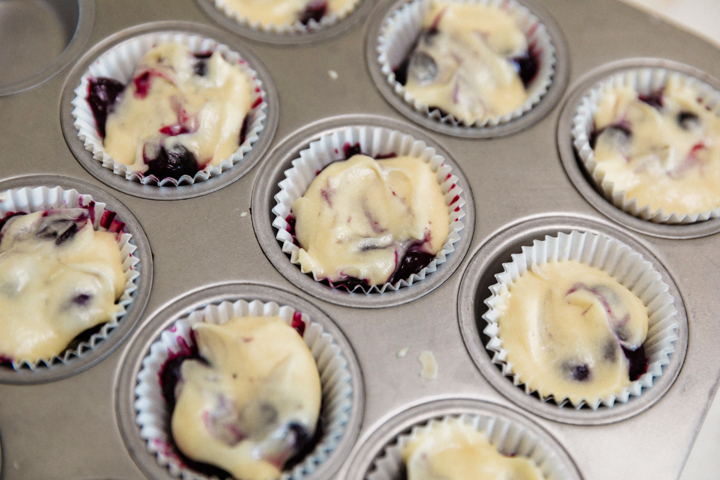 VANILLA CUPCAKES
Use your favorite vanilla cupcake recipe, or use mine posted below. I'm so glad I had assistance with the scoopin'. Fill the liners, on top of the blueberry filling, to about 3/4 full. Bake for 20 minutes, but the hue of the cupcakes should still be very pale with just a touch of golden edges.
WHIPPED CREAM FROSTING
Make sure the cupcakes are completely cooled in the pan before transferring to a cooling rack. Whip up the heavy cream, confectioner's sugar and vanilla. I used a piping bag with a star tip, but using a spoon works, too. After adding a dollop of the extra blueberry filling on top, it'll all ooze together deliciously anyway!
There are lots of ways to modify this lovely recipe, like use another fall favorite like cranberries, persimmons, or apples.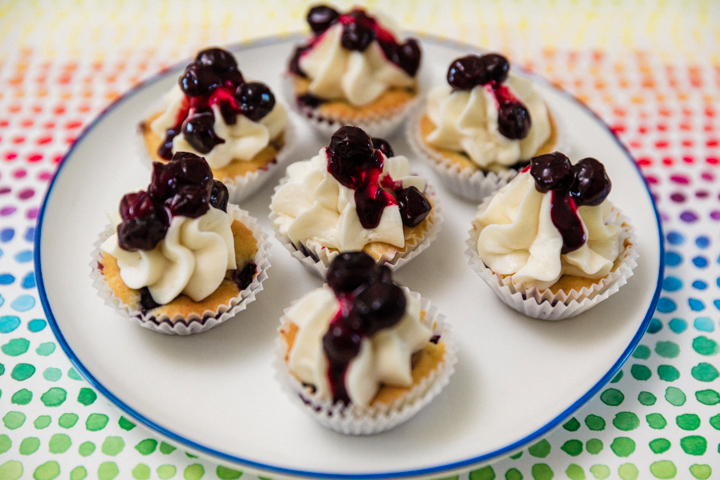 OUR FAVES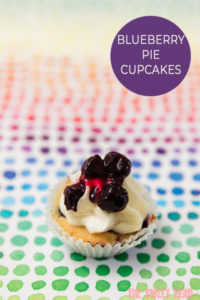 Photos by: Maria Hedrick Photography