Yep, it's hard not to love the classic peppermint bark that is ubiquitous this time of year – but there's honestly nothing like the salty-and-sweet combo of peanut butter and chocolate. This Peanut Butter Chocolate Bark fits perfectly into my ideas for bite-sized treats or take away grab bags throughout the holidays. And this year, as it's our first holiday in the new house, we're already jam-packed with family visits, friends stopping by, and meal planning which has got me in a frenzy. My mind is on overload thinking about the kids' table, the adults' table, movie snacks, keep-the-kids-busy-snacks, and on and on. Last week I whipped up my festive Rice Krispie Pie, and this week I'm going to show you how to make this easy, sweet and savory Peanut Butter Chocolate Bark. (Toothpicks not included). Dee-lish!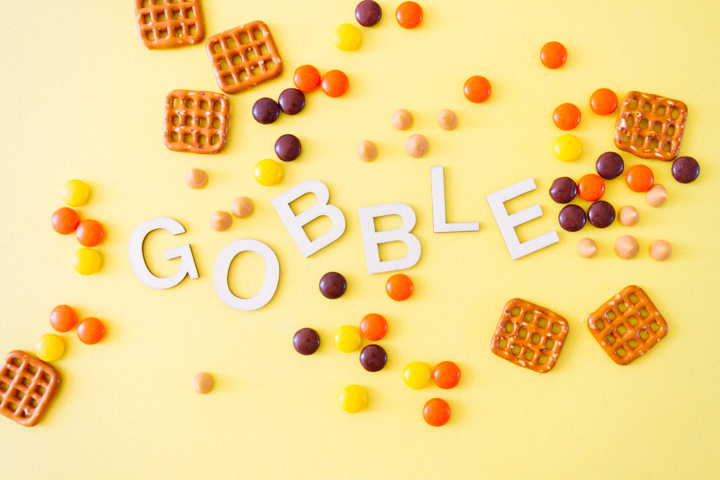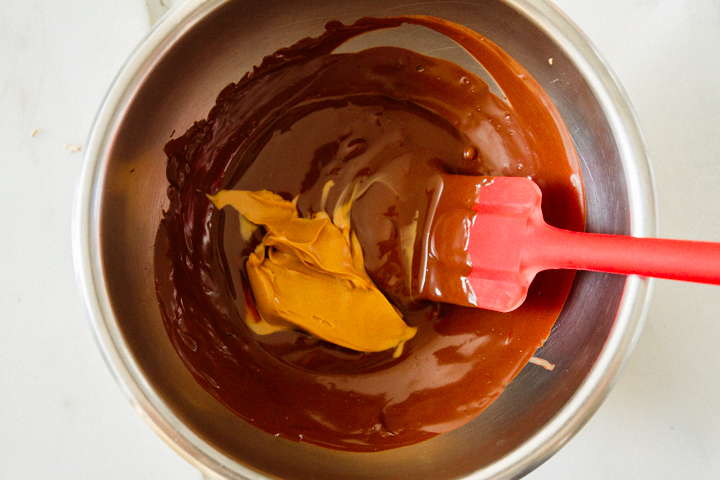 MIX THE CHOCOLATE AND PEANUT BUTTER
Did I mention this is a no-bake recipe? Yessss, super easy. You'll need 24 ounces of chocolate. As an option, you can use the melting chocolate they have at Michael's, but for this recipe, I chose to melt Scharffenberger 62% Semisweet Chocolate with a bain marie. Whisk in your peanut butter – any brand will do but just make sure it's creamy!
Line a pan with parchment paper, and spread in a thin, even layer.

PRETZELS FIRST
Let's hit it with some salted pretzels. Of course, you can choose any shape that tickles your fancy. Snyder's are always my go-to, especially with these waffle-looking bite-sized squares.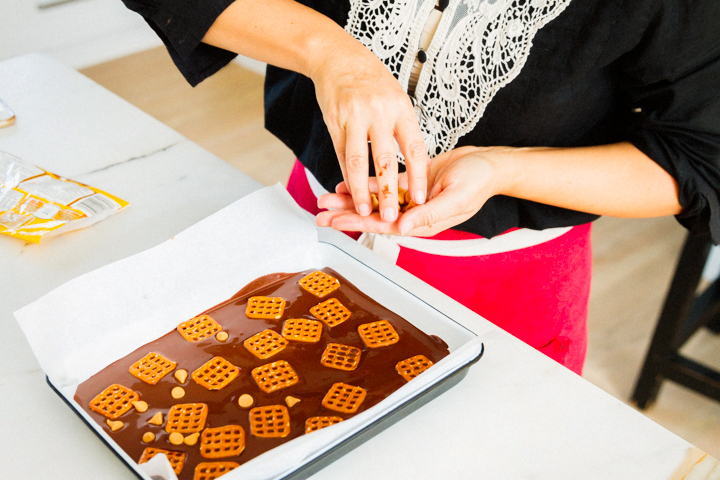 TOPPINGS NEXT
Sprinkle 1 cup of butterscotch chips and Reese's Pieces, lightly pressing to make sure they sink down into the melted chocolate. I chose these candies mostly for the flavor, but also I love that they represent fall colors. And the buck doesn't stop here with just peanut butter; you can add peanut butter chips, white chocolate – go to town!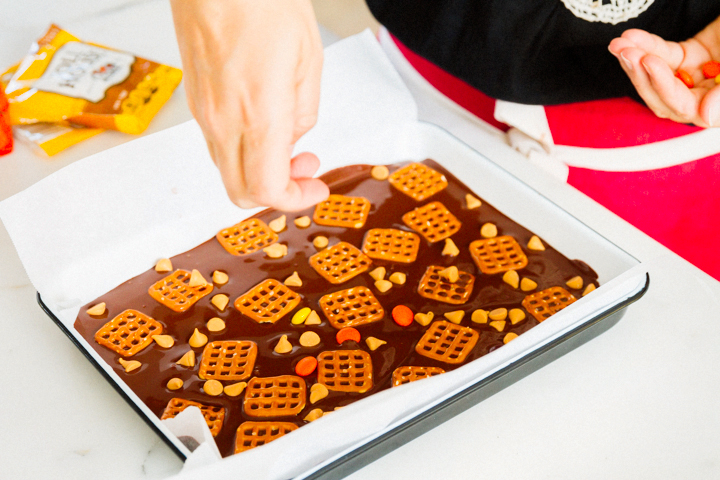 DRIZZLE & COOL YOUR PEANUT BUTTER CHOCOLATE BARK
In a small microwave-safe bowl, heat the white chocolate melts in 30 second intervals. This will be the melted topping that you can drizzle over the bark. Let me just add that the drizzle is my jam (or my bark). It brings in that street element style that I love, creating a splatter paint effect.
Allow to set for 15-20 minutes and then break into pieces.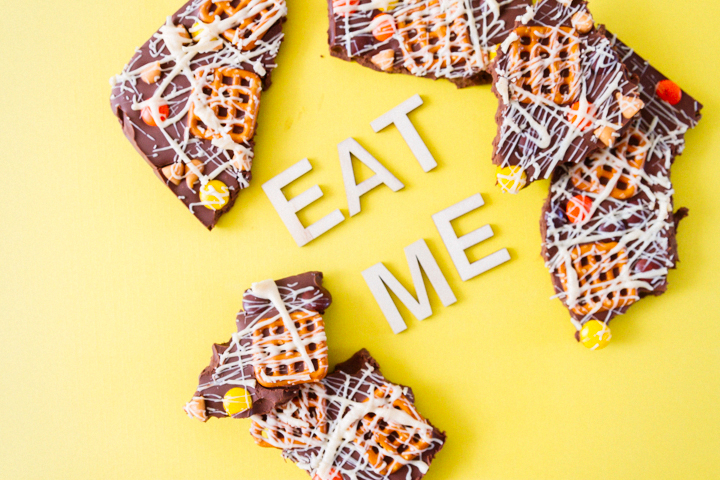 Because of the creamy peanut butter, this bark needs to be stored in the fridge so that it'll behave like bark. Enjoy!
OUR FAVES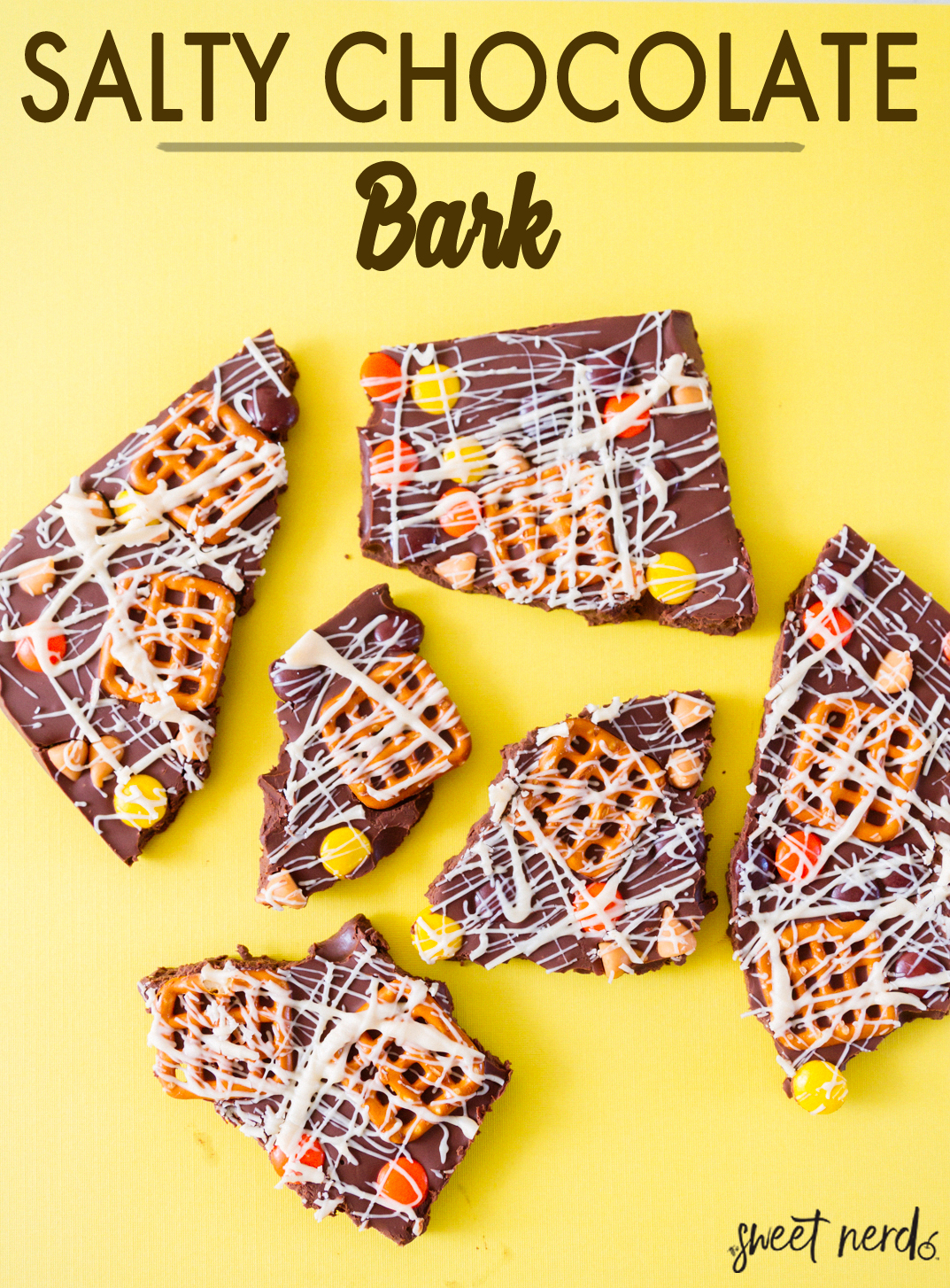 Photos by: Maria Hedrick Photography