November is upon us, and with November comes cozying up in a room with family, constantly discussing… you guessed it, food. This year, Thanksgiving is at my brother's in Sacramento, the perfect opportunity to unveil one of my persimmon fall focaccia.
This buttery fall focaccia is loaded with autumn fruits: persimmons, plums, and cranberries. The recipe is relatively simple, but does require some time to let the bread rise (the official baking term: proof).  That time is best used to wrangle a few family members to get prepping in the kitchen.  This year, I'm enlisting the younger focaccia helpers to have some fun beforehand, then getting them to 'punch' the proofed dough. It's irresistible, and just a ton of fun.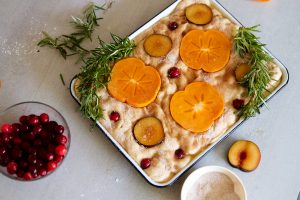 Now, you might be asking yourself… what's a Persimmon? It's your new best friend of course! Each fall, these bright orange beauties emerge at a farmer's markets near you.  I used Hachiya Persimmons – generally oblong, acorn-shaped, and eaten soft. Hachiyas are more flavorful, but must be eaten at a very specific level of ripeness.  The best way to test for ripeness: taste test!  It's a right of passage for us home chefs.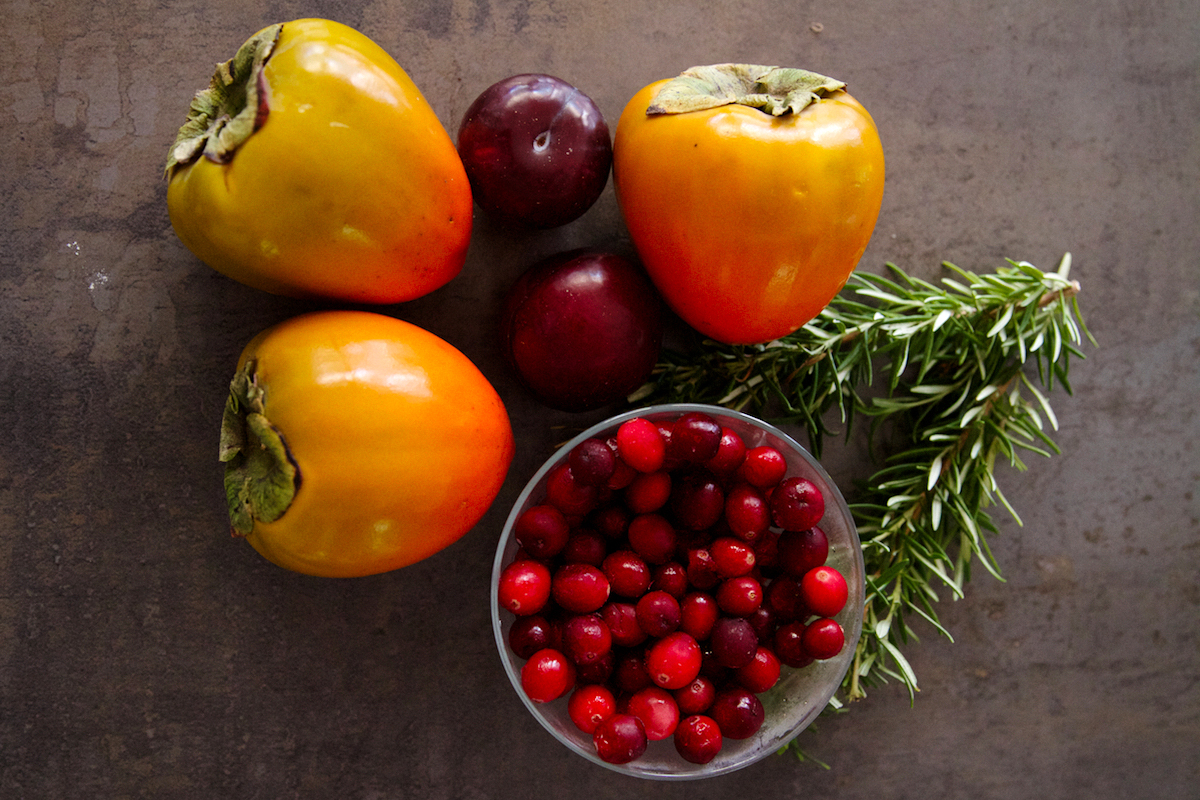 Plums and cranberries bring their friends sweetness & acidity to the party. Generally, I always try to always toss an herb into sweets to help my children 'adapt' to their presence in all kinds of food, even sweets.  Maybe a tad optimistic, but these hidden herbs usually go unnoticed in pies and other sweets.  I've been continuously hinting at the fact that 'we love green things too'…maybe they'll eventually come around to it.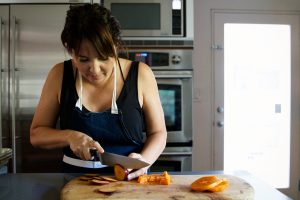 The dough for the recipe is easy. A bit of patience required, but use the time for 'proofing' to participate in the ongoing family games, get another recipe started, or wait for it…. relaxing! Either way, once the timer goes off, duty calls and to the kitchen you go to give this puffy dough a good punch down.  The credit for this amazing dough comes from a James Beard Foundation Winner & Saveur Finalist named Samantha Seneviratne of Love, Cake.   She is inspiring.
In general, yeasted breads need to rise, or proof, and then get punched down.  It is typical, on the last rise, to 'shape' the dough, then let rise one last time before you pop it into the oven
Get your fingers working and kiss this dough with some dimples while gently nudging it to the edges of the pan. If it springs back into its original position, you need to let the dough rest a tad further.  Take a deep breath…it'll happen! Just give it another 15 minutes, and give it another go.  Think of this dough like a head-strong child that just needs a time-out.  It'll cooperate soon enough!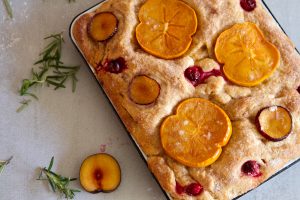 Topping this fall focaccia is so fun because the shapes and colors just pop off the top of the focaccia dough. Each time, you'll create a masterpiece.
I like to sprinkle with cinnamon sugar and off it goes into the middle rack of the oven.  The best part is watching this butter ball transform in the oven into persimmon magic, or aka, best fall focaccia bread ever!
Don't forget your final butter bath (ok, sprinkle, but a bath wouldn't turn out badly…)
Recipe Credit: The New Sugar & Spice
Photos by: Maria Hedrick Photography