The Twinkie takes me right back to the joy of childhood, when there's not much that tops a mouthful of cake and a solid sugar rush. The joys of being a little girl is especially present in my two-year-old friend, Isabel. Isabel's mother, Lisa, was my neighbor, and one night – around 3am – I got a call. Lisa was in labor, and her husband was on an international flight home. A few women friends and I stepped up to the plate and welcomed baby Isabel into the world. Now when I see her, with her gleeful smile and her Aussie accent, I want to shower her with sugar, spice, and everything nice. This homemade Twinkie, filled with pink marshmallow creme and topped with sprinkles will always remind me of Isabel's vivacious and carefree spirit!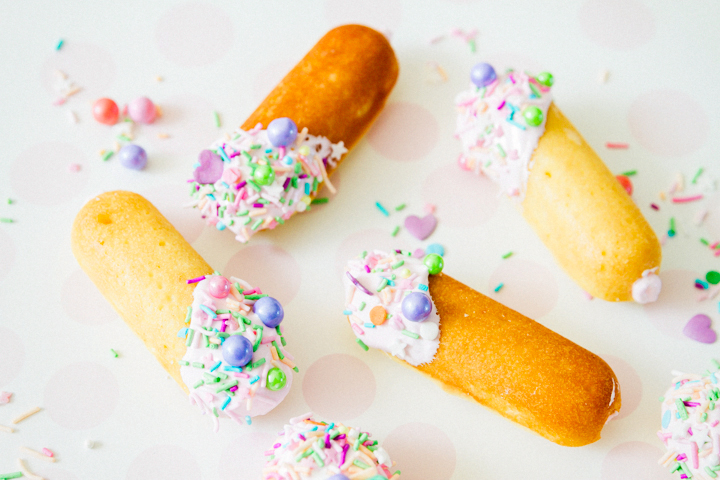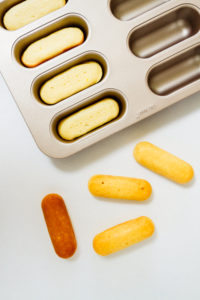 THE HOMEMADE TWINKIE CAKES
Prepare the cake batter according to the recipe instructions. There are many options for twinkie pans online – I guarantee you'll use them again. Bake for 60 to 70 minutes, until the cakes are golden, and when you apply a little pressure to the tops, the cake springs back ever so slightly. Place the pan on a wire rack and let cool for about 2 hours.
THE HOMEMADE TWINKIE FILLING
The filling is a mixture of buttercream and marshmallow creme. In this recipe, I've included directions on how to make marshmallow creme from scratch. I added vanilla seed for flavor, and gave it a summery pink with food coloring.
After filling the pastry bag, use a straw to push out a hole into each individual Twinkie. Insert the tip of the pastry bag into each hole and squeeze in filling!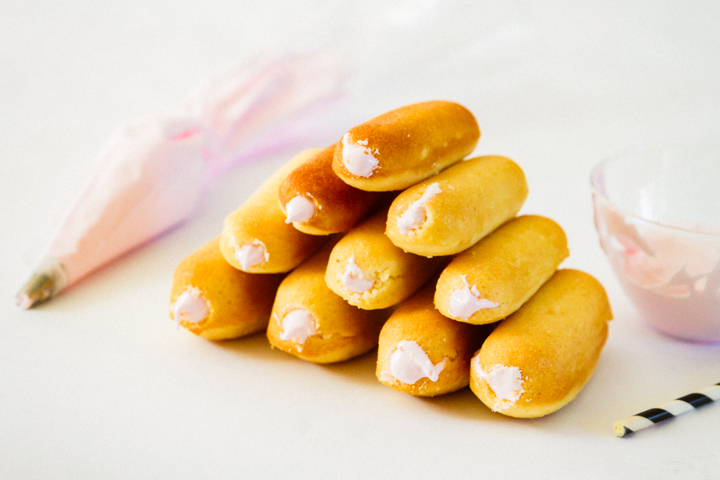 Use any extra filling to spread onto the Twinkie wherever you like. I chose just the ends – each tip was freshly-dipped in marshmallowy goodness. Add fancy sprinkles on top of the marshmallow, if desired.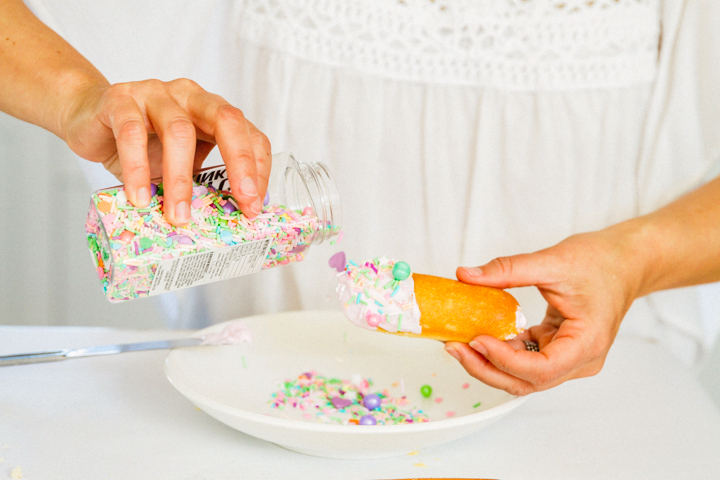 A big shout out to Shauna Sever for her inspirational cookbook, Pure Vanilla.
Isabel, thank you for reminding me how fun it was to be a little girl!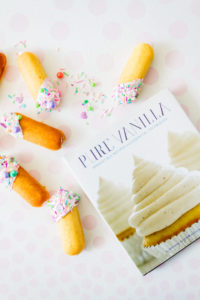 OUR FAVES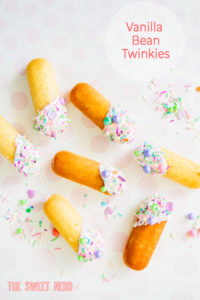 Photos by: Maria Hedrick Photography