Did you know that December is National Pear Month? I hear you: "National Pear Month?" on top of "Christmas," "Hanukkah," and "New Years"!?  Worry not, as this French Anjou Galette recipe will not disappoint for any occasion.
I learned this one from my nephews, Bastien, Nicolas, and Stephane, who are studying "Patisserie" in Lyon, France. I'm insanely jealous; it doesn't help that they're already uber-talented and accomplished. It's a secret hope of mine that they make it to the states and open a 3-brothers bakery.  For now…I'll  settle for virtual dessert sharing and French anjou galettes!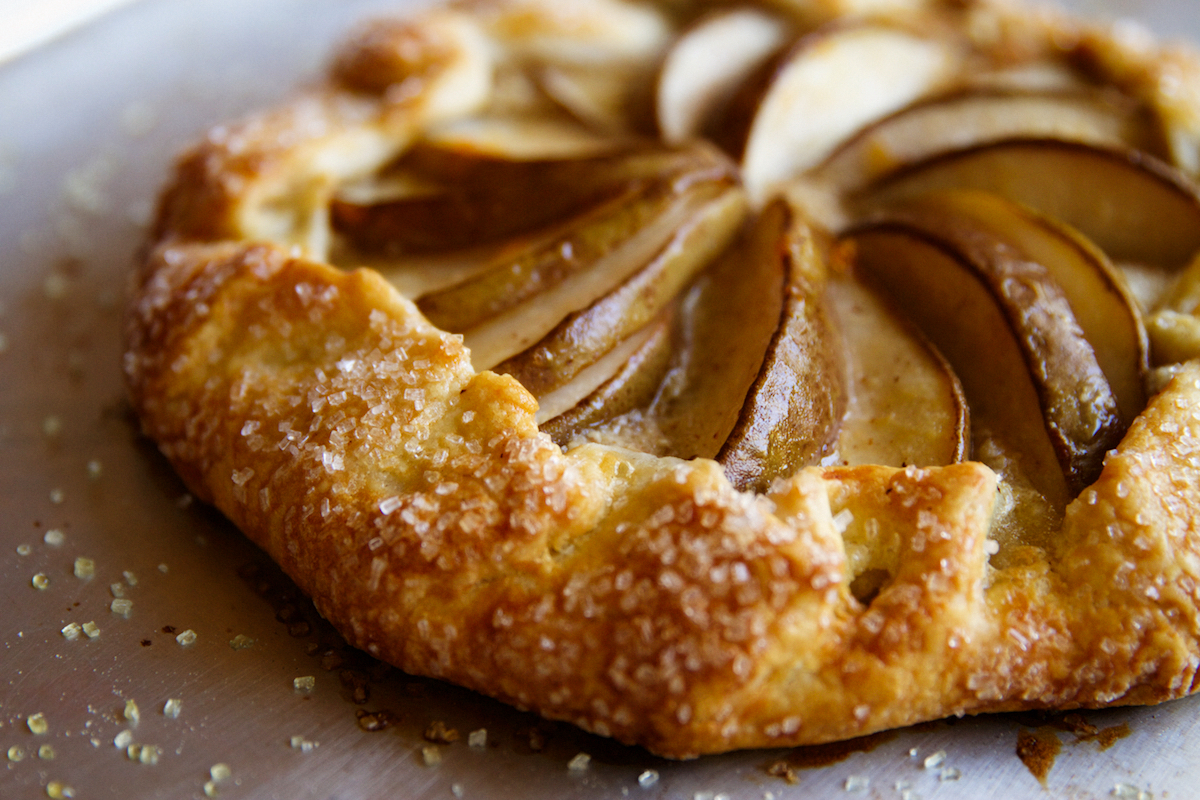 In honor of my french nephews, I chose the French anjou pear for this gallete, but there are a ton of US varietals that will work with this recipe, so don't feel pressured to stick with the French pear.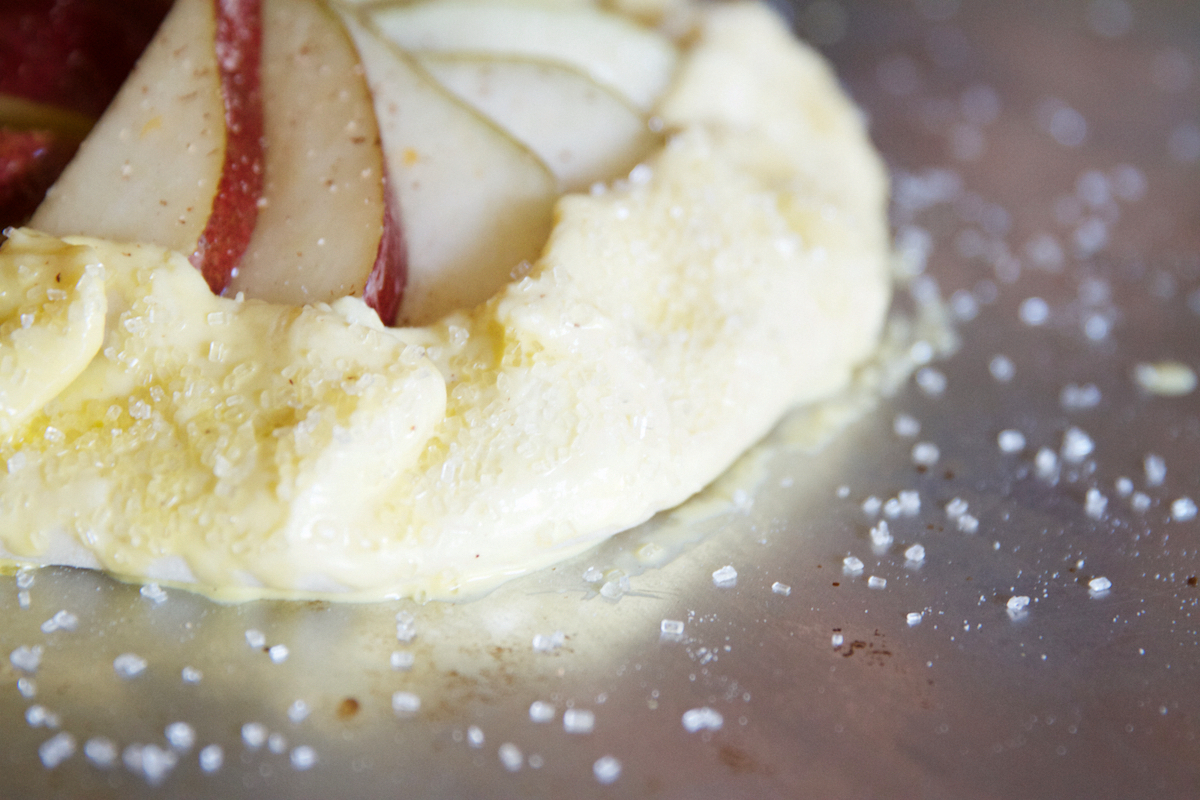 The true show-stopper for the recipe here is the frangipane (a funny little French word that translates to "a sweet filling of butter, sugar, eggs, and almond").  This heavenly filling complements nearly any fruit combination!
The great thing about it is that you can make it, and save any extraneous frangipane in the fridge. My kids can eat this goodness on its own – and understandably so. I prefer it as a dipping for sliced fruit (but am also not averse to a spoonful here and there).
First, toast those almonds; it helps release their oils and crank up their flavor.  The next step is putting together an easy, flaky galette dough.
We've saved the best for last! The assembly portion of the dessert. We've gone ahead and listed the directions out step-by-step.
Assembly:
Roll the dough (dust your surface with a dash of flour so it won't stick) into a rough circle
Layer on that almond cream goodness- frangipane – leaving about a 1″ border
Pinch and fold in the sides and sprinkle with fresh nutmeg
Lightly give the dough an egg washing, and sprinkle again some sanding sugar
Bake
Brush with apricot jam to give a nice brand-speaking-new shimmer and shine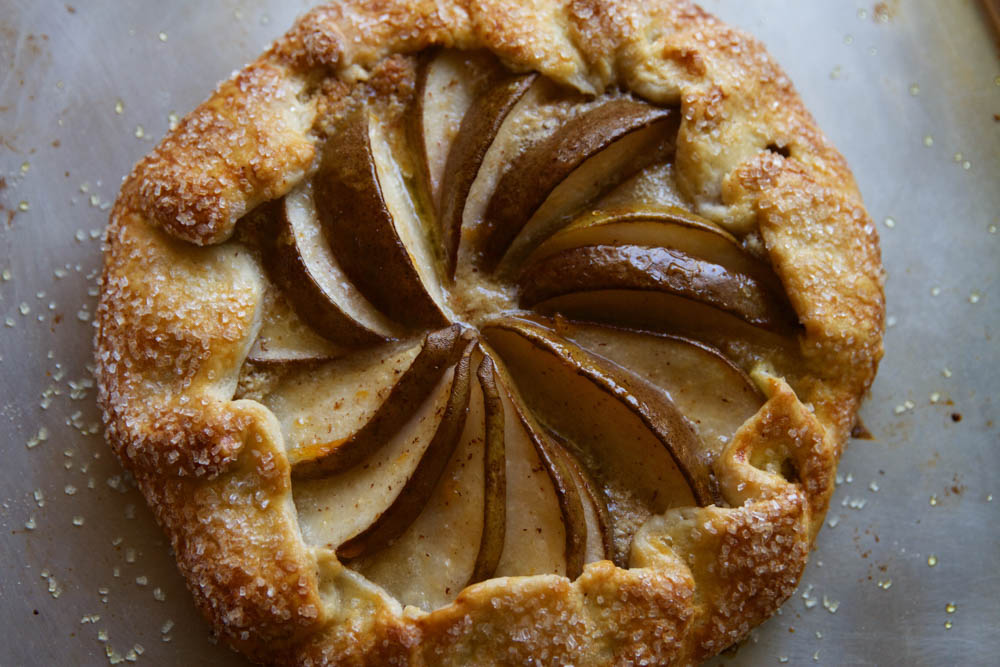 I realize it's a tall order to say this is a 'December recipe,' given the plethora of food one generally is expected to make during the month.  But, if you are adventurous in the kitchen, be sure to give this French anjou galette a try.  Your inner Parisian will be proud.  As Julia Child would say – Bon Appetit!
Photos by: Maria Hedrick Photography