In an industrial area of Southern Los Angeles, sits Hedley & Bennet Headquarters. Picture a scene of massive warehouses, big riggers, and even bigger men. Enter me, a mom with a messenger bag (it takes a lot more than big ol' dudes and their trucks to deter me). Light flooded the space, and I was met with the most beautiful array of industrial aprons you could imagine. Handmade, right here in Los Angeles!
I fell in with these stylish aprons, and wanted to pass on these awesome gift ideas for this season.  They're timeless, and I promise the moment your Little Nerds put these on, they will be inspired to be foodies!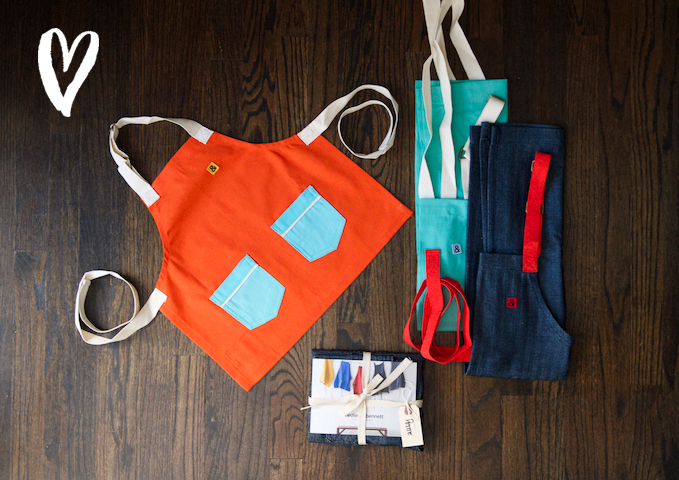 At first, it's the colors and contrast that first draw you in to these accessories, but once you put your hands on the material itself, your imagination begins to run wild. You suddenly envision yourself and your little nerds elbow-deep in flour and eggs, harmoniously (and stylishly) working away.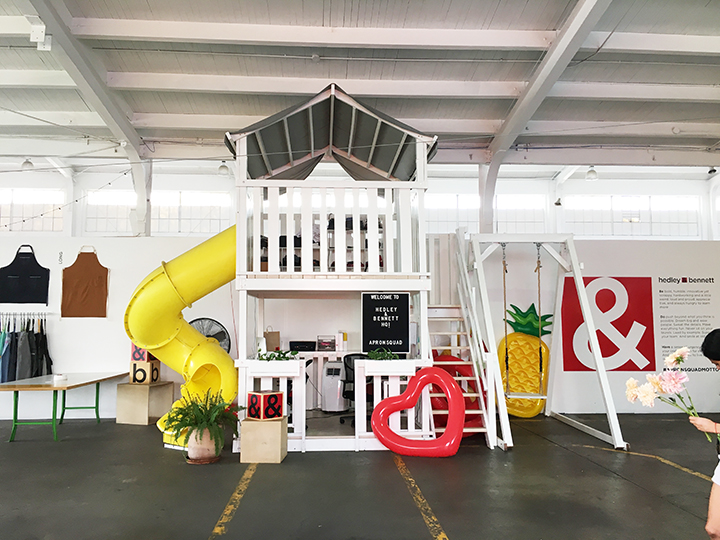 Hedley & Bennet Headquarters itself is just a mecca of inspiration overload. And if the play set hadn't tipped me off that I was in a pretty rad place, they offered me coffee from their full-service coffee bar.
They seemed to know the secret recipe for how to win me over… Table spreads curated with the most beautiful table-top treasures, chef clothes and aprons that were both functional and chic, and endless lounging and coffee areas. Is this what heaven looks like? Then Lord, take me away!  They even had a collab section for Food 52!  Lordie.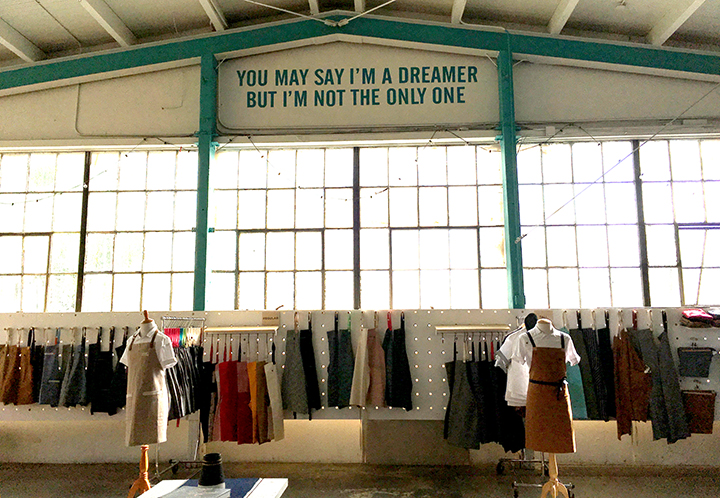 My mind immediately jumped to my Little Nerds Workshops. If I could get my kids in these aprons, maybe they'd feel the creative juices begin to pump, too. We could do some serious damage in a place like this.  Bake.  Play.  Shop.  (And Play Some More).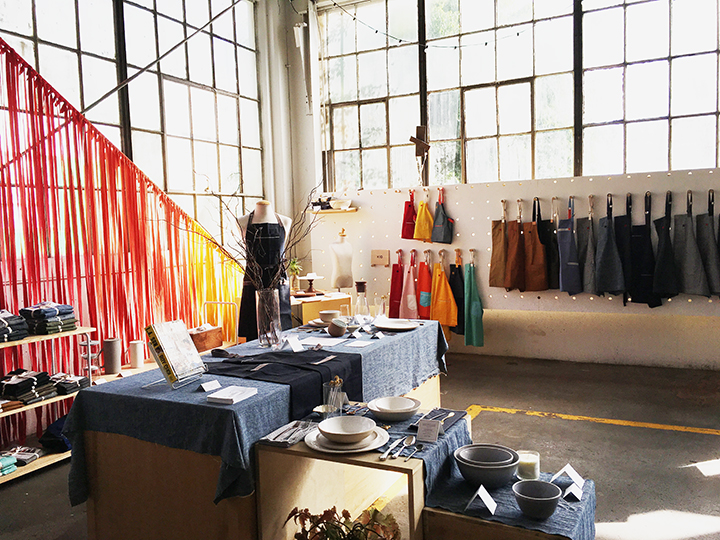 The store was inviting and open with its modern, loft-style design, yes.  But most importantly, it was FUN.  I felt like I was a part of something bigger, a wider collection of chefs and bakers who are also deeply cognizant of design and style.
The bright colors popping out at me had me wanting to buy every color of apron, though ultimately I was able to narrow it down to three aprons, and one for me, and… a few incredible table runners, oven mitts, and napkins. I couldn't resist.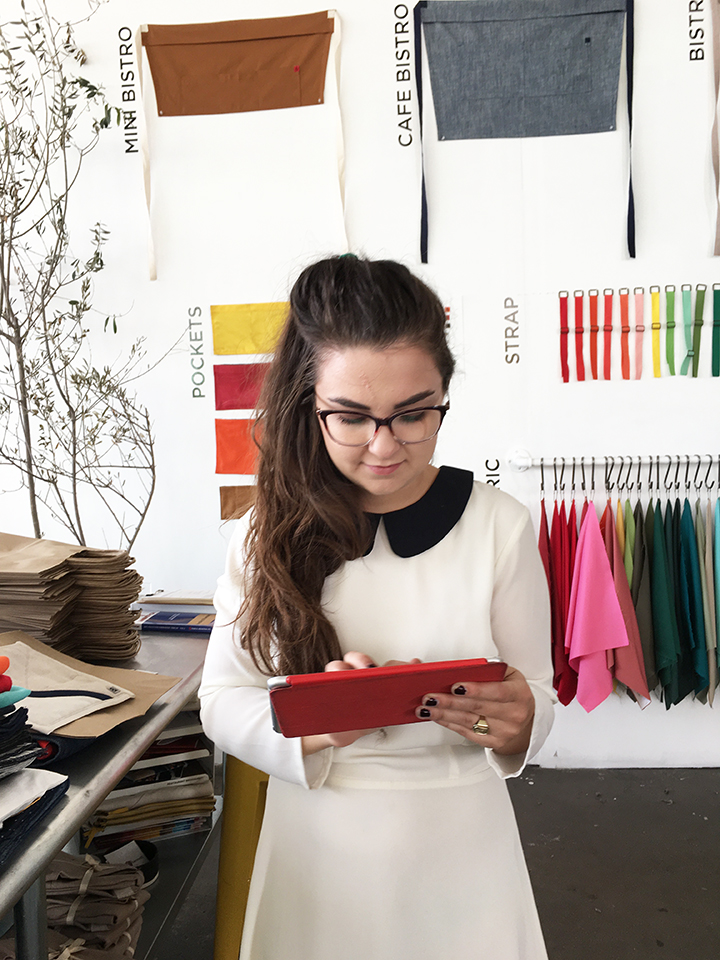 A stylish 20-something came to my aid – iPad in hand – to help me with any and all of my questions, (every question except for how to get out of there without spending my life savings).  These pieces are timeless and the customer service is stellar.
I decided on the drive home that I needed to share this experience with all of you. If you're in the Los Angeles area, you simply must check it out, but if you're out of range for this one, you can still check out their website.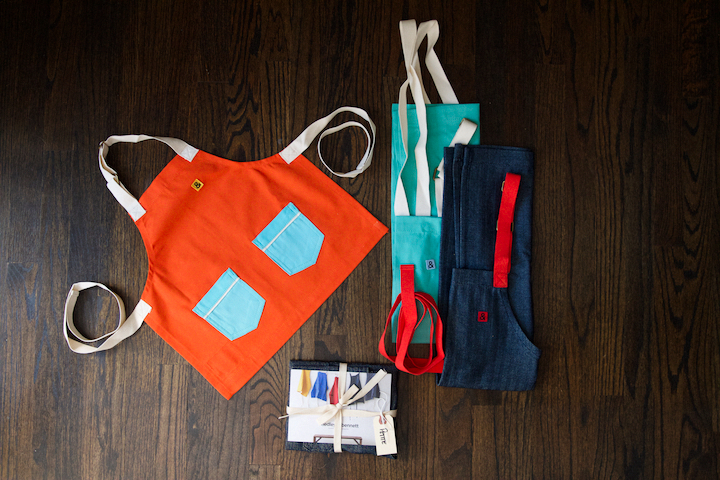 The prices for these aprons ranged from $20 for their 'little chefs' to $49 for their slightly older chefs.  The 'petite' apron for me was $75.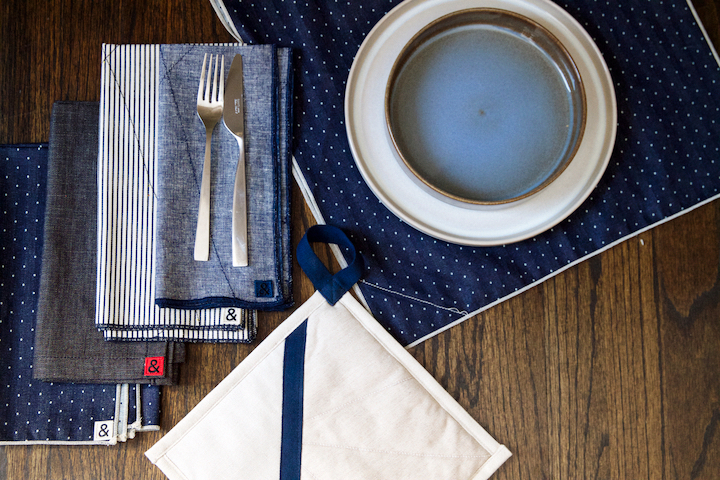 As a last note, I had to include this lovely table spread.  Isn't it just so clean, classic, and modern?  It hits all the high notes in my book.  Love the polka dot, mixed-in with the stripes and denim fun.  The napkins were $12.50 and the runner  was $30.00.  The pieces are versatile, and absolutely flexible for however you want to mix and match.  Have fun shopping this season – hope you dig their stuff as much as I do!
Photos by: Maria Hedrick Photography