Ready to serve up some adult fun?  No, not that kind of fun, silly! I'm talking Salted Caramel + Chocolate + Beer. Really, this masterpiece is nothing short of perfection for adult entertaining.  Saveur's Best Food Blog Winner Bit By A Fox and The Sweet Nerd celebrated this delectable boozy occasion with some gal pals, salted caramel ice cream stout cake, and a playful Sapporo Blackcocktail (using a whole egg) that is served up.  Don't let this semi-homemade ice cream cake scare you – half of it is store bought!
I absolutely loved collaborating with Bit By A Fox's, Prairie Rose!  Who knew boozing it up with ice cream cake brain freeze had all the right makings for a Thursday Los Feliz soiree.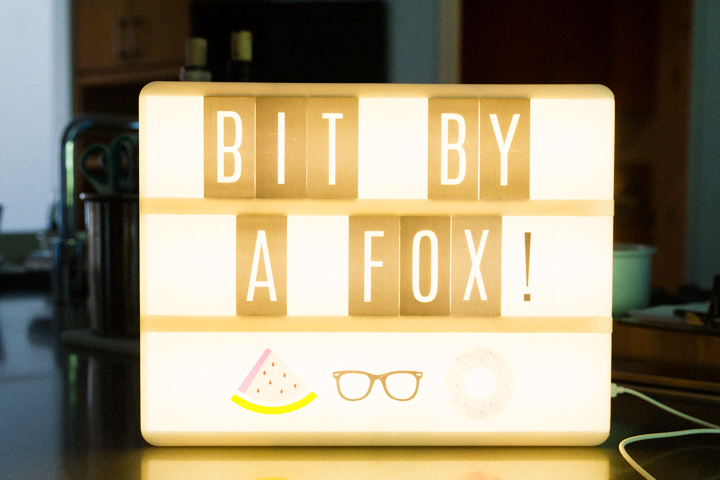 Praire and I put everyone to work!  You know, that hard labor kind of work – where you have one cocktail in hand and the other is stirring chocolate bliss….okay, so I am exaggerating a bit as lord knows this soccer mom rarely gets to escape dinosaur nuggets and sud sponges, but today was just one of those perfect rare days.  True friends, laughter, and hanging out in the kitchen.  Pretty much the idea of perfection in my mind!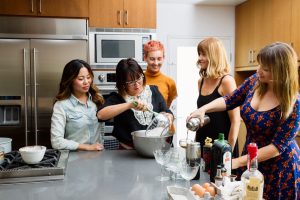 WHAT MAKES A PERFECT ICE CREAM CAKE?
CAKE: Choose a cake base that is not overly sweet to counterbalance the ice cream.  I chose a recipe from New York's creative bakery, Ovenly.  I fell in love with their black chocolate stout cake as it was the perfect balance for the caramel ice cream and butterscotch topping.
FILLER: Buy it! There are so many amazing artisanal caramel sauces and cookies to help create a rich creamy filling.  Save yourself some work.  I bought Richardson's Caramel Butterscotch and Tate's Vanilla Cookies.
ICE CREAM: Buy your fave!  Easy peasy.  I used our local Jeni's Salted Caramel and Vanilla Bean Ice Cream.
ASSEMBLY: Assemble the cake a day before serving so it has all night to firm up and help the cake retain its shape when you serve it.
BLACK SAPPORO BEER CAKE
This cake is a bit unconventional than your usual classic butter-based batter.  For this cake, we're making a chocolate base by following these steps:
Start with butter & beer (stovetop) + then add in cocoa powder (chocolate base)
Add to chocolate base: sour cream + eggs
Dries: add into chocolate base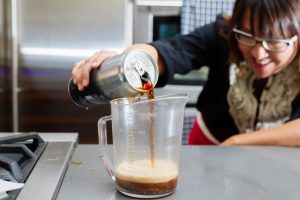 Start with this rich Saporro Black beer with caramel, chocolate, and coffee notes.  It's like music for your mouth!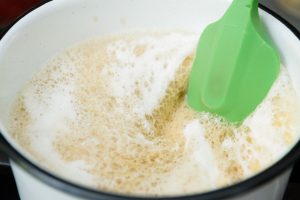 When you combine beer and butter on the stovetop, you can only see and appreciate the smell of that yummy foamy malty goodness.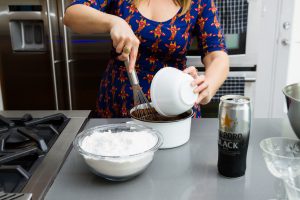 Next, add in your dries and give it a good swirl (or tell your gal pal to!). You'll find that the texture is smooth and oh-so-tempting to lick!  And that's also a sign that the batter is ready to go.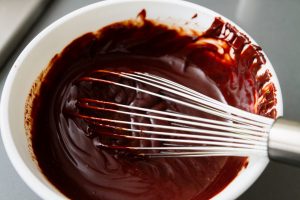 ASSEMBLY
Layers: Prep with cake board and acetate (which acts as a cake collar sold online)
Chocolate Stout Cake
Ice Cream
Caramel Sauce
Cookies Crumbled  (repeat steps 1-4, twice)
Last layer  = whipped cream goodness and freeze overnight
FINISHING TOUCHES 
Create a chocolate ganache for the Gods!  I mean…for the gals.  Seriously, it is near heaven when you drip the ganache over the frozen cake and top with Maldon Salt.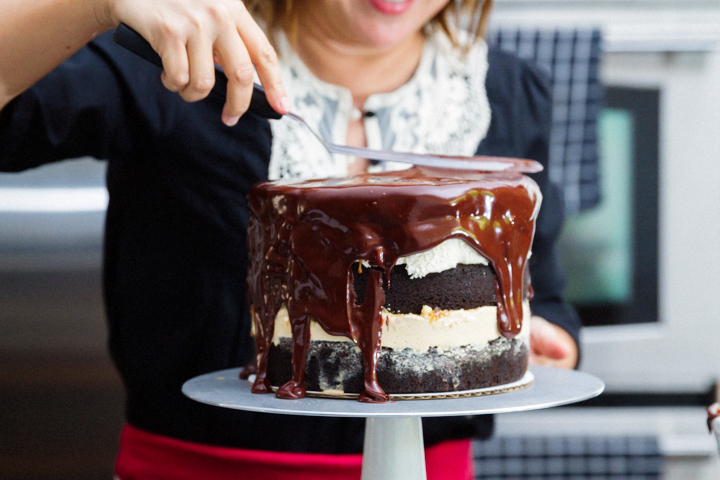 I popped the cake back into the freezer for 20 minutes and got the table set.  We were dying as 20 minutes seemed SOOOO long.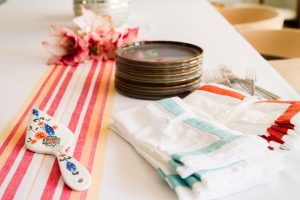 Tips for cake-cutting: select a large butcher knife and dip it in hot-hot water. Dry it and make a clean cut for your first slice. Clean the knife, dip in hot water, and repeat. Once you make the first slice, the rest is easy!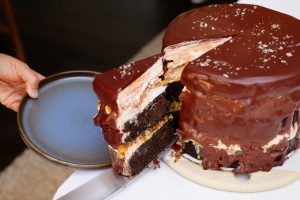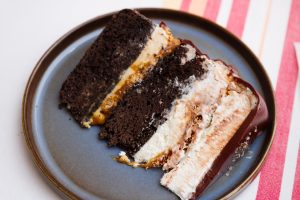 Now for the Malted Flip Cocktail.  Drum roll please….introducing Prairie Rose!
Watching Prairie play with with the Malted Flip drink was so much fun. I wish she was on hand all the time. She can make all of our mom problems slip away with just a flick of her cocktail-making hand. This drink has bourbon, chocolate syrup, jagermeister, whole egg, and Sapporo Black. It's a flip cocktail (using a whole egg) and is served 'up.'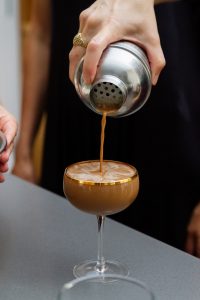 Get your table read and have yourself a Bit By A Fox and The Sweet Nerd party.
Click HERE to learn how to make this malted flip cocktail on Prairie's blog!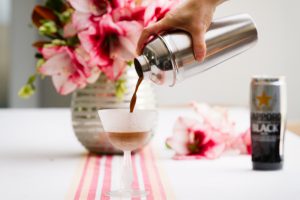 Photos by: Maria Hedrick Photography