Peaches-n-cream trumps "get-political-n-scream" just about any day. I'm sure I'm not alone when I say the political climate has me rather down in the dumps lately. Every-time I turn on CNN or the BBC, I just find myself feeling worse than before I started.  So today, I avoided all media, and replaced it with these peaches-n-cream thumbprint cookies, because this much I know: whatever your political preference, peaches n' cream will help fuel you through these trying times.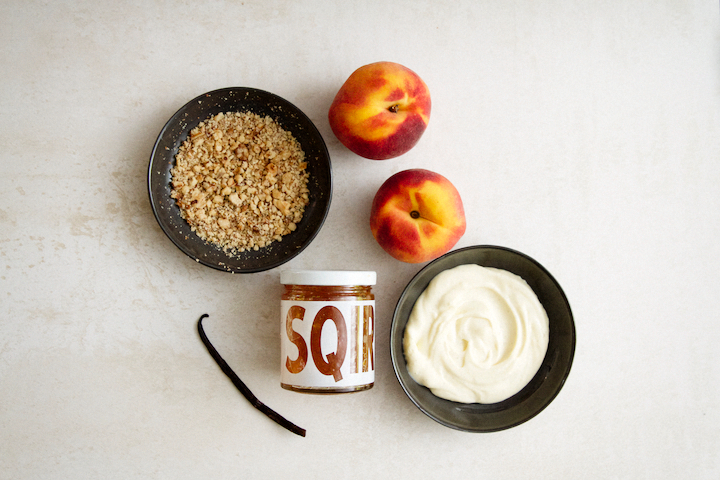 Take a leaf from my kid's book, set Spotify to Twenty One Pilot's, Stressed-Out and crank-up the volume.  With your head bobbing, working this dough grows oddly satisfying. Start with making a simple pastry cream and refrigerate for 3 hours or until firm. Next, it is time to amp up the workout. You're ready to begin making some perfectly round dough balls – let's do this!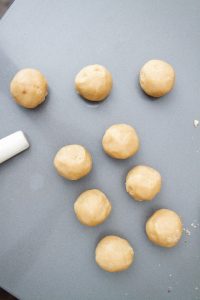 Get your palms rollin' and repeat to yourself this mantra, "Thumbprint therapy is cheaper and tastier than real therapy." For the record, it's also much tastier than real therapy.
The dough here is really straightforward: an easy butter base, add in your wets, then finish with the dry ingredients.  Chill the dough, and begin shaping it into balls with the palm of your hands.  You can roll it in roasted walnuts, and then chill it in the refrigerator for 20 minutes or so till firm.  Save some time and make the cream on the stove top while your cookies are setting.
Now for the stress relief – take your chilled cookies and line them up on parchment atop a sheet pan.  Take a rounded edge, either the back of a wine cork or some other contraption you may have (I used a pestle), and gently push down into the dough ball to make a 'jam' impression.  You to ensure it's deep and wide enough so that with every bite, you will get a slosh of jam in your mouth!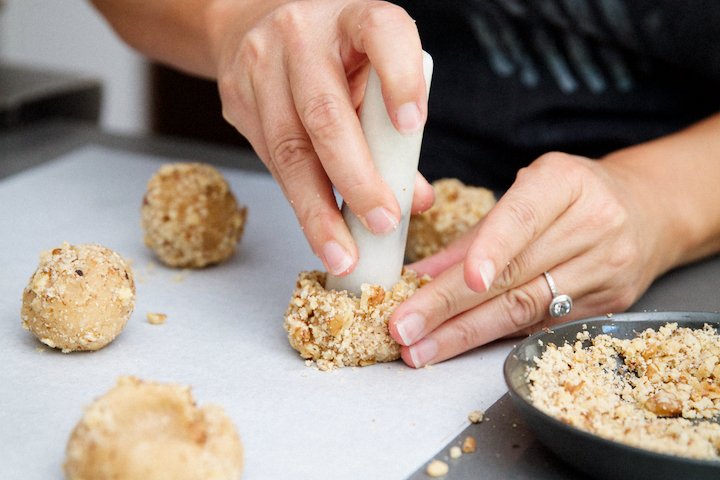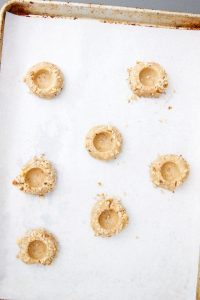 Next, squish into the jam hole a peach jam of your choosing. If you're not a jam nerd like myself,  I recommend using my huge crush and local purveyor of jam, Sqirl LA.
Once baked, cool your finished peaches-n-cream thumbprint cookies completely before you make your big decision.  Are you eating them now? If yes, then put a dollop of pastry cream on the cookie and leave this contemptuous world for bliss.  If you can restrain yourself, place both the pastry cream and the jam thumbprints in the refrigerator.  When you are ready to spoil yourself or you loved ones, top 'em off, and serve.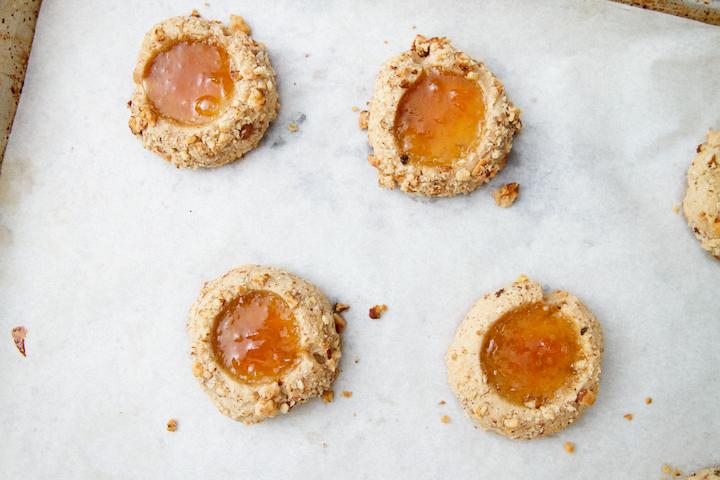 If you've made it this far, many thanks for tolerating my political murmurings.  Everyday is a new day, and each and every cookie is saving me money on therapy, so life is sweet.  Literally. Cheers, everyone!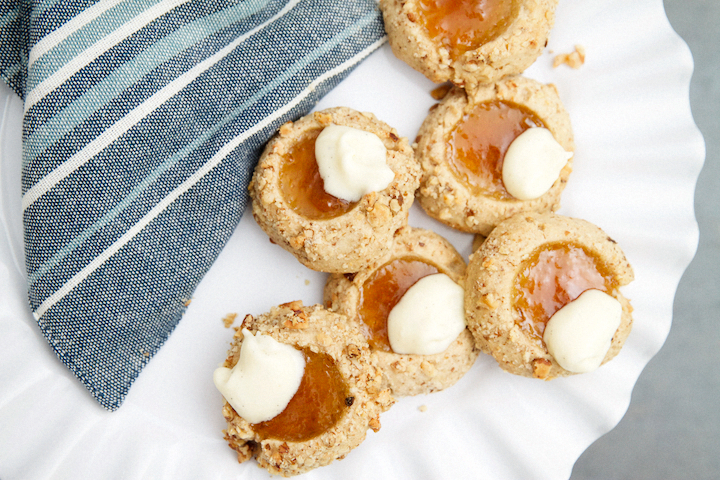 Credits: Cookie Love, Mindy Segal
Photos by: Maria Hedrick Photography