Nothing like a sticky gooey spicy chocolate nibble!  Yousa – these spiced chocolate cookies say 'lucky' like nothing else.  And as luck would have it, there is one more treat for 'ya today – a pot of yummy recipes from my favorite Patty girls (and guys) in the blogging world.  Enjoy these amazing savory and sweet recipes posted below.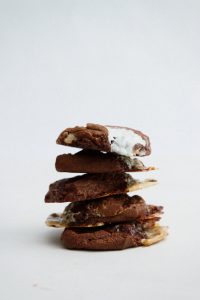 I whipped up a double-batch of these cookies – some with that little Aleppo (syrian spice) kick and the other without (for my kiddos).
The showstopper spices are nutmeg, cloves, Aleppo, and cinnamon.  I chose Aleppo as I  how it balances the cookie without overwhelming it. But, you can test out your favorite chili spice to see what works for you.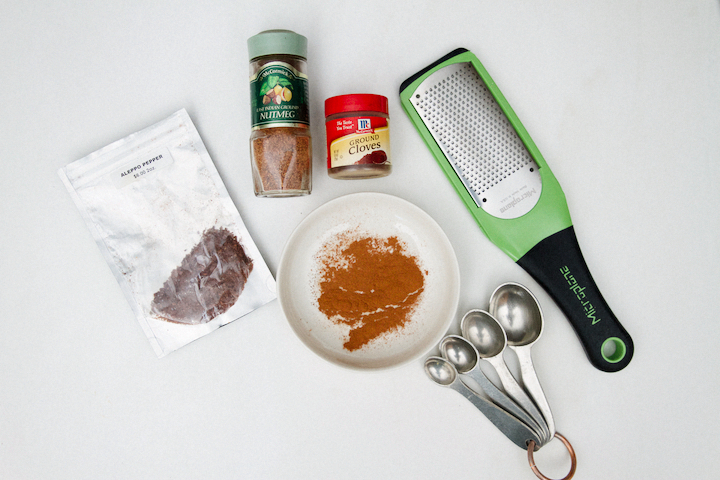 I included a homemade batch of marshmallows, but if you buy the mini-marshmallows at the store, you will not be shortchanged!
This spiced dough gets a make-over by adding in chocolate brittle and mini-marshmallows.
A super super super easy brittle.  It is basically melted chocolate (over a bain marie) with the addition of smoked almonds that hardens at room temperature.  Once it hardens, then you chop it up into small chocolate chunks that will get incorporated into the dough.  YUM, right?

2. Next, you can incorporate store bought mini marshmallows or make your own.  If you make your own, you will want to chop it into bite size pieces to incorporate.  Try this homemade marshmallow recipe if you are feeling adventurous.  We recommend freezing them so it is easier to chop!  Otherwise, it gets too sticky.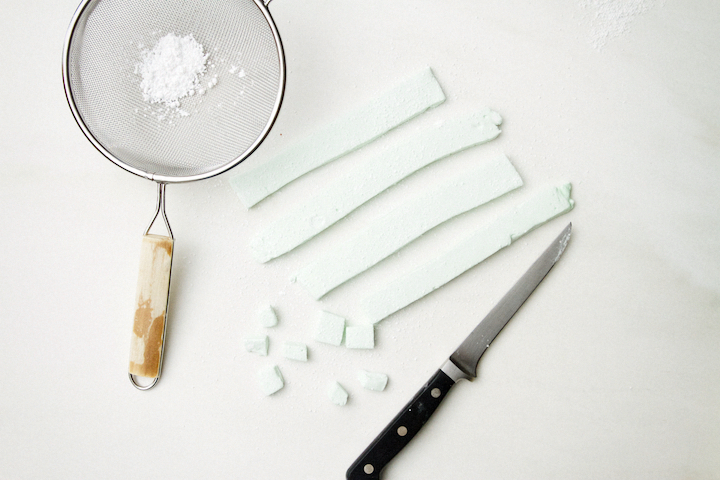 I tinted my marshmallows green in honor of St. Patrick's Day.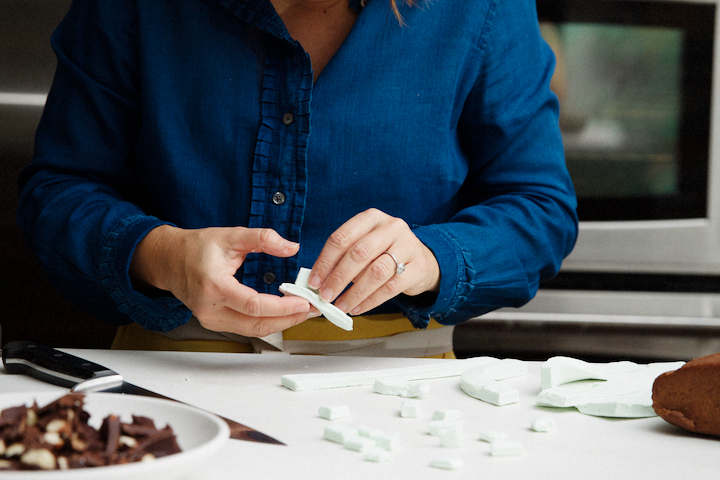 Now this part is deliciously sticky so prepare yourself.  Drum roll… as this is when the dough gets that million dollar makeover.  Add in the marshmallows and the chocolate brittle.  Whabam!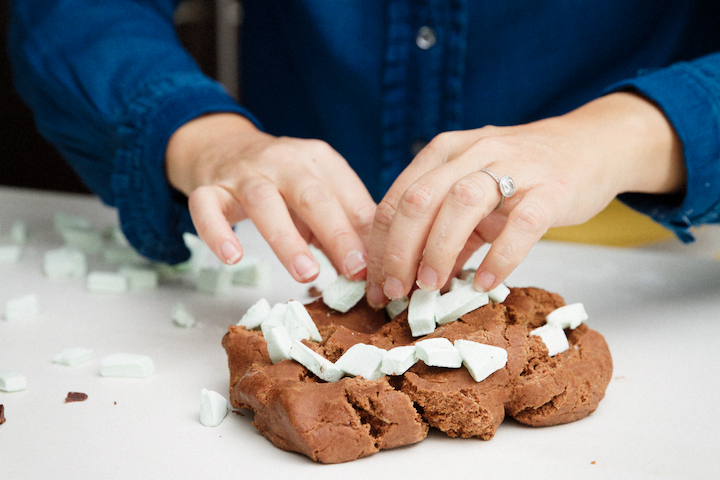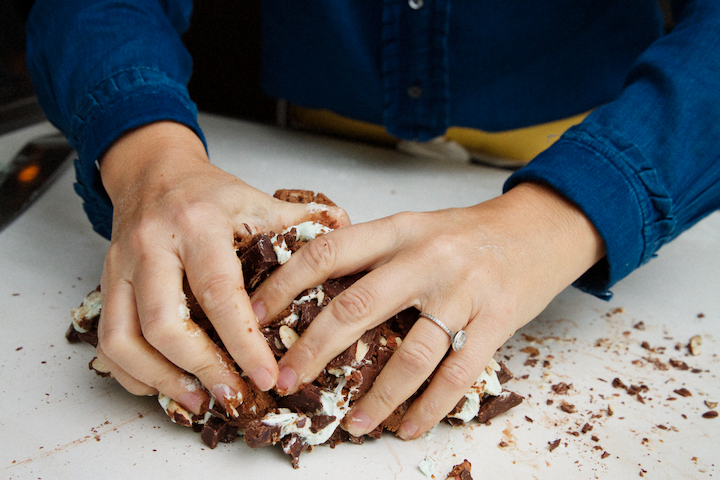 Next step it to mold it into a 12×9 pan, or honestly just anything you have that will allow you to mold it into a square or a rectangle.  Pop it into the freezer to chill.
Once firm, then remove and slice into 1 or 1.5 inch strips and make bit size cuts.  They will spread quite a bit when they bake, and for me they were perfectly imperfect as some were flat and others were a little more rounded.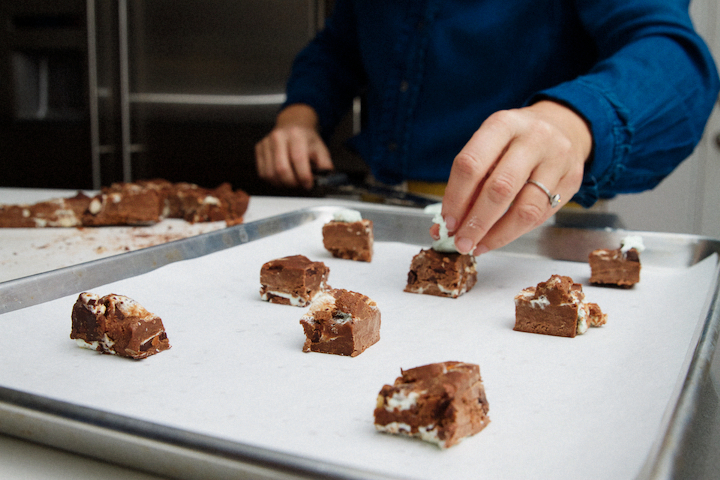 Don't worry, they all taste the same.  Lastly, because I am a total sucker for marshmallow melts, I added one more marshmallow on top so it would get that golden white oozing look while it baked hard onto the cookie.  For one batch, I mistakenly forgot to add that pretty marshmallow doo-dad on the top, and so I added it 1/2 way through the cookie baking process and it still came out just perfect.  So do what works for you and what sort of rustic aesthetic you love best.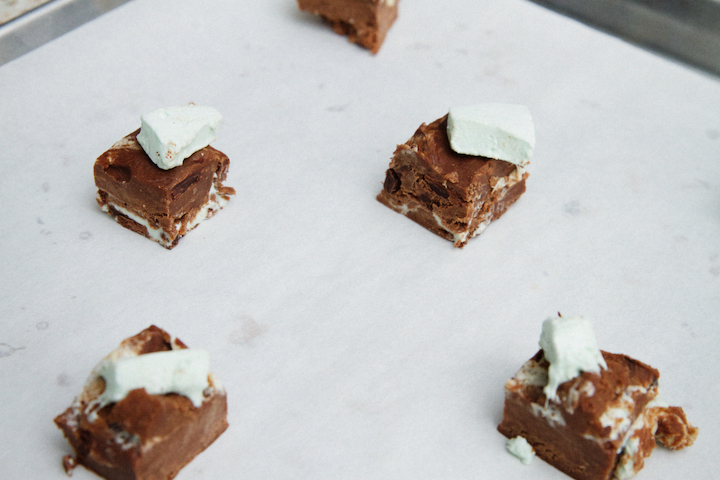 Chunky Monkey Chocolate are the words that come to mind with this picture.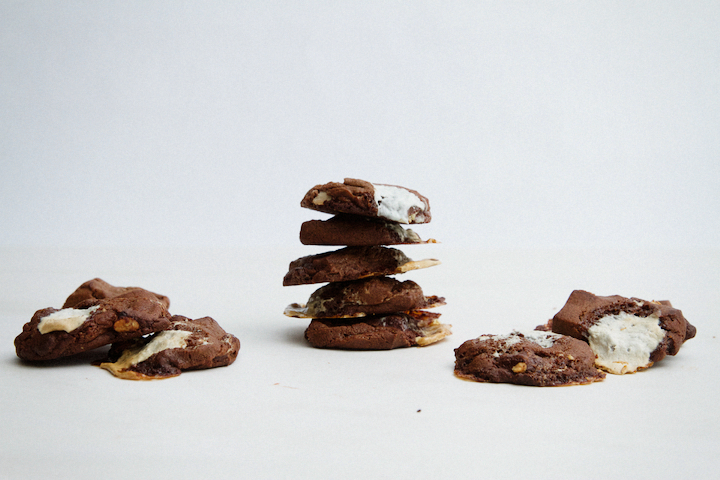 Let's amp up the charm in our lives today and feast our eyes on some incredible savory and sweet recipes provided by some fabulous bloggers around the country.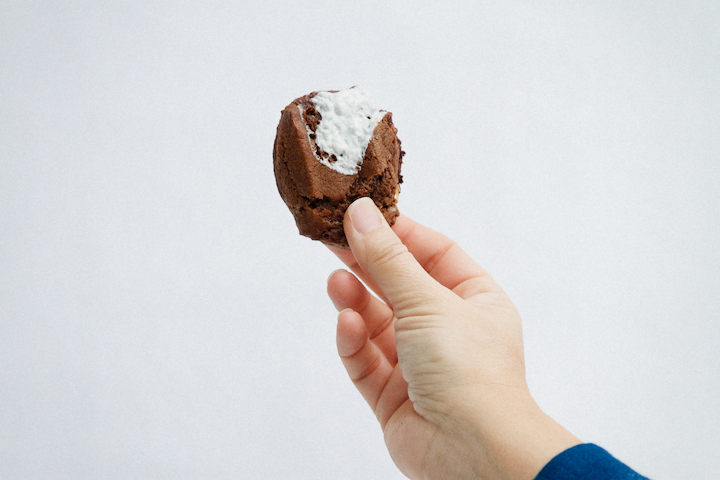 Virtual Blogger List:
What Should I Make For, Traditional Irish Soda Bread with Orange Butter
http://whatshouldimakefor.com/traditional-irish-soda-bread-with-orange-butter/ 
Instagram: @whatshouldimakefor
The Road to Honey, Guinness Irish Stew Mini Pot Pies
Instagram: @the_road_to_honey
Beyond Mere Sustenance, St. Patrick's Lemon Cucumber Martini With Fresh Basil
Instagram: @beyondmeresustenance
Girl Heart Food, Shepherd's Pie {with Guinness Lamb & Horseradish Mash} 
http://girlheartfood.com/recipe/shepherds-pie-with-guinness-lamb-and-horseradish-mash 
Instagram: @dawn.girlheartfood
No Spoon Necessary, Sour Apple Tequila Cocktail – The Lucky Shamrock
http://www.nospoonnecessary.com/sour-apple-tequila-cocktail-the-lucky-shamrock/
Instagram: @nospoonnecessary
Seasons and Suppers, Irish Spice Bag
https://www.seasonsandsuppers.ca/irish-spice-bag/
Instagram: @seasonsandsuppers
Beer Girl Cooks, Raspberry Chocolate Milk Porter Pudding Shooters
Instagram: @beergirlcooks
Ciao Chow Bambina, Chocolate Stout No Churn Ice Cream With Homemade Toffee Crumble
https://www.ciaochowbambina.com/chocolate-stout-no-churn-ice-cream-with-homemade-toffee-crumble/
Instagram: @ciaochowbambina
The Beach House Kitchen, Bangers and Mash with Guinness Onion Gravy
http://thebeachhousekitchen.com/2017/03/10/bangers-mash-with-guinness-onion-gravy/
Instagram: @thebeachhousekitchen
The Busy Spatula, Lucky Charms Churros & Real Pistachio Pudding
https://thebusyspatula.com/2017/03/10/lucky-charms-churros-real-pistachio-pudding/
Instagram: @thebusyspatula
Salt & Lavender, Pork Chops with an Irish Whiskey Sauce
http://www.saltandlavender.com/pork-chops-irish-whiskey-cream-sauce/
Instagram: @saltandlavender 
Keviniscooking, Colcannon Irish Mashed Potatoes
http://keviniscooking.com/colcannon-an-underrated-irish-side-dish/
Instagram: @keviniscooking
Calizona, Black Lentil Roasted Broccoli Shepard's Pie
http://cali-zona.com/2017/03/10/black-lentil-charred-broccoli-shepherds-pie/
Instagram: @steph_calizona
Sugarhero, Baileys Chocolate Caramel Tarts
http://www.sugarhero.com/baileys-chocolate-caramel-tarts/
Instagram: @elabau
Salted Plains, Vegan Mint Chocolate Bark
http://saltedplains.com/vegan-mint-chocolate-bark-recipe/
Instagram: @saltedplains
Meg is Well, Boozy Irish Coffee Milkshake with Baileys Caramel Drizzle
http://megiswell.com/boozy-irish-coffee-milkshake-baileys-caramel-drizzle
Instagram: @megiswell
Photos by: Maria Hedrick Photography