If you had to choose, would you go with salty or sweet?  I'm in with both, a fact that is made evident with this irresistible chocolate pretzel shortbread recipe.  The dough has that salty, pretzel-nugget goodness, and the white chocolate topping balances the treat out perfectly.

The little pretzel nuggets hiding inside these cookies are actual pretzel crackers, ground up in a food processor and added to the dough. And speaking of the dough, this one can get rather sticky, so it's best if you keep it chilled, and roll it out in saran wrap.  Those two little steps will make this recipe about ten times easier! (You can thank us by sending us a box of these cookies.)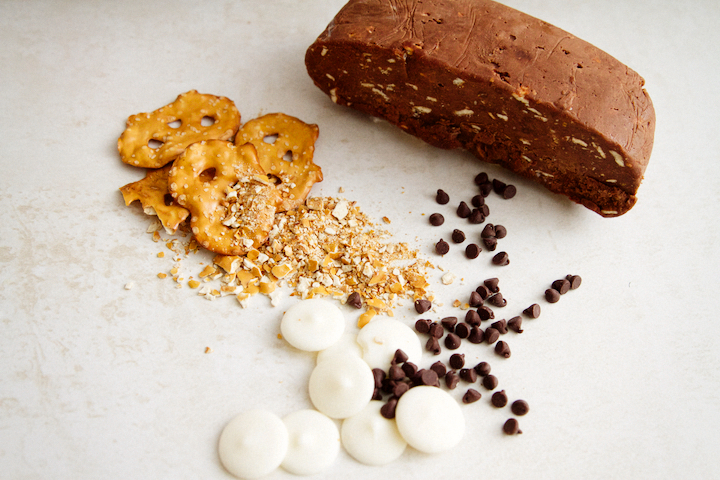 I used scalloped square and circle cutters purchased from Ateco. I'm mildly obsessed with their products, as I find them both durable and practical. I use them for so much more than cookies. They're my go-to for fondant, biscuits, marshmallows and more!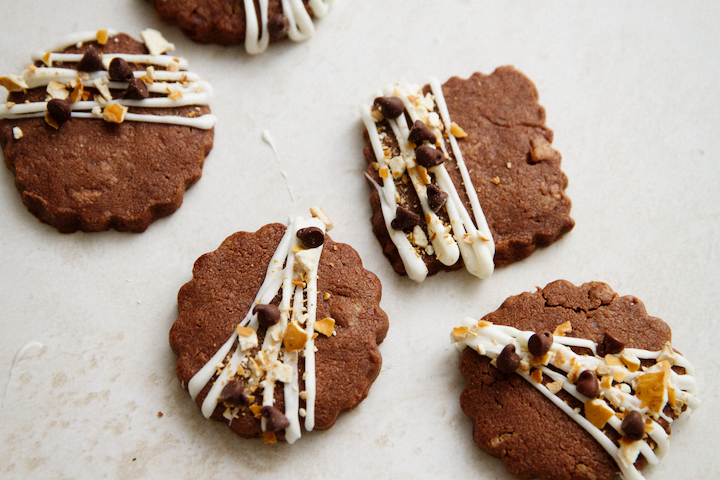 Topping choices? Well, they're endless, really.  I used crushed pretzels along with mini butterscotch and chocolate chips.  I modified this recipe from my favorite cookie gal-guru, Mindy Segal of Cookie Love.
These are best eaten right away.  Sadly, if you freeze them, the pretzel nuggets get stale.  But truth be told, I've never had any trouble making these disappear. Usually, I end up wishing I had made more.
So, if you love salt and sweet like I do, you're going to love these chocolate pretzel shortbread cookies. Trust me. (And now, about that box of cookies you're going to send…)
Adapted Recipe Credits: Mindy Segal, Cookie Love
Photos by: Maria Hedrick Photography