Here's one thing you know about me by now: I love salt and chocolate. Make it a crunchy pretzel and an artisan chocolate and I'm done. Gone. Adios muchachas. Case in point: this fall I've blogged about Ombre Candy Corn Pretzels, pretzels dipped in melted chocolate, and Peanut Butter Chocolate Bark, which has chocolate, Reese's Pieces and butterscotch chips. So when I was planning out what to make for this "in limbo" week between Thanksgiving and Dec 1, of course I leaned on one of my all time faves: the Salty Pretzel Brownie.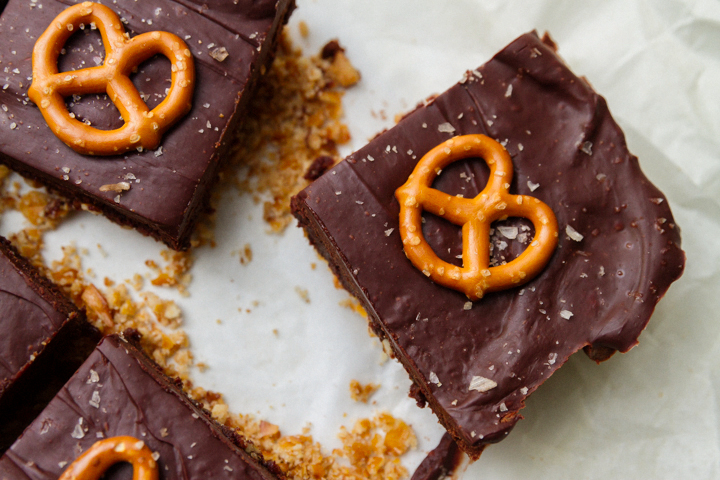 THE STEPS TO THE PERFECT SALTY PRETZEL BROWNIE
As I see it, there are 3 equally important steps:
The Pretzel Bottom – a pretzel, sugar and butter crust
The Brownie Top – the brownie itself, and its ganache
Pretzels and Salt – the final touches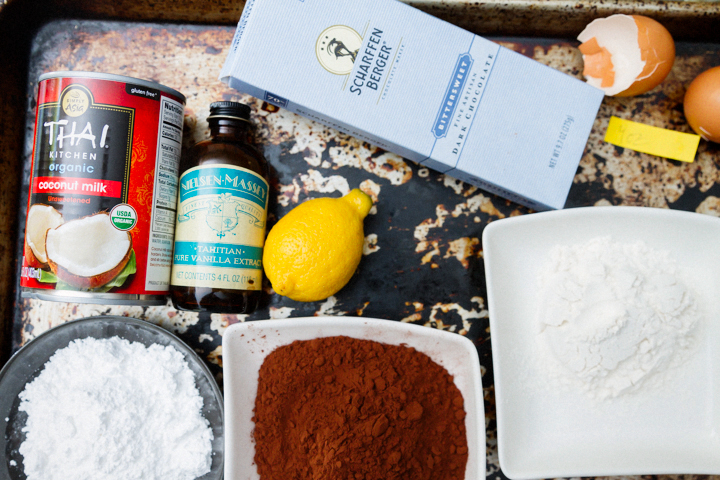 STEP ONE: BOTTOM'S UP
I almost had all of the ingredients in my pantry (bittersweet chocolate, natch!). Let's start at the bottom with the pretzel crust and work our way up. Heat oven to 350°F (325°F for dark or nonstick pans).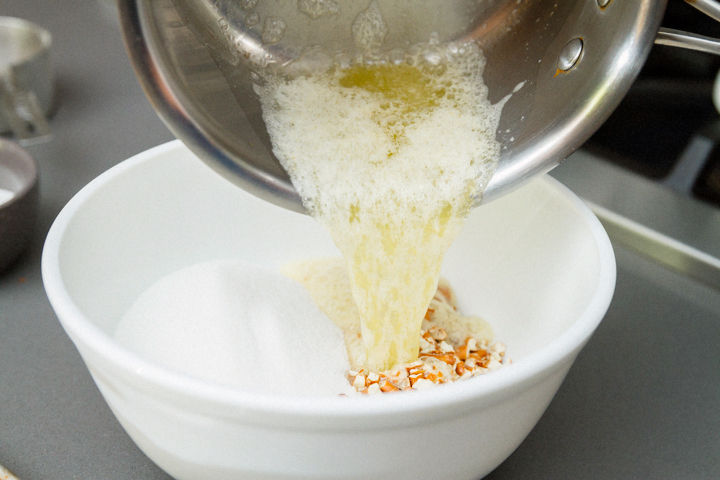 Take your crushed pretzels, sugar and melted butter and mix in a medium bowl.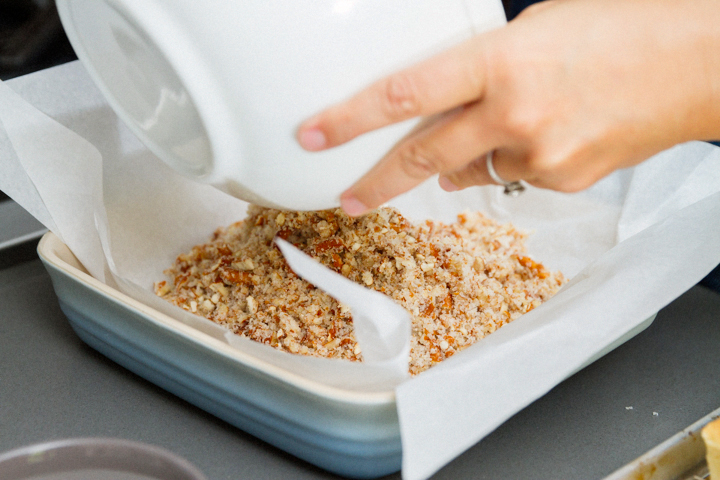 Press in ungreased 13×9-inch pan. Bake 8 minutes; cool 10 minutes.  Meanwhile, work on the next step.
STEP TWO: THE BROWNIE TOP
Melt the butter and the chopped bittersweet chocolate, about 5 minutes. You might have guessed, 
Scharffen Berger
is the name of the game in my book. Remove from heat and immediately add sugar, cocoa, water, vanilla, and a generous portion of salt.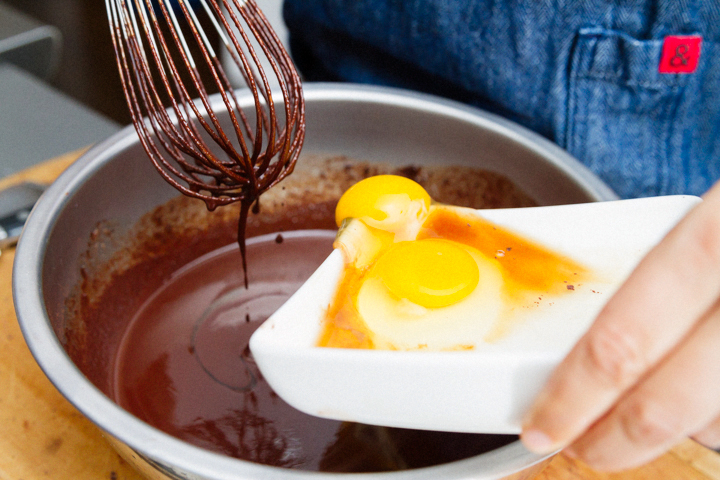 This is muy important! When you add the eggs to this hot mixture, add 1 at a time, and beat vigorously to blend after each addition. Yes, I bolded that because you do not want to have scrambled eggs mixed with your melted chocolate. Gross.
When the mixture looks thick and shiny, add the flour and stir until blended. Beat vigorously 60 strokes. Yes, I said 60. Have you ever tasted a salty pretzel brownie with 55 strokes? Shameful. Lastly, stir in the nuts.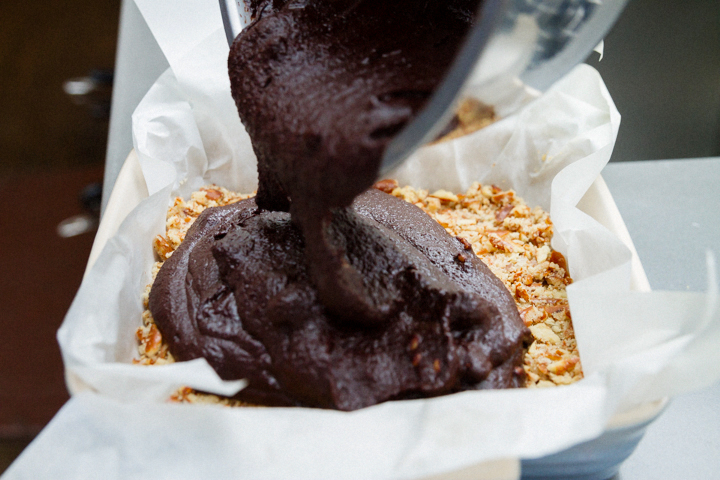 Transfer the batter to the crust and bake brownies for about 25 minutes. After the brownies are completely cool, use a foil overhang to lift the brownies from the pan.
Here's part 2 to the brownie: the ganache. Stir the coconut milk and maple syrup together and bring to a gentle boil. Pour this mixture over the bittersweet chocolate, and stir until all of the chocolate is melted. Once slightly cooled, spread the ganache over the top of the chocolate batter.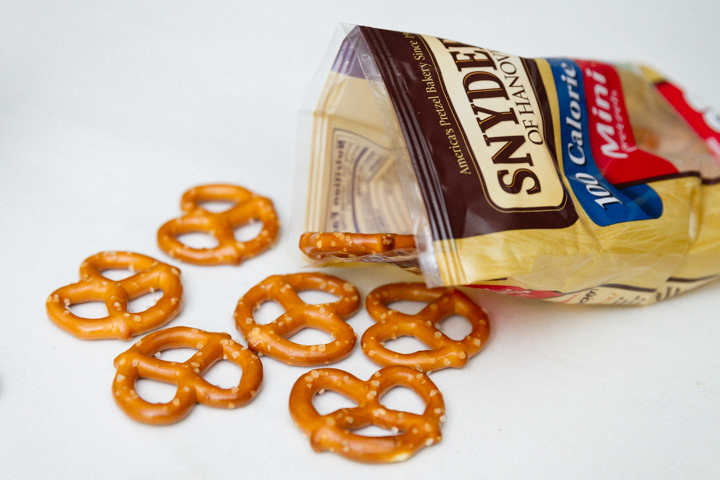 STEP THREE: ADD PRETZELS AND SALT
Snyder's of Hanover gets a huge shout out from me in all of my salty-and-sweet recipes.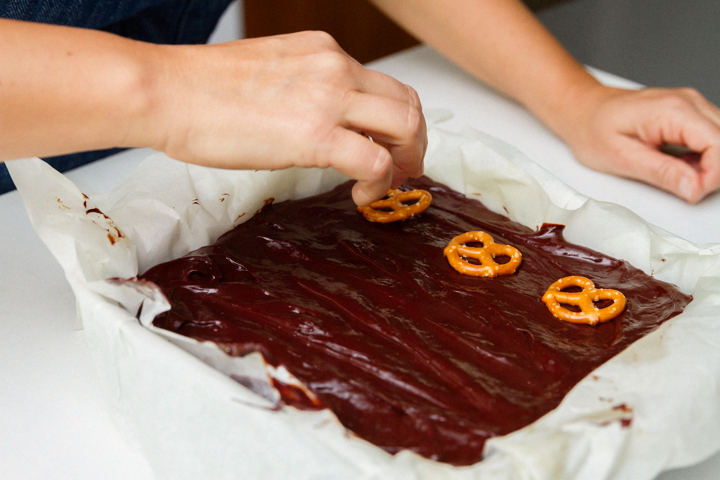 Play with the shapes, there's the waffle shaped pretzels, and the thin pretzel sticks might be fun, too. Place them on top of the ganache.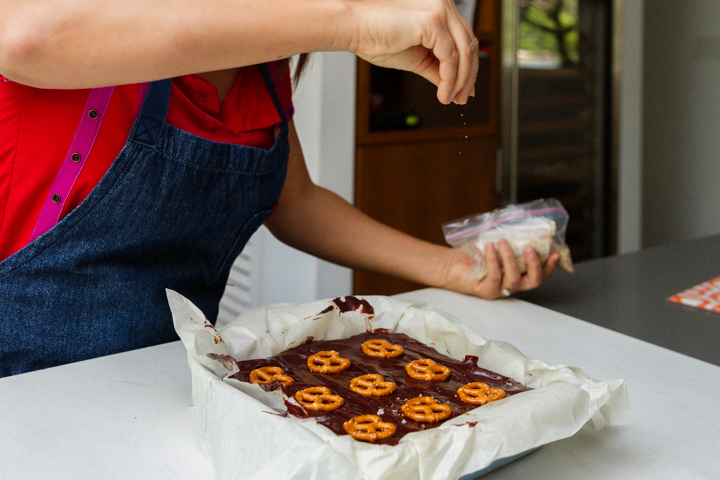 I was serious when I said this step is just as important as making the crust and the batter. Use a good sea salt, I used Maldon Salt, and sprinkled a layer on top of the whole pretzel topping.  That is my favorite part as it nearly pops off the chocolate!  Salterrific.  (OK, that was bad… sorry).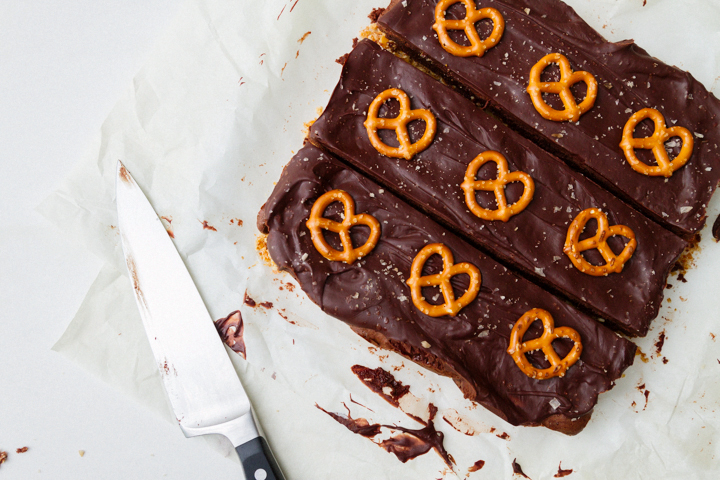 Cut into 3-4 strips. Cut each strip crosswise into salty pretzel brownie squares. Step four: save one for yourself. Enjoy!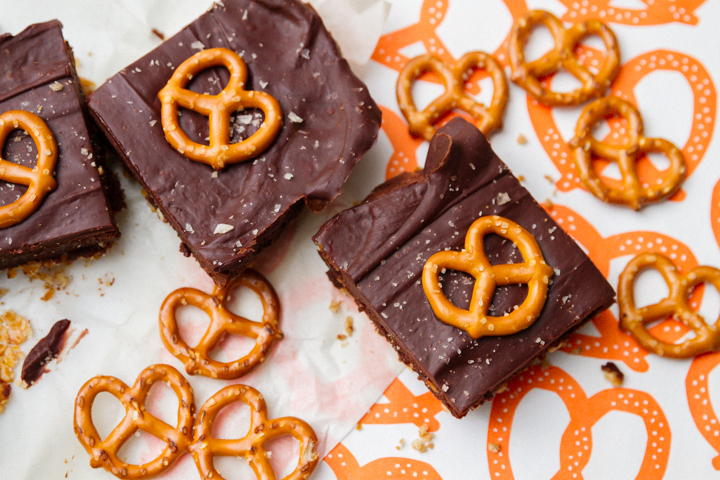 OUR FAVES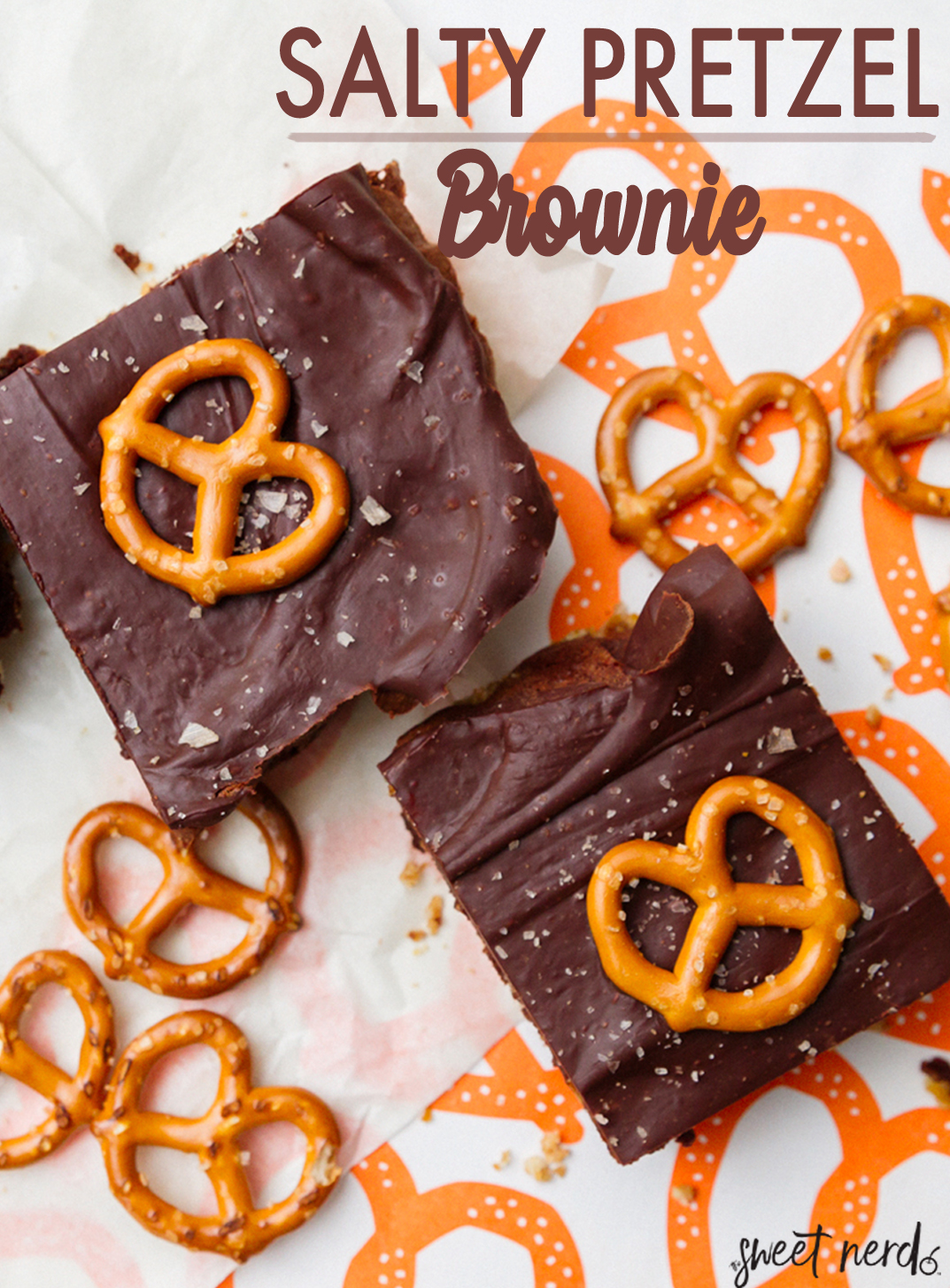 Photos by: Maria Hedrick Photography