If you're wondering whether "Ombre" was a typo, or had to look-up the word before reading this post, you're not alone. Ombre is a word that quite literally translates to "shaded" in French, which describes the coloring on these yummy Candy Corn Pretzels. As we head into fall (for you Angelenos, that's a cooling period that generally happens from September through November, leaves fall, etc.), candy corn will be a hot topic – in fact, it already has been.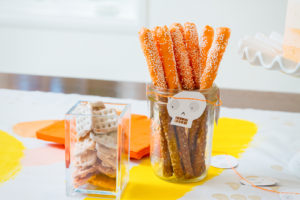 Whether you're a candy corn fan or not (my personal preference later), these treats are hard to say "no" to. The combination of sweet and salty, paired with the classic candy corn taste creates a dessert that's quite difficult to put down. I've tried, and failed; it's a very addictive combo, and you have officially been warned. Here's how to put this magic together.
THE CHOCOLATE OMBRE (nom nom)
The ombre comes from a combination of three colors of chocolate – creamy white, a yellow-orange hue, and a deep, pumpkin-like orange. Feel free to be flexible here – you can expand across the fall color palate and experiment with whichever combinations take your fancy.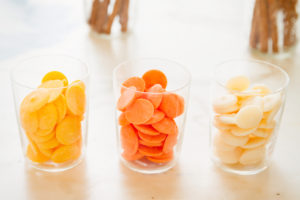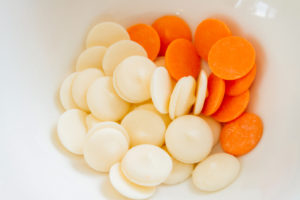 Heat the chocolate, on a cookie sheet lined with parchment. These bags of chocolate in particular have varying directions, so use the instructions on whatever brand you rely on for this recipe. I used Wilton candy melts. Once heated, gently stir the chocolate pieces (in groups, separated for each color you're using), and then set aside to cool.

DIP, ROTATE, REPEAT
I chose Snyder brand of pretzels for this recipe because they're thick and sturdy with a healthy dose of salt. Carefully dip the long pretzel sticks into the chocolate, ensuring you rotate your pretzels so that all sides are covered. Now it's time to arrange your pretzels on a baking sheet. If you have a wire cooling rack, this will work wonders; just be sure to place parchment paper or paper towels underneath to catch the drips!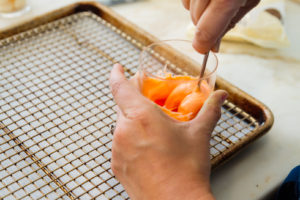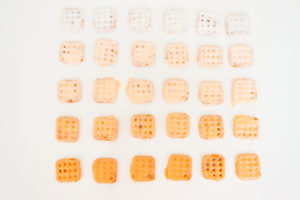 PRETZEL OPTIONS – SQUARE, LONG, TWISTED
I love these cute, waffle-like pretzels for dipping too. The world has a plethora of pretzel possibilities – go gangbusters and choose whatever shape tickles your fancy. Hey, they taste the same in the end. I will say that the sticks are generally easier to dip and eat, as you have a side that's chocolate free, making it a cleaner eating experience.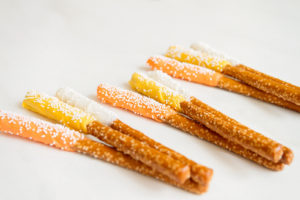 Are you beginning to see why these are ombre candy corn pretzels? We've got all three candy corn colors, all in varying shades of fall colors.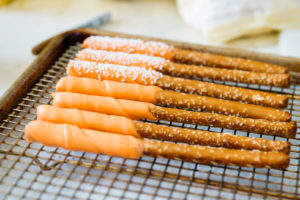 Feel free to add a dash of sprinkles – some love the addition, but if you're trying to avoid too much sweetness (if there is such a thing), feel free to exclude these on a few for those rather picky folks.
CANDY CORN PRETZEL SKULL JARS
I added this mini garland of skulls from Meri Meri to a simple mason jar to spook up the presentation. We have a local store called Bonjour Fete that I love in Studio City that carries tons of Meri Meri product. These jars can really hold anything over the holiday, from candy corn to eyeballs (mwaahahahahahha!)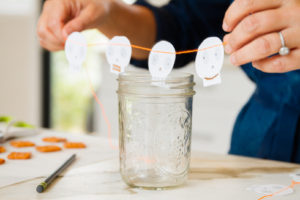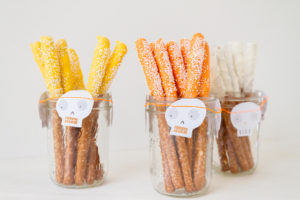 Honestly, I can't get the hues of the candy corn out of my head this Halloween, and I've incorporated the ombre theme into my next couple of posts. Yes, it breaks away from the traditional orange and black, but still conjures the fall colors we get for the month of October. Just don't ask me if I like the taste of the candy corn. Oh, you'll hear all about it soon enough.
Photos by: Maria Hedrick Photography