We've had our fun with gingerbread guys and gals, but it's time to get down and dirty with these rad, graffitied-out gingerbread dudes.
Our Sweet Nerd headquarters moved for a day to the Rampart area of Los Angeles for a cookie decorating sesh with street artist, Juan Barajas.  In the middle of this urban jungle, there was a moment of sweet calm and merriment with these city slick graffiti-n-ginger cookies.  (Yeah, you could pretty much say, we ditched the carols and went for some rap).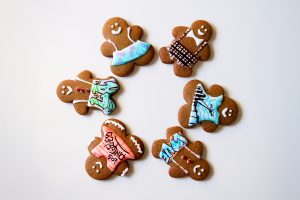 We began to brainstorm some decor ideas: urban plaids or city skyline?  Ruff-n- tough bow tie, or LA rag-tag suspenders? We even decided to create a helicopter circling the city – can you get more LA than that?!  You try and come up with a design that more accurately embodies Los Angeles, then let us know…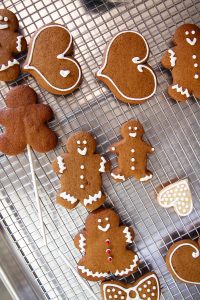 To start off, we had a fresh batch of plain cookies – a few I decorated beforehand as a baseline, 'classic-style' gingerbread cookie. Then we got down and dirty into creating a brood of gingerbread dudes (and duddettes, obviously).
We looked to our trusty airbrush and edible marker collection to help us bring these treats to life. Juan is a master with the mixing Americolor dyes for the first layer, then he went in with an edible marker to refine his work of art.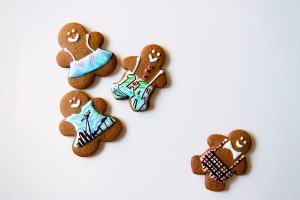 It was so intriguing – the idea of bringing together something inherently classic and beautiful, then layering over a raw, edgy flare of living in a real city like our diverse city of Los Angeles.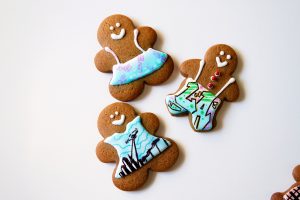 Compared to their old-school, classic counterparts, ladies and gents are donning great panache – don't you agree?  They're delicious as hell, to boot!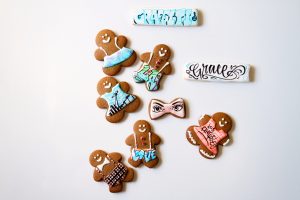 Which one is your favorite? Let us know in the comments! My personal favorite is the Angeleno ginger dudette with the graffiti'd brick wall.  My hubby dug the suspender dude with "LA" blasted on his stylish wardrobe (though I don't think he'll be donning such an outfit in his firm anytime soon).
Thanks, Juan as always for inspiring my love for street art and collaborating with this Sweet Nerd on my love for Graffiti & Grace!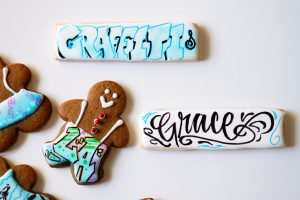 Photos by: Maria Hedrick Photography