Gather 'round for a Christmas story: One Christmas Eve, a few gingerbread dudes and dudettes got all spruced up and gathered together to trim the tree. They took "elfies" and posted the pics on Insta under #xmas squad. All were having a jolly time when one gingerbread dude shouted "it's midnight!" and a gingerbread dudette squealed "OMG! SANTA!" They all jumped into their little gingerbread car and hauled ginger back home to their beds.
You can make this story both tangible and edible with these Holiday Gingerbread Cookies. The best part is, I have even more to offer in this post! We're having a virtual cookie exchange with my blogger friends, which means you get access to a bunch of amazing cookie recipes and deliciousness in a single post. #VirtualCookieExchange
GINGERBREAD COOKIE MAKING!
Let's start with the gingerbread cookie dough. Spice and everything nice gets loaded in all up in here. Dripping molasses will make you swoon over the Kitchen Aid when this bit of Christmas comes to life.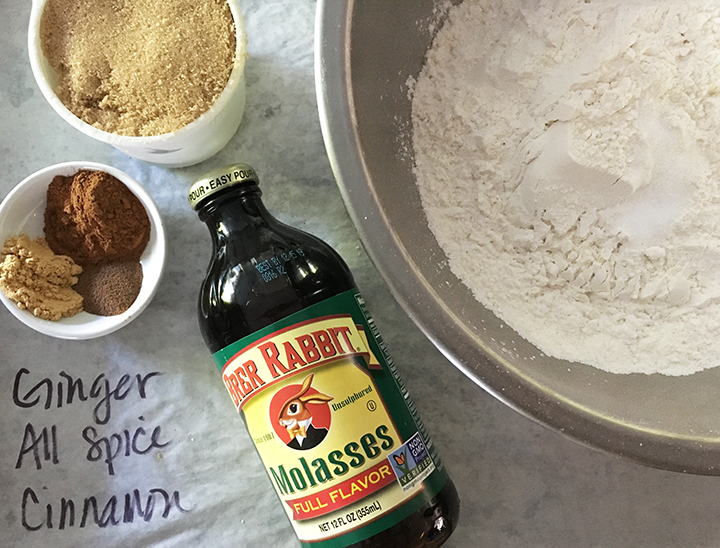 The recipe for this gingerbread cookie is actually pretty easy, when followed step-by-step. The ginger, all-spice, and cinnamon come together beautifully, then get infused with a good-quality molasses (I used Brer Rabbit).  Molasses is made when cane or beet sugar is processed together – it's the thing that actually gives your cookie that unmistakable 'ginger-brown' hue. Together, the flavors create a fantastic color with an even more phenomenal taste.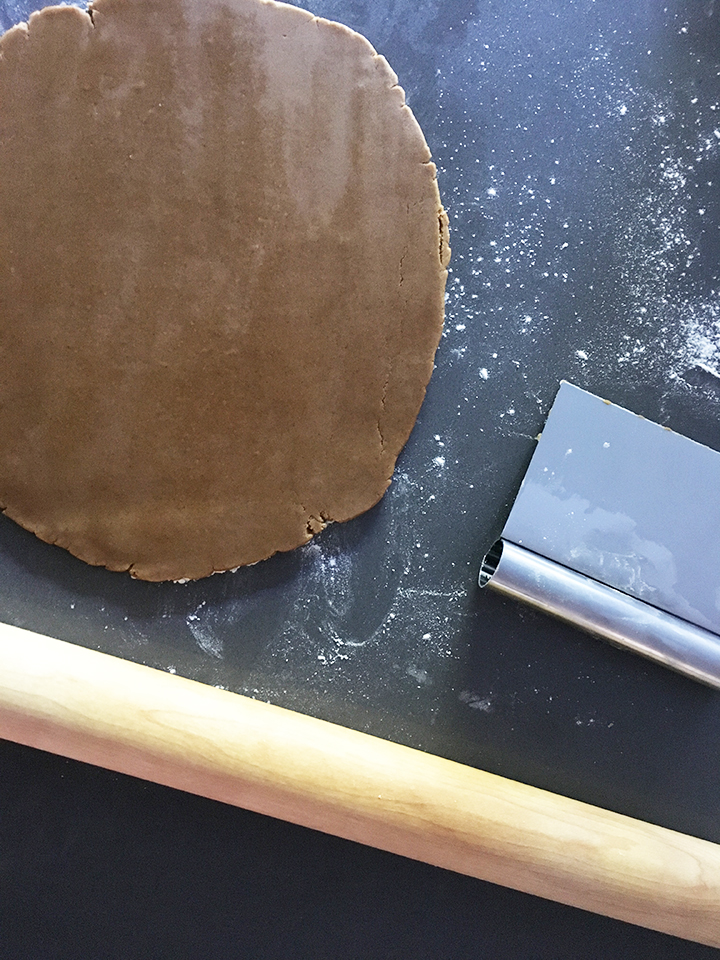 Once your gingerbread cookie dough comes together, pop it in the refrigerator to chill before you roll it out.  It will act like most doughs – dust it with flour, and try to keep it chilled.  I often roll it into an oval shape, then I pop it back into the refrigerator to chill for maybe another 10 minutes. It's that exact process that makes the dough pop out  of each mold just perfectly.
If the dough gets difficult to work with because it's too warm, back into the fridge it goes for a solid 10 minutes.  Also, an easy trick is to roll it out in-between plastic wrap.  Place the entire disk in-between plastic wrap, start a-rollin'.
The cutouts for gingerbread cookie dudes and dudettes come in all shapes and sizes. My theme is "All Spruced Up."
ALL SPRUCED UP: THEME PLANNING
Once you master these gingerbread cookies, the decorating is a cinch.  You will need just a few things to get started:
Edible Markers. I used Wilton Food Writers.
Sprinkles. My fave is Fancy Sprinkles.
Fun & sassy sayings. I used…my brain. (well, that and Pinterest, ha!)
`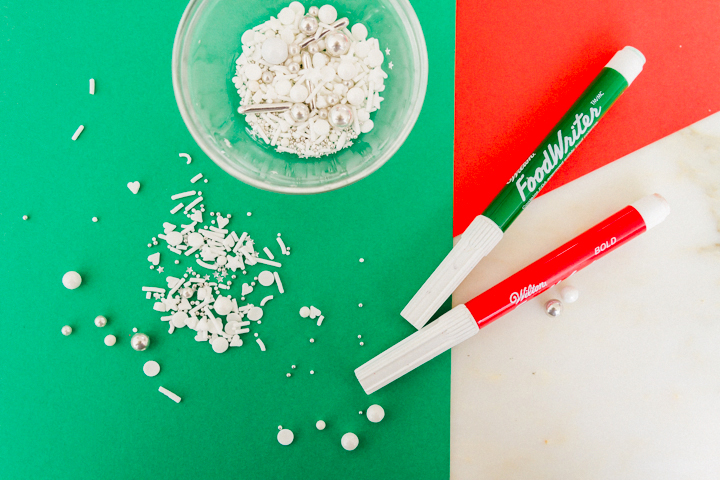 FOR WHAT TO WRITE ON YOUR COOKIES
To really get some smiles, use a saying that is personal to your family and Christmas-ize it. My nieces and nephews will eat up the "Elfie" expression and "#Xmas Squad".  OK, so the car?  Well – my family does live in LA, and we spend an inordinate amount of time in the automobile!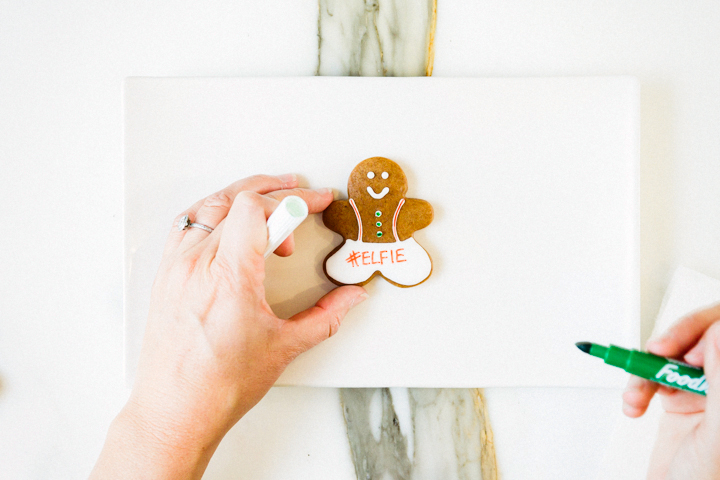 Pick your favorite color food writers and go for it! Don't forget to add your sprinkles!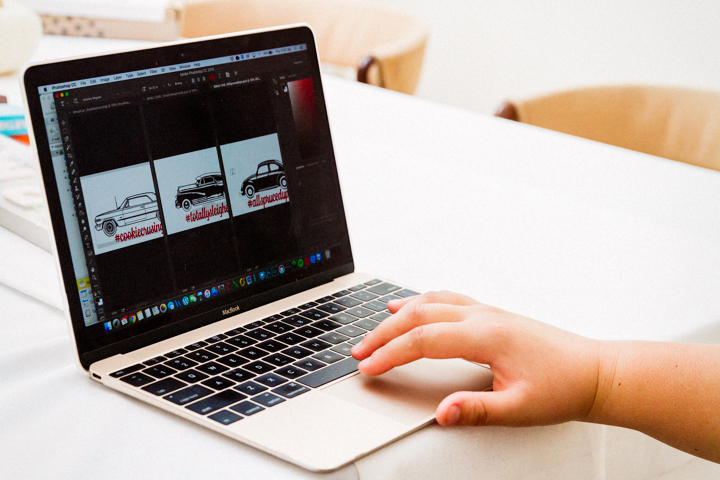 COOKIE GIFT BAG MUST HAVE
I wanted to add gift bags for the dudes and dudettes, and so to keep with my "All Spruced Up" theme I asked my buddy (and artist) Juan Barajas to help me create some designs. We came up with throwback cars and a hashtag, all downloadable to add to DIY gift bags like these from Paper Mart.
Here are PDFs to the designs we came up with – easy to download and print:
All Spruced Up ~ Christmas Bug
Totally Sleighed It ~ Christmas Car
Cookie Cruising_~ Christmas Cruiser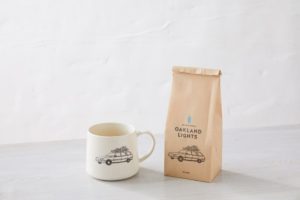 A SHOUT OUT TO MY FAVE COFFEE: BLUE BOTTLE
Briefly, I want to tell you about my serendipitous daily coffee run. Steves and I go to Blue Bottle Coffee every morning and indulge before the day gets going. I found the very coolest coffee bag ever that fits our theme of cars topped with a Christmas tree. The coffee is called Oakland Lights, and the name alone brings me back to my previous life living in edgy Oak-town. Great minds think alike, Nor Cal!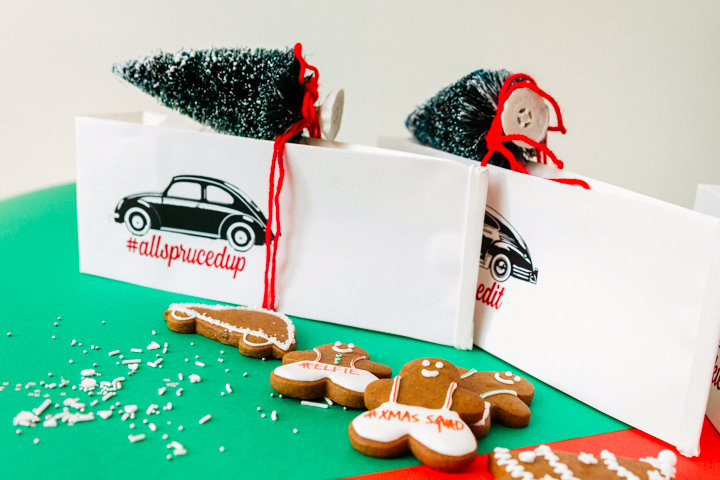 Then I cleaned house at Joann's and went a little crazy buying those adorable trees. They look sooo cute tied to the cookie gift bags.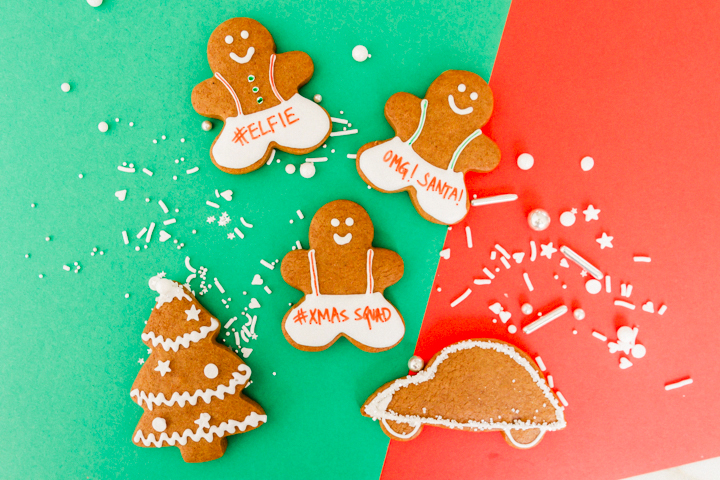 Seriously? I am in love with these gingerbread dudes cruising right into the hearts of my dearest friends and family.
OUR FAVES 
VIRTUAL CHRISTMAS PARTY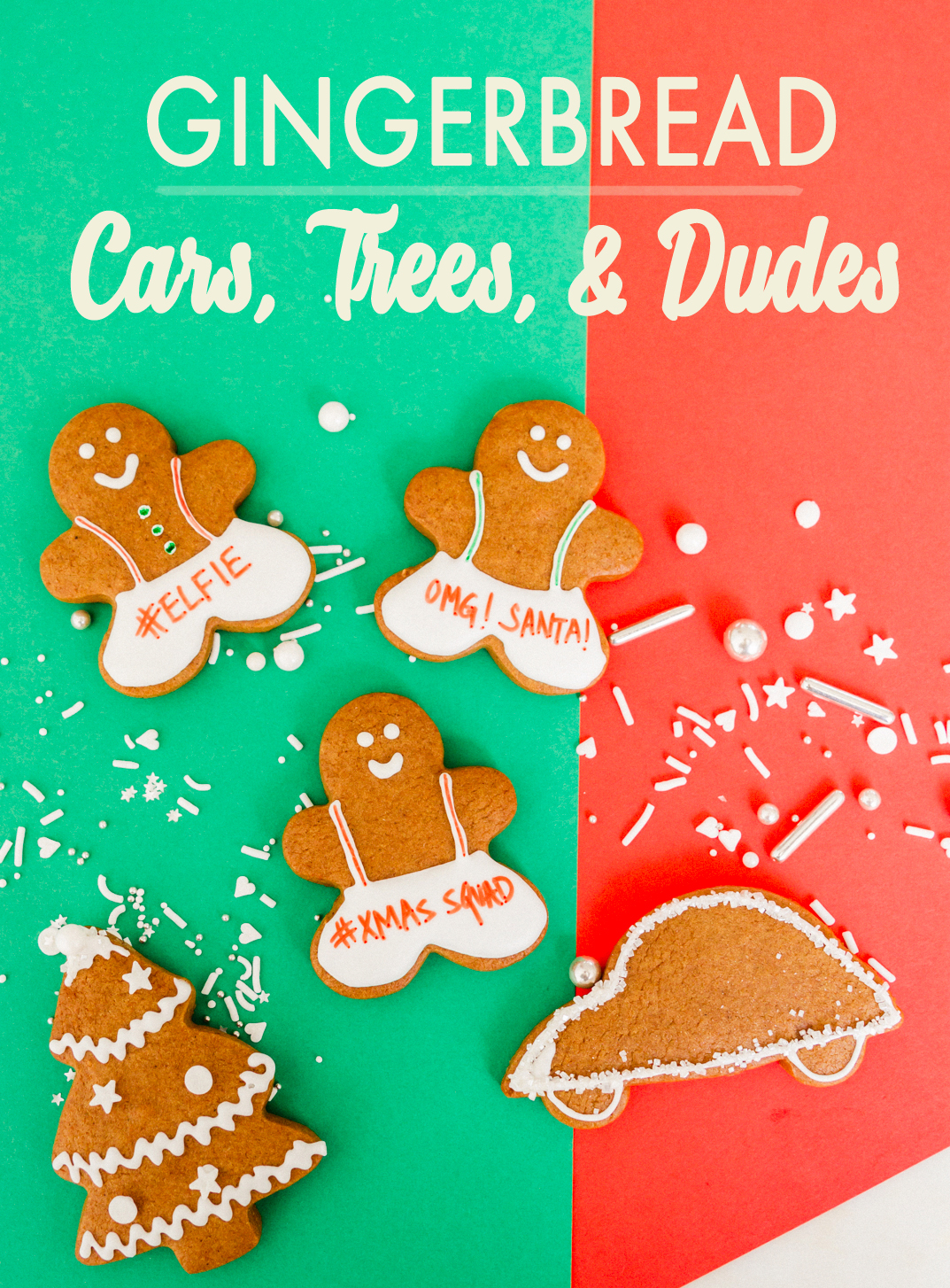 Photos by: Maria Hedrick Photography