Yes. You read the title right. Gingerbread. Rice Krispies. The ingredients alone are almost too much: chopped gingersnaps, white chocolate chips, molasses, and mini marshmallows plus a few magical dashes of spices like ginger and cloves.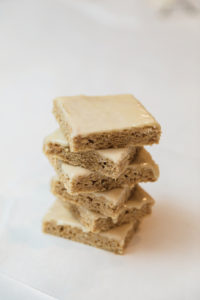 These Gingerbread Rice Krispies have two parts:
Rice Krispies: start with the melted butter and marshmallows, melting it all into a gooey paste. Stir in the vanilla, molasses, ginger, and clove. Remove from heat, and stir in the chopped gingersnaps and the Rice Krispies cereal. Press into a buttered 13×9-inch pan.
The chocolate topping: combine the white chocolate chips and shortening in a microwave-safe bowl. Heat at 20-second intervals until melted and smooth, and stir in-between. Spread the melted chocolate evenly over bars.
Wait 15-20 minutes, and then cut into bars.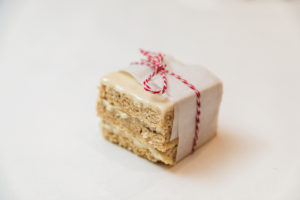 Photos by: Maria Hedrick Photography