Hello Chocolate Fudge Ice Cream Cake!  I had you at chocolate, didn't I?
I'm not sure why I feel inclined to call this cake a dude. Perhaps because it's thick and sturdy like a brawny man. Let me just say – this cake is STUNNING! It is definitely a party cake. You will want a crowd to form around right before you serve it.
This particular chocolate cake is customizable, as it's nestled in between layers of your favorite ice cream.  I chose mint chip (Liam's favorite) and chocolate ice cream (Gav's favorite) and in between are fudge layers with cake brownie crunches.  I finished with a final layer of decadent whipping cream and, of course, the ganache topping.  Ummm, can I marry you chocolate fudge ice cream cake?  Will you be a good husband?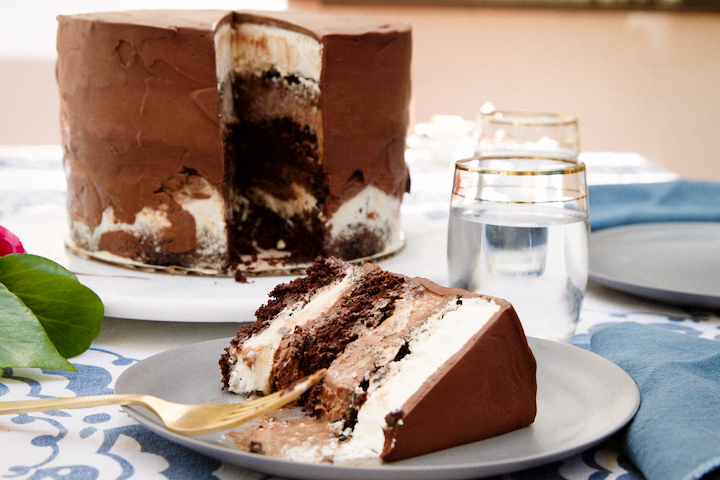 One of my favorite moments when creating this cake is when you spread the last layer of ganache on top.  It drips over with elegance and within minutes starts to set because it's sealing a frozen cake.  Yea, you probably would have figured that out straight off the bat, but, errr, for some reason it took me a minute! Duh. Can I attribute that to brain freeze, pleaaszzzeee?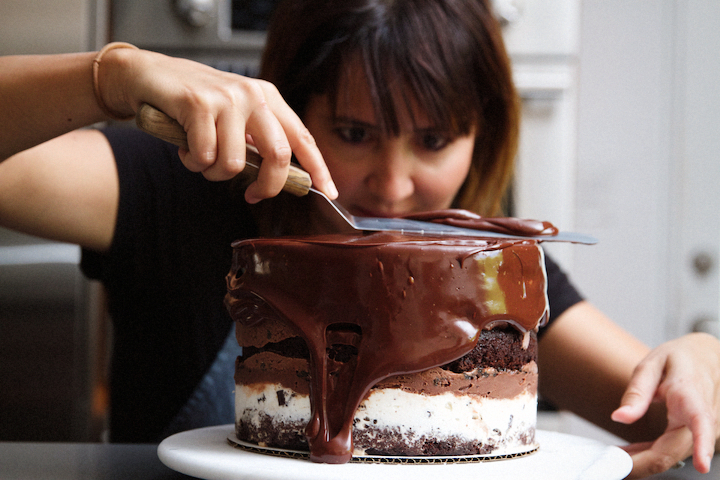 Ok, let's talk about assembly time.  This looks easy and quick, right?  SORRY.  Every once in a while, you just have to put in the time for this kind of frozen masterpiece.  But I will tell you that it's the freezer popping that takes most of the time.  Here are some cheats:  1. Bake a store bought cake (Whole Foods and Bristol Farms sell great cakes mixes).  2. Buy a really nice artisanal chocolate fudge.  3. Skip the whipping cream layer and I promise it will still be dee-lish!
That's me y'all!  I only wish it happened that fast!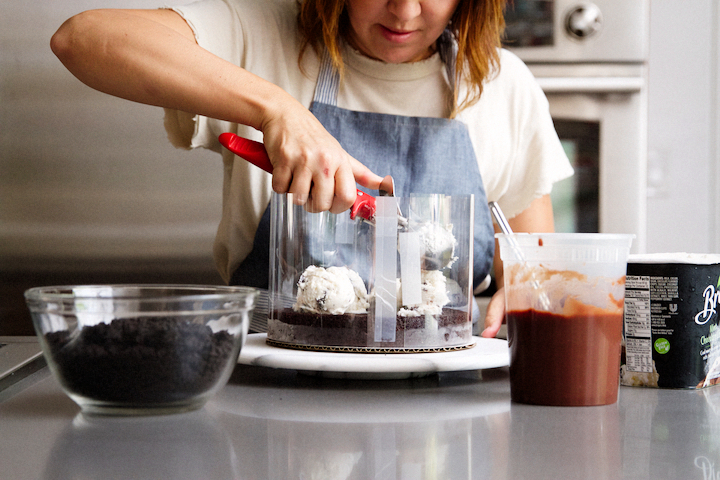 Now let's take a breather here and slow this guy down.  This is where the recipe takes a little DIY turn. To create the cake wall, I used acetate (sometimes called cake collars).  Just cut, tape, and build that cake wall so you have a place to put all that wonderful goodness inside.  Layer the cake round with softened ice cream and spread it into a nice thick layer.  Just eyeball it like I did.  Plus, I like it looking less than perfect and uneven. It gives it a more authentic look.
Pour in the fudge and brownie bits and pop it in the freezer, then repeat.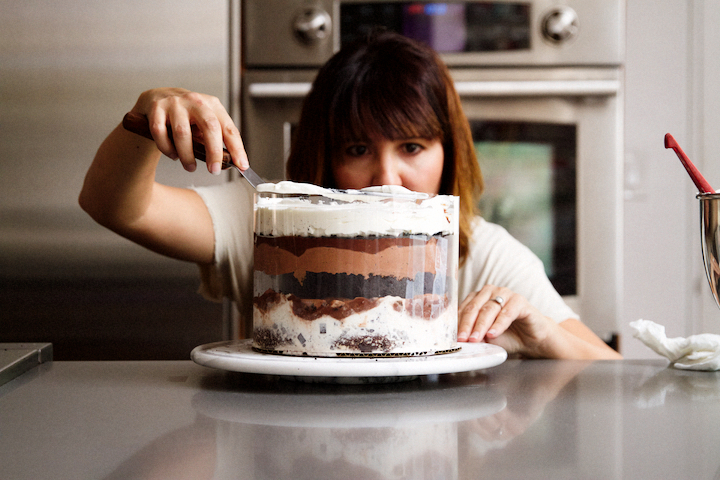 For the final layer, load up the top with that fluffy white whipping cream.  This the moment where there's such a sense of baker satisfaction because you're almost at the finish line. It's like the built-up anticipation of a great kiss!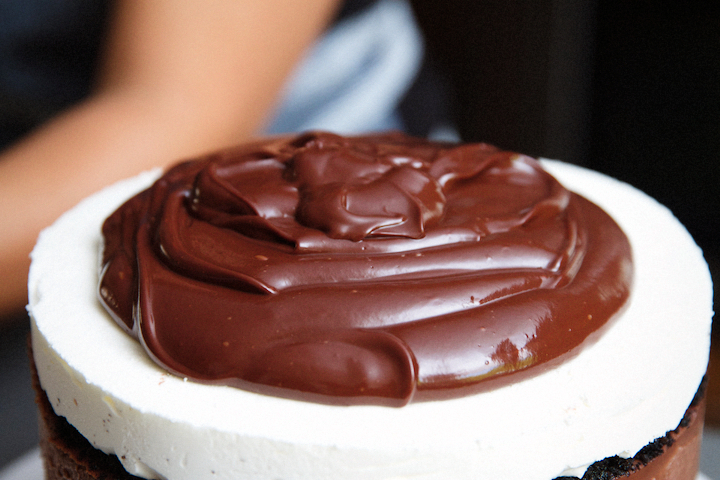 And…there he is.  I literally have no words. It is just so darn shiny and beautiful. Is it okay to admit that it's breath-taking?  Yea, my heart is right where it should be.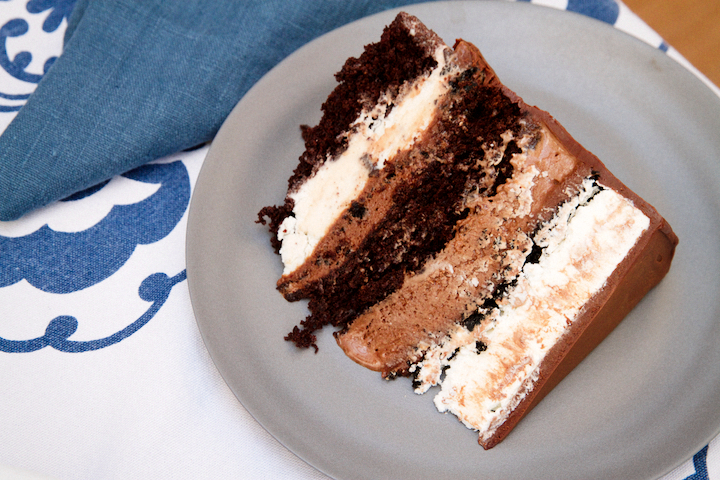 Let this stunning chocolate fudge ice cream cake freeze overnight before you serve it.  It is a bit of a pain to cut, so be prepared to have a warm bowl of water and a paper towel handy to wipe the knife in between cutting slices. Oh, and don't you dare slice this one in the kitchen!  It needs community loving.
Please promise me you will take it out to the table for all the "ooooohs" and "awwwws".  (I know…I feel sweat beads form, too, when everyone watches me cut a cake. But, go for it!  You got this!)  It is such a fun experience for everyone to watch in anticipation.  Even if the cake slice doesn't cut perfectly, which mine did not, I think it makes for a beautiful, rustic presentation.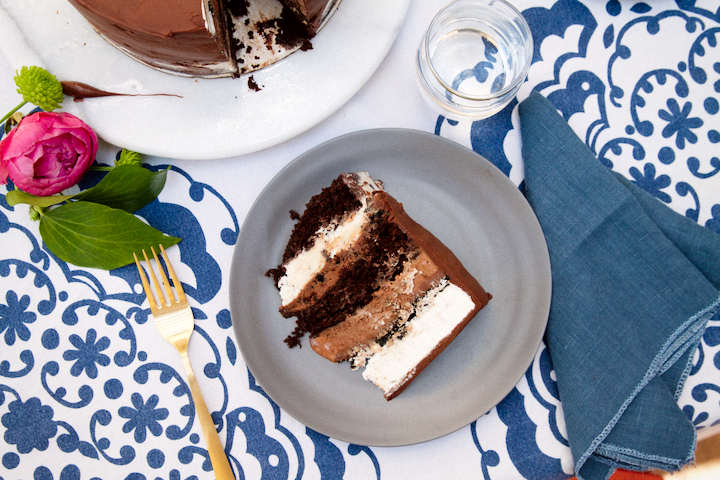 This cake tastes delicious!  It is pretty much impossible to get all the layers in your mouth at once, but each layer can hold it's own, so dive in and get ready to experience taste bud overload!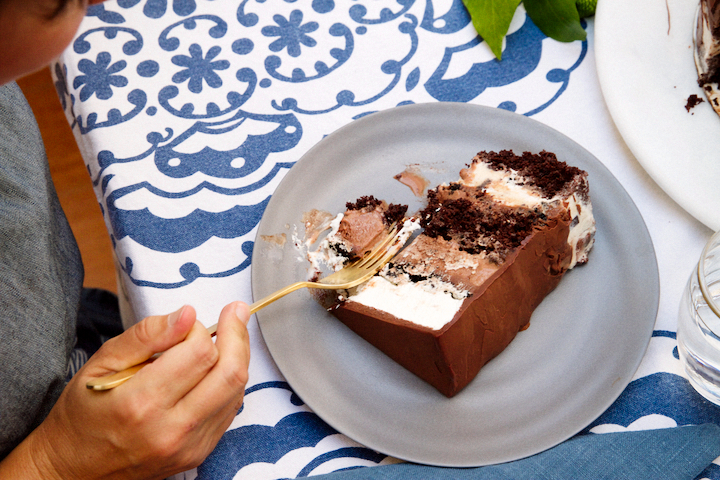 Credits: Food and Wine DIY Cake
Photos by: Maria Hedrick Photography