Whenever I get together with my foodie friends, I find that they want to discuss the latest food trend that they're dying to try – anything from a mint-glazed lamb chop to duck confit – and eventually end up hunting for a dessert to match it. Well I work the other way around. I like to start planning the dessert, then choose a dinner to work around it. This Strawberry Mousse is the perfect balance of sophistication and simplicity.
You can pre-make a few things before your guests arrive and then have them join in on the fun of assembling their own dessert table side. The concept of physically "presenting" a dessert to a table drives me a little nuts because I like the idea of getting your guests involved. I promise they will be more inclined to eat it and fall in love with it, too!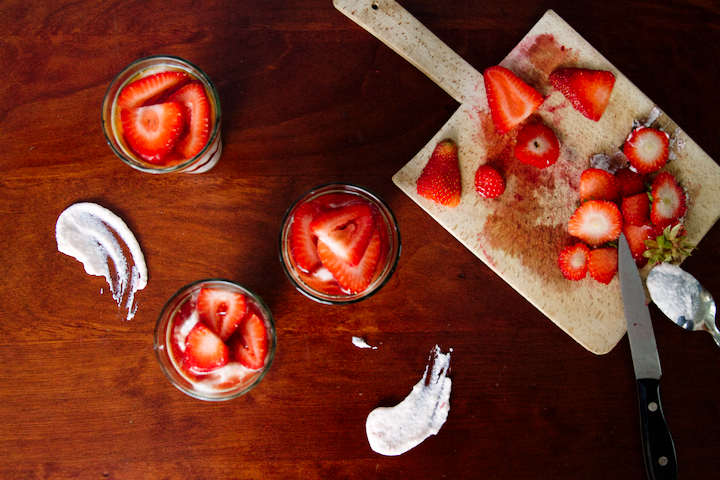 Your dinner party will be the talk of the town when your guests get their taste buds wrapped around the subtle notes of this strawberry mousse contrasted with the loud sweet and sour tangy maple vinegar.
Just drizzle the sauce in between the layers of mousse, then wait for it….boom!  Sour. Sweet. Perfection.  Tip: it is best to assemble this recipe RIGHT before you are about to serve it to your guests as the balsamic sauce starts to drip into the mousse in a way that ruins the look.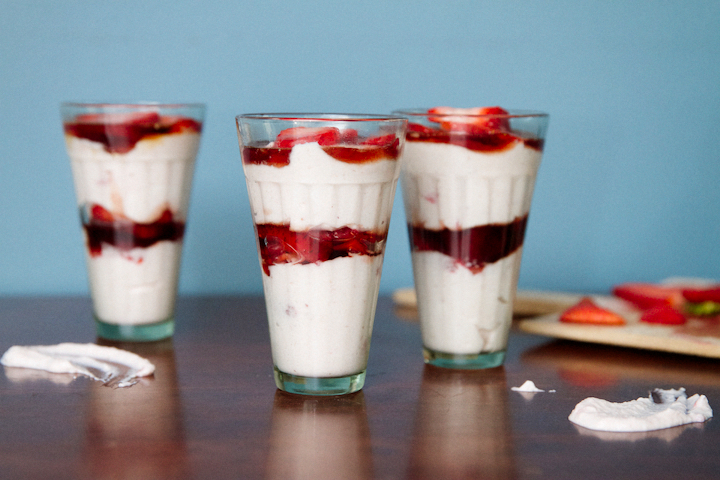 Here's how to get that base. Start with the gelatin mixture, then add it to the combination of creams and pureed strawberries.  The reddish pink color of this mixture is absolutely gorgeous and will have your mouth watering! Hold fast as you still need to add that puffy wonderful whipped cream!
Whip that sweetened creamy goodness until ribbons form.  Now, fold this into the base mixture.
It is so pretty when it all comes together that it makes my Sweet Nerd heart fill with joy. Tip: always fold in thirds. Now, be warned, the first whomp of the whipping cream into the base mixture sort of feels like quicksand getting sucked into another dimension. But, don't worry.  The fluff evolution happens right before your eyes as you add the next third and so on.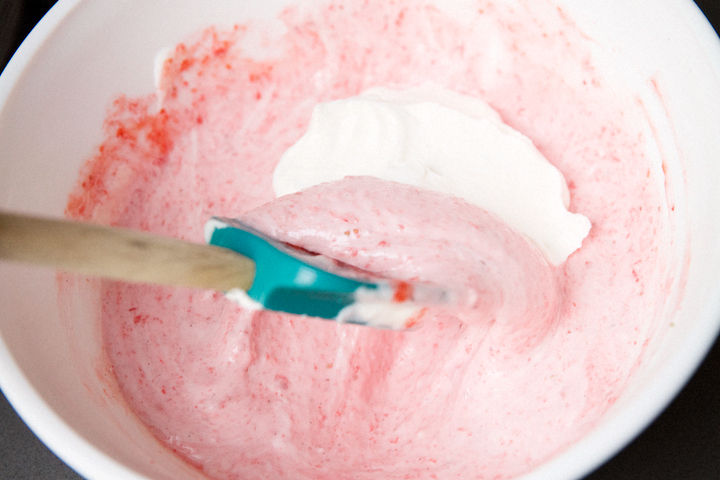 See…look at how light and fluffy the mixture has become!  I  it.  You can pop this in the refrigerator until you are ready to serve.
Finally, when it's time to create these delightful desserts, bring everything out onto the table so your guests can assemble their very own Strawberry Mousse. Just dollop, berries and sauce. I repeat, dollop, berries and sauce. And…mission accomplished!  Now, get to dolloping and enjoy this amazing strawberry mousse with its sweet and sour maple vinegar.  Whew, say that three times!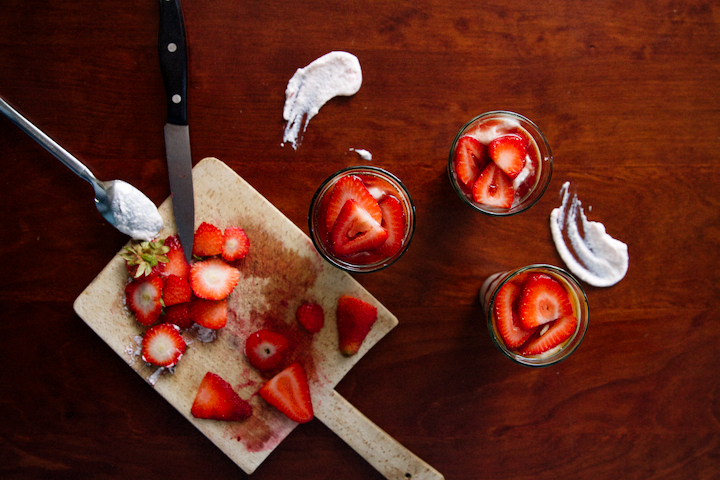 Credit: Modified Recipe Food & Wine, Zak Pelaccio Russian Cream Dessert
Photos by: Maria Hedrick Photography