Gstands for Gingerbread Guys & Gals! It's time to transform these gender-less gingerbread cookie 'people' into men and women. How, you may ask? The simple power of decoration – it's the icing and candy that make it a ton of fun to see how you and your little nerds end up "dressing-up" these delicious dudes and dudettes.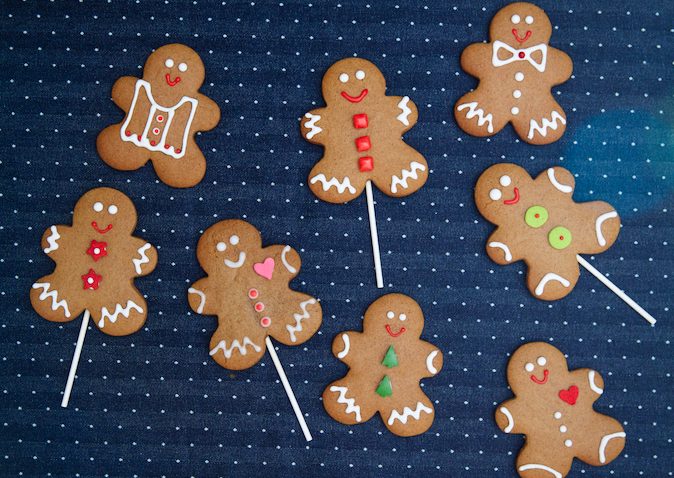 Liam was eyeing these cookies from the moment they came out of the oven – it was really tricky for him to focus on decorating anything while so hungry! Maybe it was my rookie mistake in saying we needed to decorate them first?  His enormous desire to devour these gingerbread dudes, instead of decorate them, ultimately got the better of him.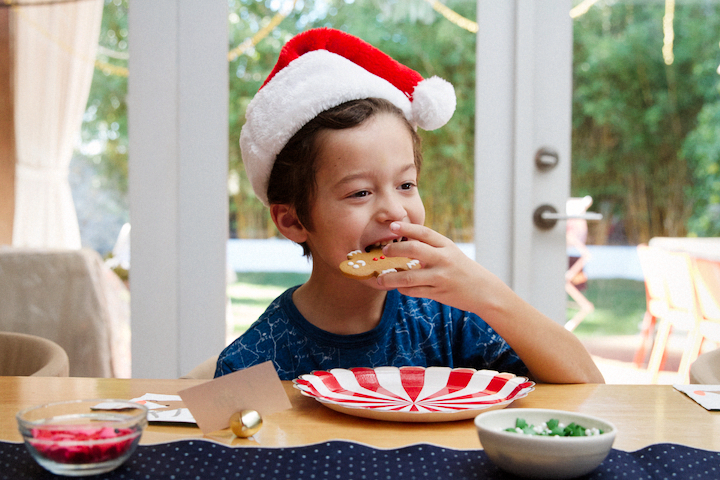 He quickly gave a little gingerbread man, one eye, a dripping button, and clapped his hands that he was done! Viola! Down the chute he went; Liam ate him up before I could even see the guy's "outfit." Long story short, I recommend letting your little ones eat – something – before you officially begin your gingerbread cookie decorating party!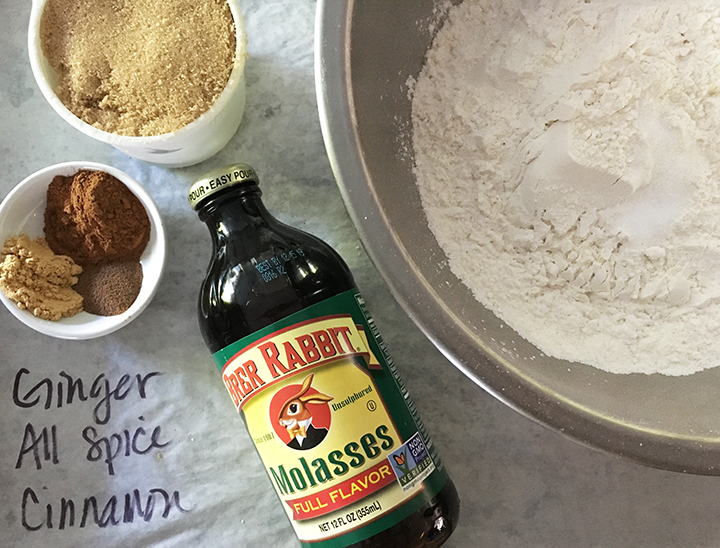 The recipe for this gingerbread cookie is actually pretty easy, when followed step-by-step.  The ginger, all-spice, and cinnamon come together beautifully, then get infused with a good-quality molasses.  Molasses is made when cane or beet sugar is processed together – it's the thing that actually gives your cookie that unmistakable 'ginger-brown' hue. Together, the flavors come together and create a fantastic color with an even more phenomenal taste.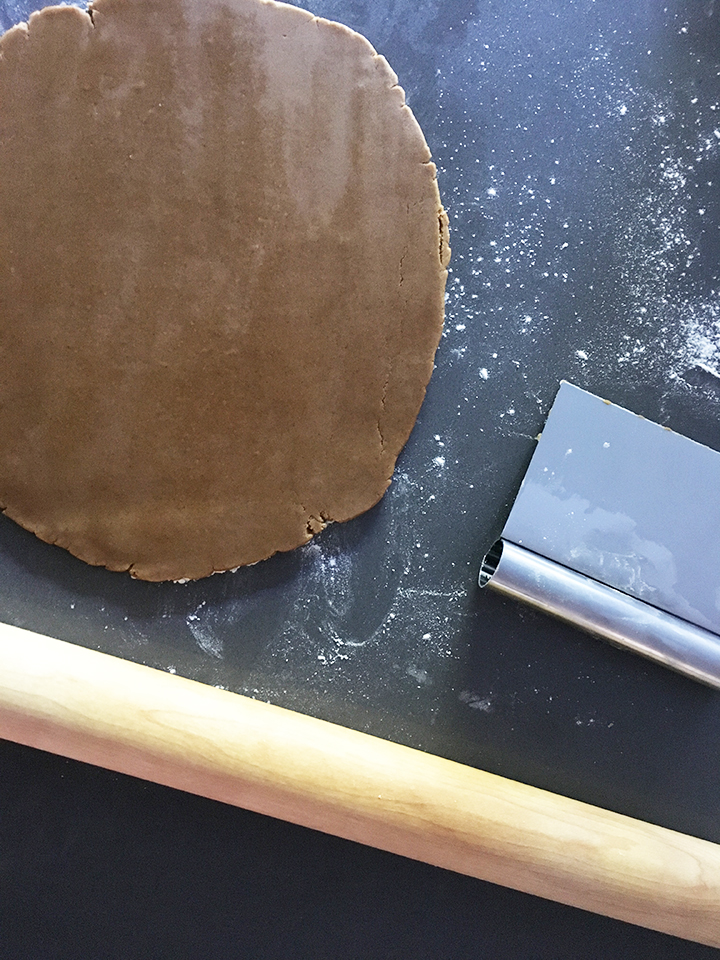 Once your gingerbread cookie dough comes together, pop it in the refrigerator to chill before you roll it out.  It will act like most doughs – dust it with flour, and try to keep it chilled.  I often roll it into an oval shape, then I pop it back into the refrigerator to chill for maybe another 10 minutes. It's that exact process that makes the dough pop-out perfectly of each mold.
If the dough gets difficult to work with because it is too warm, back into the fridge it goes for a solid ten minutes.
The cutouts for gingerbread cookie dudes & dudettes come in all shapes and sizes.  Try a few varieties of cutters, adding in fun stars or snowflakes for contrast.
For the kiddos, I added lollipops to the back of some of my gingerbread cookies.  To do this, be sure your cookies are chilled and firm before you push the stick into the back of your gingerbread cookie.  Once ready, flip the cookie over, align the lollipop to be in the center and about 1/2 way up the cookie from top to bottom.  Then, gently push down to ensure that the lollipop will properly meld into the cookie while baking.  Voila!  You are ready to bake.
One easy decorating trick before you bake is to add a little heart decoration directly onto the dough.  The heart will adhere to the cookie while baking in the oven! Once baked, get ready for some cookie-decorating fun.  I used all kinds of decorating nonparreils, balls, and other cute garnishes. I love the offerings from Wilton & CK for edible decorations.  You can find on Amazon, Michaels, or Joanns Fabric.
Creating the perfect decorating table was half the fun here – I must admit. I found an incredible selection of brands: paper plates napkins, table lining, name cards – you name it!  Pops of red, white, and silver work perfectly against a dark denim.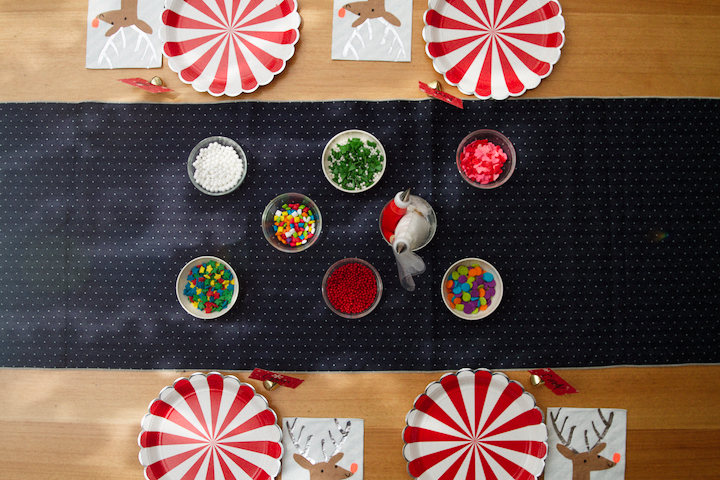 Meri Meri has ridiculously cute paper products.  You'll see a the peppermint paper plates and silver glistening reindeer napkins – those extra details truly make your table sparkle.  I bought a few inexpensive jingle balls and popped a simple name tag so everyone would feel special.    If you have a dark contrasting color like navy blue or a deep grey liner those would look great.  I opted for a simple denim polka dot runner from Hedley & Bennett.
It was excellent having Liam set-up for this party!  He's a lively one – energy is something this kid has an endless supply of. Fortunately, we were able to balance his enthusiasm with some peaceful and careful instruction.  With my kids getting older, these moments are precious to me.  I hope they will remember them as fondly as I do.  Best decorating party ever!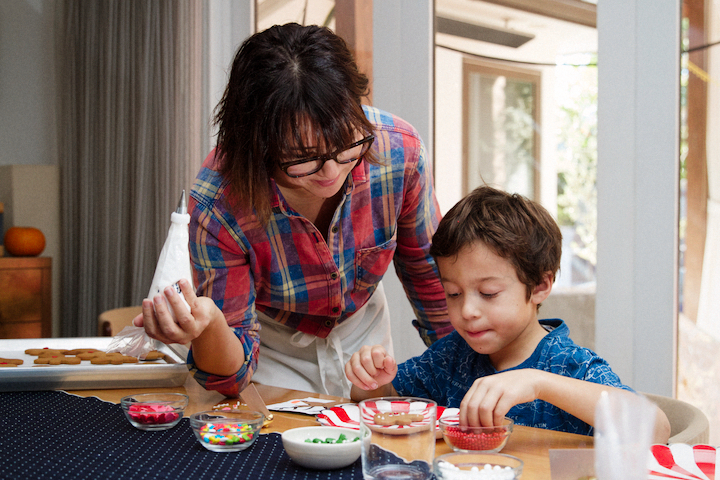 Photos by: Maria Hedrick Photography