Gooey. Caramel. Chocolate. Marshmallow. These words aren't usually combined with cereal, but I'm doing it. Well…a special kind of cereal, one we all know and love: Chex Mix. I've put my Sweet Nerd spin on it this year and made the mix to fit the holiday table, and it also pairs well with other bite-sized treats like my Peanut Butter Chocolate Bark or Rice Krispie Pie. Plus, with all the action around the holidays I love these two words: no bake. Break out the microwave, and get ready to get your salty-and-sweet on.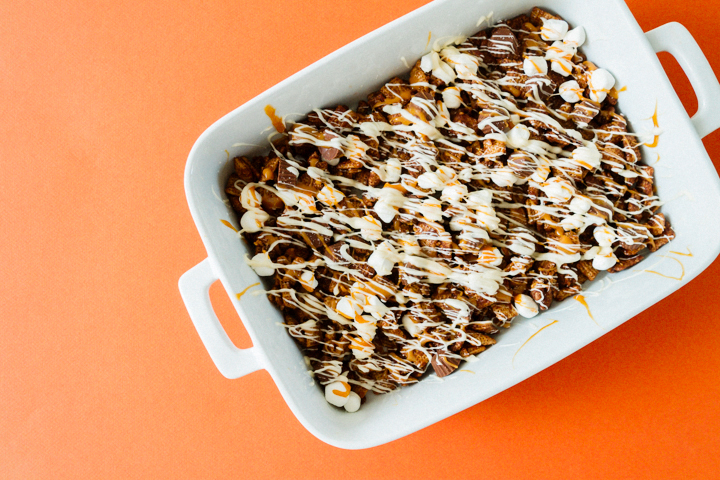 ONE, TWO, THREE
I like to think of this recipe in 3 parts: Mix/Sprinkle/Drizzle.
Mix – your gooey caramel sauce with Chex Mix.
Sprinkle – with peanut butter cups and mini marshmallows.
Drizzle – with caramel baking bits (and other candies) and cream.  Then top with a white chocolate drizzle.
MIX: START WITH THE GOO
For the caramel sauce, microwave the brown sugar, butter, and corn syrup. Then, mix in the baking soda until it dissolves. In a microwavable bowl, pour the caramel mixture over the Chex Mix and stir until evenly coated. Microwave on high for 3 minutes, stirring every minute.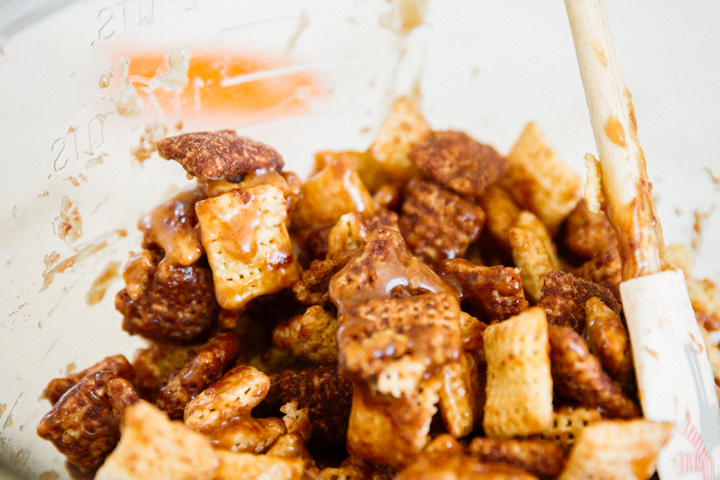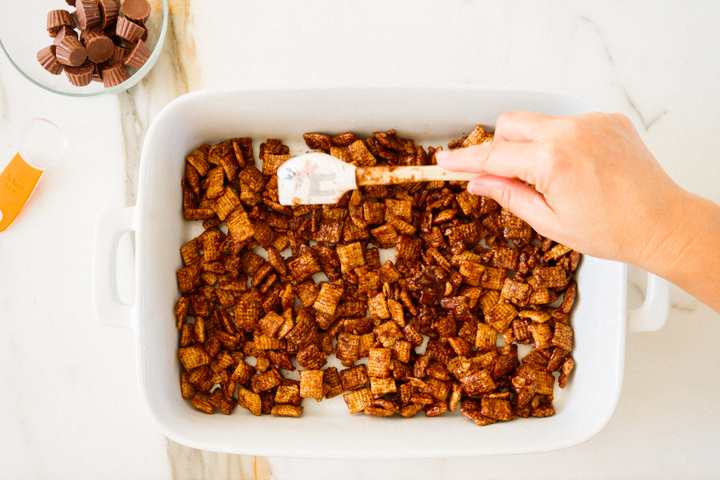 Line a cookie sheet or rectangular-sized baking dish with waxed paper or foil, and spread out the gooey caramel cereal and let cool for at least 10 minutes.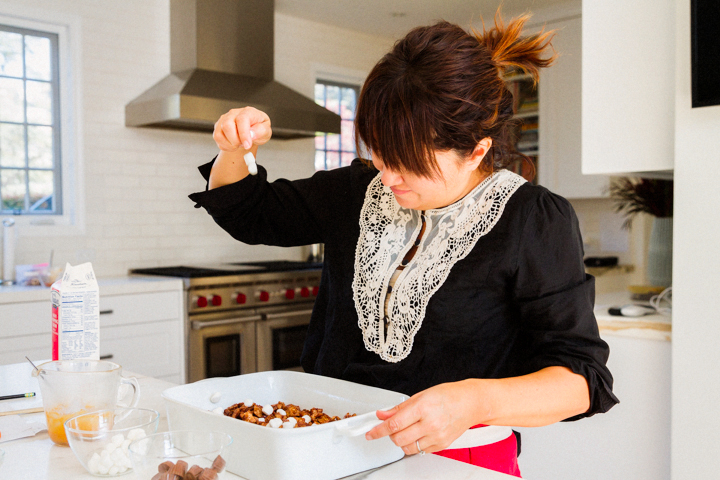 SPRINKLE: AND MARSHMALLOW MUNCHING
First, make sure the caramel cereal mixture is cool to the touch, you don't want the toppings to immediately melt when you plop them on top. You should also break the whole thing up into smaller pieces before adding toppings. And now it's time to get your sprinkle on. I used mini peanut butter cups and mini marshmallows.
Allow me to point out my stellar skills in the art of catching a mini marshmallow in my mouth. I was 3-for-3. Can you do better? I dare ya.
DRIZZLE: FOSHIZZLE AND A DASH OF SEA SALT
Microwave the caramel baking bits and cream uncovered on high. Use a spoon to drizzle over the mixture. Then, do it again do it again, but with the white chocolate melts. Layers, and layers, and more layers. Yum.
Last but definitely not least, sprinkle coarse salt over the Chex mixture before the candy drizzles dry. Quick! Be spry about it! Refrigerate until set, and then break apart into handful-sized chunks. I added my Gooey Caramel-Choco Chex Mix to these
limoncello stripe baking cups by Paper Eskimo
. Ready for noshing!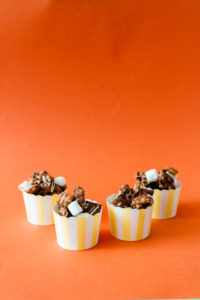 OUR FAVES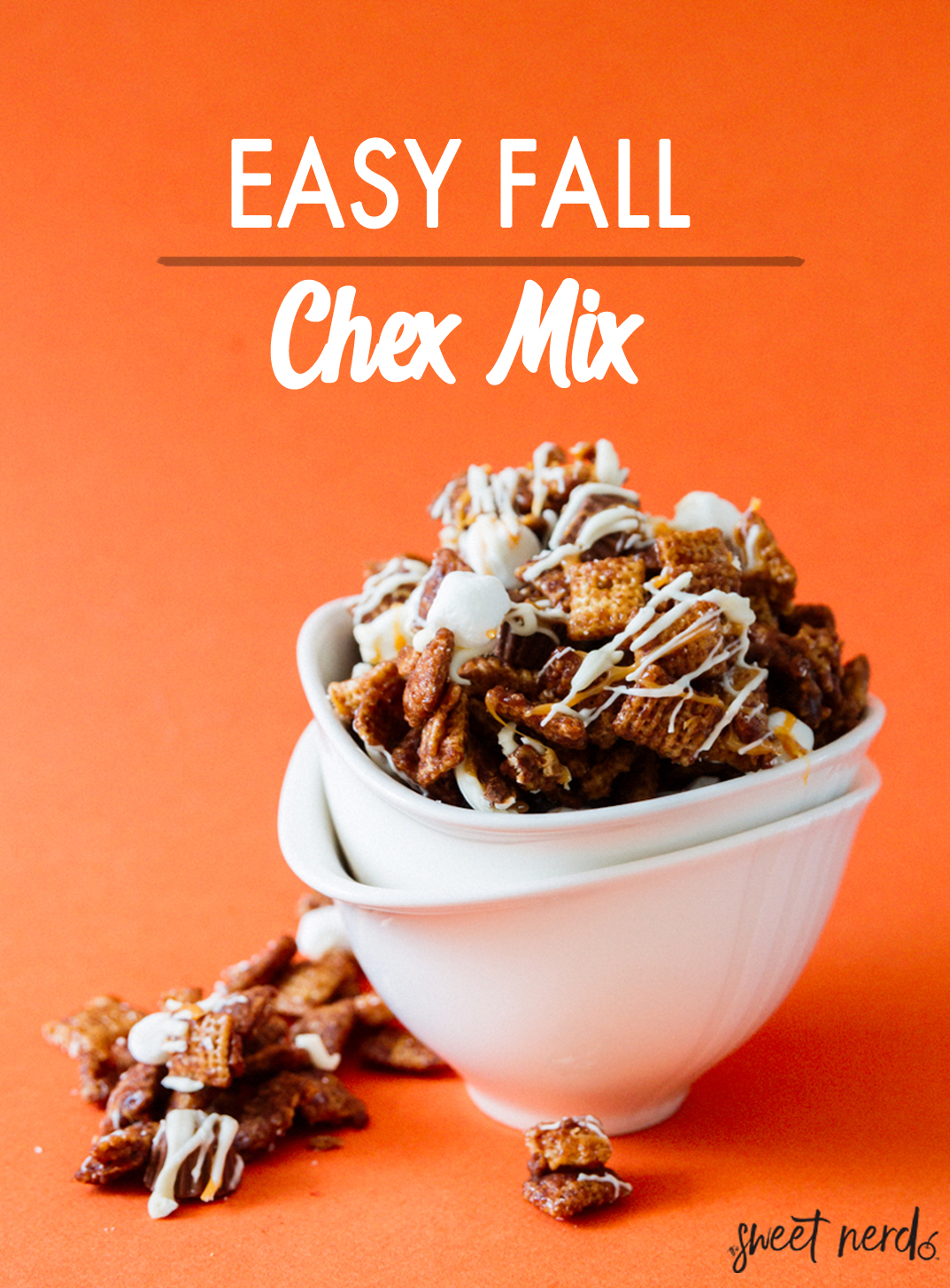 Photos by: Maria Hedrick Photography