Lickety split!  Try making this ice cream cake tower and watch it disappear in seconds.  My hubby loves bananas so I decided to create a masterpiece for him to mark his 47th birthday.  Strawberry, pineapple, and chocolate layers are sandwiched between a ring of vanilla sandwich goodness to create this lovely Banana Split Ice Cream Cake. The best part of this recipe – no baking is necessary!  Just split, slice, scoop, and top with a cherry!
I tell ya, these days I'm feeling so overwhelmed with the recent move we did. Who knew that moving a mile away would be SOOOOO much work. Ugh. I hosted Steves' birthday hoorah in our home the same week we were packing to move out.  It was rather loco of me but I hated the idea of foregoing a celebration for my BAE. He has been so stressed out with the move and the coordination that he didn't even want to celebrate until next month! Yea, right. You know I wasn't going to have that. BOXES & PAPER a la moving boxes were our birthday motif with family and friends as our theme. Fried chicken and a whopper of a dessert, this banana split ice cream cake was all the proof of love he needed to put a huge smile on his face.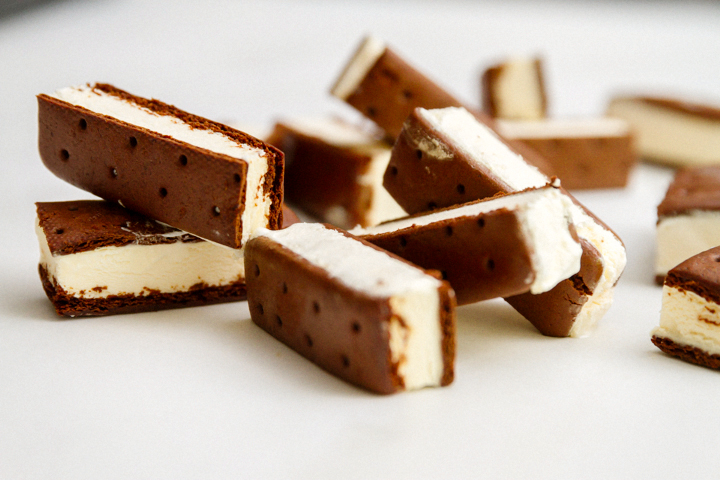 HOW DO YOU START? BUY IT!
SANDWICH BARS: Pick your favorite brand of ice cream sandwich bars and split them four ways.  You will need approximately 7 bars.
ICE CREAM: I used McConnell's Ice Cream because I love their flavor profiles.  If you want to use more traditional flavors, opt for chocolate, vanilla, and strawberry.
SAUCES: You'll want a chocolate sauce, pineapple sauce, and strawberry sauce.  You can usually find these sauces by the ice cream cones or topping section.  (OK, I cheated and made fresh strawberry sauce – see my recipe below.)
COOKIES: I would say splurge on some showstopper cookies.  I love Tates and find they hold up really well in cakes and ice creams when they're crushed. Buy vanilla and chocolate cookies that can easily be crumbled by hand.
CAKE COLLAR (ACETATE) + SPRINGFORM PAN 9″: The pan (with a removable bottom) will make your life really easy as you build the tower, layer by layer. The acetate will allow you to build without anything toppling over.  You don't want a leaning power of pisa!

TOPPINGS: Whipped cream, sliced bananas, cherries, and rainbow jimmies or sprinkles.
WHAT DO YOU NEED TO PREP?
FILLING: Combine store bought cookies (crumbled) + fresh fruit + sauce.
WHIP: Fresh whipping cream (cold heavy whipping cream + dash of sugar).
TOPPING: Chocolate ganache can be done by warming cream in microwave or stovetop and then combine with chopped chocolate.
GANACHE: Final chocolate layer prepared easily on a stovetop or in the microwave.
OPTIONAL SAUCES: If you want, you can make easy stovetop sauces. I could not find a strawberry sauce that I liked, so I made my own in only 10 minutes.
LET'S CREATE THE ICE CREAM CAKE TOWER!
PREP THE PAN: Line the pan with your cake collar.
OUTER EDGE: In a circular fashion, place your ice cream sandwich wedges. Freeze.
LAYERS: Cookie Crumbles-n-Fruit + Ice Cream + Bananas. Freeze.
WHIPPING CREAM: Layer whipping cream. Freeze.
GANACHE: Pour over frozen cake and top with sprinkles, bananas, whipped cream (from a can), and cherries.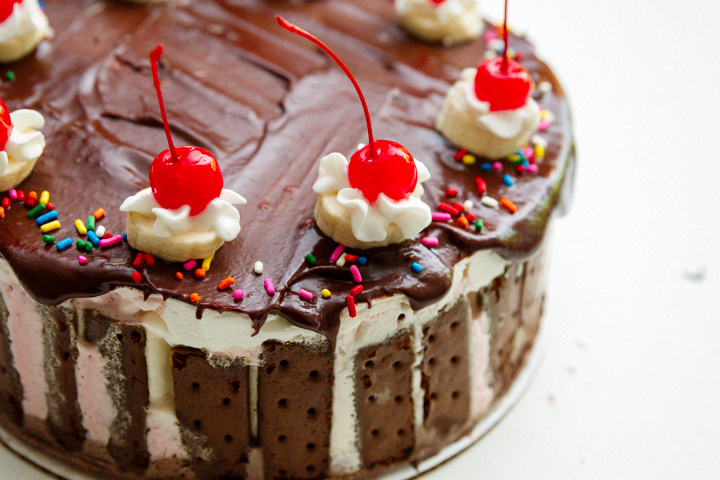 Voila! Almost done. Now comes cutting this cake. Muscle women – UNITE!  You will need a hot glass of water, wet cloth, a sharp knife, and some grit!  Dip your knife in the water, put some muscle in to it, and slice away baby.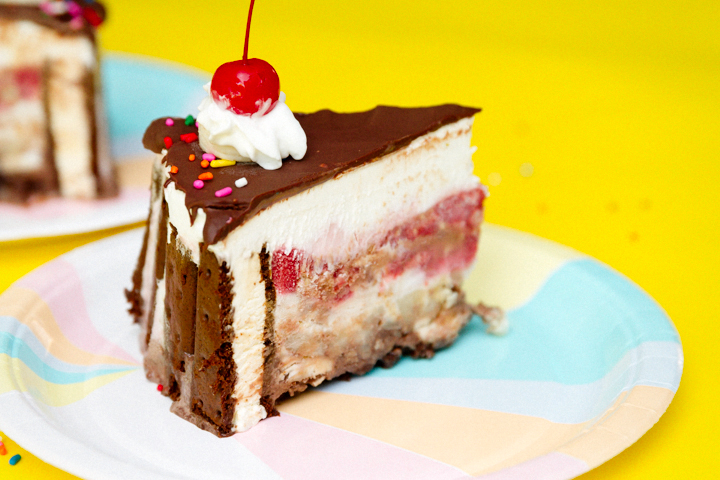 Side note: I absolutely adore these plates that are made by a french company called
My Little Day
and I purchased them at
Bonjour Fete
in Studio City. So cute right?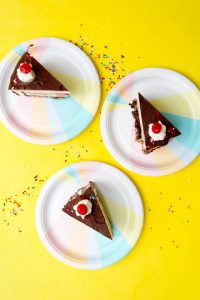 As my hubby always reminds me, "We can't freeze time."  I say… let's split the difference and make turning forty-seven easy. Enjoy this banana split ice cream cake tower!
Photos by: Maria Hedrick Photography

SaveSave
SaveSave