Raise your hand if you're into day-drinking. Not a fan? What if the booze comes in the form of drunken baked goods? It changes the stakes now, doesn't it? If you're really alcohol-averse, you can shake off any guilt, and swap the liquid whiskey for the baker's version. This warm whiskey sauce topping a delicious date cake is irresistible any way you cut it (pun intended). Maybe it's the booze talking, but how great does it sound to have whiskey and dates topped with goat-cheese ice-cream, all before the clock strikes noon?
I'm a huge fan of involving my guests in the baking process.  It drives me bonkers to be in the kitchen and simply 'serve' people dessert…community crumbs, people!
You can easily deconstruct this recipe a bit and enlist your guests in putting it all together.  My favorite is the poking part…it's time to take out some stabbing paraphernalia.  (Skewers work perfectly!)  Let your guests 'poke' the date cake on top and then pour the whiskey sauce over it – infusion at its finest.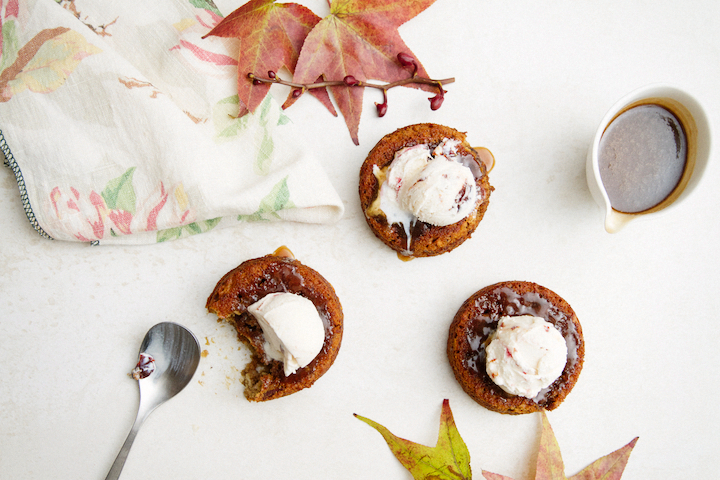 Next, pop a scoop of your favorite ice-cream; I seem to rely on Jeni's, as they really never disappoint.  A solid accompaniment is the goat-cheese-cherry ice cream, a perfect combo with the rich, fruity cake and warm whiskey sauce.  Are you drooling yet?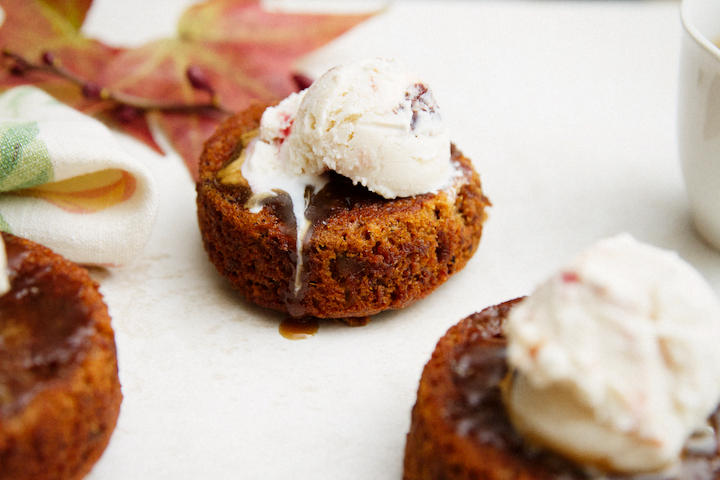 This recipe is ultimately quite simple, if you have no distractions. If you're like me though, you're wrestling with your kids to do their homework, cooking a meatloaf in the oven, and mom is calling you about going to church.  Geeze! Amidst all this, I actually forgot to 'PIT' the dates.  I took a deep breath, twitched my nerdy glasses, and took a few steps back. Baking is unique, in that you can usually find a point where you can restart the process. Just remember to pit! Speaking of pits, if you're not a huge fan of dates (or the kiddos aren't) then cherries would get the job done just as easily- your choice!
Here's what I've learned about pitting: you slice 1/4″-1/8″ down lengthwise into the date. You will hit the pit, squeeze the date open and remove the pit.  Voila.  If you are interested in seeing a video, check this out, "How To Remove Pits From Dates."  YouTube, I love you.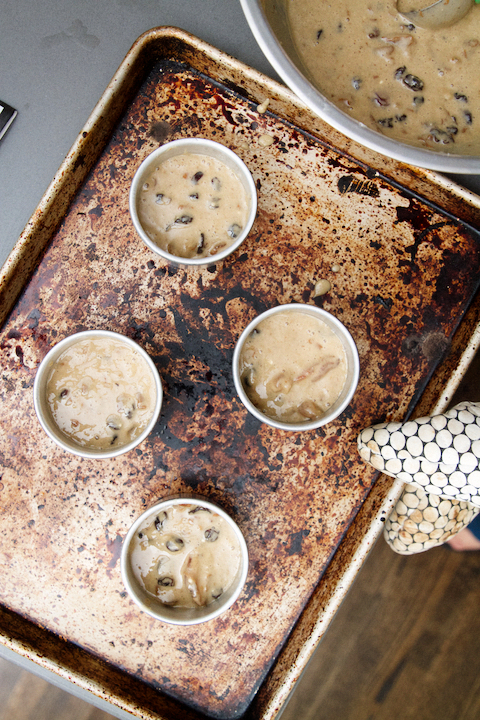 The whiskey sauce is made on the stove, and will take you less than 5 minutes.  Make your liquid gold (butter + brown sugar), and add in the cream.  Last, top-off with whiskey.  Even first-timers can master this sauce.
You're ready for serving time! Gather your goods, and get ready for the poking part of this party.  Be sure to savor these next steps, as you and your guests will love watching this sauce sink into this moist rich cherry date cake.
Am I right?  Are you in love?  Let me know if you try any fun ice cream flavors that you think worked great with this awesome combo.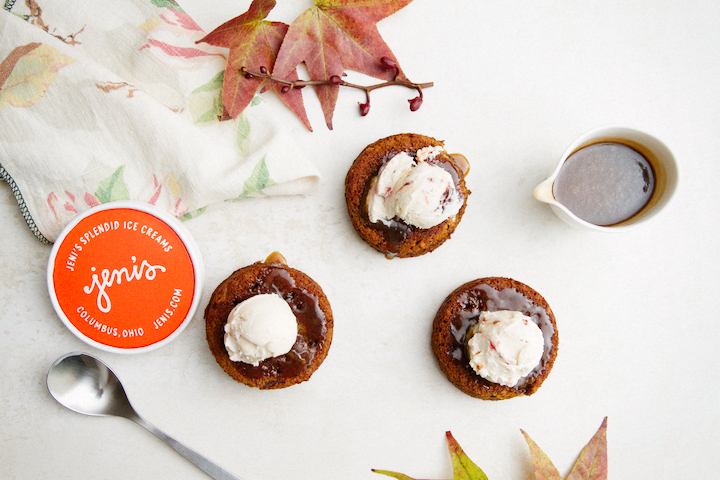 Stay thirsty my friends.  No, this isn't a beer commercial, but all this booze discussion has me feeling like the most interesting nerd in the world.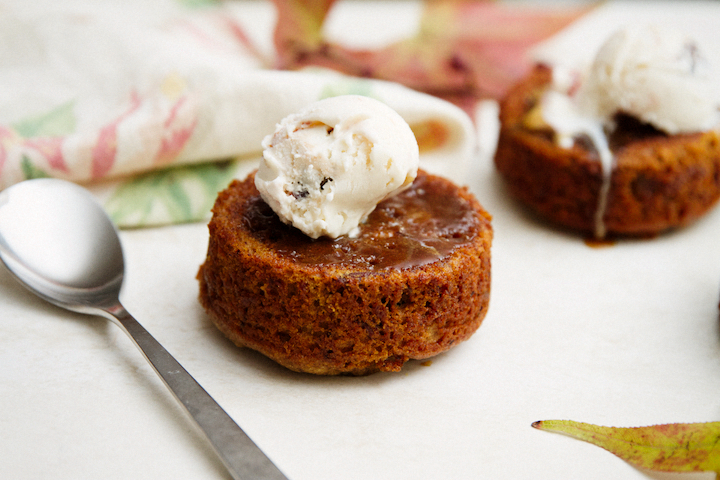 Recipe Credits: Gjelina
Photos by: Maria Hedrick Photography