Double the trouble with this showstopper!   Today, I am unveiling this chocolate naked cake extraordinaire and also many more romantic, fantastic, and beautiful desserts from some of my favorite friend bloggers around the country.  It's a Virtual-Valentine's Celebration!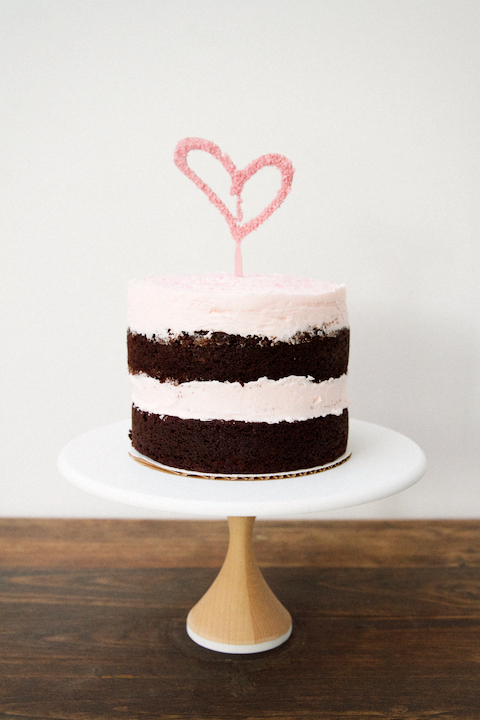 It is sort of a lonely job blogging, baking, and eating cake all by yourself.  Boo hoo, right?  Who am I kidding?  I  my job.  And, I know quite a few others who do too!  Please scroll down to check out some awesome ideas for Valentine's Day from some great gals from around the country.  So inspiring.
Today, I am sharing a double chocolate naked cake by Miette.  It is everything a chocolate cake should be: moist and rich, yet perfectly light and smooth. By "naked", we mean that this cake bares all – thick slices of dark chocolate cake stacked between delicate slates of airy pink frosting. This dessert appears innocent and charming, yet at the same time it's, well, naked. Can you think of a better combo for Valentine's Day?
I'm calling this one the double-chocolate naked cake in honor of these stunning layers.  I suppose, if you're feeling adventurous, you could go for a third layer, and create the triple-chocolate naked cake.  Send picts!
This luscious cream cheese buttercream frosting is tinted pink in honor of Valentine's Day, and has been a go-to frosting of the late simply because it's just so dang delicious. More importantly, it's remarkably easy to whip-up in the mixer. If that doesn't convince you, just check-out how perfect it looks!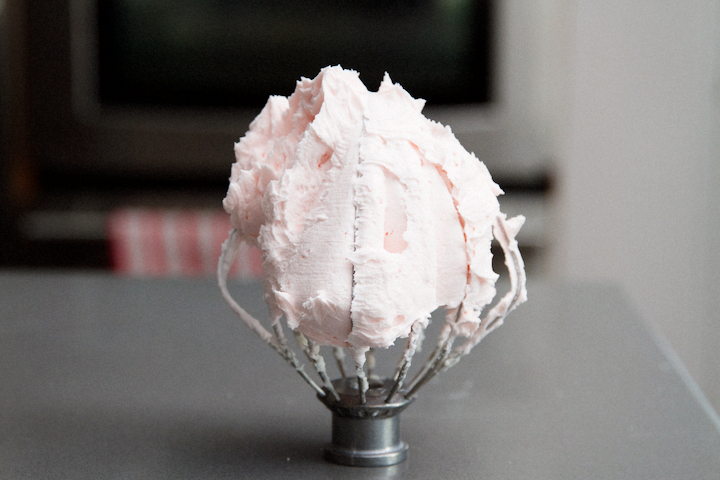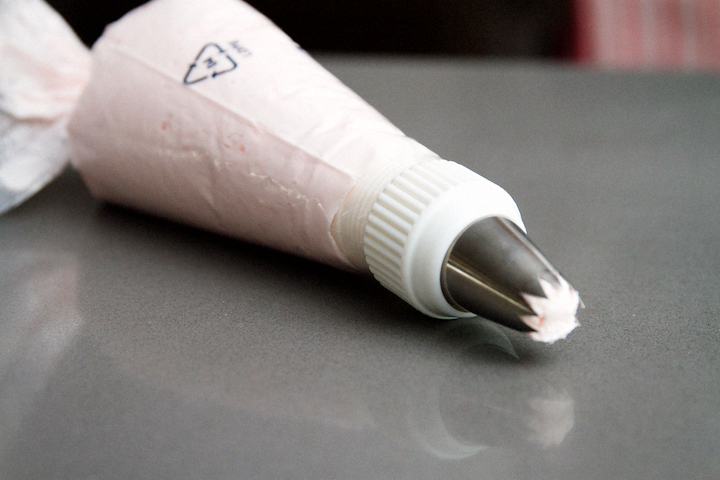 To top my first layer of 6″ chocolate cake, I used a piping bag to line the edge of the cake, then worked my way inwards. The star tip was 100% unnecessary, as I proceeded to smoosh the design with the second cake layer, but it was gorgeous while it lasted!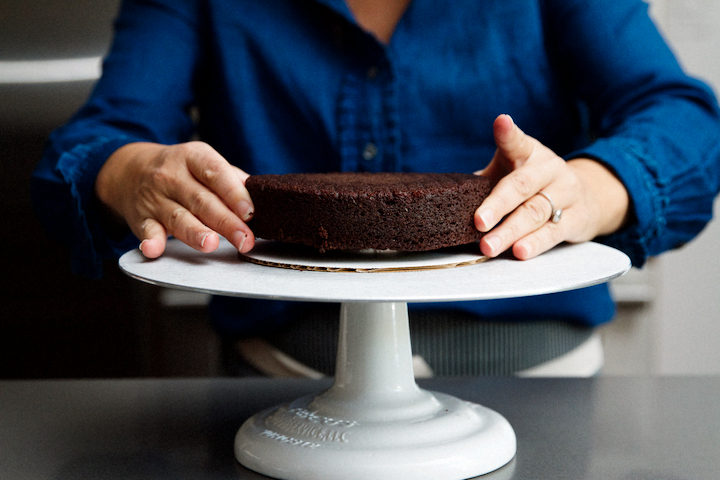 For a naked cake like this, it's important to get a nice even layer of frosting in the middle so that the dark bands of the cake don't appear askew once you're finished. (I'll admit – I myself have used frosting to mask an uneven cake. Only once…okay maybe twice.)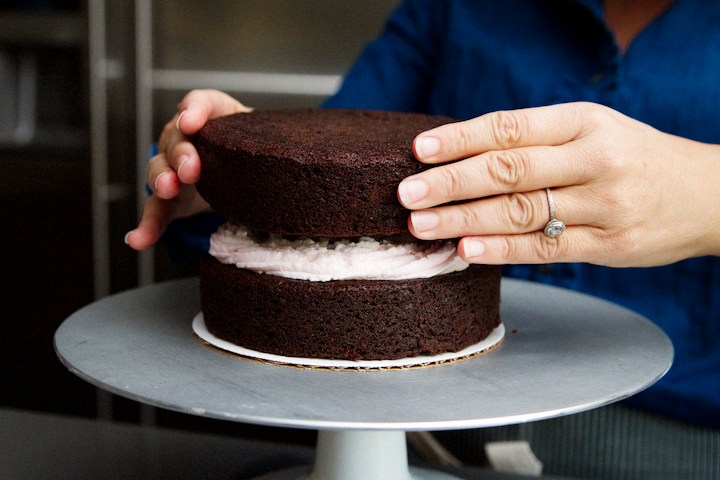 Once your two base layers are in-place and level, you can be a little more freestyle with the frosting on top. Scoop a heap on top to finish it off, then smooth, and level with your spatula.
This simple heart-shaped cake topper was made by Juniper & Ivy Design and I wanted to give it a pink make-over.  I gave it an easy spray paint job and a layer of pink sanding sugar on both sides. Simple tricks to transform something from 'pretty' to 'show-stopping'.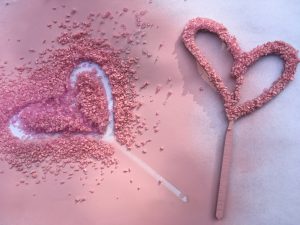 With a light sprinkling of the same sanding sugar on the top of this nude dessert, your double chocolate naked cake is completely ready to unveil all on the big day!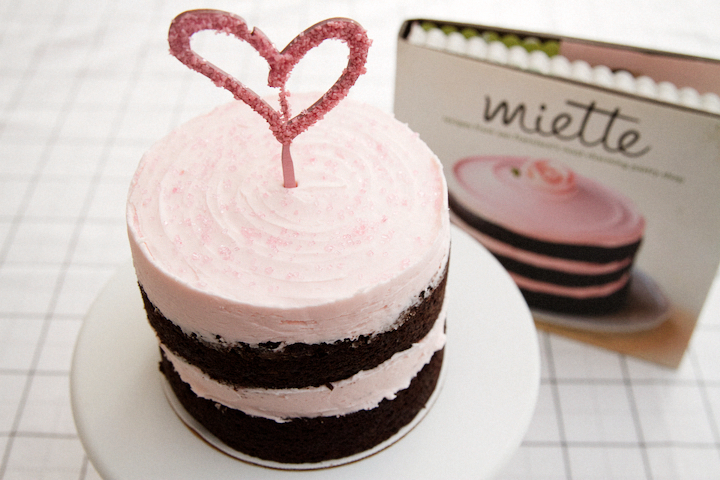 Virtual Blogger List:
What Should I Make For, Raspberry Triple Chocolate Cheesecake in a Jar
http://whatshouldimakefor.com/raspberry-triple-chocolate-cheesecake-in-a-jar
Instagram: @whatshouldimakefor
The Road to Honey, Chocolate Tart with Champagne & Truffles
Instagram: @the_road_to_honey
Beyond Mere Sustenance, Chocolate Dipped Candied Blood Oranges
http://beyondmeresustenance.com/chocolate-dipped-candied-blood-oranges/
@beyondmeresustenance
 Girl Heart Food, Lemon Cupcakes with Cream Cheese Frosting, Raspberries and White Chocolate Drizzle 
girlheartfood.com/recipe/lemon-cupcakes-with-cream-cheese-frosting-raspberries-and-white-chocolate-drizzle
@dawn.girlheartfood
Seasonal Cravings, Chocolate Donut Holes with Pomegranate Cream Filling
www.seasonalcravings.com/chocolate-donut-holes-with-pomegranate-cream-filliing/
Instagram: @seasonal_cravings
No Spoon Necessary, Chocolate Velvet Skillet Cake with Cream Cheese Frosting
http://www.nospoonnecessary.com/chocolate-velvet-skillet-cake-with-cream-cheese-frosting/
Instagram: @nospoonnecessary
Seasons and Suppers, Swedish Goey Chocolate Cake
http://www.seasonsandsuppers.ca/swedish-goey-chocolate-cake/
Instagram: @seasonsandsuppers
 Beer Girl Cooks, Chocolate Peanut Butter Porter No-Bake Cheesecake Cups
Instagram: @beergirlcooks
Ciao Chow Bambina, Roasted Strawberry & Chocolate Hazelnut Panini
http://www.ciaochowbambina.com/roasted-strawberry-hazelnut-panini/
Instagram: @ciaochowbambina
The Beach House Kitchen, Raspberry Pinwheel Cookies
http://thebeachhousekitchen.com/2017/02/02/valentine's-raspberry-pinwheel-cookies/
Instagram: @thebeachhousekitchen
 Photos by: Maria Hedrick Photography