Happy Cinco De Mayo, amigos!  On this day – many moons ago – I was set-up on a blind date with my now-husband for a margarita. We went to this fantastic bar in mid-city called El Carmen. Thirteen years later, we celebrate Cinco De Mayo by sharing this rather whimsical tale with our children (and also throw in a bit about the Mexican – French revolution). This year, we mixed it up a bit, and created a special treat: lemon-n-berry Cinco de Mayo popsicles with a secret apple 'treasure' inside.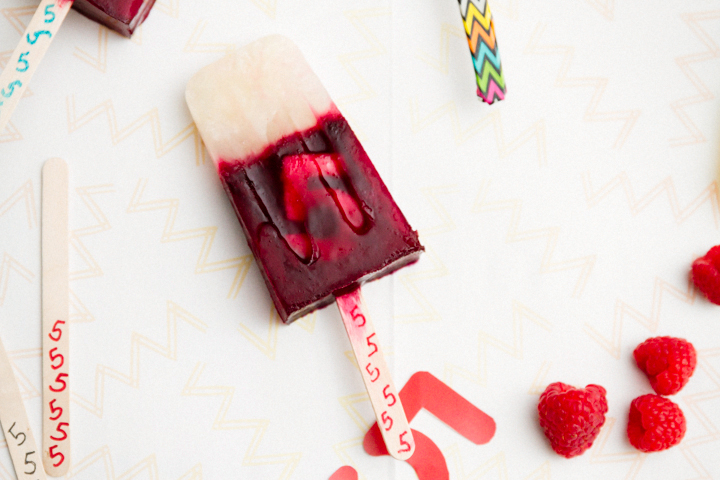 These popsicles have four basic parts, easily made along side each other, so this recipe will be a quick one!
Start with the lemonade. I like to make mine from scratch, because here in Southern California, lemon season is literally all year-round. I mean really, I think the trees produce fruit four times a year, so even if you don't have a tree in your neighborhood they're fairly inexpensive at your local grocer.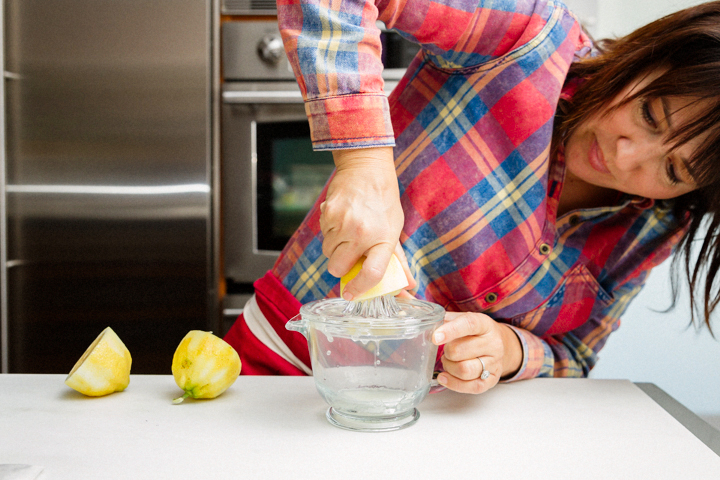 Mix-up some simple syrup to go with the lemon juice and boom, fresh lemonade. (Note: the second-half of this recipe calls for both lemon juice and simple syrup, so be sure to reserve some for the tea.)
If you're feeling like a fiesta, this is a good time to toss a little tequila into your popsicles (I mean, this is Cinco de Mayo). The tang goes really nicely with the lemon, almost like a mini-margarita. Just be careful not to give any spiked popsicles to the kids…!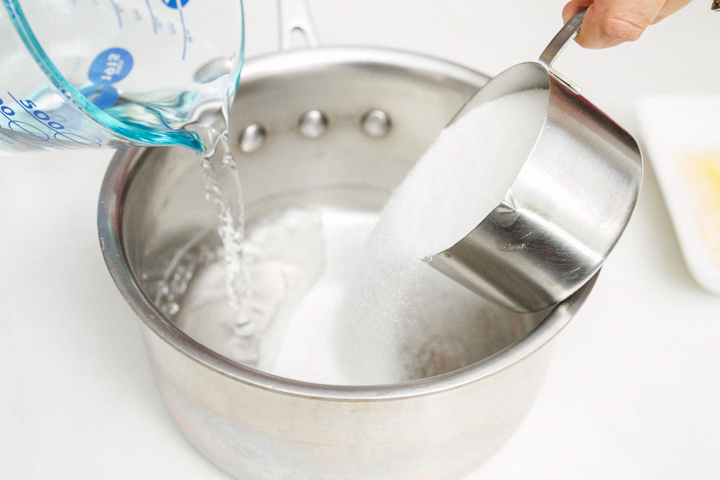 Popsicle molds come in all kinds of shapes and sizes these days, but I love this classic set by Food52. They're just the right size, and the little silicone rings to help secure the sticks in place. You can see these rings in this picture near the bottom – they're in yellow and blue. Very clever, Food52!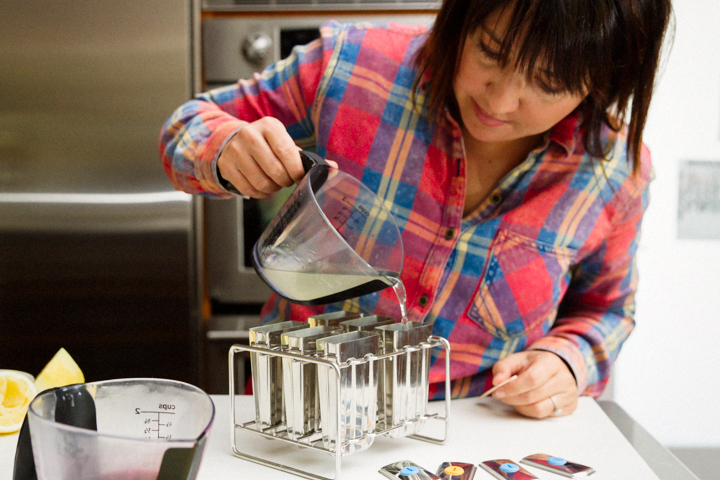 Fill the molds halfway, then set to freeze. While they do, you can prep the other three parts of this fun dessert.
The first part is to cut the apple out into the shape of the number five. This is easy enough. Just cut slices of apple, press out the shapes and then (pro tip) soak them in lemon juice. The lemon not only adds to their flavor, it also keeps the apple from turning brown.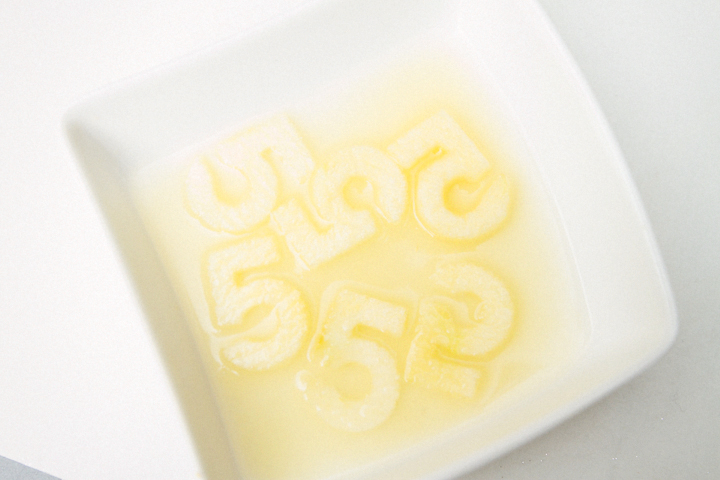 In a measuring cup, steep your tea bags and fresh raspberry fruit for eight minutes, then strain and cool. Tazo Berry Trifle makes a nice mixed berry tea, but it does include black tea in it if you're caffeine-conscious.  Alternatively, you can use an all herbal passion fruit mixture, too!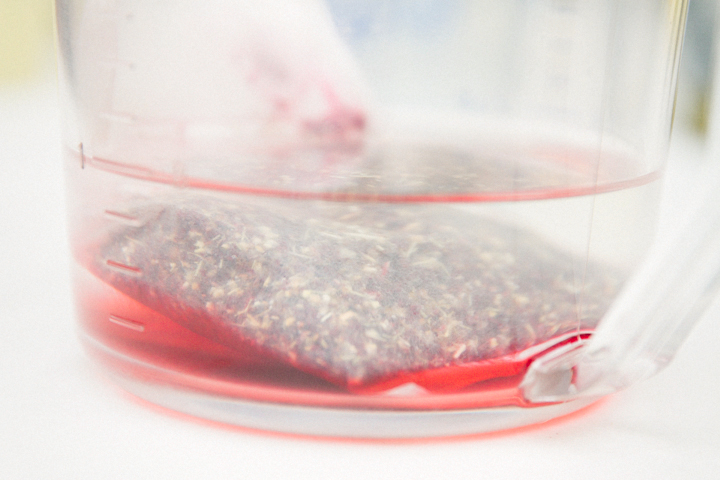 While that's cooling, and the lemonade is freezing, call the kids into the kitchen so they can help you decorate the popsicle sticks with markers or colorful masking tape. This part is super fun, and a non-messy way to include them in the work, giving them some ownership over the final product. Also, it takes about 5 minutes, so it suits their attention span perfectly.
Adding the apple cutouts to the molds works best if you double them up, otherwise they can float toward the middle, and you lose the effect of being able to see them through the frozen tea. By using two pieces (instead of one thick cut out), you can still slide the popsicle stick in easily.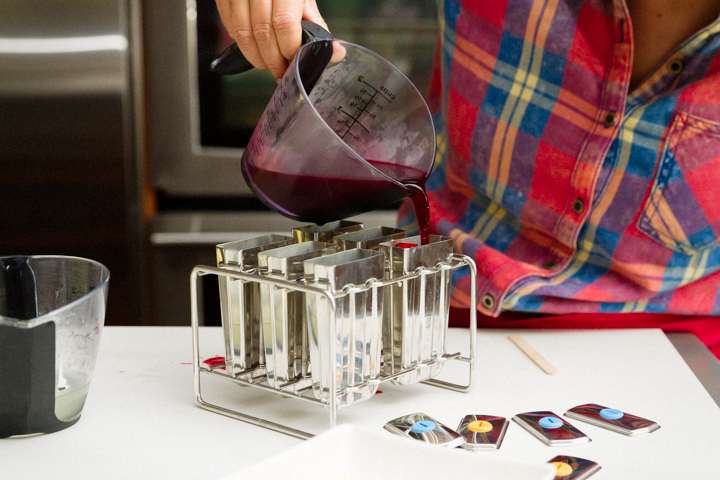 Once you've got the cut outs in there, pull your tea from the fridge, mix in the syrup and lemon juice you set aside earlier, and top off your popsicle mold until it's nice and full.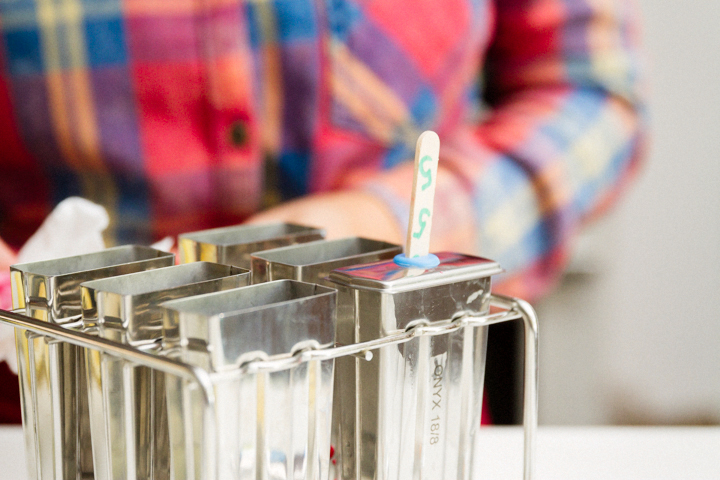 Another hour in the freezer, and these Cinco de Mayo popsicles are ready to party. Ay ay ay!
Enjoy, amigos!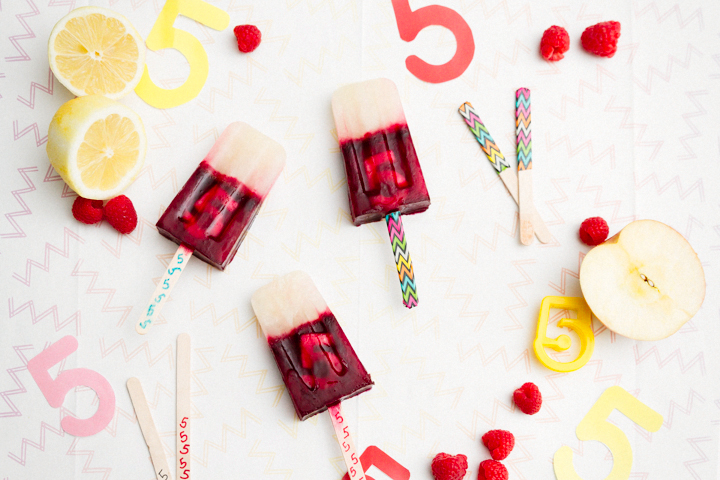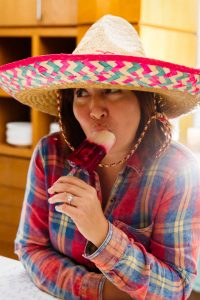 Photos by: Maria Hedrick Photography