Mother's Day is just around the corner (ahem, May 13th). What's that you say? You're a mother BUT you neglected to pick something up for your own mother? I got ya, girl. This simple hack is sweet, elegant and unique – just like your mother (well, and you!)  Let's call it Flowers 3 Ways Cupcakes. Two stops: one at the grocery for simple cupcakes, and one at your local florist (often even these two stops can be combined into one at a supermarket). You'll want to bookmark this post because it'll work just as well for a baby or bridal shower, brunch, Easter, or a birthday.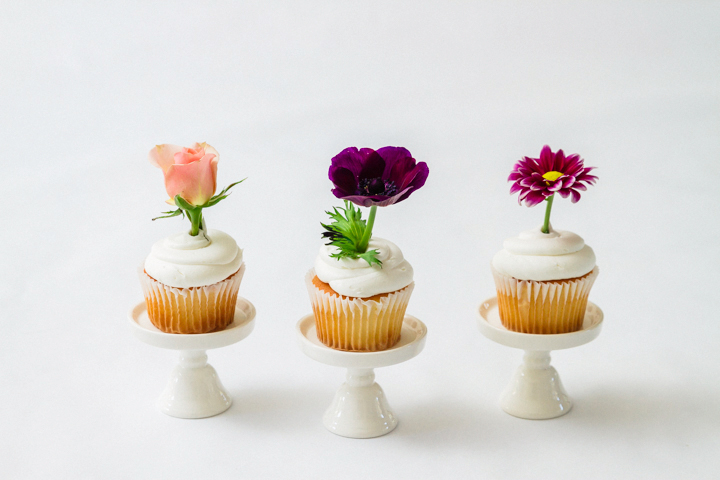 THE FLOWER TOPPERS
I would spring (pun intended) for a nice bouquet – the flowers can really make or break the presentation. Pick ones that are still closed and are looking insanely fresh. Wilted flowers = boo.
THE CUPCAKES
I went to my local grocery and asked for a dozen vanilla cupcakes with vanilla frosting. The bakery section just might have decent looking pre-made ones, as well. But, for all you lovers of making everything from scratch, I included my cupcake recipe and my delish buttercream frosting recipe below.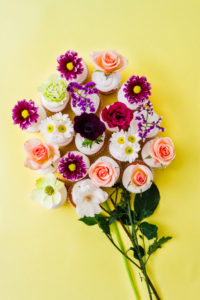 FLOWERS 3 WAYS
For the Queen – the photo at the top of the post illustrates the flowers standing up tall, stately, and regal. These would make a great individual gift.
The Bouquet – arrange the cupcakes in a bouquet shape. Use the greens as the stem. This arrangement would look gorgeous on a brunch table.
Heart Shape – shape the cupcakes into a heart shape. Use the greens as an outline.
Happy Mother's Day!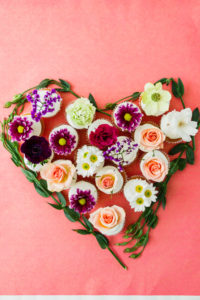 OUR FAVES 

Photos by: Maria Hedrick Photography