Urban Americake!  That's how we roll in LA. This week, it's all about my latest cake decorating collaboration with Juan Barajas of Crownhill Customs.  When Juan goes to work, he goes to WERK! When I gave him this cake deco challenge, he sat down and sketched out his vision taking 3+ hours. And what did he come up with? A Fourth of July Surprise Inside Cake with a flying flag, graffiti font, and an urban sprawl filled with pops of red, white and blue.  This cake was originally inspired by a recipe I found on Food 52, but I wanted to put my own spin on it with a "that's-how-we-do-it " Angeleno feel.  I'm so excited to show off this patriotic cake that showcases our awesome LA cityscape and sparkling fireworks in honor of the Fourth of July.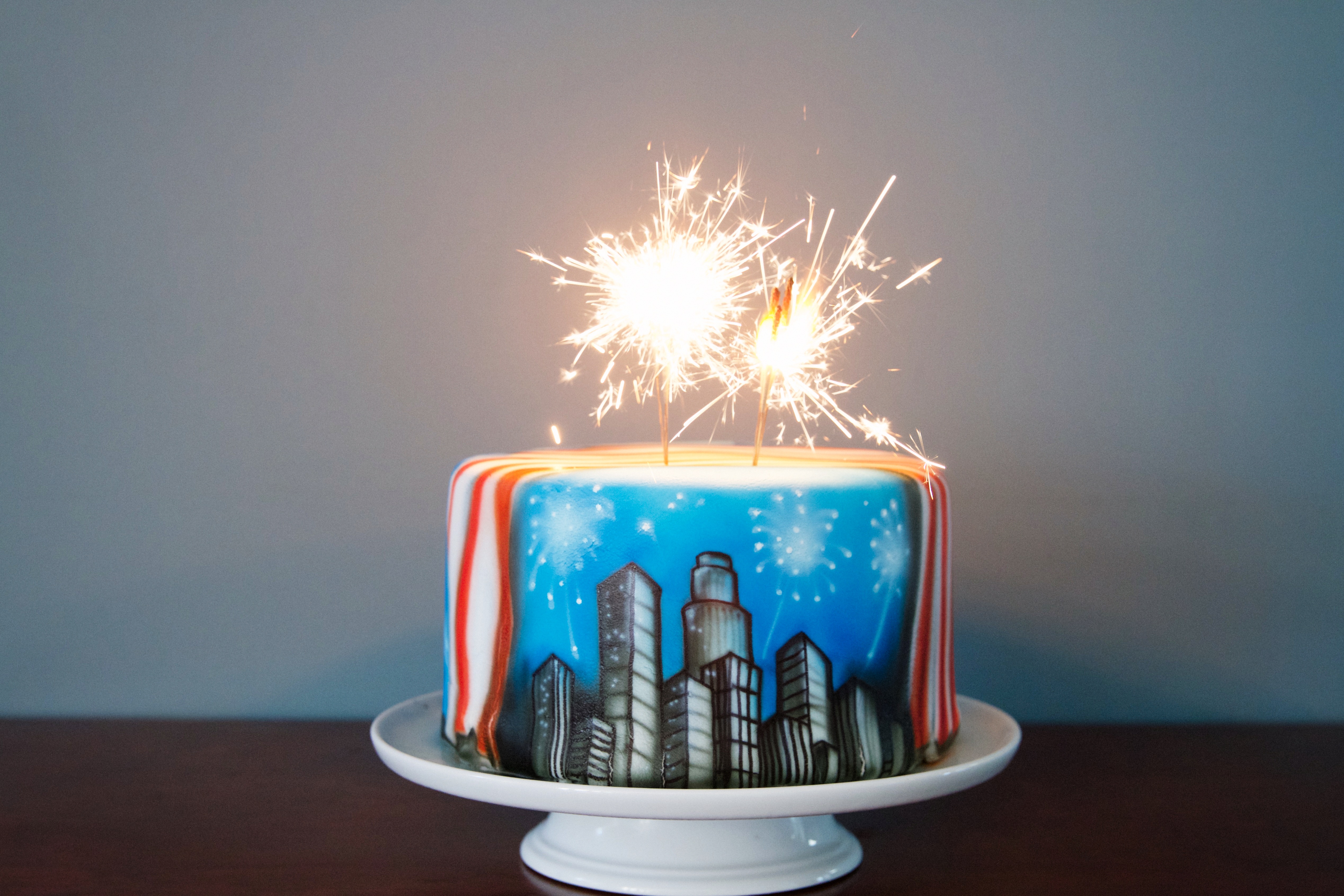 Spinning this cake is quite literally like watching a waving flag in the air.  When you view the cake from the top, you can see that Juan created a vision of a flag flowing down over a cityscape.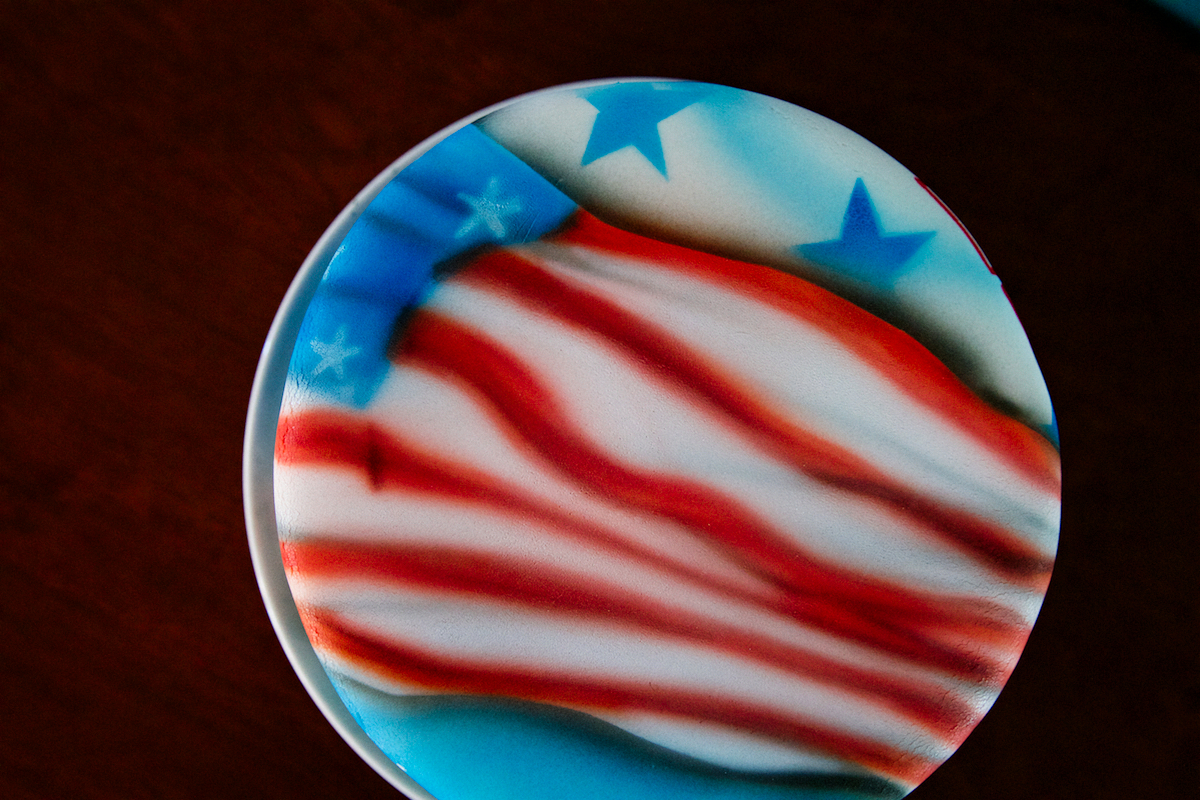 We are Dodger Blue fans, tried and true, so it seemed fitting that this would be the beautiful view of downtown LA, as seen from Elysian Park where the Dodgers play.  But any which way you see it – this cityscape is unmistakably our Los Angeles downtown skyline.
And then, leaving no good deed undone, Juan put his spin on this cool The Sweet Nerd 'Merica hat which I paid 5 dollars for at Party City.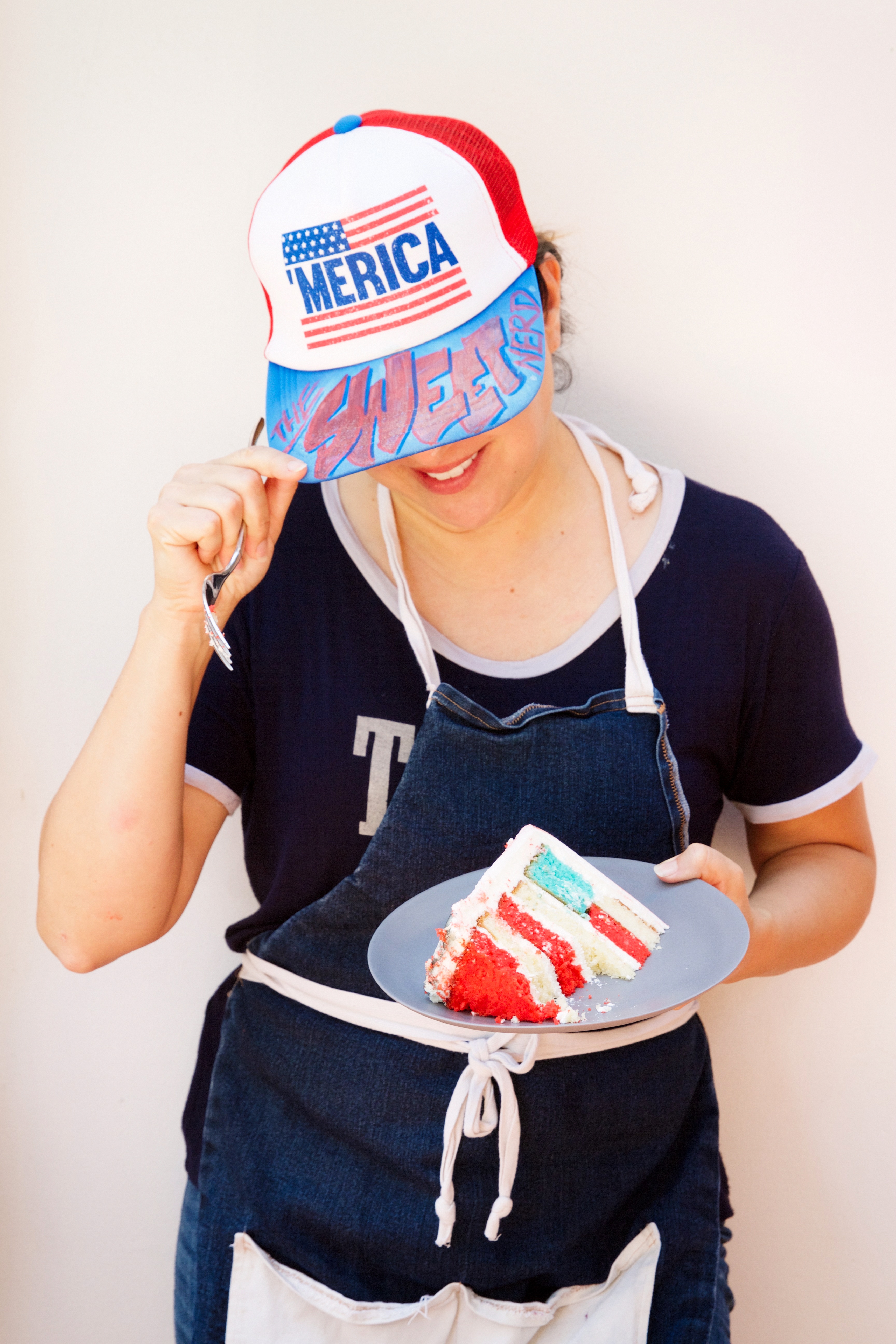 The Americake itself was delicious. I mean, it was almost too beautiful to eat.  Almost, that is, being the operative word!  A few insider tips: I used Satin Ice Rolled Fondant (vanilla flavored) for the smooth outside finish. For a super fun "boom" effect, I bought fun sparkler candles from TOPS Malibu.  It was a bit tricky to light these candles as they fired up quickly preventing me from lighting one after the other. They were sparkling up the cake too quickly!  So, rather than donning a fireman's outfit for this pyro effect, I opted to put the sparklers on in one central location on the cake and light them up at the same time.  Boy, did that make this cake come alive!!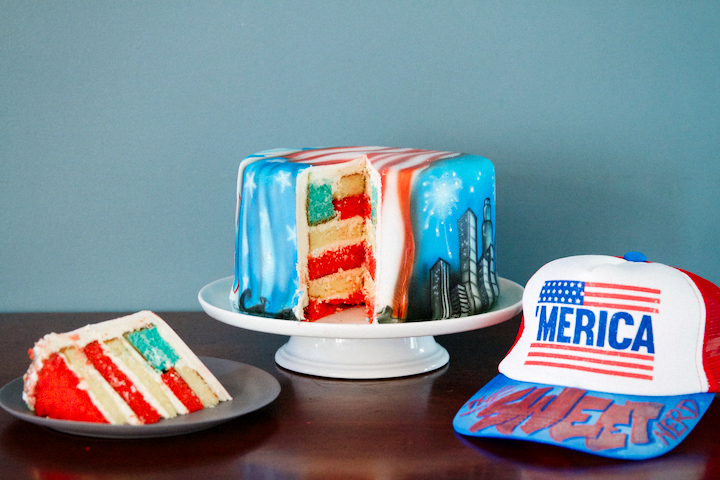 Credit: Juan Barajas of Crownhill Customs
Photos by: Maria Hedrick Photography