Get naked this Valentines Day! Ahem, not that, silly, I'm talking about a naked cake where you keep your cake exposed in between layers of sinfully delicious cream cheese frosting. Now you get the picture, right?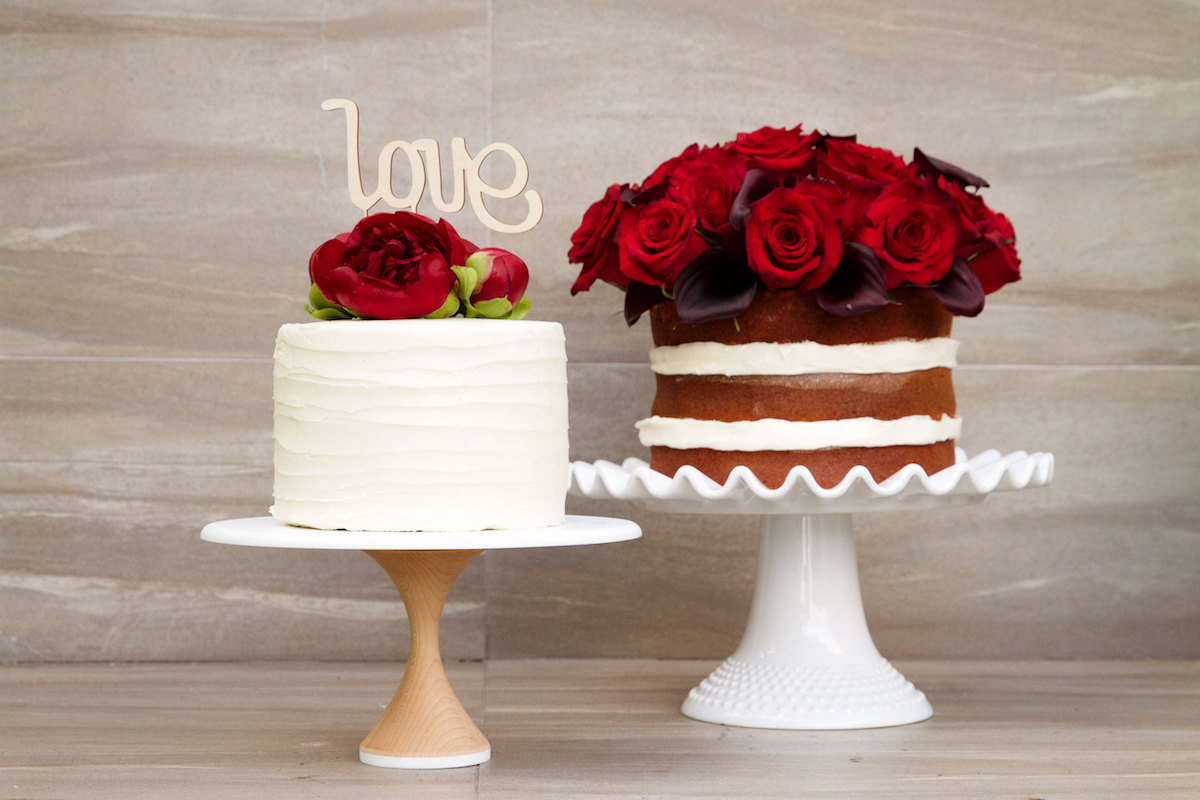 Wouldn't it be awesome to bust out a cake that oozes romance and decadence? (All in between soccer practice and homework helping, naturally!).  I the idea of dressing a simple vanilla cake with red roses and decadent cream cheese frosting. It's bold. It's classy. It's so delicious.
You'll see that I've created two cakes from one simple vanilla recipe, but today I'm going to focus solely on the naked cake which is much easier to execute! Essentially what you see is one naked cake and a frosted cake – both adorned with roses, because roses are beautiful.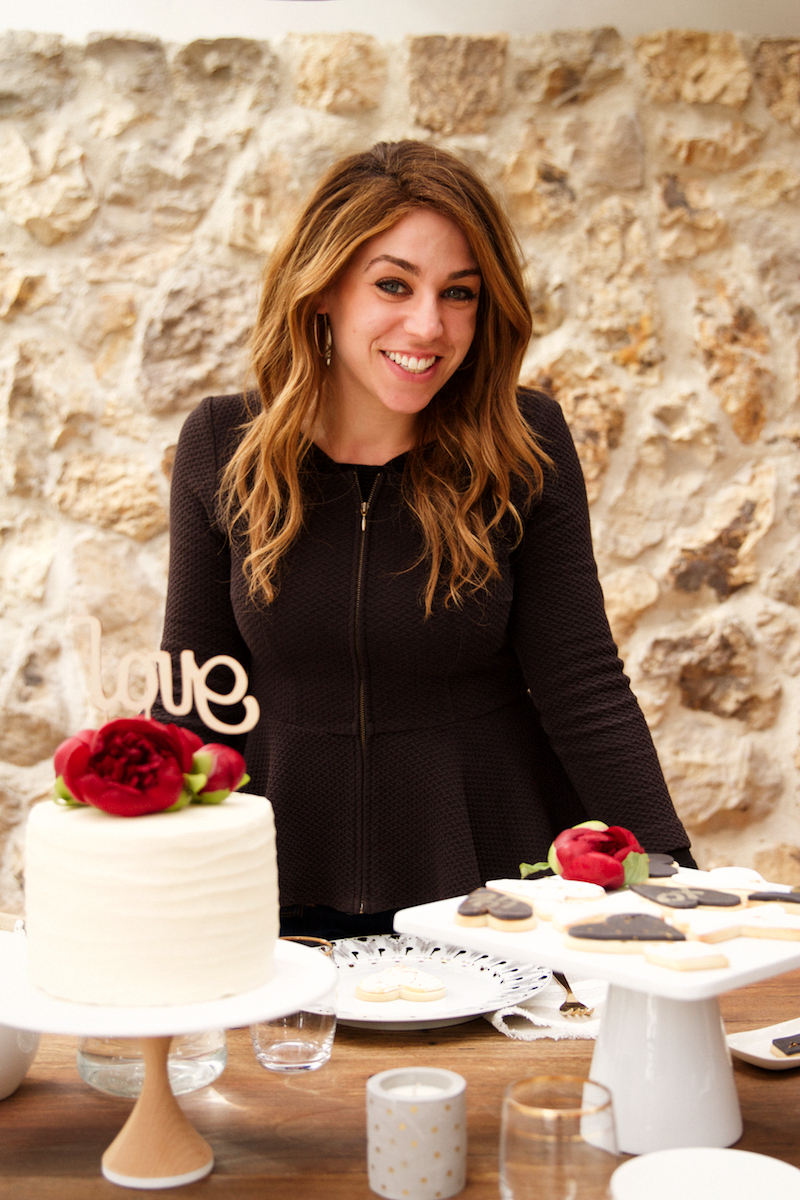 I'll admit, I wasn't exactly sure how to combine the roses and cakes together so I enlisted the help of my dear friend and floral expert, Amy Murphy, of Parties, Petal & Paper.  She is the gal that puts it all together.  Her ability to simplify a seemingly complicated task will lull you into baking in no time! And can we talk about her next-level 'presentation' skills? I knew she would create a scene that was sophisticated and fun (just like her!).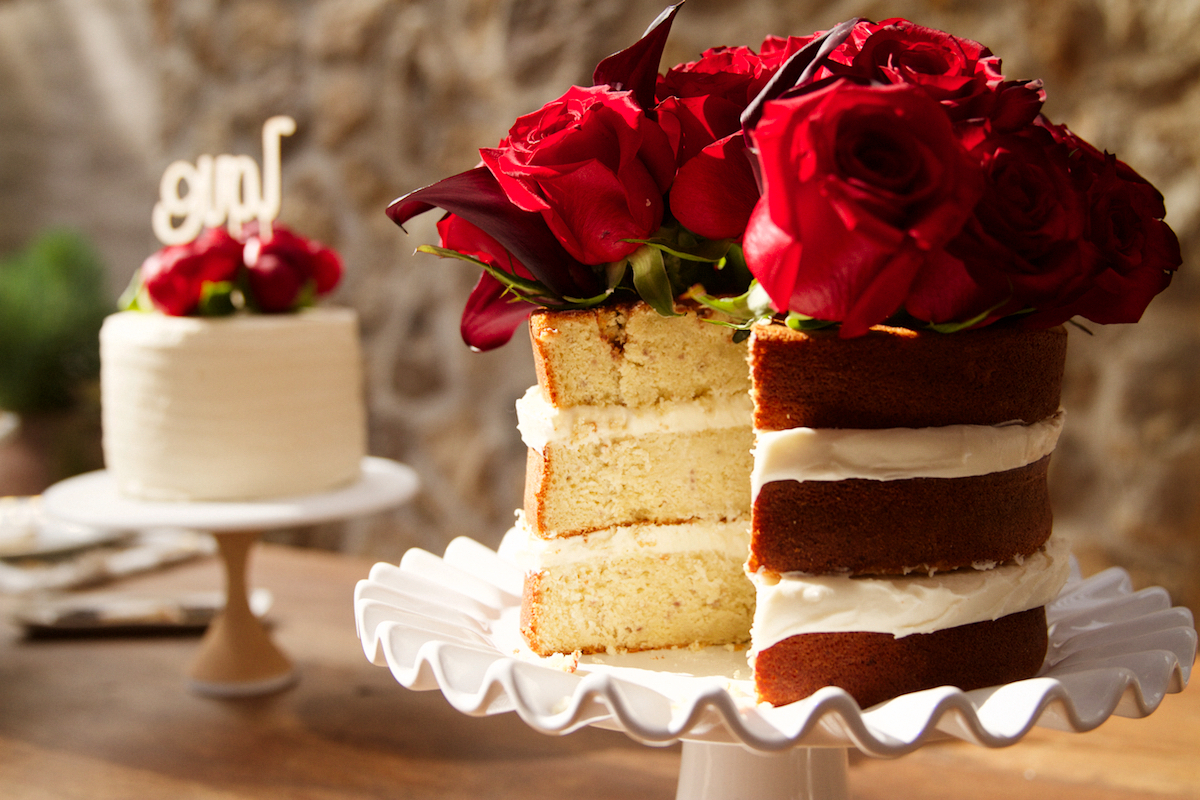 Ingredients for Assembly:
Three layer cakes, 8″
Simple vanilla frosting
18 roses, trimmed leaving a 1 – 1.5″ stem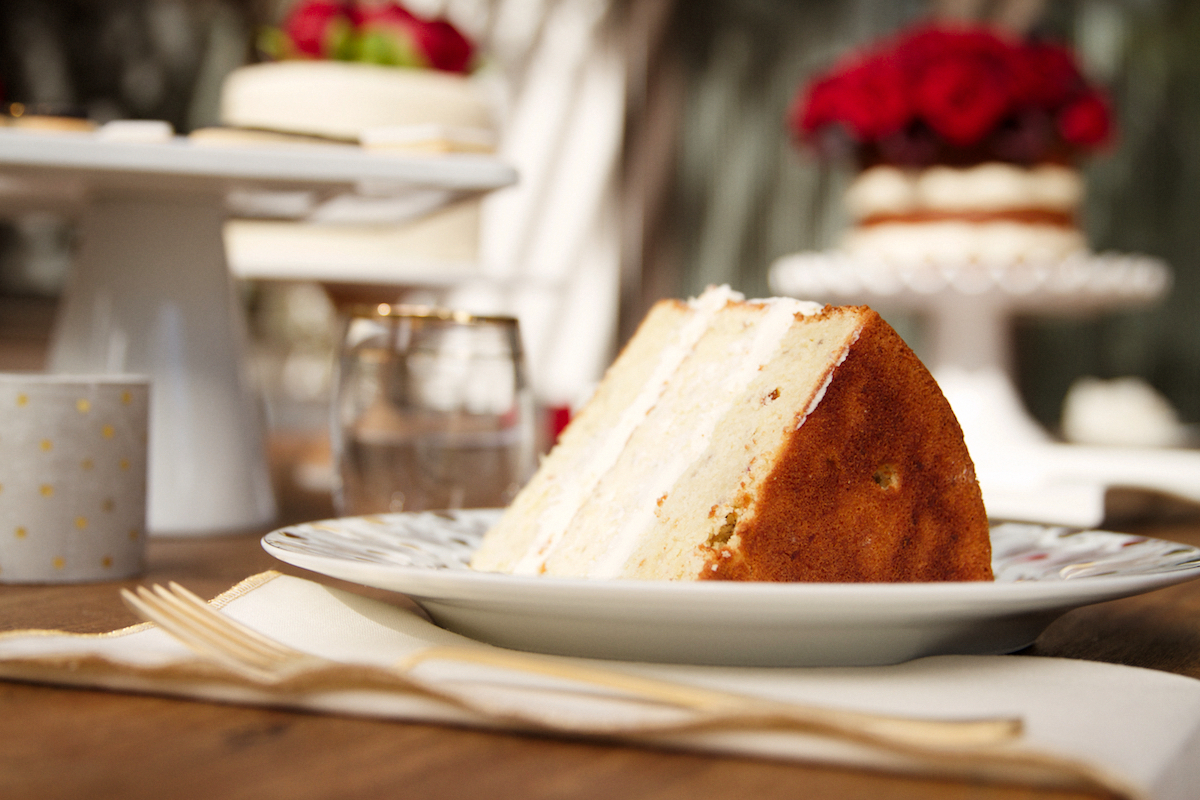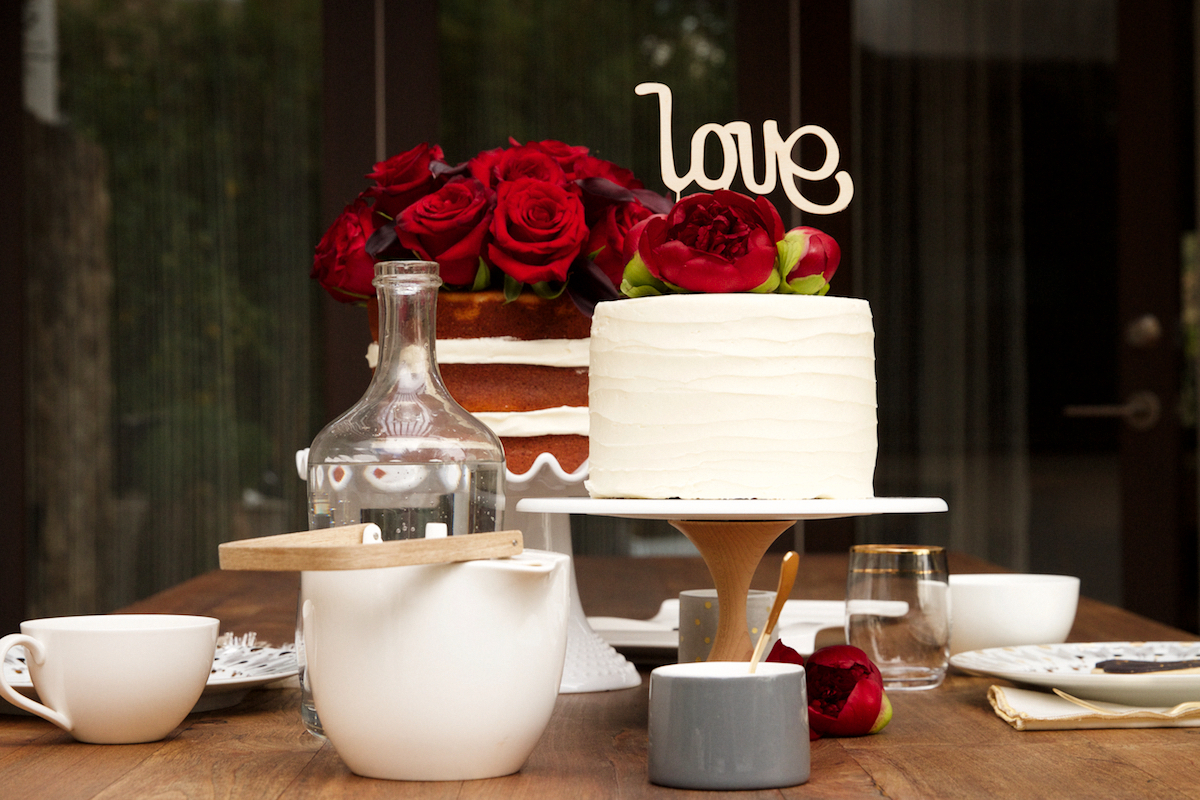 You can make the vanilla cakes one week in advance and store them in the freezer.  A day prior to decorating, take them out of the freezer and have them thaw in the refrigerator.  You can also make the frosting a day beforehand. Just thaw it on the counter for 30-60 minutes before you re-whip it.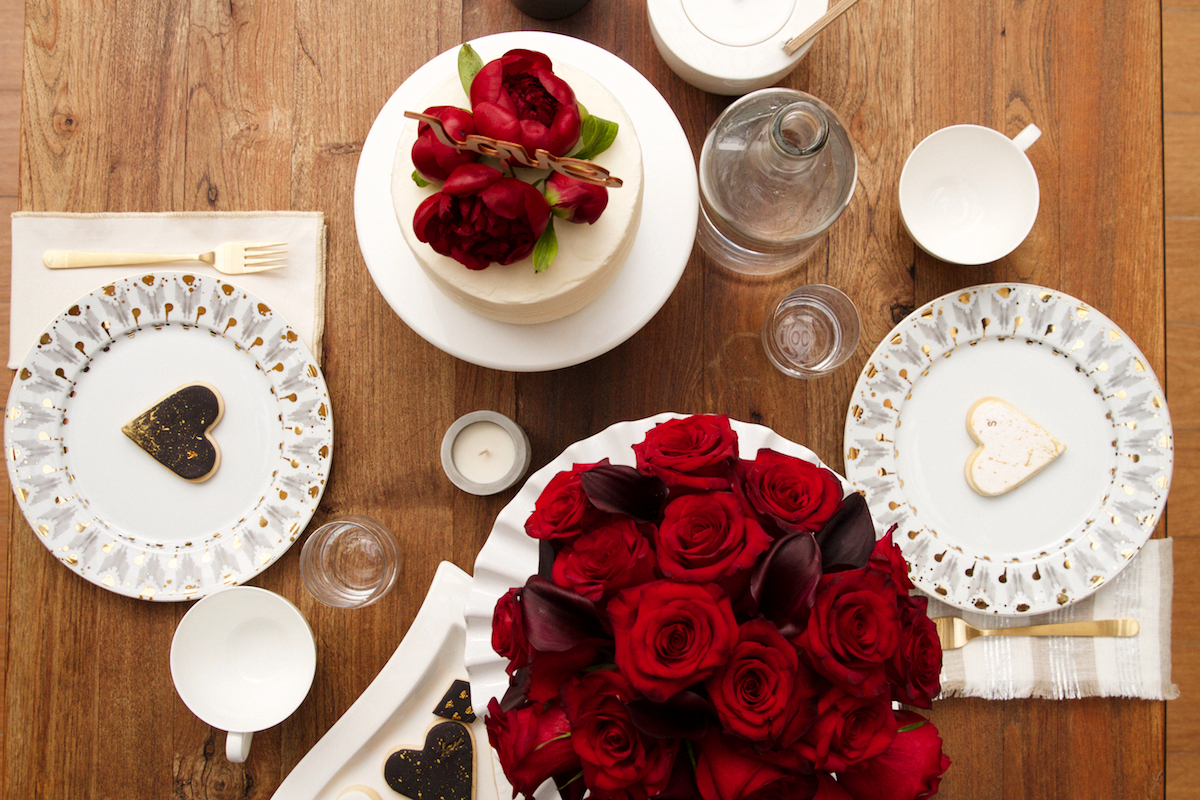 Start with the bottom cake layer and frost the first layer just until the edge of the cake.
Layer the next cake layer and frost the second layer just until the edge of the cake. (Refrigerate if you need to firm the frosting.)
Lastly, add the third and final vanilla cake layer.
Put the cake in the refrigerator to get it firm before you add the flower layer.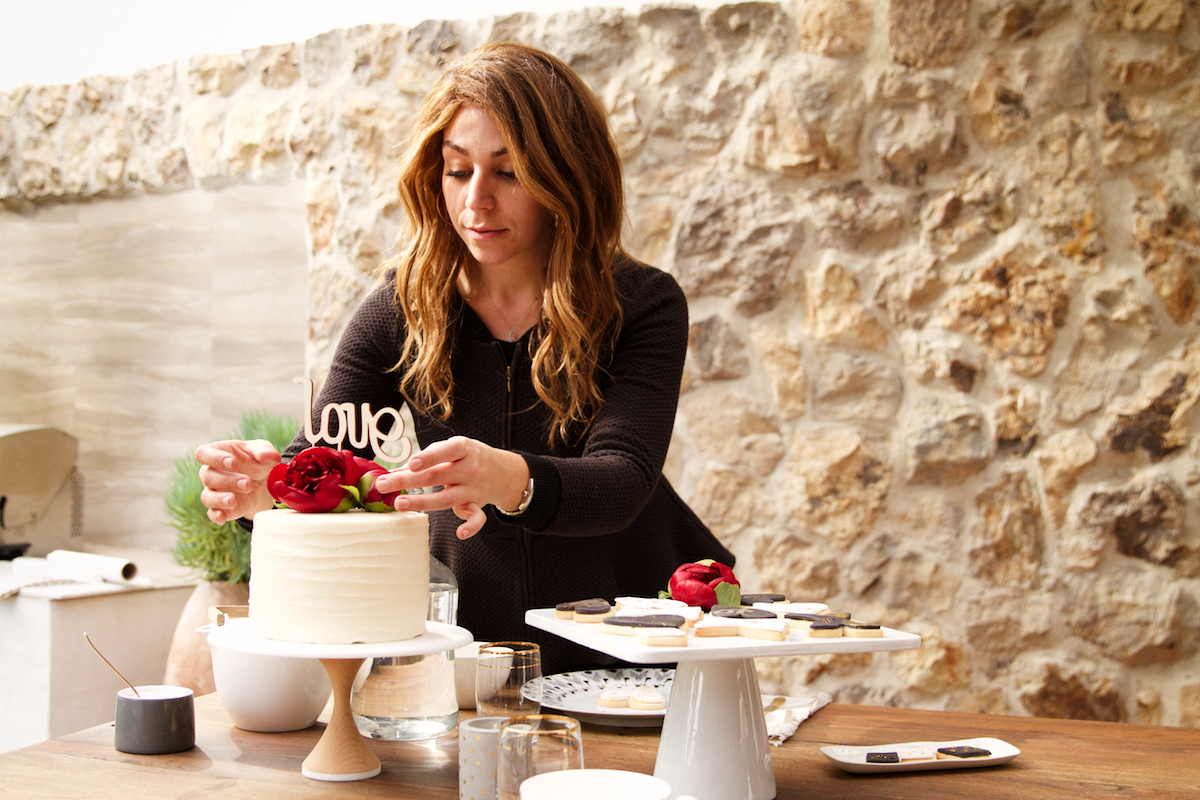 Trim 18 roses so that the stem is long enough to be inserted into the cake layer. I did about 1″, but test one out for a sample size.
Amy led us through this simple yet gorgeous process.  Enjoy this part as you transform this naked cake into a beautiful creation with each rose that you add.  Just perfection!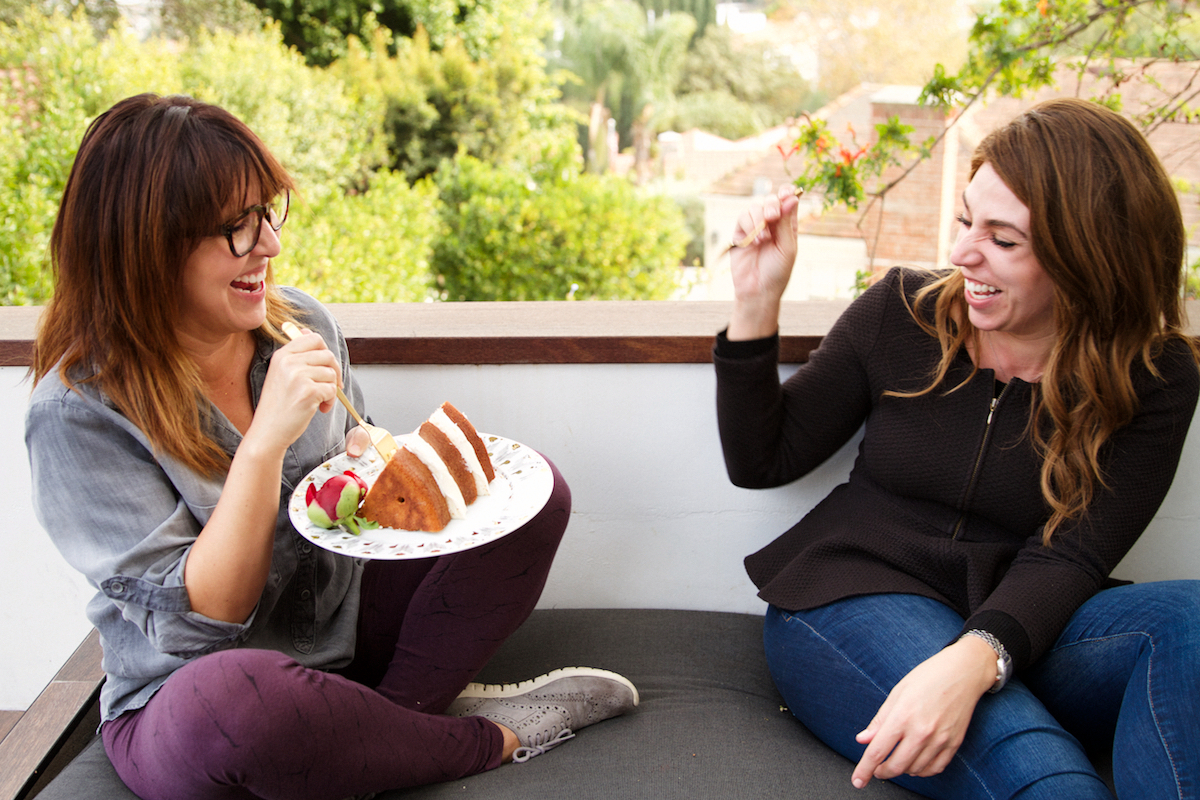 Plate Props: Anthropology
Cake Platter: American Heirloom
Cake Topper: Juniper & Ivy Designs
Roses are red, violets are blue, make this cake and he'll always think of you.  XO, Happy Valentine's Day!
Photos by: Maria Hedrick Photography