Edible love? I challenge you to try and envision a more enticing concept. We bring to you an edible cookie that boasts a sprinkling of fresh, edible flowers, dried berries, and tagged XOs. My partner-in-crime, Juan Barajas of Crownhill Designs, helped me spray paint these heart cookies to push the envelope of 'LA graffiti.' With his help, we incorporated beautifully scripted XOs into these Valentine's Day show-stoppers.  Another street artist friend – Karlos Marquez – specializes in gorgeous 'love revolution' art with XOs, 'Love' tags, and much, much more.  Do yourself a favor and check out his site; to put it lightly, it's insanely inspirational.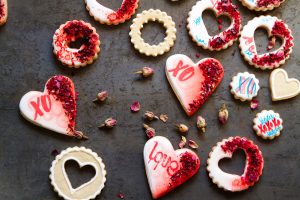 This was free-form art. Our only goal here was to incorporate edible florals/berries with font stamps. Then, Juan went in and added subtle fades with his master airbrush skills.
 Make The Basics, A White Royal Iced Sugar Cookie
Kick-off baking your heart cookies with our classic, go-to sugar cookie recipe. Feel free to spice-up the cookie with a bit of cardamom or citrus zest.
After you make the dough, it's time to roll & cut-out your shapes. Cookie cutters can often be overwhelming, but having the same shaped cutters in varying sizes will really help!  There are many cookie cutters on the market – check out the Ateco circle and heart cutters; they're fluted on one side and plain round on the other.  I used a combo of different sizes and some with cut-outs, some without.  Let your creative juices start flowin'!
As for the icing, fall-back to an old favorite: our royal icing recipe.  There's a 10-second rule I like to use when trying to figure out the consistency for 'filling' your cookies, and it goes as follows:
The secret here is a careful balance of water and the thickness of the icing itself. Check by dragging the tip of a spoon or knife through the icing (1″ deep) and count to 10.  If the surface smoothes out when you get to 10, you are golden.  If it takes too long, add a tad bit more water and re-test. If it stirs too quickly, add a bit more sifted icing sugar to thicken it.  Once you've passed the test, it's time to prep the bag with an Ateco#2 or #3 tip, and put the icing in a piping bag. While I'm frosting the cookies, I keep my icing bags covered with a wet paper towel as to avoid the tip drying out. Once decorated, let your cookies dry well for a few hours, or overnight.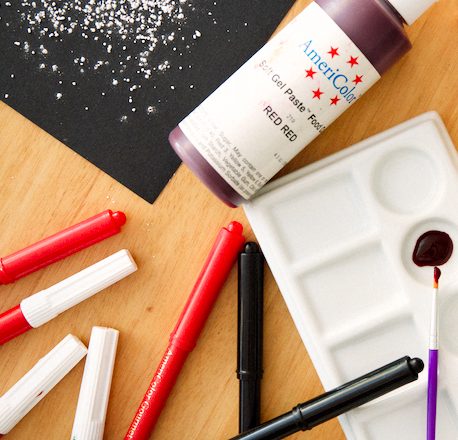 Americolor Food Coloring (or Gel Paste) For Airbrush or Edible Spray Paint, Red
Stamps & Edible Stamp Pad
Edible Florals (ie: Hibiscus) & Dried Berries, crushed

Edible Paint Markers
Brush
Edible glue paste (like Sugarcraft or Wilton)
Here's where you can begin to flex your creative genius. Start with airbrushing a fun design or creating a gradient pattern across the heart cookies. Then, brush edible glue paste or piping gel on one side of your cookie and carefully sprinkle crushed dried florals or berries.  Be patient, this can take a moment to get full coverage!  Then I stamped XO's, or wrote in XOs with edible markers.  I follow this amazing baker called the Bear Foot Baker and she does an awesome tutorial on how to stamp cookies.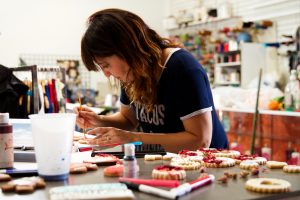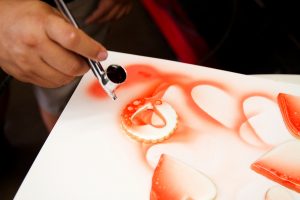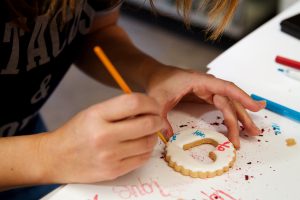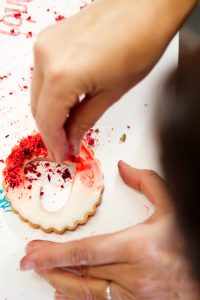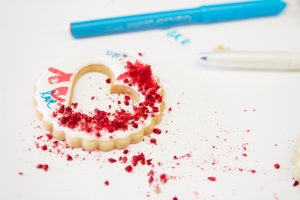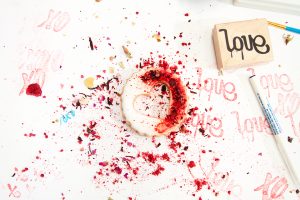 Your love will eat up this love-ladden sweet. How could they not?
XOXOXO, Cindy
Photos by: Maria Hedrick Photography