Calling all ghouls, goblins and ghosts! Little Nerds everywhere – it's time to head to the Haunted Headquarters for a Halloween Workshop!
These chefs-in-training rocked this spooky, Halloween-themed baking and decorating sesh.  I discovered that fourth graders are quite a vivacious bunch, completely willing to try anything new, and utterly thrilled when they first taste a treat they themselves create!  They were an incredible crew to watch from the sidelines.
The spooky treats were plentiful: we created mummy cakes, pumpkin boo cakes, choco-bat-cupcakes, choco-covered pretzels, and rounded out our afternoon with marshmallow skeletons.  As luck (mixed with a little Harry Potter magic) would have it, our spread turned out Booo-tiful!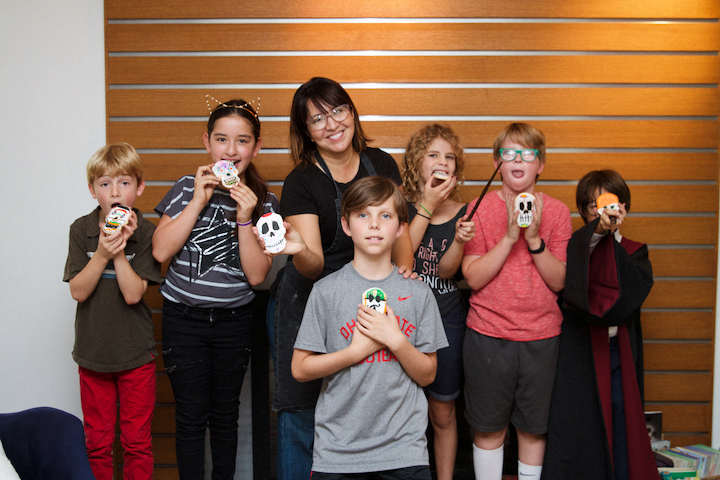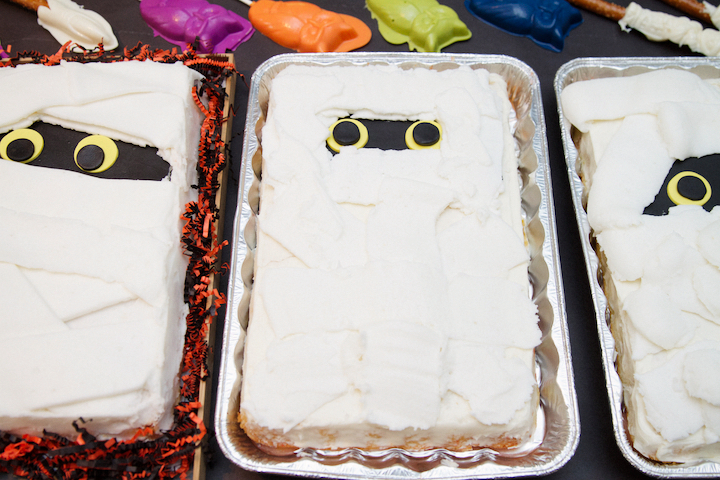 By the end of the Mummy decorating, these guys were pros at layering fondant and piping buttercream frosting. It sounds high-brow, but after a bit of practice it becomes a cinch, and completely accessible to your Little Nerds.  These guys got right into layering those mummies, because hey "This mummy is naked!"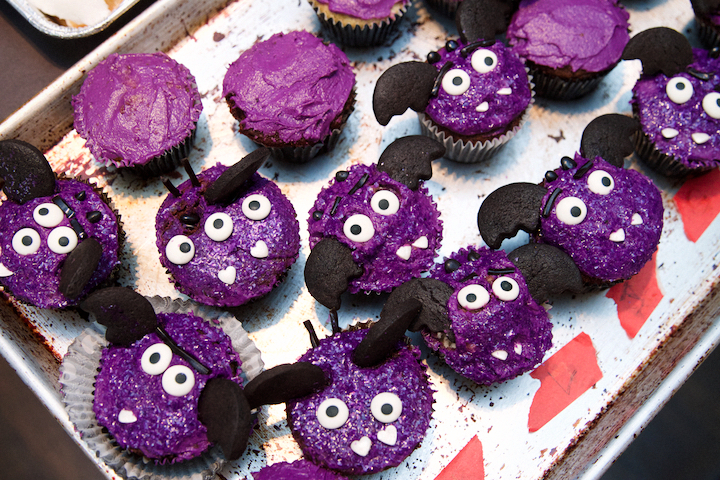 Thanks to Bakerella, these nocturnal bats are wide-eyed, sparkly, and come with the most delicious fangs.  Together, we made made the sour cream chocolate cupcakes and then decorated in 2 steps. First, they frosted, and next they added the details of the bat.  Aren't these…bat-iful? (Okay, I'll stop being so pun-derful soon).
These little guys made the pumpkin chocolate chip bread from scratch. They loved using the Boo molds, and I was pleasantly surprised to see how focused they were on the recipes.  They learned to scale ingredients, measure liquids, crack eggs, and combine until a certain "cohesiveness" is reached.  We talked about over-working a cake in the mixer, and the resulting super duper YUCKY mess you're left with. These guys are now certified kitchen aid masters!
Dia De Los Muertos Cookies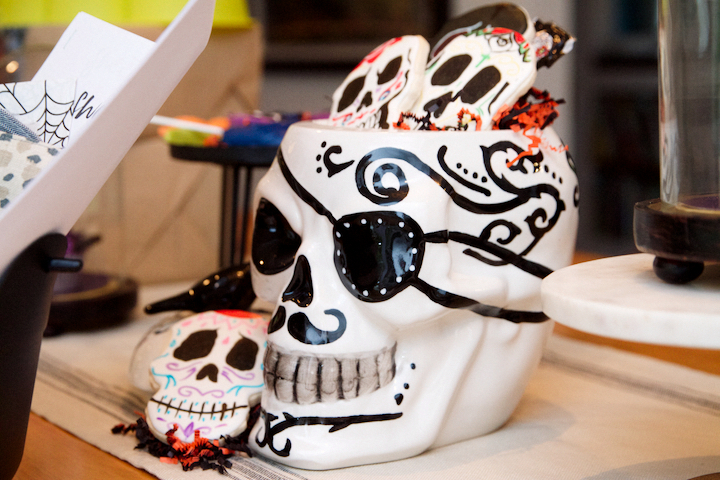 Day of the dead cookies, voila! These fourth graders all attended school together, and thanks to Senora Vargas (their Spanish instructor), these guys are entirely savvy on appropriate Day of the Dead decor.  Creating these goodies fostered some serious discussion paired with major artistic strokes.  The ornate eyelashes stood out to me – how gorgeous are they?!  Go Team Dead!
Monster Mash Pretzel Madness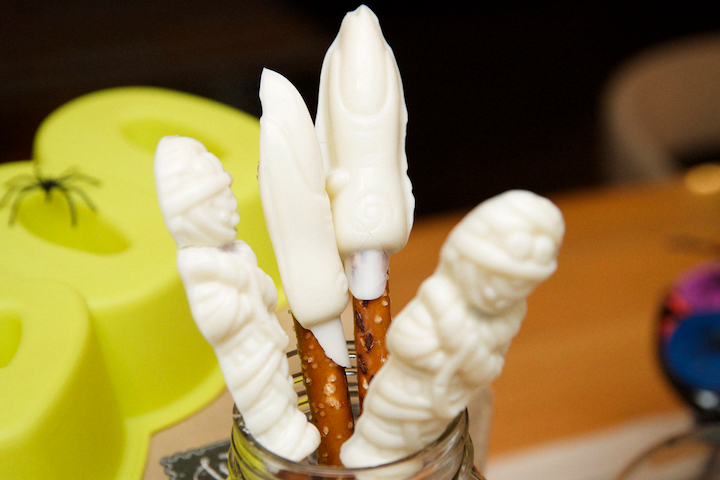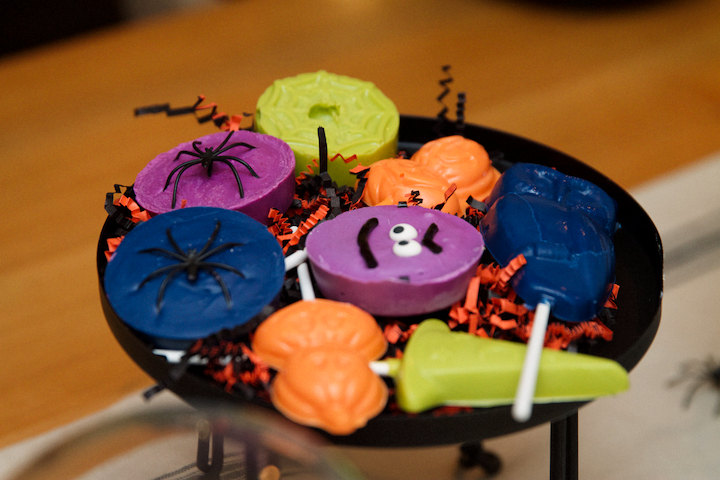 Pretzel sticks are always a hit, and always easy.  If there is one thing that excites kids, its eyeballs and licorice. Combine these with dipping pretzels into chocolate, and you've got the favorite recipe of the night!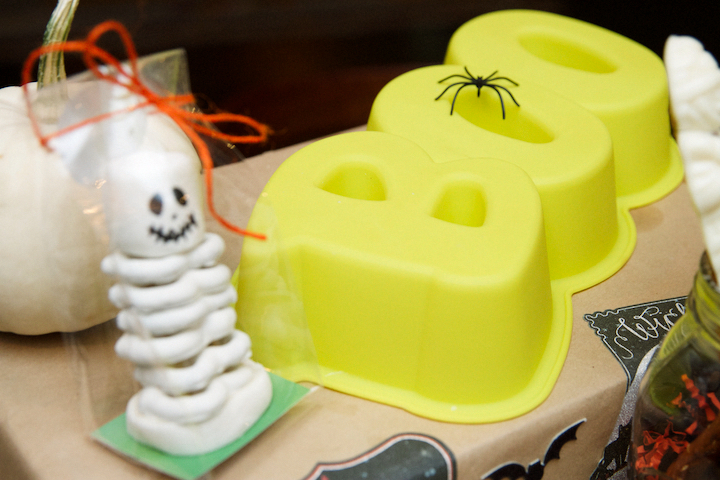 No-bake easy skeletons make for great gifts. Who says you can't give out gifts on Halloween? It makes the holiday even more fun for everyone!  Buy the yogurt-covered pretzels, and build this easy edible sculpture from the bottom up.  First, slice the jumbo marshmallow to form the base.  Then, load in the pretzels – held together with a sturdy toothpick – and last plop on a bobble head top of another marshmallow.  Last, with edible markers paint in some scary eyes and mouths.  So fun!
Teaching these Little Nerds reminds me of the importance of sharing creative moments with our kids. It's hugely important! And it doesn't have to be this elaborate. Spending time with your little ones is inherently adventurous, bold, hilarious, and humbling.  Sign up on the website to learn more about our workshops.
Photos by: Maria Hedrick Photography