Ho Ho Ho!  Calling the Santa Squad…These easy Santa Hat Strawberry treats will have your little ones promising to be on the "Nice" list. This dessert is the perfect family hands-on goodie that only has 3 ingredients and no-bake time. I love variety and bringing treats to life, so this quick holiday dessert will be sure to have the kiddos raving about your cool factor and well, making some adorable Santa Strawberry Hats.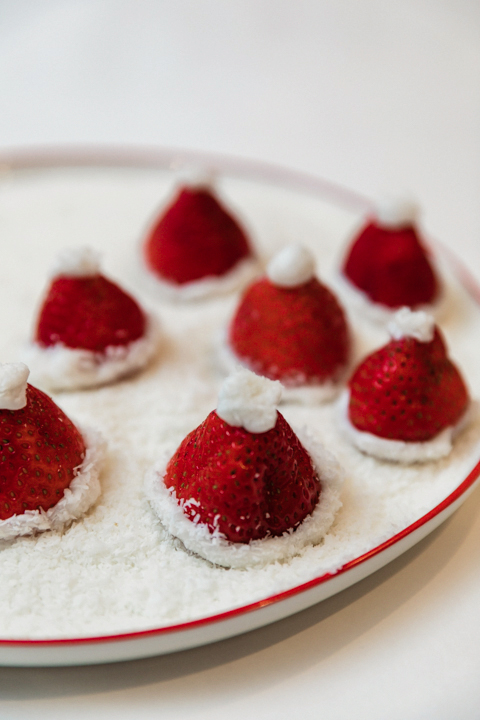 So many of my mom friends always ask me how to get their kids more involved in the kitchen. I think if you add eyeballs or top with sprinkles, you have pretty much won the rad mom award.  Find an easy recipe that has lots of repeat practice. Drum roll… Santa Strawberry Hats. If you can trim, frost, dip, and top, then this is the perfect dessert for having fun in the kitchen. If you are feeling more advanced, and want to prance deep into reindeer land, try these Reindeer Cake Pops.
OK, SANTA SQUAD – GATHER THESE INGREDIENTS:
Strawberries – use a show stopper such as Driscolls.
Coconut – I like the desiccated (ground) coconut size, but it really doesn't matter.  I used Surfasla.
Frosting – buy store-bought frosting for this fun project with the kids.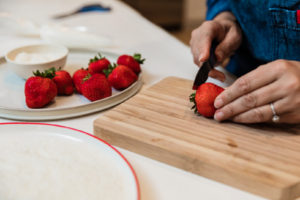 Five super easy steps – can't even call them steps, more like arm movements:
1. TRIM YOUR STRAWBERRY INTO A SANTA HAT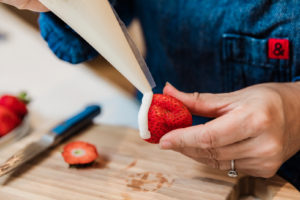 2. NOW FROST THE RIM OF THE HAT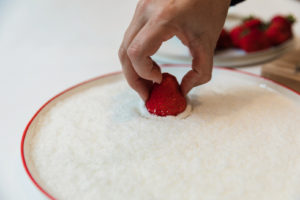 3. NEXT DIP IN COCONUT
4. & 5. TOP WITH FROSTING & ONE LAST DIP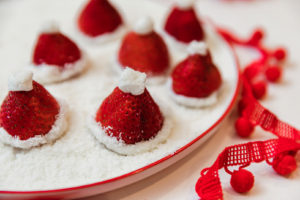 OUR FAVES 
Driscolls, fine strawberries
Misen, high quality chef knives for home use
Surfasla, Coconut, high quality desiccated coconut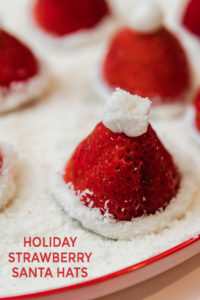 Photos by: Maria Hedrick Photography