My youngest son, Liam, dives into projects, just like me, but in the case of these chocolate cheesecake cupcakes, he literally dives his fingers right into the cream cheese that we're using in this delicious recipe.  Lick, lick, chomp.  Alright already, Liam…I believe in the notion that chefs should taste what they make throughout the baking process, but he takes this to a completely new level.
I can hardly blame him as I'm laying out sprinkles, cream cheese, and chocolate cupcakes and can see his mouth salivating.  I have accepted this fact, and even embraced the mess that comes along with it. Honestly, I am finding my time with the boys in the kitchen that much more precious as I see them growing up so fast.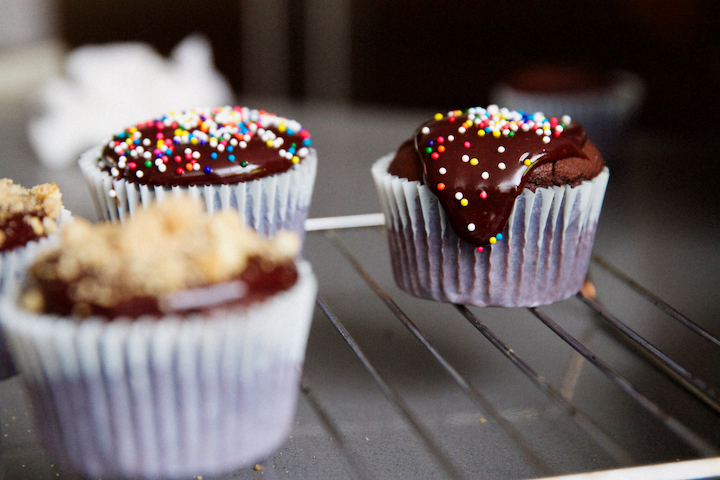 I love the element of a surprise inside of a cupcake and the idea that kids delight in anticipation for what their taste buds will find.  My secret dream, that I've convinced myself of, is that one day, I can put kale inside and they will gobble it up.  Errr, too ambitious?  Maybe. I mean it is smothered in chocolate goodness though, right?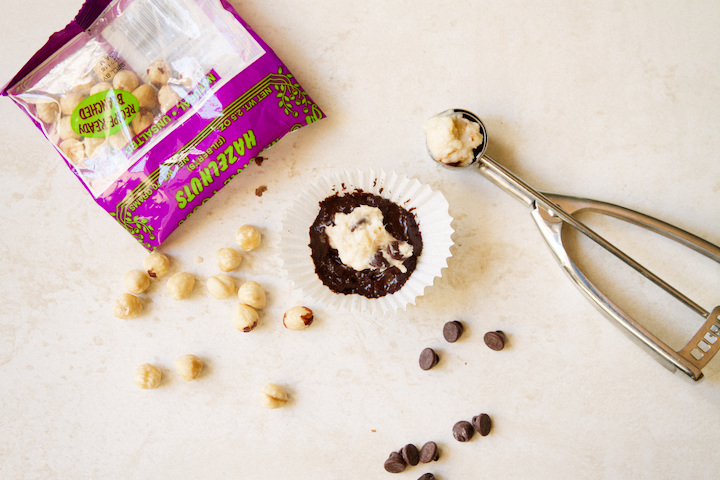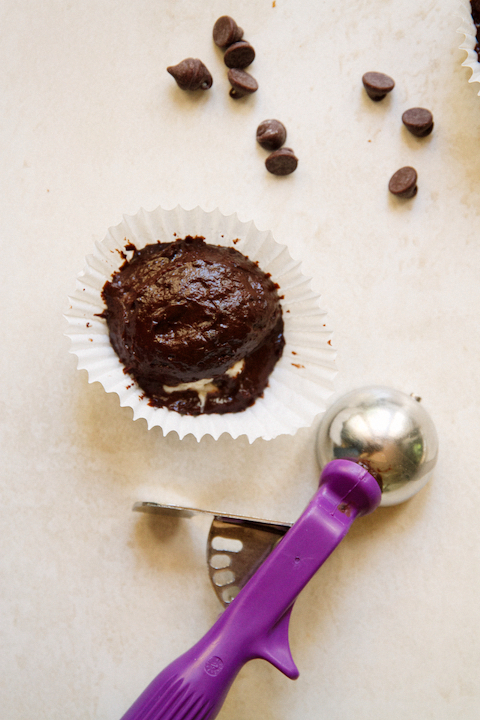 There are a ton of amazing cream cheese recipes out there, but I chose to try this particular one for chocolate cheesecake cupcakes because it has a dollop of cream cheese inside letting the kids enjoy this flavor combination of creamy goodness surrounded by a crumbly moist cake.  And to top it off, this cream cheese is mixed with hazelnuts and chocolate chips with a slight dash of sugar.  Now think about it…how could I blame Liam for trying a sample or two?  Totally ok, right?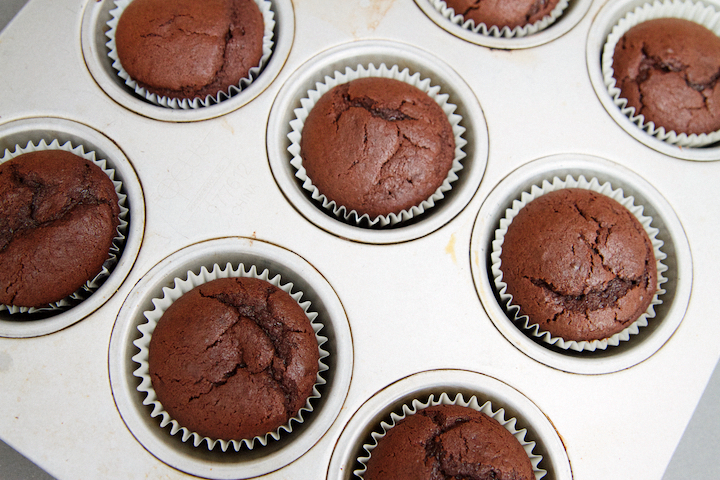 Once your cupcakes are baked, they get smothered in a chocolate ganache made on the stovetop. Combine the cream + chocolate chips over a double boiler until it has that lovely glossy look.  Then you can drizzle or dip (if you prefer) your chocolate cheesecake cupcakes into the sauce as your topping.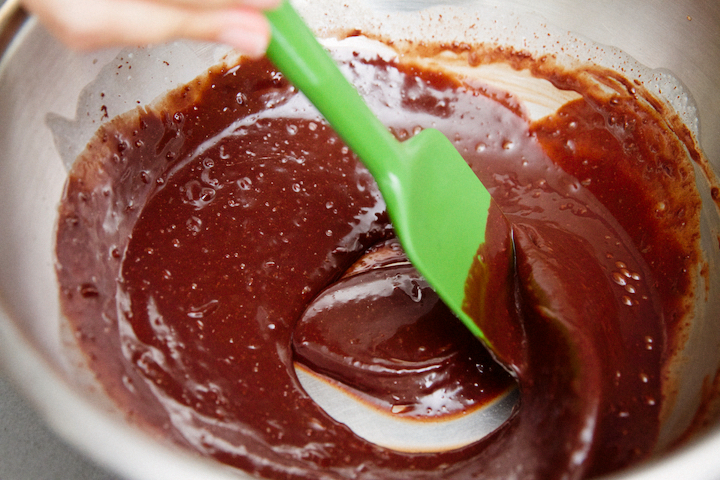 I also included a recipe for a milk crumble topping.  Often times, I know kids love the colored sprinkles, while us adults want a bit more sophistication.  The milk crumble is from Milk Bar's beloved Christina Tosi.  It adds the perfect touch to this delicious cupcake.  I used a super ganache from Barefoot Contessa.  Love that woman. Voila!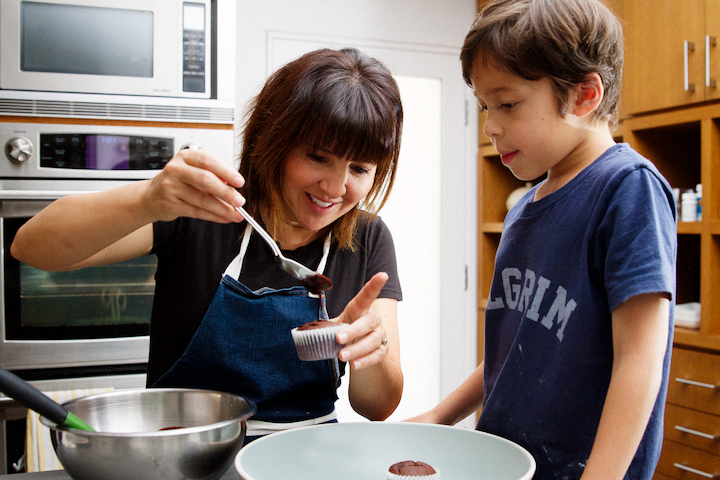 Liam learned the trick of a slow drizzle and rationing. Yes, rationing!  The first one was like chocolate lava.  But, I let him know that if it drips on the side, there won't be enough for all of our friends. After that, he seemed to be ok with portioning a bit less for each cupcake.  He used the analogy of keeping the chocolate within the lines!  Guess his teacher has driven this point home with coloring.  Good job, Ms. Kanen!  So, we dripped a bit in the middle, and the magic began.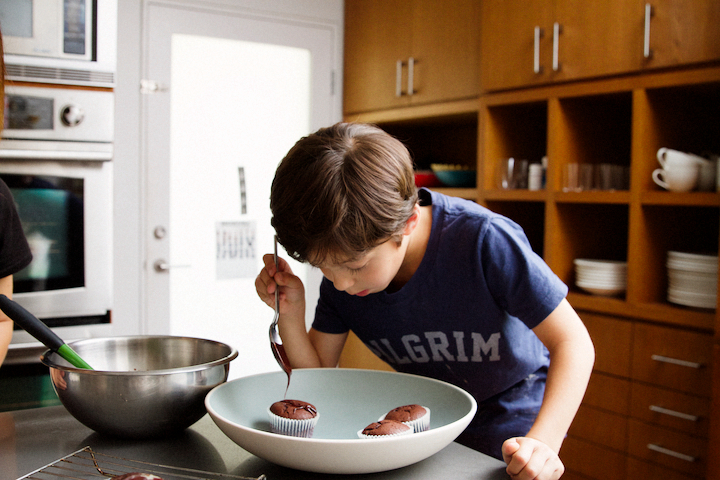 Yep, this chef got serious!  Next came the best part….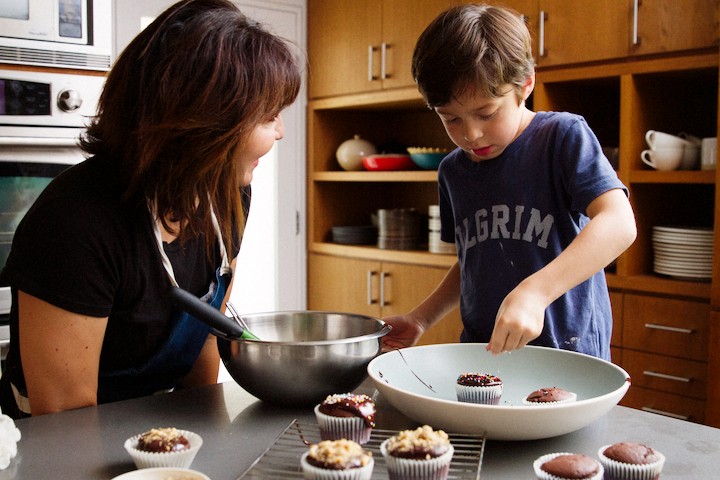 Sprinkle time.  I snuck in a few adult Milk Bar crumbles, and we were both set with some happy moms and happy 1st grade friends.  These chocolate cheesecake cupcakes are perfect for a playdate.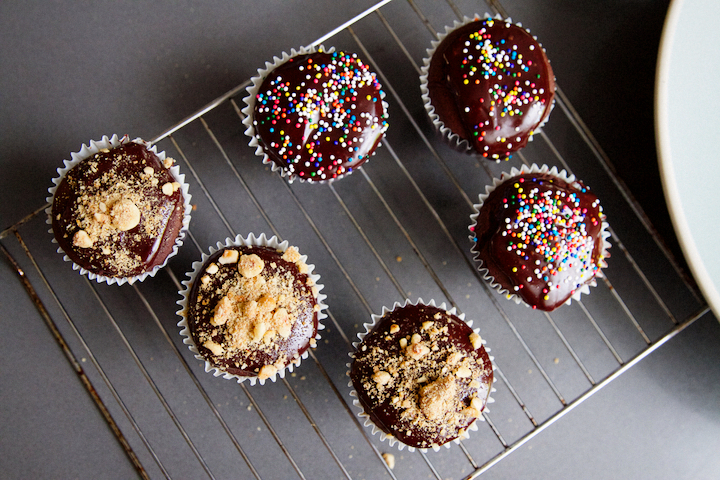 Now just be sure you have something to sip and you can never go wrong with milk. It's perfect with these triple delights.  And of course, for us adults, there is always time for some wine!
Photos by: Maria Hedrick Photography