I love finding fun new ways to present classic desserts that everyone loves. These adorable little Mason Jar Lemon Pies are so fun. You can make them ahead of time and stack them up in the fridge to surprise the kiddos for an after-dinner treat. By mixing and matching jams, you can give each serving its own unique flavor.
But let me pause for just a moment as I revel in our Southern California winters. While the rest of the country is buried in snow, we're enjoying lemon season. I know, I'm spoiled! I mean, you can't walk down the streets here without seeing a tree laden with supple, ripe fruit just waiting to be picked. And Lemon Curd is a great way to make use of these little balls of sunshine so let's get started.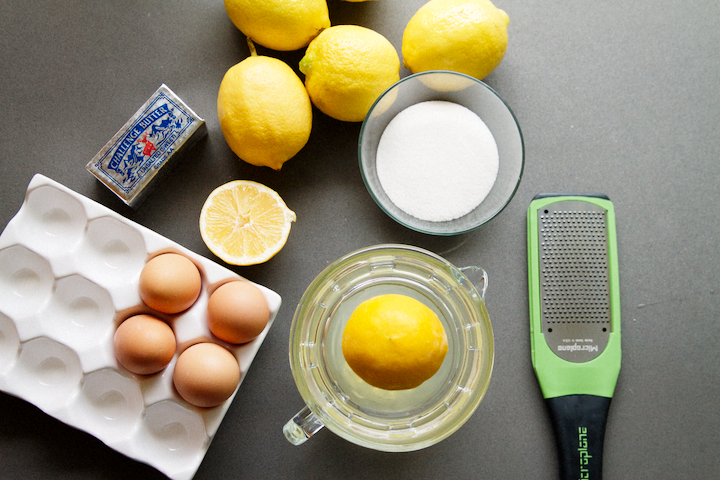 I've had friends confide that they're intimidated by the idea of making lemon curd, but trust me, it's really quite easy. Just combine the eggs, yolks, sugar, juice, and zest over a bain-marie (double boiler) to get a nice even heat. Add butter and cook, whisking occasionally until thick.
Don't stress if the curd starts off messy with the fats all separated and chunky looking. Just keep whisking and it'll come together. Once you get a nice, even consistency, go ahead and pat yourself on the back because…you did it. That wasn't so hard, now was it?
Next, cover your curd with plastic wrap, letting the wrap touch the top to prevent it from forming a skin, and let it cool. Now, it's on to the cookie bottoms!
In a food processor or blender, mix the cookie biscuits into crumbs. Add in sugar and melted butter. Tip: you can easily make this recipe gluten-free by using a cookie like Walkers Gluten-Free.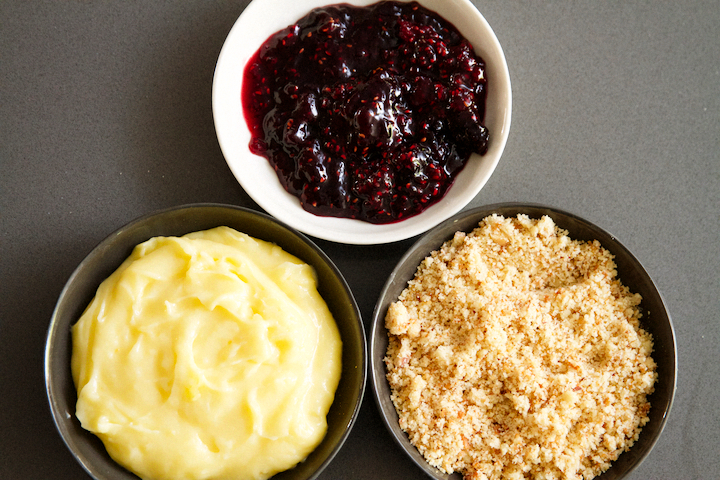 It's time to get these Mason Jar Lemon Pies going!
I used 4 oz. Mason Jars and filled them about one third of the way with cookie crumbs. Then, I filled them in with a few dollops of lemon curd, leaving just enough room at the top for a hefty spoonful of delicious jam.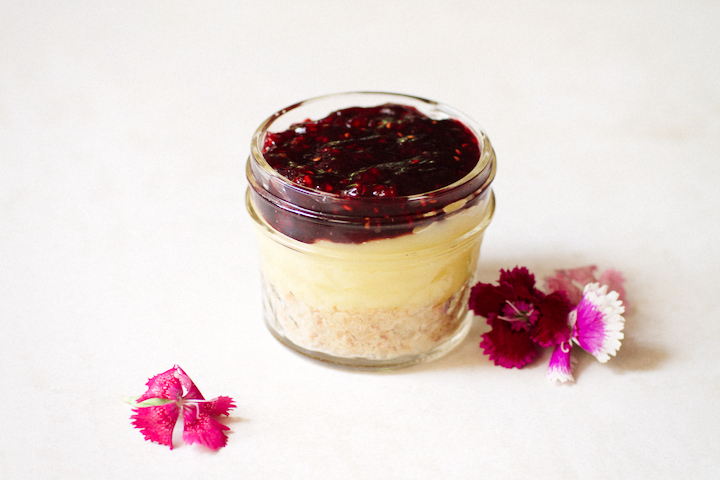 Top them off with edible flowers or a sweet herb for that little extra touch of goodness and ta-da! You've got yourself some adorable mini Mason Jar Lemon Pies.
Photos by: Maria Hedrick Photography