Here's the truth: I hate the flavor of candy corn. What's that all about? Those little kernels are like…sugary, bland, boring-ness made from such hardcore corn syrup my teeth ache just thinking about 'em. I know, I sound like the Halloween Grinch, but here's what does make me swoon – the hues of the candy corn. There's something about the soft melding of orange, yellow, and white, going from a shade of bright tangerine to spun gold.
Oy! Enough waxing poetic, here's how I applied those beautiful ombre of colors to baking. I turned the Halloween color scheme into an ombre cake smothered in a rich buttercream frosting. I envisioned serving this ombre cake at a slightly sophisticated fall get together, or as a centerpiece at a Halloween party with a little more elegance than the standard orange and black decor.
START WITH A CANDY-CORN COLORED CAKE
The frosting isn't the only part of this cake that has the fun multi-color ombre look. The cake itself, when sliced, is going to have this beautiful, three-layered surprise of candy corn shades. Making this cake is super simple and technically not considered cheating as I'm using two boxes of white cake mix which you'll divide into three 8-inch cake rounds. For food coloring (I used Americolor), pick a solid yellow and an orange. Leave the third round white, with no food coloring. After baking the three cakes, leave in the fridge overnight for easy cutting the next day.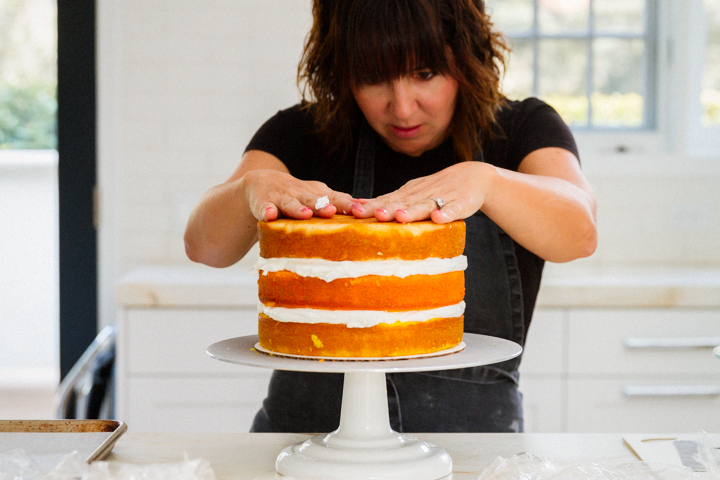 MAKE YOUR EASY VANILLA FROSTING
Buttercream…yum! Try my Jennifer Shea Buttercream frosting recipe for a super light, airy filling.  Let's keep the filling white to compliment those luscious candy colored cakes.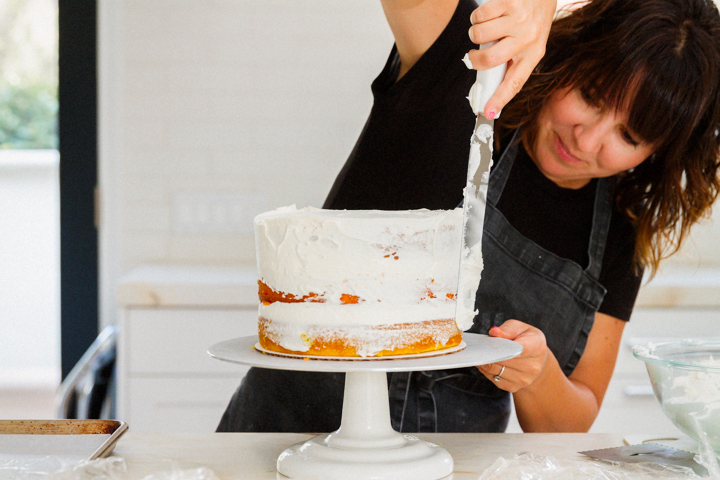 Next, apply a thin layer on the sides to trap in the crumbs.  This is known as the crumbcoat layer.  Refrigerate for 20 minutes or so!
Last is the final layer of white frosting with my handy-dandy cake scraper.  Don't let the name scare ya, this guy is a cake-saver!  Smooth out your sides and finish with the top.  Voila.  You are now ready to ombre your frostings!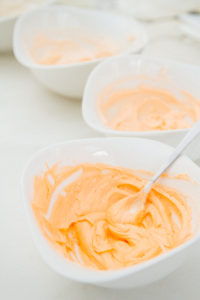 Next, divide the frosting into five bowls, and choose four hues of orange and yellow that will shade well together (leave the fifth bowl white). Light to dark, or dark to light – unleash your inner artist.
LETS REVIEW CAKE BASICS UP TO THIS POINT
Cut, Layer, and Fill: First, cut each cake, and begin with your base cake as the first layer. Frost and fill with the white buttercream, then add the second layer, same thing – frost and fill, then top with the third cake.
The Crumb Coat: I love this technique – it makes the cake look so professional. The "crumb coat" is when you frost the cake completely using all white, no ombre yet. Put the cake into the fridge for 20 minutes, and what this does is seals in the crumbs so you're not raking in bits and pieces of your cake into the beautiful shades of ombre.
The Final Frost: Frost the entire cake with white frosting one final time for smoothness. Using your cake scraper, make a few sweeps all the way around and finally smooth out the top. Now your ombre cake is ready for decoration.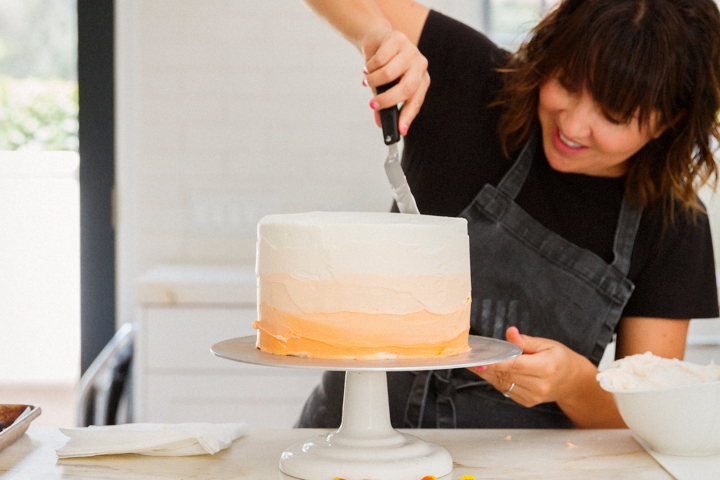 THE MAGICAL OMBRE
Take those four bowls of colored frosting and start with the darkest for your bottom shade. You'll want to apply the colors about the same measurement so that the shades are equal in size; 1-1.5 inches should be fine. Apply a total of four shades, smoothing out the extra frosting with a cake scraper at the very end.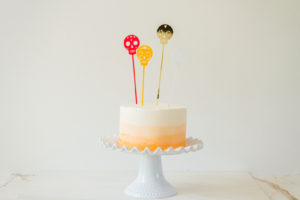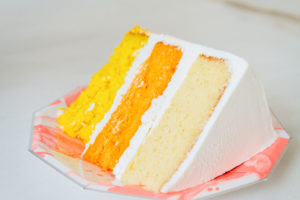 There you have it, an ombre cake that uses the colors of Halloween, but in a whole new light. I added skull cake toppers from Meri Meri, that I bought at Bonjour Fete, a simple decoration that I realized kind of inspired me in the beginning when picking out my hues. Where will you find inspiration this Halloween?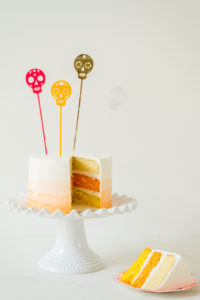 Photos by: Maria Hedrick Photography