Let me spook you with Chocolate Sugar Skulls and Dancing Skeleton cakelets for your Halloween party table. The dark chocolate cake recipe is no simple decorative filler with rich, chocolatey ingredients. The vanilla buttercream frosting, although delicious, does an excellent job of bringing the skeletons to life (they almost dance!) and turns the skulls into a traditional sugar skull.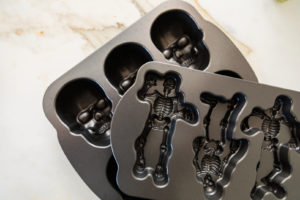 The Halloween season has such fun cake pans! You can find both the Nordicware skull pan and the skeleton cakelet pan at Williams-Sonoma.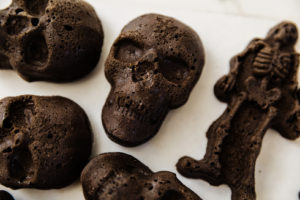 CHOCOLATE BONES
I followed the Dark Chocolate Skull Cakes recipe that Nordicware has on their website — they turned out delicious! It has special ingredients that go a long way like buttermilk, fiori di sicila, vanilla and orange extract, and extra-dark cocoa powder.  My kids love orange flavoring, but if that is over the top for yours, just substitute vanilla flavoring.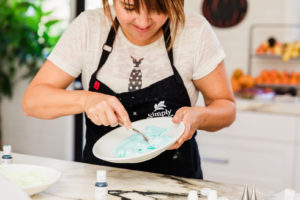 HIGHLIGHTING DA BONES
Mix up a batch of vanilla buttercream frosting. My fave is from
Jennifer Shea
, it's just so dang light and the right amount of sweetness. Can't beat it. Divide the frosting into halves and add color. I chose two Americolor green and turquoise
neon-ish
shades to really highlight the skeleton's bones, and turned the chocolate skulls into sugar skulls.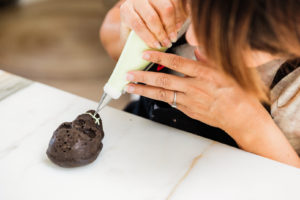 Fill a piping bag and use a very thin tip, such as Ateco Tip #2. I gave these guys teeth for the most part, and then just played with the eyes and the forehead (does a skull have a forehead? weird!).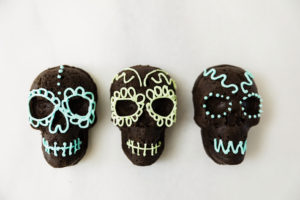 Love them sugar skulls. I can't wait to go to the big Dia de los Muertos festival at Hollywood Forever Cemetery on Oct. 27th here in LA. It's a huge day-long party that goes into the night with traditional costumes, face painting, live music, altars, dancing, food, and craft projects for the kids.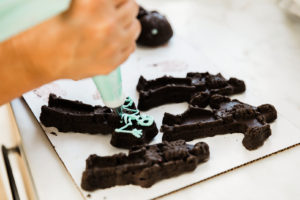 Decorating the skeletons was easier than you might think. The chocolate cake mold has the skeleton lines for you to follow.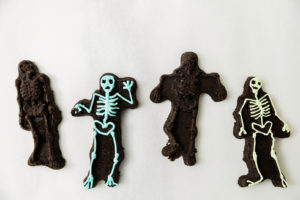 Chocolate skull and bones for ya! Hope these guys will stick around long enough to see Halloween!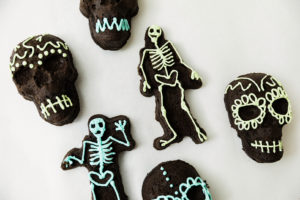 OUR FAVES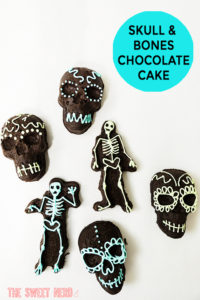 Photos by: Maria Hedrick Photography