This simple chocolate cake with a classic chocolate ganache is an easy party dessert I like to pull out for kids and adult parties. It reminds me of a dessert by Little Debbie called Cosmic Brownies, but I like to call it Magical Chocolate Cake. It's rich and chocolatey and bite sized – perfect to pair with a scoop of vanilla or a cold brew coffee.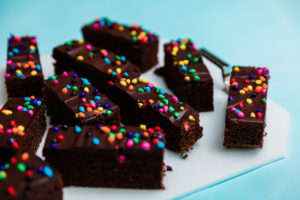 THE MAGICAL CHOCOLATE CAKE
Thanks to Sugar & Spice for the recipe (and the cookbook author's Great Aunt Leeda for the original recipe!) Author Samantha says, "I used coconut oil instead of butter because it's a good bet that she [Great Aunt Leeda] did, too, living on a coconut-laden island. Plus, it adds moisture and a heavenly tropical essence to the downy cake."  One son loves coconut and the other one gives me a serious frown.  What to do???  Well, I replaced the coconut oil once with canola oil, and it was equally as lovely.  Don't be afraid to throw in your own touch!
Prepare the ingredients by following the recipe, and  methodically mixing the wet and dry ingredients. Bake at 350 degrees for 25-30 minutes. Check with the toothpick.
THE GANACHE
To prepare the frosting, place the chocolate in a large bowl. In a small saucepan, bring the cream to a boil. Immediately pour it over the chocolate and let stand 1 minute, then whisk until smooth. Let the mixture cool at room temperature to a spreadable consistency, and then pour over cake. Add rainbow chip crunch candies to give it a little color.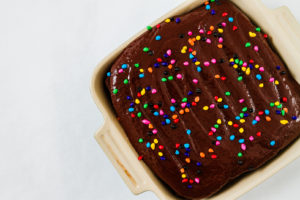 If there is any proof you need of this moist chocolate cake being a hit, take it from Liam…. this chocolate smile says it all.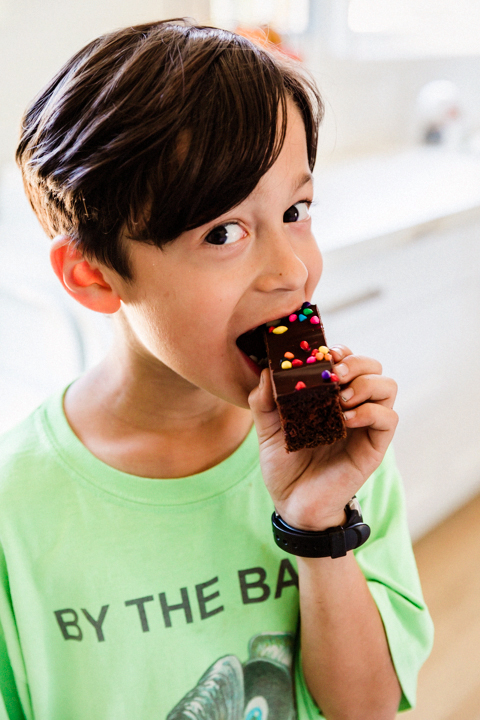 OUR FAVES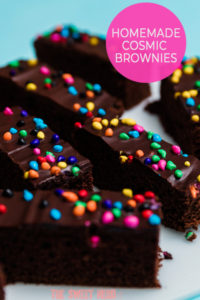 Photos by: Maria Hedrick Photography