Yay! It's Lisa's birthday! Who the heck is she? Why she's only been my BFF since the fifth grade – yep, it's been a few years. Lisa is my special gal: we've been pals through everything, from the Oakland years during the dot com era that eventually ended up with pink slip parties, to Lisa's own conversion from Catholicism to Buddhism. Often I still feel like my 10-year-old self when I'm with her. In light of that, I made her favorite dessert to celebrate her being on the planet another year: festive, celebratory, Funfetti Rice Krispie Naked Cake. Of course I made them extra special by layering the marshmallow goodies into a three-tiered naked cake, and I added a simple frosting and sprinkles.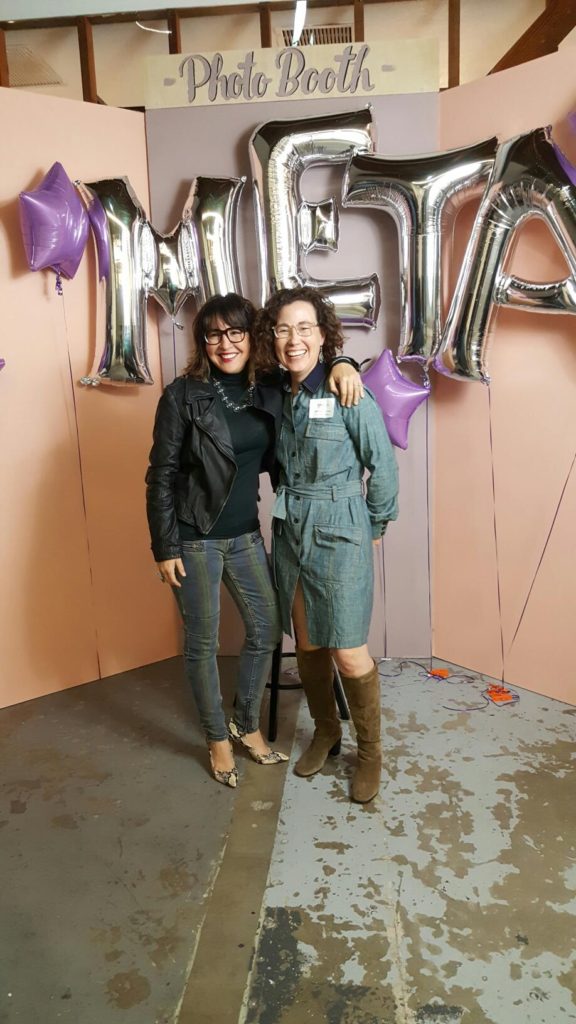 Me and my girl, Lisa.

THE FUNFETTI RICE KRISPIE CAKE LAYERS
You'll need to double the recipe to make three layers of cake. Use parchment paper for the liner and then also spray or butter lightly – it makes it way easier to remove from the pan. I added a dash of vanilla and ½ cup of rainbow jimmies to make it extra festive. A tip for ya: spray the spatula with oil to make it not stick while you press the rice krispie into the pan.
Also, I have more rice krispie recipes on my blog. Everyone loved this one with its spooky special ingredient.
FROSTING
Whip up a batch of simple butter and sugar frosting. The ingredients are only unsalted butter, confectioner's sugar, vanilla and salt. Add this between the layers, and sprinkle the jimmies around the edges of the rice krispie rounds. Add a final layer on top of the cake.
FUNFETTI CRUMBLE (OPTIONAL)
One to ponder: does the word Fun-fetti derive from having fun at a fette (or party?)
These crumbles by Christina Tosi are totally optional. It's a fun look for the top of the rice krispie cake but you can omit if you want to make this quick and done. To make the funfetti crumble, mix the ingredients and stir with a spatula until the mixture forms small clusters. Spread those little clusters onto a parchment paper-lined baking sheet and bake until dried and sandy, 20 minutes. Return the clusters to a bowl, and break apart until you literally have your crumbs. Toss with dry milk, and then pour the white chocolate over the crumbs. Toss until chocolate is cooled, and then spread gingerly atop the funfetti rice krispie cake.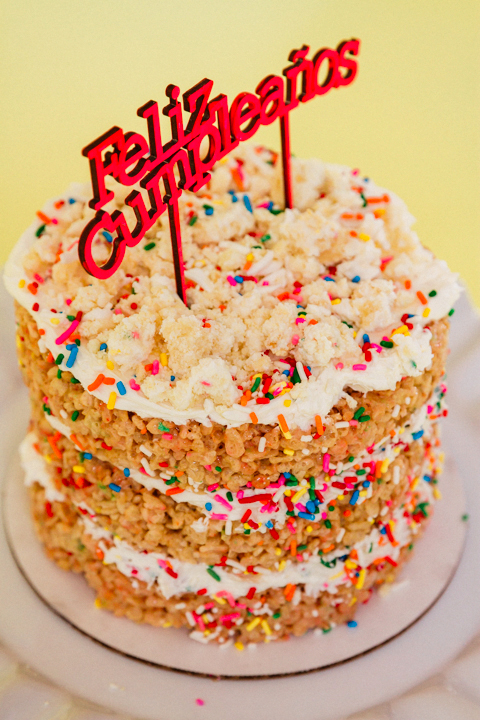 I added a Happy Birthday cake topper that really speaks to Lisa — I love ya. Feliz Cumpleanos a ti.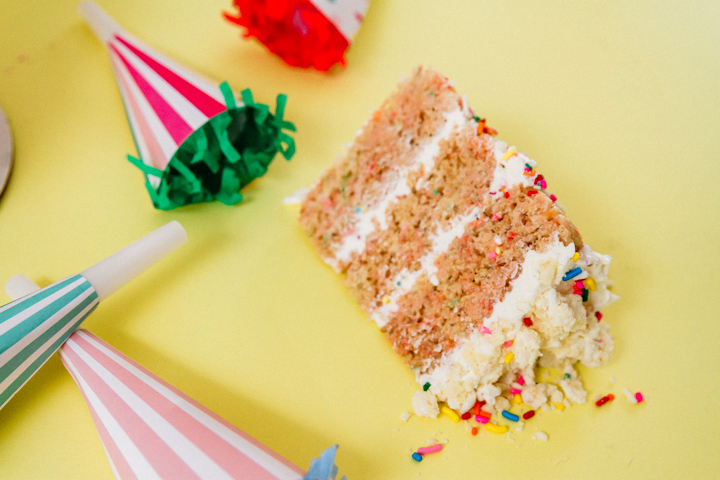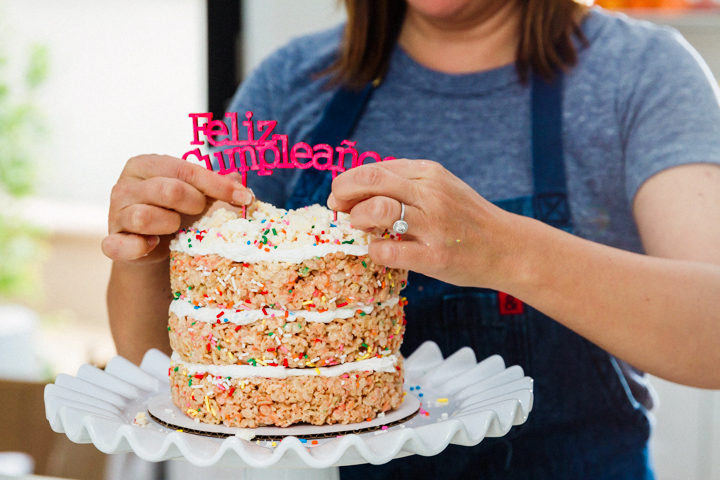 OUR FAVES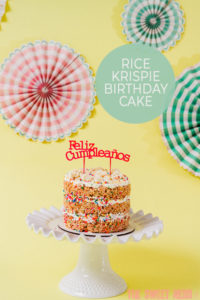 Photos by: Maria Hedrick Photography