With summer on the brain, I had this vision of a Pink Strawberry Flamingo Cake but needed to find someone who was just as sweet (and who adored pink!) to make it for. A friend of mine has a 6-year-old daughter named Phoebe, and was delighted to hear that I was dedicating this fun post just for her. The cake itself is pink because of added strawberry powder, and the buttercream frosting is chock full of strawberry rhubarb jam from a local artisan. The flamingo and palm tree toppers surrounded by colorful sprinkles were a dash of fun that I just couldn't resist. Phoebe: I hope you love this summertime strawberry cake with a pretty pink bird on top!

THE CAKE
Thanks to my friend and fellow blogger, Liv for Cake, for the strawberry cake recipe. Yowza, it's so good. Every delicious bite is dense with milk and butter, plus a hint of strawberry from the strawberry powder. The recipe calls for three 6″ cake rounds, and guess what you're slathering between the layers? Yep, a buttery frosting and strawberry rhubarb jam. YUM and YUM.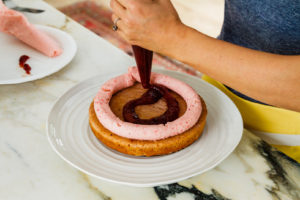 THE FROSTING
This is a simple frosting recipe made up of unsalted butter, confectioners' sugar, vanilla and salt, but the special ingredient is 2 tablespoons of strawberry rhubarb jam. I used local jam made by uber popular Sqirl here in Los Angeles. You can cut the tip of the pastry bag about 1/2″ from the end, no frosting tips needed, and fill a bag with frosting and another bag with jam.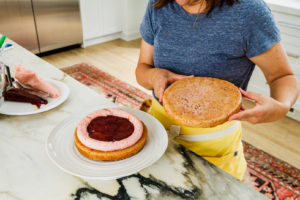 For the first or bottom layer of cake, use a piping bag with frosting to outline the edge, and a second piping bag of jam to fill the center. You want to make sure the frosting is coming out thick, about a 1.5″ border. Repeat for the second layer of cake, then place the third cake on top.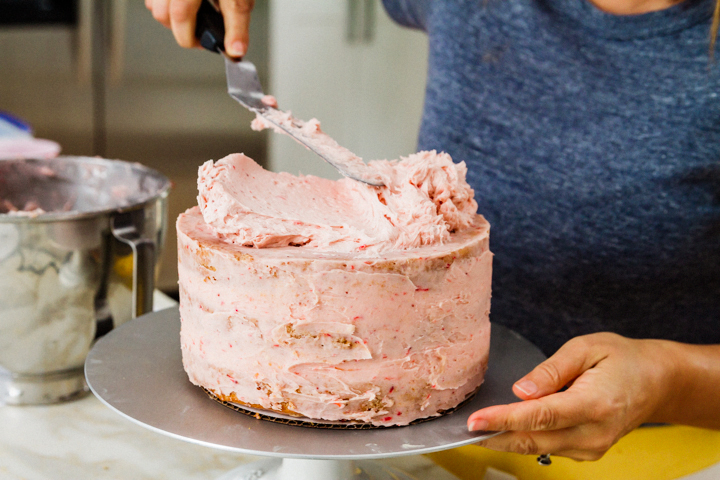 GET THE RUSTIC FROSTING LOOK
It's crumb coat time! I always like to shout out a reminder to put the cake into the fridge for 30 minutes before adding the top coat of frosting. This will prevent the cake from "crumbing" into the frosting. Use an offset spatula, and start at the top.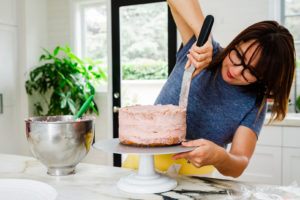 Move to the sides and slather on ALL of the frosting. Really go for it!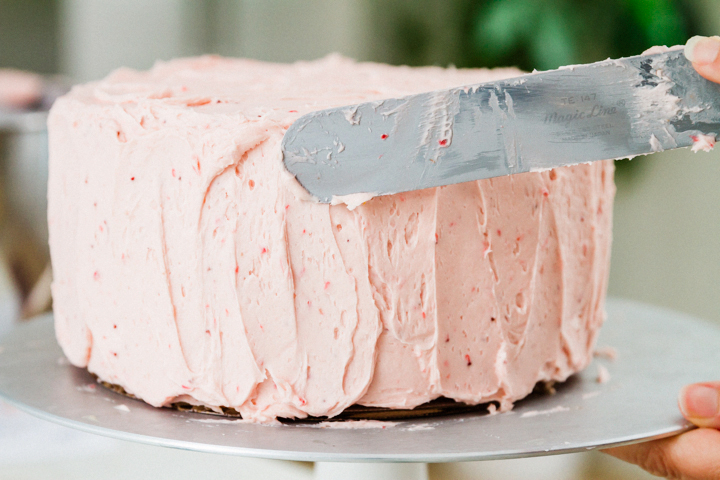 Work the spatula up and down to smooth sides.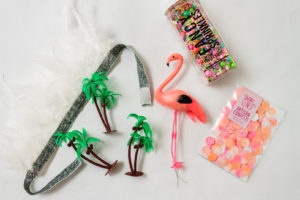 COMPLETE THE PARTY
Toppings! This flamingo was just perfect for the top of the cake, and I added a few palm trees direct from Miami to make the bird feel at home. I sprinkled a mix of colorful sprinkles on the outer rim of the cake, but feel free to put sprinkles wherever you'd like. The party sign and confetti for the table gave Phoebe just the right amount of fun to go with her pink cake.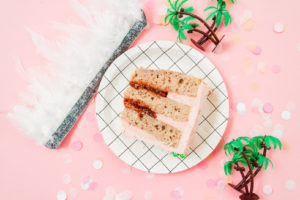 OUR FAVES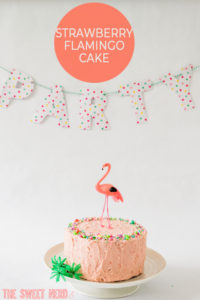 Photos by: Maria Hedrick Photography